---
Germany. 1931.
Crew
Director – Fritz Lang, Screenplay – Paul Falkenberg, Adolf Jansen, Fritz Lang, Karl Vash, Thea von Harbou & Fritz Arno Wagner, Producer – Seymour Nebenzal, Photography (b&w) – Fritz Arno Wagner, Music – Adolf Jansen, Art Direction – Emil Hasler & Karl Volbrecht. Production Company – Nero Film.
Cast
Peter Lorre (Franz Becker), Otto Wernicke (Inspector Lohmann), Gustaf Grundgens (Schranker), Friedrich Gnass (Franz)
---
Plot
Berlin is plagued by a child killer. The police try everything they can to catch the killer to no avail. The criminal underworld decides that the police crackdown is bad for business and that the only recourse is to catch the child killer themselves. They reason that the only logical solution is to have someone shadow every child. They call upon the Organization of Beggars for this purpose. A blind balloon seller eventually tracks the killer down as Franz Becker, recognizing him by the tune he whistles. Becker is then cornered and placed on trial by the criminal underworld.
---
German director Fritz Lang is known in the genre for such sterling contributions to fantastic film as Siegfried (1924) and Metropolis (1927) during the silent era. Outside the genre, Fritz Lang is mostly remembered for his spy and crime thrillers, such as the Dr Mabuse films, The Spiders (1919) and Spies (1927). Certainly, it is on the reputation of these, rather than the likes of Metropolis and Siegfried, that he later obtained work in Hollywood after fleeing Germany from the Nazis in the 1930s. M was Lang's first sound film.
Chief among Fritz Lang's crime thrillers is M. Lang took as his inspiration the notorious Peter Kurten murders in Germany where he killed nine confirmed persons between 1913 and his arrest in 1929 (although there were a number of young girls killed, he also murdered adults and men). Lang's wife Thea von Harbou had become fascinated by the case, corresponded with the investigating police and incorporated details into her script.
That said, M is less a psycho-thriller than it is a portrait of the social reaction to such crimes. Lang spends much of the early parts of the film portraying the hysteria and police frustration in the face of the crimes. The script's singular twist of ingenuity is in having the criminal underworld – vast organised crime underworlds are a feature of many of Fritz Lang's films – step in to solve the crimes themselves on the justification that the police crackdown is bad for business. Lang cleverly cuts back and forward between the police and criminal discussions on how to solve the crimes, making one echo and reflect the other. (Although, more mundanely, the real Kurten was simply arrested by police based on evidence from a witness without any involvement by a mobilised underworld).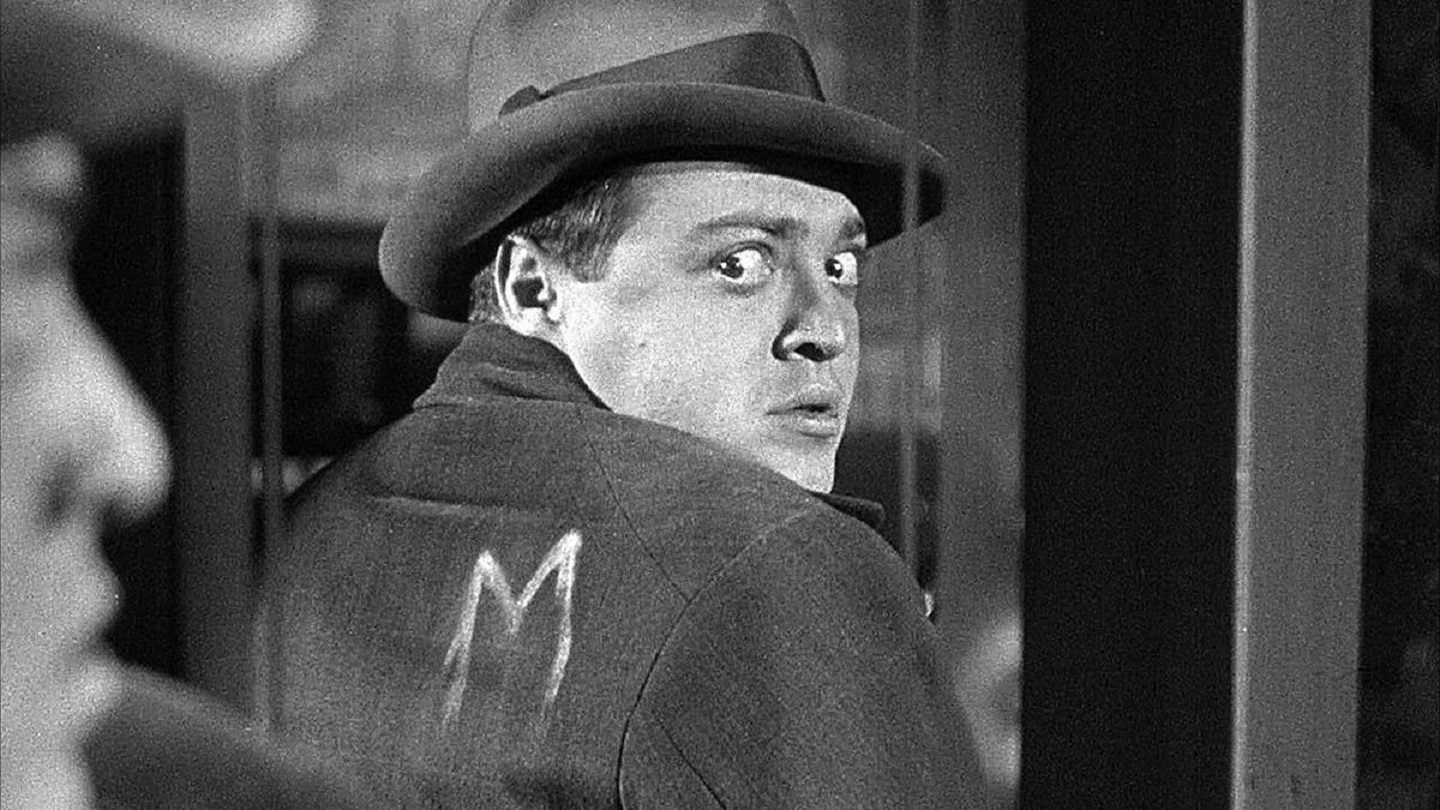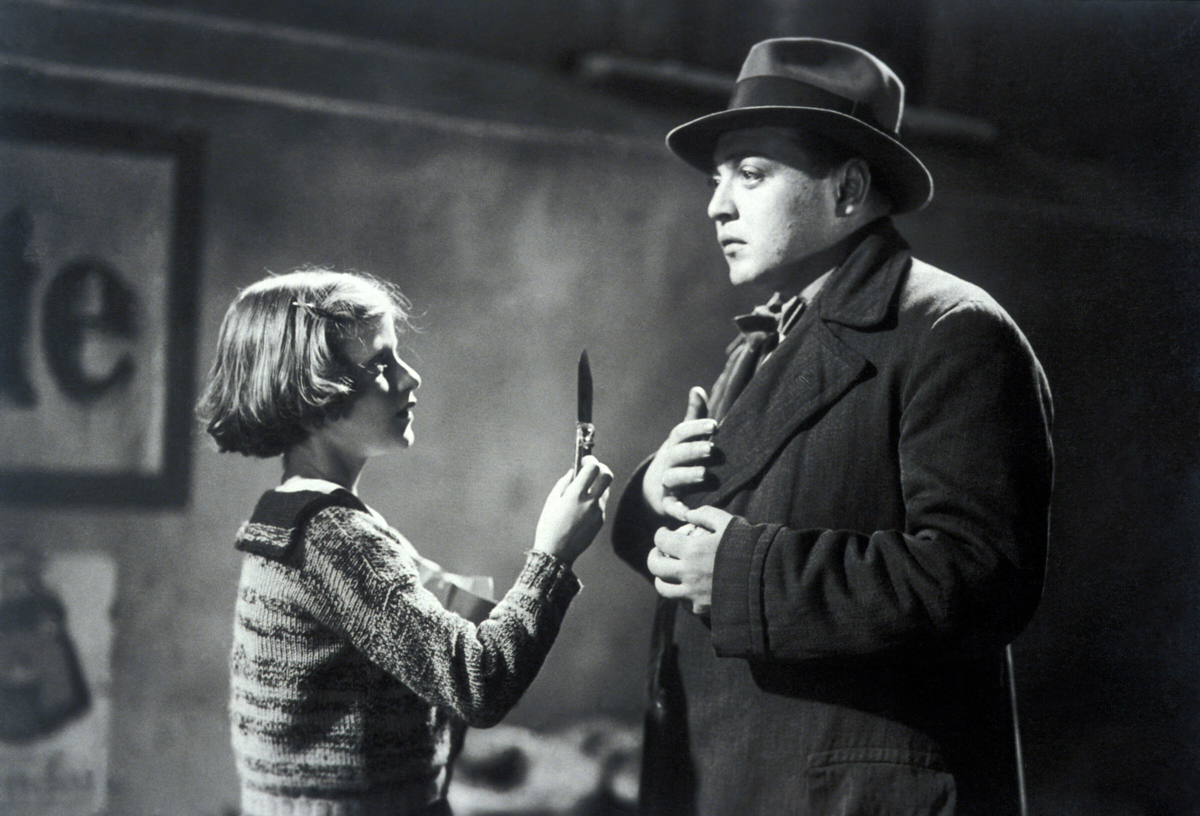 Fritz Lang's crime films always excelled in their sustained suspense – Lang discovered many of the tricks of lead-up, underscoring and surprise that another great contemporary director of his – Alfred Hitchcock – also used. There is a marvellously sustained sequence involving Peter Lorre's pursuit by the beggars and his managing to unwittingly elude them as a trolley car passes in front of the camera. In one scene, we see Peter Lorre pulling a knife out of his pocket as he talks to a girl, something that Fritz Lang builds with maximum sinister effect before anticlimactically having him only use the knife to peel an orange.
Peter Lorre gives an amazingly pitiful and whining performance – one that Lorre was able to trade on to create a subsequent Hollywood career. Otto Wernicke also gives a fine performance of wily determination, such that Lang reused the character in his following film The Testament of Dr Mabuse (1933).
The film was remade by Joseph Losey as the also interesting M (1951) featuring David Waine in the Peter Lorre role and with the action moved to L.A.
Fritz Lang's other films of genre interest are:– Destiny (1921) wherein Death incarnates two lovers throughout various historical periods; Dr Mabuse, The Gambler (1922) concerning a ruthless criminal mastermind; the two-part Niebelungen saga, Siegfried (1924) and Kriemhild's Revenge (1924), based on the Teutonic myths; Metropolis (1927); Woman in the Moon (1929), a realist attempt to portray a Moon landing; The Testament of Dr Mabuse (1933); the afterlife fantasy Liliom (1933); the film noir psycho-thriller Secret Beyond the Door (1948); and a further Dr Mabuse sequel The 1000 Eyes of Dr. Mabuse (1960). Lang also wrote the script for Plague of Florence (1919), an adaptation of Edgar Allan Poe's The Masque of the Red Death (1842)
---
Trailer here
Full film available here:-
---