---
UK/Netherlands/Spain/Luxembourg/Hungary/Italy/Germany/Russia. 2004.
Crew
Director/Screenplay – Peter Greenaway, Producer – Kees Kasander, Photography – Reinier van Brummelen, Music – Architorti & Giovanni Sollima, Visual Effects – Stereomatrix (Supervisor – Reinier van Brummelen), Production Design – Marton Agh, Davide Bassan, Bettina Schmidt & Diana van de Vossenberg. Production Company – Kasander Productions/BS Production/Film Fund Luxembourg/Focus Film/Gam Film/Net Entertainment/12 A Film Studios/Delux Productions/The Arts Council of Wales/The Rotterdam Film Fund.
Cast
J.J. Feild (Tulse Luper), Roger Rees (Tulse Luper Sr), Stephen Billington (Tulse Luper), Alexey Buldakov (Kotchef), Valentina Cervi (Cissie Colpitts), Nur al Levi & Ana Torrent (Charlotte de Arbes), Roberto Citran (Wallenberg), Natalie Egorova (Alazarin), Drew Mulligan (Martino Knockavelli), Scot Williams (Percy Hockmeister)
---
Plot
Following World War II, Tulse Luper variously ends up stranded on a desert island; is thought to have drowned in Budapest but instead stays in a mortuary; and is then held a prisoner by the Soviets.
---
Director Peter Greenaway became an arthouse favourite after emerging in the 1970s with a series of experimental films. He gained acclaim with full-length films such as The Draughtsman's Contract (1981), The Belly of an Architect (1987), Drowning by Numbers (1988), the arthouse hit of The Cook, The Thief, His Wife & Her Lover (1989), Prospero's Books (1991), The Baby of Mâcon (1993) and The Pillow Book (1996). By the late 1990s, audiences appear to have switched off Greenaway's increasing non-narrative storytelling, obscure jokes and the obsessive-compulsive list-making, Later Greenaway films – the likes of 8½ Women (1999), the Tulse Luper films, Nightwatching (2007) and Eisenstein in Guanajuato (2015) – have met more mixed reception.
The Tulse Luper Suitcases was part of an ambitious project by Greenaway. This included three films – The Tulse Luper Suitcases 1: The Moab Story (2003), The Tulse Luper Suitcases, Part 2: From Vaux to the Sea (2004) and From Sark to the Finish here, as well as an edited version of the saga A Life in Suitcases (2005), plus two books, a website, a touring art exhibition and an internet game The Tulse Luper Journey.
The Tulse Luper Suitcases films frustrate and annoy those who have followed Greenaway. They are massive and sprawling – they require the dedication of 4½ hours worth of watching in total. They contain no real plot – just fragments of narrative, surrealistic jokes, endless lists and the highlighting of objects in suitcases all assembled to obscure or nonsensical purpose. They are not directed so much as actors are posed in front of the camera where they recite lines in blank verse. They seem more like amok multi-media displays than anything resembling a film with the screen constantly being broken up by multiple windows, pop-ups, text overlays, duplicate screens and multiple people talking at the same time.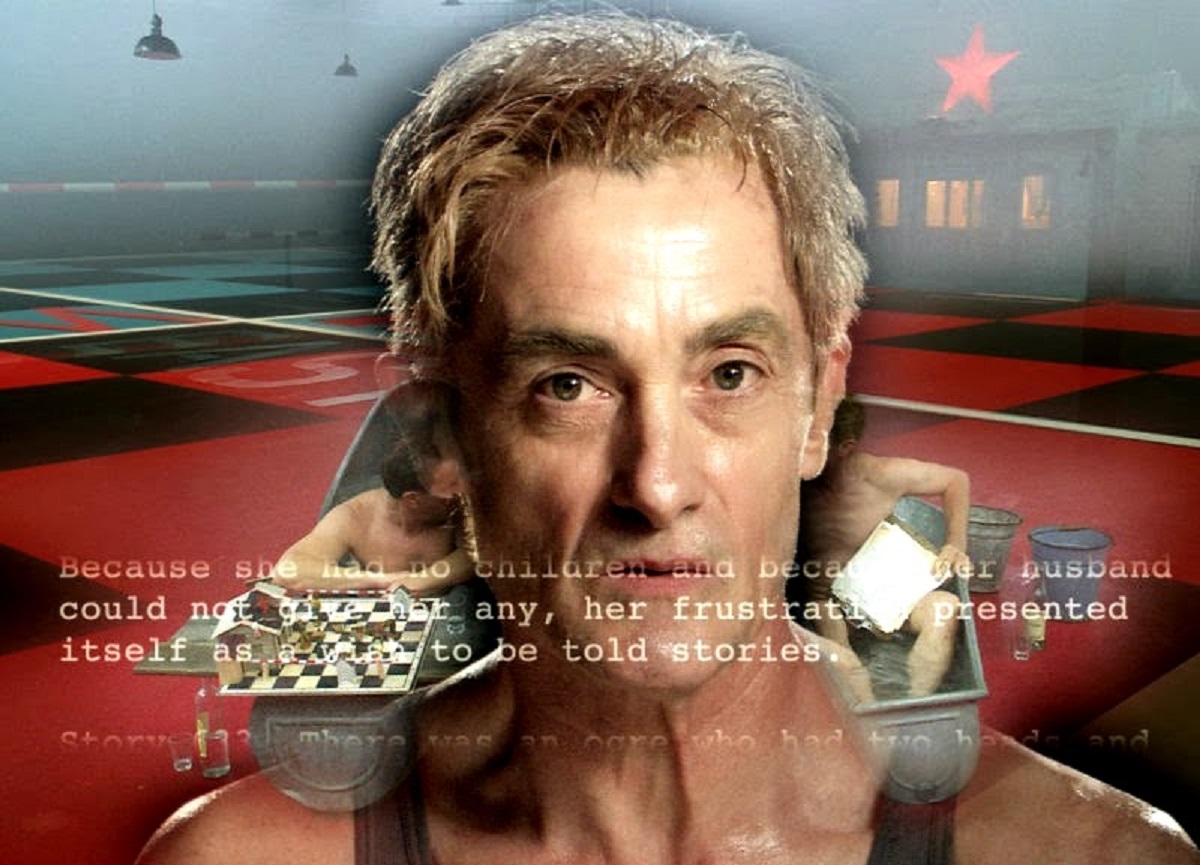 As much as any of the Tulse Luper Suitcases films can be said to have a plot, From Sark to the Finish is the concluding chapter. The three films have no individual title other than the opening screen credit The Tulse Luper Suitcases; A Life in 16 Chapters. At best you can view the stories in the order of their chronological timeline, following Tulse Luper through from the 1920s and World War II through to the Cold War. From Sark to the Finish certainly reaches a definite end if you can call it that.
Most of From Sark to the Finish is as expected. There are obscure storylines and fragments of narrative – about Tulse stranded on an island with a dog and playing a game that involves throwing balls covered in yellow paint at the cliff; the appearance of three plus-size sisters at the island; digressions about the artist Antoni Gaudi's strange death in Barcelona; Tulse taking up at a mortuary in Budapest with people who live behind masks; his being held prisoner by the Soviets and strange things concerning chess, including turning a border checkpoint into a game board, and an exchange of prisoners between sides involving Stalin's daughter who give birth on the wrong side of the border.
As in the other two films, Greenaway winds in plenty of meta-reference to his own films, including the short A Walk Through H (1979) and The Belly of an Architect, even including some footage of Brian Dennehy from the latter, while there are references to other regular Greenaway characters like Cissie Colpetts from Drowning By Numbers.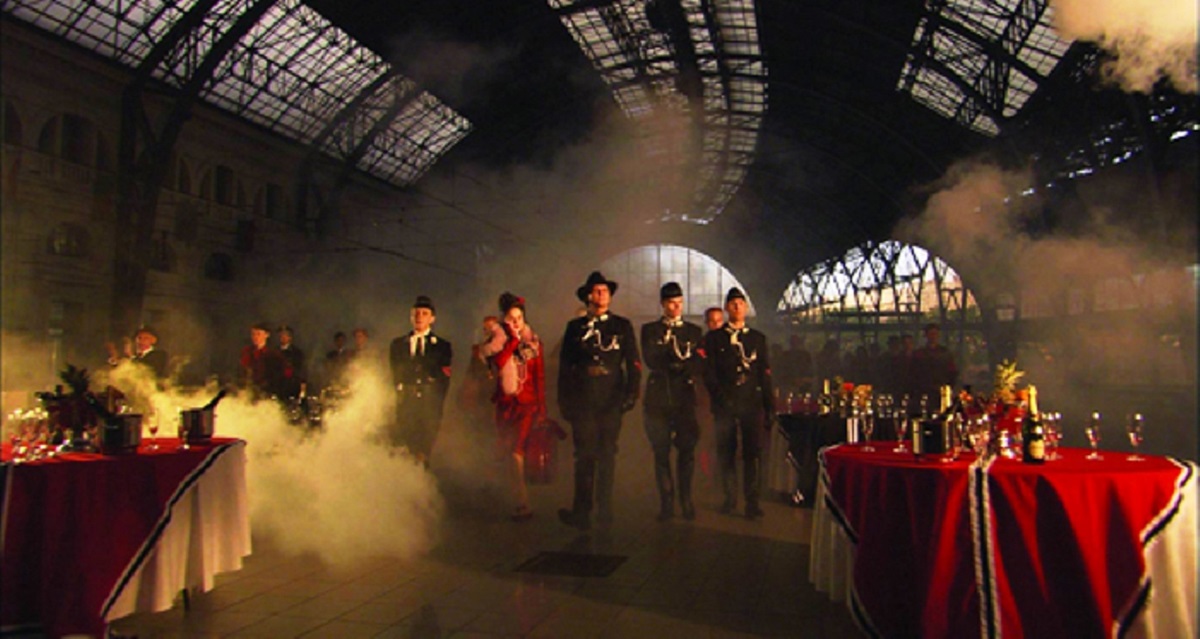 Perhaps the most frustrating aspect of the film is the ending where [PLOT SPOILERS] Greenaway tells us that Tulse Luper never existed, that he died as a ten-year-old child in the collapse of a brick wall and that: "His life and all its complexity was a construction by his best friend Martino Knockavelli." In other words, that what we have just seen was all made up, a giant shaggy dog story. This feels like a frustrating slap in the face after investing four hours plus in viewing the saga.
Peter Greenaway's other films of genre interest are:– the surreal post-holocaust 'documentary' The Falls (1980); The Cook, the Thief, His Wife & Her Lover (1989); several episodes of the modernised tv series A TV Dante (1989-91); Prospero's Books (1991), Greenaway's interpretation of Shakespeare's The Tempest (1611); and the miraculous child film The Baby of Mâcon (1993). The Greenaway Alphabet (2017) is a documentary about Greenaway.
---