(Las Brujas de Zugarramurdi)
---
Crew
Director – Alex de la Iglesia, Screenplay – Alex de la Iglesia & Jorge Guerricaechevarria, Producer – Enrique Cerezo, Photography – Kiko de la Rica, Music – Joan Valent, Visual Effects Supervisor – Ferran Piquer, Special Effects Supervisor – Antonio Castillo, Makeup Effects – Javier Hernandez & Pedro Rodriguez, Production Design – Jose Luis Arrizabalaga-Arri & Arturo Garcia-Biaffra. Production Company – Enrique Cerezo P.C./La Ferme! Productions/Arte France Cinema/TVE/Telemadrid/Canal+ Espana/Instituo de la Cinematografica y de las Artes Audiovisuels.
Cast
Hugo Silva (Jose Fernandez), Mario Casas (Antonio), Jaime Ordonez (Manuel Garcia), Carolina Bang (Eva), Carmen Maura (Graciana Barrenetxea), Terele Pavez (Maritxu), Gabriel Delgado (Sergio Fernandez), Macarena Gomez (Silvia Fernandez), Pepon Nieto (Inspector Alfonzo Calvo), Secun de la Rosa (Inspector Jaime Pacheco), Enrique Villen (The Social Misfit), Manuel Talafe (The Man from Badajoz), Javier Botet (Luismi), Santiago Segura (Miren), Carlos Areces (Conchi)
---
Plot
In Madrid, Jose Fernandez and his friend Antonio conduct an armed robbery of a jewellery story disguised as street performers. However, this goes wrong and they are forced to escape in a taxi. Jose has also taken with them his young son Sergio because he does not want to give up any of his visitation days. Fleeing police pursuit as they head to the French border, they detour off the road and eventually come to the village of Zugarramurdi. The taxi driver Manuel is fearful because Zugurramurdi is the legendary village of the witches. In the village, they come to the house of Graciana Barrenetxea and are made prisoner by the witches to be sacrificed, while Sergio is selected as the Chosen One. As Jose's wife Silvia and pursuing police also arrive, Jose finds love with the witch Eva.
---
Witching and Bitching was the thirteenth film from Spanish director Alex de la Iglesia. De la Iglesia made his directorial debut with the gonzo science-fiction film Accion Mutante (1993) and has since gone onto make a regular output of films, most of which are dark comedies. These include a number of genre films such as the End Times comedy The Day of the Beast (1995), Perdita Durango/Dance with the Devil (1997), a dark road movie about an outlaw sorcerer, the genre black comedies Common Wealth (2000) and Ferpect Crime (2004), the ghost story Films to Keep You Awake: The Baby's Room (2006), the mathematical murder mystery The Oxford Murders (2008), the sf tv series Pluton B.R.B. Nero (2008-9), the circus psycho-thriller A Sad Trumpet Ballad (2010), The Bar (2017) with a group of strangers trapped inside a bar during the outbreak of a deadly infection, the occult and deviltry tv series 30 Coins (2020- ) and Venecia Frenia (2021) about tourists being stalked in Venice.
Witching and Bitching – an unappealing title that has been foisted on the film in its English-language release (the original Spanish title translates as the more mundane The Witches of Zugarramurdi) – is essentially a film where Alex de la Iglesia conducts a variation on Robert Rodriguez's From Dusk Till Dawn (1996). The first half of the film deals, just like From Dusk, with a group of criminals on the run from the law along with their hostages, before the second half unexpectedly takes a left field turn into genre territory – the appearance of vampires in From Dusk, a town of witches here. The major difference between the two of course is that here everything is played for comedy.
Witching and Bitching has one of the funniest openings one has seen in a film in some time. This starts in a Madrid square as various characters dressed in costume – a Spongebob, a Minnie Mouse, an Invisible Man, Mario Casas as a soldier in green body paint and Hugo Silva as Jesus Christ interact before the latter two come together to conduct a jewellery story robbery. Hugo Silva has been forced to bring along his son (Gabriel Delgado) rather than give up one custody day where the boy has been eagerly dragged into holding a gun and assisting. Their escape is botched when Casas's girlfriend drives off in the getaway car and they are forced to hijack a taxi where the high-speed chase with the police is interspersed with young Gabriel Delgado talking with his mother on the phone during which Silva is trying to downplay the pursuit and gunfire.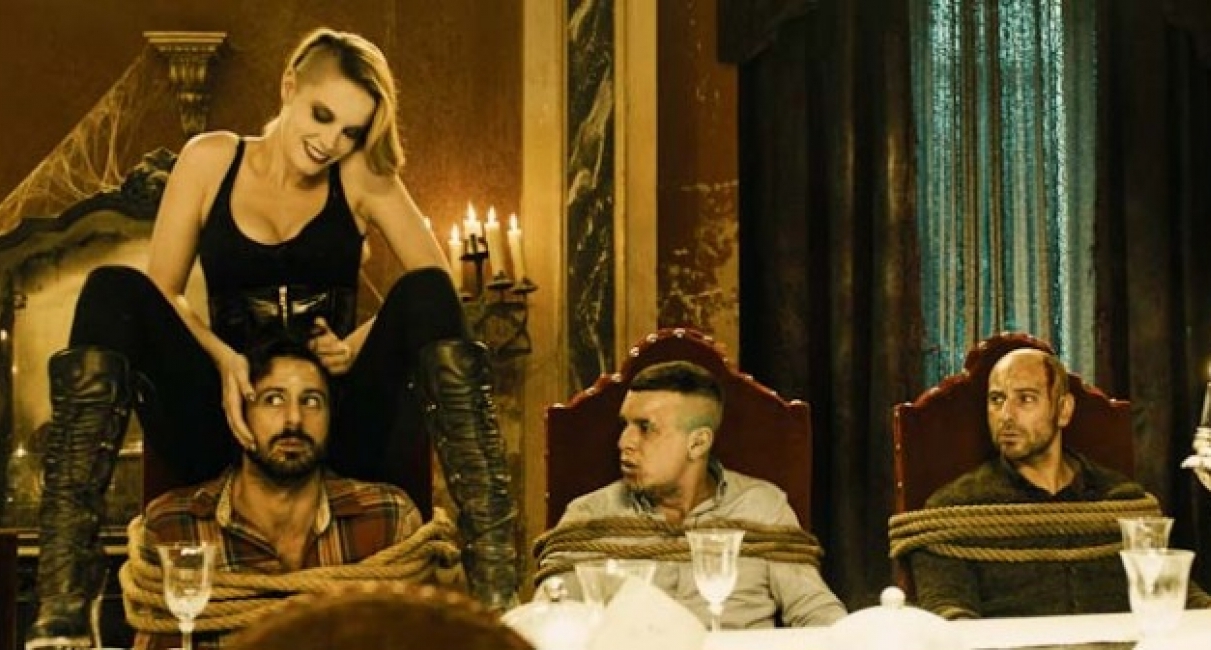 Many of these scenes are stolen by young Gabriel Delgado piping up with all manner of inappropriate or inopportune questions or offering helpful statistics quoted from Cosmo about percentages of male ejaculation failure. That and a rather cheeky credits sequence that offers up a potted history of witchcraft that includes pictures of Margaret Thatcher and Angela Merkel among the witches.
The problem with the film is that after such a strong opening, the show dissipates into lots of running around the village. The scenes with the witches take on a much broader tone of comic farce that lack the sharpness of the opening scenes. This is a film that you feel would have worked a good deal better having been trimmed of some twenty minutes or so. Still there is the appealing absurdity of the three men tied up at a dinner table as the witches nonchalantly walk along the ceiling having telephone conversations or dusting the chandelier, or where the men are served up entrees consisting of severed fingers.
The film reaches an outrageous climax with the men tied up, where huge knives and forks are produced and then a giant-sized witch turns up to devour them. The underlying theme, which pits men against women amid frequent comic lines about how all women are witches, skirts a line that all but comes out as misogyny. (That said, one of the witches Carolina Bang clearly entranced Alex de la Iglesia sufficiently that he subsequently married her).
---