---
Crew
Director/Screenplay – Tommy Wirkola, Producers – Will Ferrell, Beau Flynn, Adam McKay & Kevin Messick, Photography – Michael Bonvillain, Music – Atli Örvarsson, Visual Effects Supervisor – Jon Farhat, Visual Effects – Hammerhead Productions (Supervisors – Justin Other Jones & Michael T. Kennedy), Additional Visual Effects – Framestore, Special Effects – Die Nefzers (Supervisor – Gerd Feuchter), Creature/Makeup Effects Supervisor – Mike Elizalde, Stone Circle Prosthetics – Twilight Creations, Production Design – Stephen Scott. Production Company – Gary Sanchez Productions/Sechzehnte Babelsberg Film.
Cast
Jeremy Renner (Hansel), Gemma Arterton (Gretel), Famke Janssen (Muriel), Pihla Viitala (Mina), Peter Stormare (Sheriff Berringer), Derek Mears (Edward), Robin Atkin Downs (Voice of Edward), Thomas Mann (Ben), Ingrid Bolsø Berdal (Horned Witch), Rainer Bock (Mayor Engelman), Joanna Kulig (Red Haired Witch), Cedric Eich (Young Hansel), Alea Sophia Boudodimos (Young Gretel), Thomas Scharff (Father)
---
Plot
As children, Hansel and Gretel were abducted by a witch who lived in a house made of candy in the forest, but managed to kill her and make an escape. Now as adults, they travel Europe as witch hunters for hire. Arriving in the town of Augsburg at the invitation of the mayor, they save the innocent Mina from persecution as a witch by the sheriff. Taking on the bounty, they set out to find the witch that has abducted the town's children and is preparing to sacrifice them at the coming Blood Moon.
---
In the last few years, we have seen a variety of films attempting to reinvent fairytales as works of dark adult fantasy. This trend began with Beastly (2011) and Catherine Hardwicke's Red Riding Hood (2011) and has seen other efforts such as Mirror Mirror (2012), Snow White and the Huntsman (2012), Jack the Giant Slayer (2013), Beauty and the Beast (2014), Maleficent (2014) and Cinderella (2015), as well as a number of cheaper imitators. This trend has also extended to television with three different tv series offering up modernised tellings of fairytales with Grimm (2011-7), Once Upon a Time (2011-8) and Beauty and the Beast (2012-6).
Hansel & Gretel: Witch Hunters actually predates the existence of this dark adult fairytale trend. I first heard of the film when Tommy Wirkola's previous film, the Nazi zombie effort Dead Snow (2009), was doing the film festival rounds in 2009. Hansel & Gretel was shot in Germany in 2011 but release delayed for two years, first so that the film could be retooled for a 3D release and then purportedly to avoid clashing with the release of the other abovementioned fairytale films coming out in 2012.
The delays were such that a number of other cheaper productions were able to steal the film's take with the likes of Witchslayer Gretl (2012), The Asylum's Hansel & Gretel (2013) and Hansel and Gretel: Warriors of Witchcraft (2013) and with the idea being exported to other fairytales in Red: Werewolf Hunter (2010). None of these were as astonishing a take on the story of Hansel and Gretel as Matthew Bright's amazing Freeway II: Confessions of a Trickbaby (1999) or else Osgood Perkins's subsequent quite extraordinary Gretel & Hansel (2020). Also worth checking out is Francois Ozon's Criminal Lovers (1999), which reinterprets it as a gay love story.
The film was eventually dumped to theatres in mid-January 2013 – usually the time of the year just after awards season cut-off and when most North American theatrical audiences stay home because of the winter during which studios offload to theatres films they consider to be unwanted stinkers but are contractually bound to release – where it did moderate box-office. Not unexpectedly, almost all critics hated the film.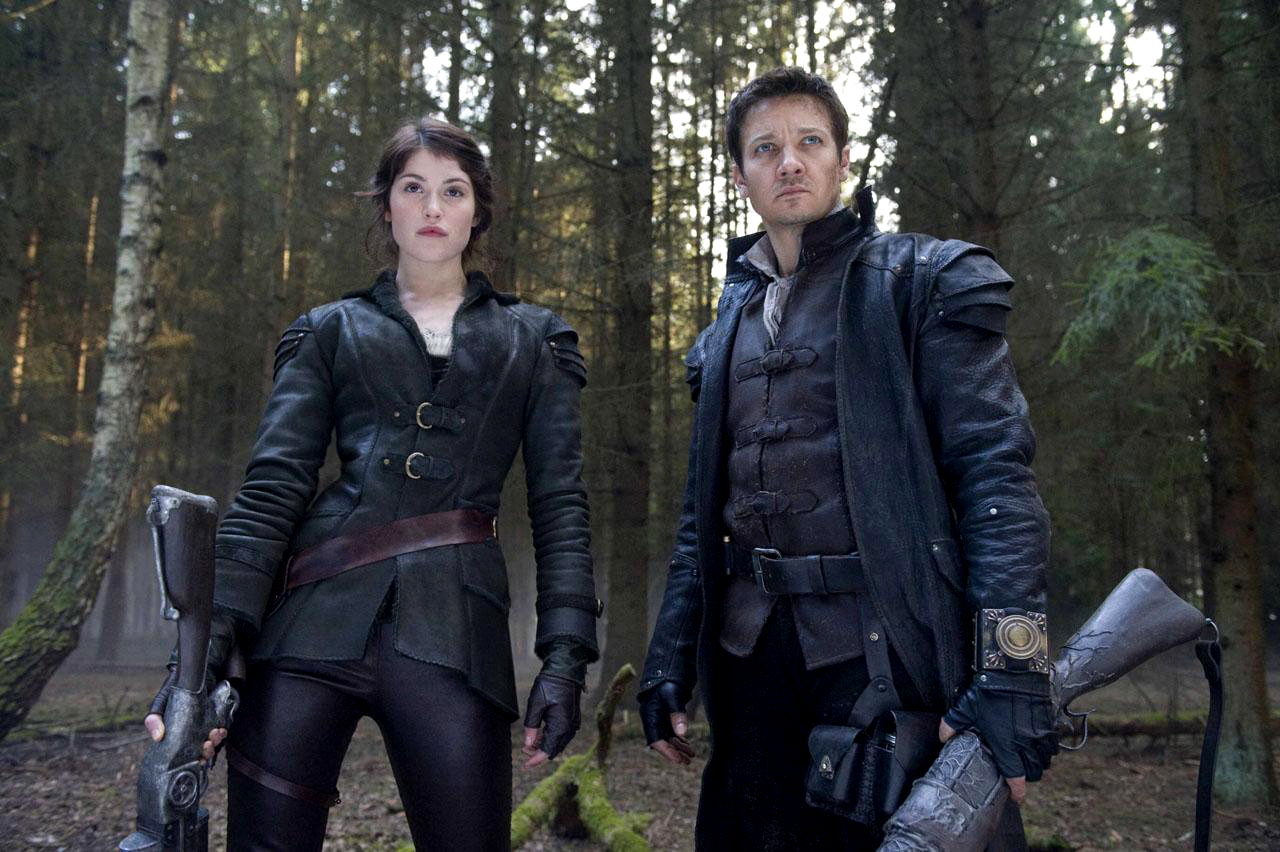 Tommy Wirkola purportedly had people advising him that his idea for Hansel & Gretel: Witch Hunters was a winner. Clearly, it was enough for a relatively ingenue and unknown Norwegian filmmaker to obtain $50 million in US-German financing – with Will Ferrell even signing on as a producer. The idea seemed one full of appealing potential when one initially read about the film – it could have worked if played with a tone akin to the abovementioned Red Riding Hood or Snow White: A Tale of Terror (1997) – but the results up on screen, oh dear.
Hansel & Gretel: Witch Hunters rapidly becomes a film where Tommy Wirkola is clearly not taking anything that is happening seriously and actively invites the audience not to do so either. When a film (at least one that is not being advertised as a comedy or tongue-in-cheek take) does this, it seems exceedingly dangerous territory to head into. It is an approach that ends up with efforts like Modesty Blaise (1966), Doc Savage – The Man of Bronze (1975), King Kong (1976), Batman & Robin (1997), Land of the Lost (2009), The Green Hornet (2011) and the abovementioned Mirror Mirror.
Tommy Wirkola states the film's setting as being about three hundred years ago, although the film has been put together in a way that it is almost impossible to get a fix on any historic setting. It is clearly Germany during the era when witch persecutions were commonplace, the last of which historically occurred in 1703. The film's era is also one that features modern projectile weapons, including shotguns and precision-tooled weapons such as the equivalent of a Gatling Gun, which was not built until the time of the American Civil War in the 1860s. The shotgun was in use by the time of the American West but around the early 18th Century setting what would have more commonly been in use would be a muzzle-loading single-barrel musket or perhaps a blunderbuss, not exactly weapons designed for the fast reloading we see here. We also see a gramophone being used but this was not invented until 1877 by Thomas Edison.
The opening credits featuring a series of mocked-up headlines about Hansel and Gretel, their becoming orphans and then witch hunters, seemed absurdly anachronistic to me as the film opened, although research reveals that newspapers were regularly being published in Germany in the 17th Century (although almost all were in urban centres, not rural towns, and would not have considered something like two peasant children being made orphans to be a headline item). The dialogue is frequently anachronistic – at one point, Jeremy Renner refers to the locals as 'hillbillies', a term that was not coined until 1900 in the USA.
Although maybe one of the biggest anachronisms is seeing Gemma Arterton wandering around in an impressively tight-fitting black leather body suit and pants as though on her way to a modern nightclub, where back in the day a woman wearing what would be seen as male clothing would have been heavily censured and regarded as very strange if not perverse.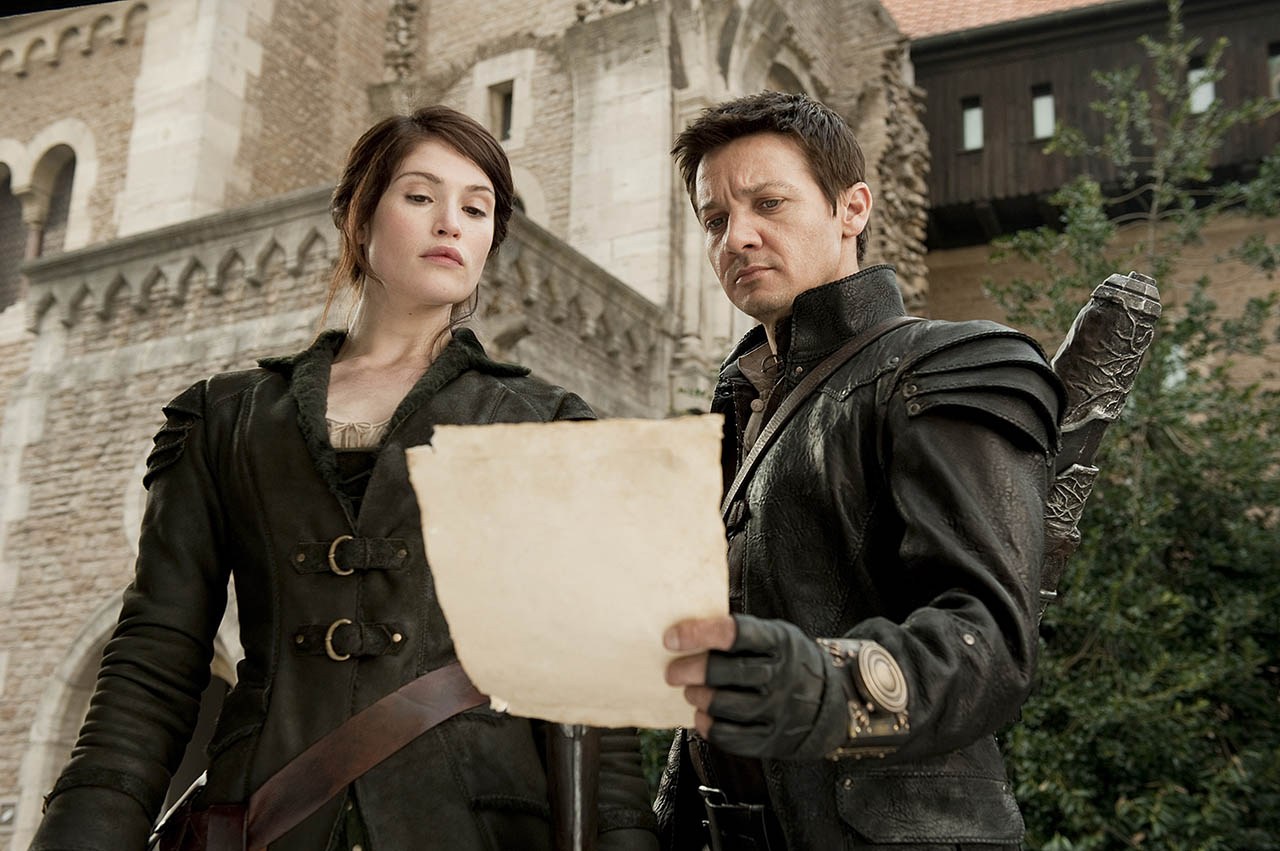 I wanted to like Hansel & Gretel: Witch Hunters but everything from about the point of the release of its trailer seemed to conspire against doing so. What we have feels exactly like the disaster of Stephen Sommers' Van Helsing (2004) – a film that reconstructed its source material into a pounding CGI and action spectacle without the remotest shred of sense, internal credibility or effort made towards historical authenticity, resulting in something so staggeringly and persistently mindless it collapsed in under its own preposterousness. Hansel & Gretel: Witch Hunters feels exactly like someone has taken an approximation of the plot of Terry Gilliam's The Brothers Grimm (2005) – characters associated with fairytales reconceived as monster hunters operating in Europe – and rewritten it with the sensibilities of a Van Helsing. There is no credibility to the period setting, just Tommy Wirkola having thrown action movie poses and sensibilities – characters constantly talk with modern attitudes and a wry self-awareness – into a fairytale milieu.
The film has a constant array of CGI effects at its forefront and Wirkola is determined to demonstrate his horror movie background with numerous scenes of witches and victims being splattered. None of it can be taken any more seriously than a gag in a cartoon. The witches are nothing more than snarling made-up faces that hold precisely zero effect. Indeed, the sight of action movie chases with characters pursuing and trying to trap witches as they fly off on brooms frequently causes the film to collapse into the totally absurd. As soon as it gets past its basic set-up, most of the film takes place as a series of fights with witches and remains severely underplotted.
One of the few bright spots of the film is the character of the genteel troll Edward who saves Gemma Arterton and takes her away to care for her. Here the film seemed to be creating an interesting Beauty and the Beast-type scenario but this evaporates and Edward becomes no more than part of the supporting cast for the rest of the film.
The other decent aspect of the film are its leads, Jeremy Renner and Gemma Arterton, two talented actors whose names have been on the rise in the last few years. Renner plays with taciturn tightness and Gemma Arterton with a sexy litheness, although both of them are stuck in a severely underwritten plot and an absurdly unserious treatment where they stand head and shoulders above the film around them.
Tommy Wirkola's other genre films (all made in his native Norway) have been:- Kill Buljo: The Movie (2007), a low-budget splatter-heavy parody of Quentin Tarantino's Kill Bill films, which led to a sequel Kill Buljo 2 (2013); the Nazi zombie film Dead Snow (2009), which received reasonable international play, and its sequel Dead Snow 2 (2014); the horror mockumentary comedy Kurt Josef Wagle and the Legend of the Sea Witch (2010); What Happened to Monday (2017) set in an overpopulated dystopian future; the non-genre The Trip (2021); and the Dark Christmas film Violent Night (2022).
(Winner in this site's Worst Films of 2013 list).
---
---