---
Crew
Director – Frank Marshall, Screenplay – Don Jakoby, Stephen Metcalfe & Wesley Strick, Story – Don Jakoby & Al Williams, Producers – Kathleen Kennedy & Richard Vane, Photography – Mikael Salomon, Music – Trevor Jones, Visual Effects Supervisor – David Sosalla, Mechanical Effects – Chris Walas, Special Effects – Matt Sweeney, Production Design – James Bissell. Production Company – Disney/Hollywood Pictures/Amblin.
Cast
Jeff Daniels (Dr Ross Jennings), Harley Jane Kozak (Molly Jennings), Julian Sands (Dr James Atherton), John Goodman (Delbert McClintock), Brian McNamara (Chris Collins), Henry Jones (Dr Samuel Metcalf), Stuart Pankin (Sheriff Lloyd Parsons), James Handy (Milt Briggs), Mark L. Taylor (Jerry Manley), Mary Carver (Margaret Hollins), Peter Jason (Herb Beechwood)
---
Plot
While on an entomological expedition into the jungles of Venezuela, a photographer is killed by a new and deadly type of spider. The body is crated up and shipped back to his home town of Canaima in the USA. One of the spiders manages to smuggle back, hidden inside the body. There the Venezuelan spider emerges and starts mating with native spiders. At the same time, doctor Ross Jennings arrives in Canaima from the big city to take over from the retiring GP's practice. However, Jennings is soon treated with suspicion and distrust by the locals when the patients he treats start turning up killed by massive doses of spider venom. Jennings joins with several others as they realise that the town is under attack by a malevolent new species of spider.
---
Frank Marshall was executive producer on every film that had the Steven Spielberg name made under the Amblin banner since Poltergeist (1982) and numerous others since and was still working with Spielberg well into the 2010s.. Marshall made his directorial debut with Arachnophobia.
The insects amok genre was popular during the 1970s with efforts such as Kingdom of the Spiders (1977), The Bees (1978) and Irwin Allen's The Swarm (1978). By associating itself with the Spielberg name (he is listed as an executive producer) and calling itself a 'thrill-omedy', Arachnophobia was one film that managed to successfully avoid the horror label and spilled over to broad audience appeal. In fact, when it came out, it found an acceptance almost anywhere but with the horror crowd. It is a leisurely safe film – the humour plays it genial and never too taxing, and so too do the thrills.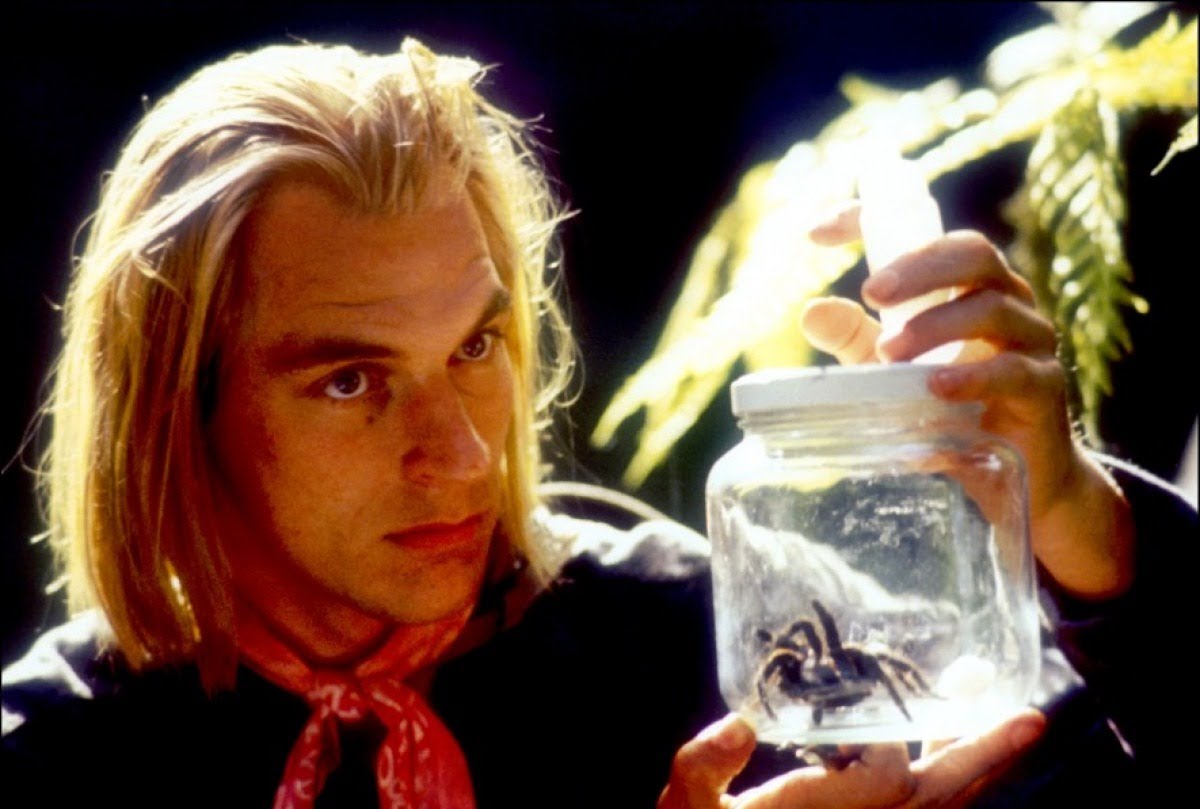 Marshall does okay – the opening Venezuelan scenes are the best, amid lovely location photography. The climax is sustained with a reasonable intensity. However, there is a predictability to all of the shocks – it is as though they come at regularly timed intervals. One quickly tires of the endless scenes of spiders jumping out at people – propelling themselves through the air by their legs is something that spiders just do not do. One wishes they could actually believe that the people on screen were in danger. Unfortunately, Arachnophobia is far too safe a film enshrouded in its light comedy approach to ever generate any real thrills.
Frank Marshall has fared better with his subsequent directorial outings – Alive (1993), a borderline horror film based on the true story of the Andean plane crash where the survivors were reduced to eating the flesh of their dead compatriots; the Michael Crichton lost world adaptation Congo (1995); and the Antarctic survival tale Eight Below (2006).
---
Trailer here
---