---
Crew
Director – Colin Trevorrow, Screenplay – Emily Carmichael & Colin Trevorrow, Story – Derek Connolly & Colin Trevorrow, Producers – Patrick Crowley & Frank Marshall, Photography – John Schwartzman, Music – Michael Giacchino, Visual Effects Supervisor – David Vickery, Animation Supervisor – Jance Rubinchik, Visual Effects/Animation – Industrial Light and Magic (Supervisors – Jeff Capogreco, Dan Swape & Alex Wang), Visual Effects – Cheap Shot VFX, Lola VFX, Live Action Dinosaurs – John Nolan, Special Effects Supervisor – Paul Corbould, Production Design – Kevin Jenkins. Production Company – Universal/Amblin Entertainment/Perfect World Pictures.
Cast
Chris Pratt (Owen Grady), Bryce Dallas Howard (Claire Reading), Sam Neill (Dr Alan Grant), Laura Dern (Dr Ellie Sattler), Jeff Goldblum (Dr Ian Malcolm), Campbell Scott (Lewis Dodgson), Isabella Sermon (Maisie Lockwood), DeWanda Wise (Kayla Watts), Mamoudou Athie (Ramsey Cole), Justice Smith (Franklin Webb), B.D. Wong (Henry Wu), Omar Sy (Barry Sembene), Scott Haze (Rainn Delacourt), Daniella Pineda (Zia Rodriguez), Dichen Lachman (Soyona Santos)
---
Plot
With the dinosaurs freed, Lewis Dodgson, the CEO of Biosyn Genetics, has established an animal preserve for them in the Dolomite Mountains. Claire Reading and Owen Grady live at a remote cabin in the Sierra Nevadas where Owen is working as a cowboy rounding up stray dinosaurs and Claire is involved with activist groups targeting illegal dinosaur breeding operations. With them is the genetically-engineered Maisie Lockwood whose existence they keep a secret from the world. The now teenage Maisie rankles against this and keeps venturing into the nearby town on her bicycle. Meanwhile, Ellie Sattler has been investigating giant prehistoric locusts that have been wreaking havoc across the USA but do not touch genetically modified Biosyn crops. She rejoins Alan Gant and they use their connection with Ian Malcolm, who now works for Biosyn, to get them into the Biosyn facility to investigate. Meanwhile, Maisie is discovered and snatched by mercenaries. Owen and Claire determinedly pursue, following her trail to a dinosaur smuggling operation in Malta. Both parties converge at the Biosyn facility in the Dolomites. There chaos ensues as the locusts that Dodgson has been engineering are loosed, forcing the evacuation of the park and the freeing of the dinosaurs.
---
Jurassic World: Dominion was the sixth film in the Jurassic Park franchise. Steven Spielberg's original Jurassic Park (1993) was a ground-breaking work when it came out. Spielberg duly followed this with The Lost World: Jurassic Park (1997) and then handed the reins over to another director for Jurassic Park III (2001). The series fell silent for fifteen years before being revived with new faces in Jurassic World (2015) from Colin Trevorrow. Trevorrow was absent for the sequel Jurassic World: Fallen Kingdom (2018) but returns to the director's chair again here.
The biggest headlines the film gained before release was when it ended up being shut down for four months during the Covid pandemic after several crew on set tested positive. This resulted in an extensive set of safety procedures and testing methods employed on set, along with an entire hotel rented out to quarantine cast and crew. Indeed, Judd Apatow made an entire film inspired by the on-set problems with The Bubble (2022).
By the time that Jurassic World: Dominion arrived on screen, most reviews were ho-hum. Audiences appeared largely indifferent and Dominion ranks the lowest grossing of all the Jurassic World films and below the total of Jurassic Park (which includes its 3D re-release figures). It ranks above both the Jurassic Park sequels released two decades earlier but only half of the series' top-grossing entry Jurassic World.
I arrive at Dominion feeling an ennui with the Jurassic Park/World franchise. I am old enough to have seen Jurassic Park in theatres when it first out and can remember the audible wow when audiences saw CGI dinosaurs for the first time. The sad truth is that the series has spent just short of thirty years now coasting by on that same wow. The plot of every single film is a variant on the first – somebody tries to set up a park and exploit the dinosaurs, the dinosaurs invariably get free and run amok. Plotwise this has a predictable tedium – you would think after so many catastrophic failures that someone somewhere would decide it is too dangerous a prospect to keep bringing dinosaurs back to life, or that governments would start instituting bans against doing so.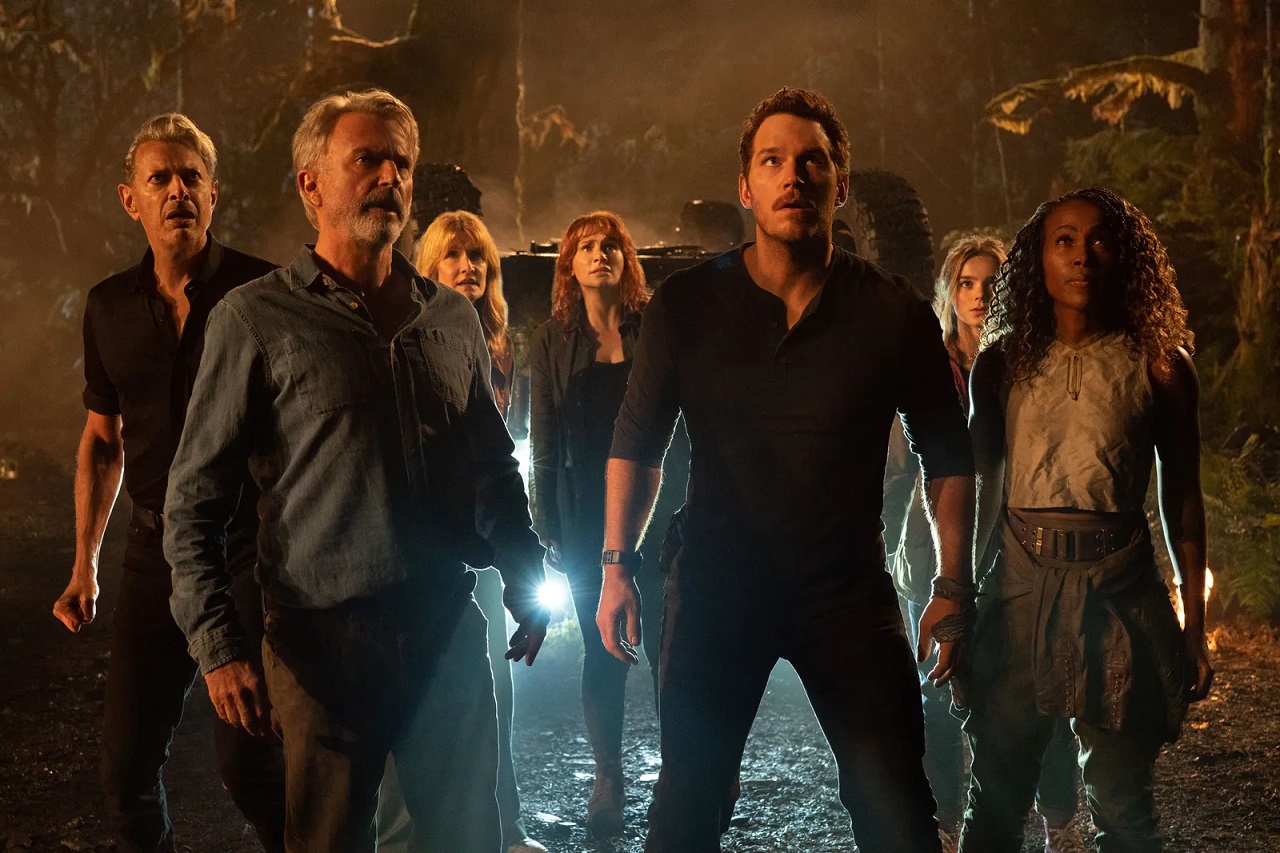 To be fair to the franchise, the last entry Fallen Kingdom finally did seem to be going new places with its ending where Jeff Goldblum turned up to deliver a warning that the dinosaurs were now living out there in the world and we must learn to co-exist. Dominion does some interesting things to extrapolate from this in the set-up, showing such things as dinosaur preserves, illegal dinosaur smuggling operations, dinosaur rights activists and ecological catastrophes as swarms of prehistoric locusts go amok devouring crops.
The first half of the film shakes up the familiar mix somewhat – with dinosaurs in different environments such as the snowy mountains and a Middle Eastern town, in woods where we see them preying on deer and the like. Colin Trevorrow offers the glorious image – undeniably borrowed from The Valley of Gwangi (1969) – of Chris Pratt on horseback roping dinosaurs. And there is the upbeat final image the film goes out on touring the world with dinosaurs and regular animals all together in harmony (conveniently ignoring that some of the dinosaurs would be turning to the others as food).
On the other hand, the film inevitably returns to the familiar. It takes nearly an hour-and-a-half of running time to get all the parties together at the Biosyn facility and none too surprisingly for everything to proceed to go haywire. This does have one or two interesting developments. One of these is Campbell Scott written in as an equivalent of John Hammond by way of Mark Zuckerberg or Elon Musk – an eccentric taken with his own innovations and demanding that employees should be grateful for them. In the first film, John Hammond was a genial billionaire who failed to see the consequences of what he did, whereas by now Scott has become an outright villain. (For some reason, Scott's character is named Lewis Dodgson, which combines the pen name and real name of Alice in Wonderland (1865) author Lewis Carroll aka Charles Dodgson).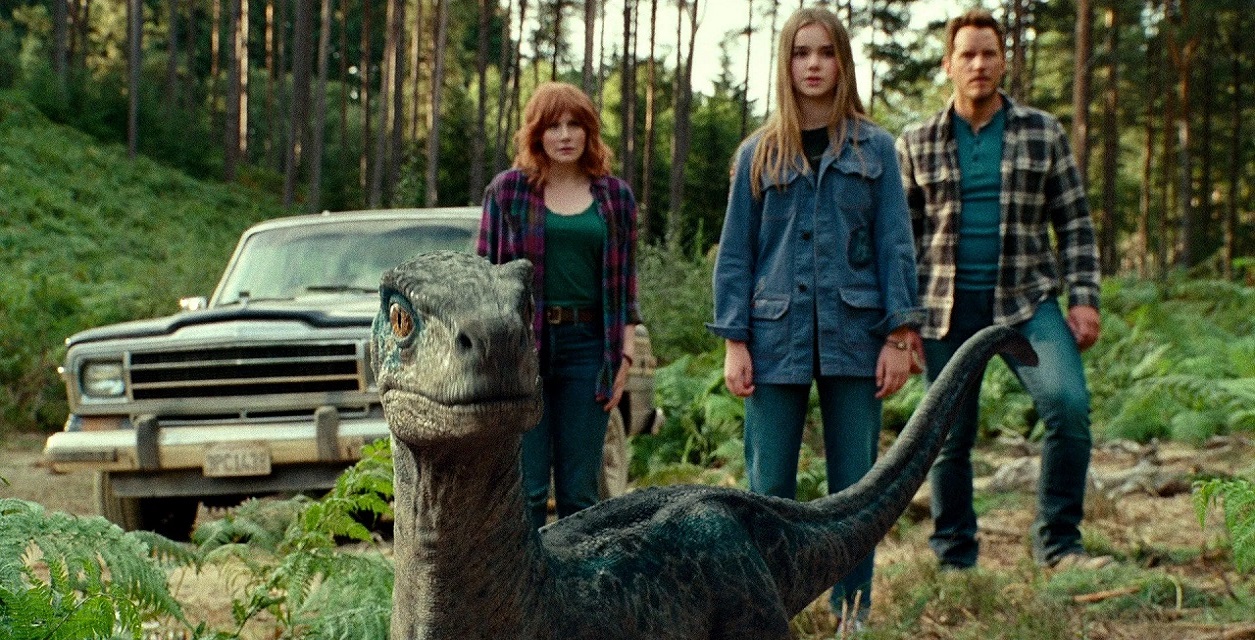 The other is the return of Ian Malcolm, still spouting the same warnings about the system going wrong that he was back in 1993. I have some issues with this. First of all, there is no such academic field of study as a chaotician. Those who study the field are mathematicians and usually deal with complex systems like the weather, physics and cellular biology. However, for the Jurassic Park series, chaos theory doesn't mean "complex systems are unpredictable" but "attempts to control nature are always doomed to go wrong." For all his appearance of being a scientist, Ian Malcolm is no more than the crazed person in the street carrying the placard "You are all doomed."
Jurassic World: Dominion is what these days gets called a 'legacy sequel' – that is to say, a sequel that brings back members of the original cast. The entire Disney Star Wars trilogy, most of the 2020s Star Trek incarnations, the recent Halloween and Ghostbusters revivals and Top Gun: Maverick (2022) can all be included here. Jeff Goldblum certainly gives an entertaining performance as might be expected, while Sam Neill rises to give his warm lopsided smile. That said, the film never conceives anything to do with all three except have them being chased around by more dinosaurs. The same can be said for returnees Chris Pratt and Bryce Dallas Howard – Chris in particular gets to do so much staring intently at dinosaurs and holding his hand out with fingers splayed that it is now verging on parody.
Despite everything, I didn't entirely hate Jurassic World: Dominion. It was certainly better than Fallen Kingdom. Colin Trevorrow delivers some tense scenes – Bryce Dallas Howard jumping out of a plane in an ejector seat as pterodactyls shred its parachute in mid-air; Bryce being pursued by a tyrannosaurus rex and evading it by holding her breath underwater, leading to a beautiful shot with her in the bottom half of the screen submerged and it searching on the top half above the water. There is one sequence that approaches something of the tension that Steven Spielberg created in the first Jurassic Park with the party attempting to flee to an observation platform in the forest as the T. Rex's jaws crush the guard cage covering the ladder as Isabella Sermon climbs up; its jaws coming right up close to where everybody is huddled on the exterior deck and then it starting to tear the ledge apart; before they get inside and its head comes smashing through the window to drag Bryce Dallas Howard away. The effects in these, as might be expected, are excellent.
(Nominee for Best Special Effects at this site's Best of 2022 Awards).
---
Trailer here
---