(Yaga. Koshmar Tyomnogo Lesa)
---
Crew
Director – Svyatoslav Podgaevsky, Screenplay – Natali Dubovaya, Ivan Kapitonov & Svyatoslav Podgaevsky, Producers – Ivan Kapitonov, Rafael Minasbekyan, Svyatoslav Podgaevsky & Vadim Vereschagin, Photography – Anton Zemkovich, Music – Nick Skachkov, Visual Effects Supervisor – Vladimir Lamzin, Visual Effects – AmalgamaVFX, Makeup Effects – Aleksey Ivchenko, Production Design – Vladislav Ogay. Production Company – Central Partnership/Nonstop Production/QS Films.
Cast
Oleg Chugunov (Egor), Glafira Golubeva (Dasha), Artem Zhigulin (Anton), Svetlana Ustinova (Tatyana/Baba Yaga), Aleksey Rozin (Aleksey), Maryana Spivak (Yuliya), Igor Khripunov (Mrachnyy), Marta Timofeeva (Seta), Olga Makeeva (Dasha's Mother), Evgeniya Evstigneeva (Egor's Mother)
---
Plot
Young Egor's mother has died but he still sees her in his dreams. Egor is not happy that his father Aleksey has remarried to Yuliya who has given birth to a young daughter Varya. Egor befriends Dasha, a girl his own age, after standing up to three bullies led by Anton who are harassing her. Egor becomes fearful of Tatyana, the new babysitter that Yuliya hires, after seeing strange things on the baby monitor video. Tatyana demonstrates supernatural powers as she threatens Egor. Egor then finds that Varya has vanished and neither Aleksey and Yuliya have any memory of her. He and Dasha meet the strange Mrachnyy who lives in the woods. Mrachnyy tells them about Baba Yaga, the legendary witch who steals children and then takes away people's memories of ever having a child. Mrachnyy has been searching for his own missing daughter Seta. Egor, Dasha and Anton find Baba Yaga's hut in the woods. They enter a gateway through the furnace that leads into a haunted realm where Baba Yaga lives and set out to rescue Varya.
---
Baba Yaga is a figure from Russian folklore, dating back to at least the 18th century and earlier oral traditions. In these, she is depicted as a hideous old crone who eats children and lives in a hut in the woods that stands on chicken legs. In other versions, she is three sisters. She had previously appeared in live-action in the Russian-made Baba Yaga (1973), the Italian-made Baba Yaga, Devil Witch (1973), the Russian Vasilia the Beautiful (1977) and in animation in the Russian-made Morozoko (1965), Dobrinya and the Dragon (2006) and Three Heroes on Distant Shores (2012) and the US animated film Bartok the Magnificent (1999). She made a supporting appearance in Hellboy (2019), while there is also a witch named Baba Yaga that appeared in several episodes of Legends of Tomorrow (2016- ).
This is a new version of the Baba Yaga story from Russian director Svyatoslav Podgaevsky. Podgaevsky has exclusively specialised in horror and genre material with the films Block 18 (2014), Queen of Spades (2015), The Bride (2017), The Mermaid: Lake of the Dead (2018) and Dark Spell (2021).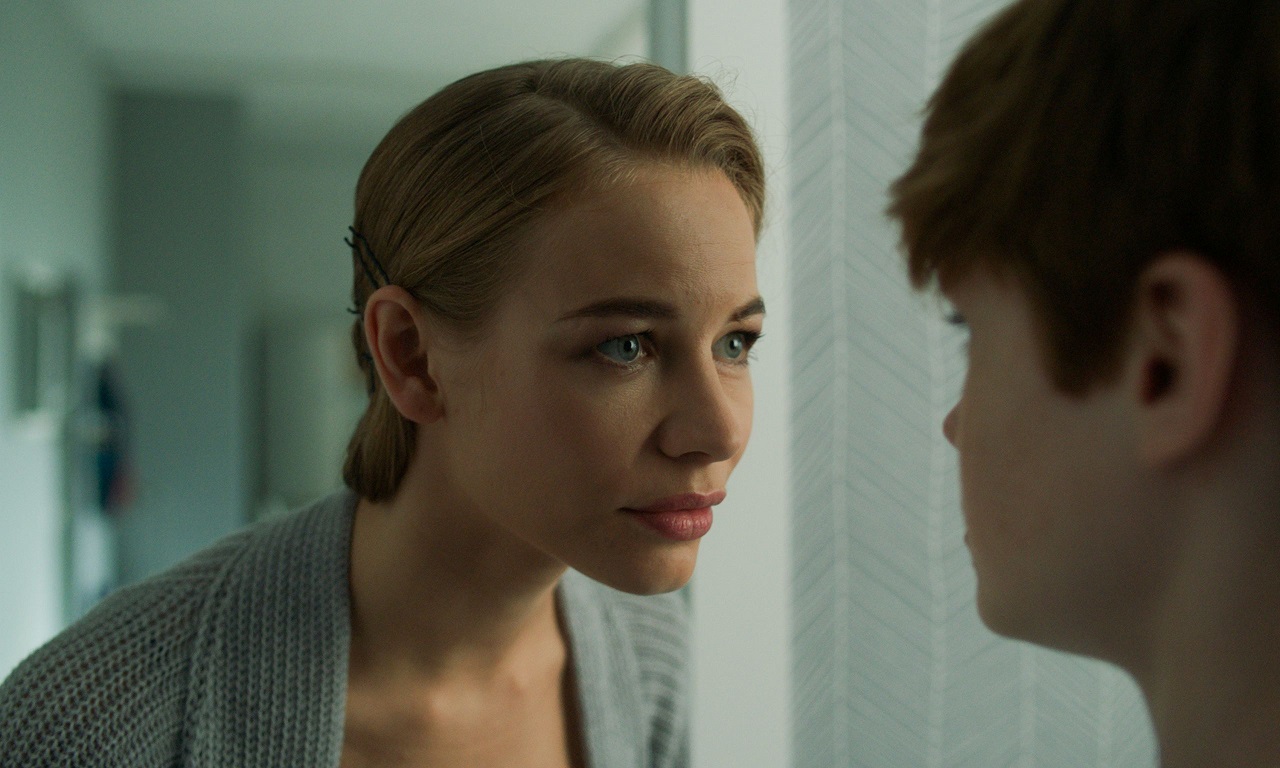 The disappointment of Baba Yaga, Terror of the Dark Forest is that the Baba Yaga here is not a hideous, evil witch. Instead what we get is Svetlana Ustinova as a deadly seductive nanny rather than looks hideous. This in effect makes Baba Yaga little more than being a variant on The Guardian (1990), the William Friedkin film with Jenny Agutter as a druidic baby-snatching nanny. This Baba Yaga also gets an ability that none of the other incarnations have – of being able to erase memory of the snatched child from the minds of the parent and family. She does get a hut in the woods but this is bereft of any chicken legs.
Baba Yaga, Terror of the Dark Forest works okay, although I didn't feel there was much about it as a film that made it particularly stand out for me. The cast are generally okay. My disappointment with the film is that it turns the folk story into a very different modern film and even then one that seems less concerned with fighting the witch than with the characters struggling against erased memories. The film certainly works better when it enters into the realm of the witch's forest and young Oleg Chugunov struggles to rescue his infant sister. A very similar take on the same premise was conducted around the same time with the much better US film The Wretched (2019).
---
Trailer here
---