---
Crew
Director – Bernard McEveety, Screenplay – William Welch, Story – Sean McGregor, Producers – L.Q. Jones & Alvy Moore, Photography – John Arthur Morrill, Music – Jaime Mendoca-Nava, Special Effects – Steve Karkus, Production Design – Ray Boyle. Production Company – LQJaf.
Cast
Strother Marin (Doc Duncan), Charles Bateman (Ben Holden), L.Q. Jones (Sheriff Pete), Ahna Capri (Nicky), Charles Robinson (Father Jack), Alvy Moore (Tobey), Geri Reischl (K.T. Holden)
---
Plot
Ben Holden, his girlfriend Nicky and young daughter K.T. pass through the desert town of Hillsboro on holiday. Once in the town, they find they are trapped by an impenetrable barrier that cuts the town off from the outside world. Inside the town, a coven of Satanists led by the town's doctor are causing children's toys to kill off adults and are then snatching the children to be part of a coming occult ceremony. When K.T. is taken, Ben joins the few remaining townspeople in trying to fight the menace.
---
Brotherhood of Satan is a halfway effective early jump on the 1970s occult bandwagon that came soon after the success of Rosemary's Baby (1968). It was one of four films that Alvy Moore and veteran Western actor L.Q. Jones would make together – they also made one other occult film with The Witchmaker (1969) and the cult classic science-fiction film A Boy and His Dog (1975). Brotherhood of Satan was one of the few films directed by Bernard McEveety who spent the whole of his career working in television, usually in Western series.
Brotherhood of Satan is low-budget but Bernard McEveety succeeds in creating a certain atmosphere. The film's big problem is that it is elliptically told – it takes a good two-thirds of the running time before one gets a picture of what is going on in the town. Even then it only disappointingly turns out to be the old standby of Satanists transferring their souls into the bodies of the young. A big mystery is made out of this in the film's elliptical way – it never directly states that this is what is happening, there is only talk about needing thirteen children and then a surprise fadeout at the end on the children rescued but smiling a little too innocently. [Very similar ideas were conducted around the same time in the British horror film Nothing But the Night (1972)].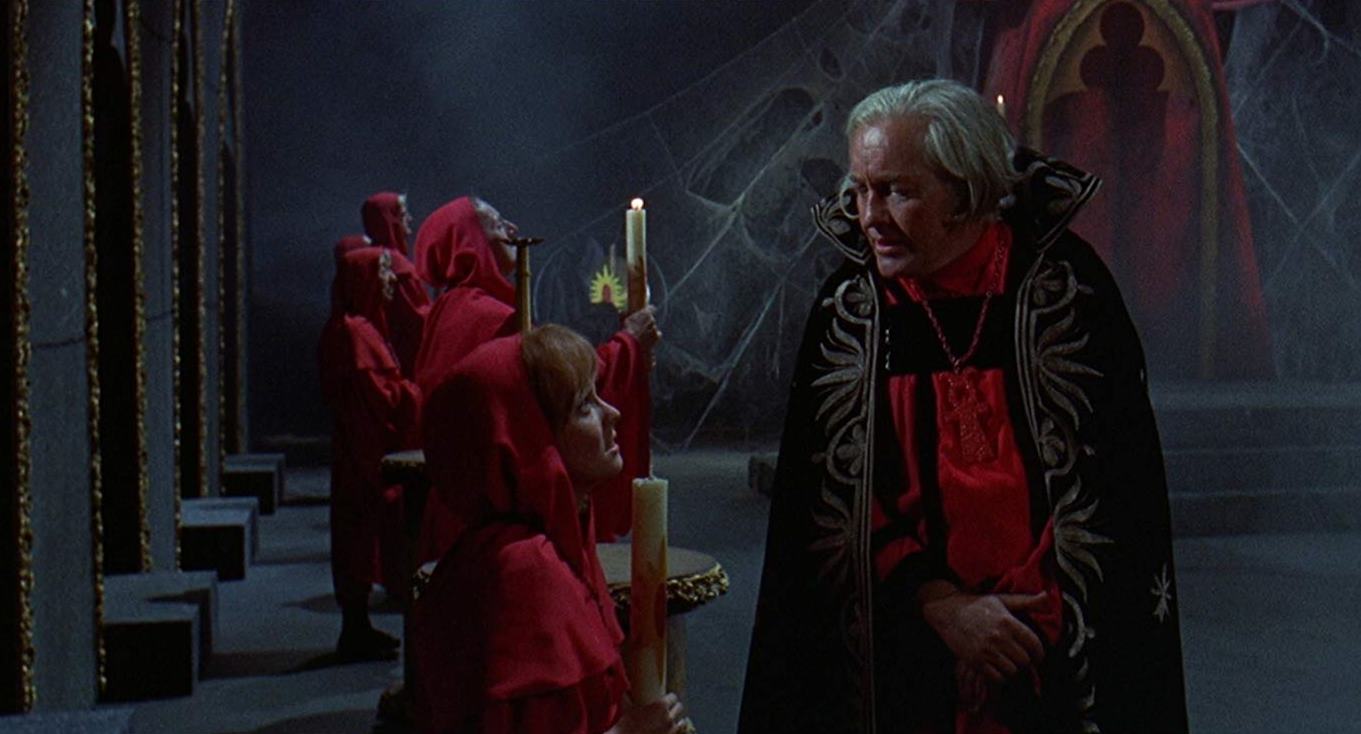 Bernard McEveety interestingly tries to set up a series of scenes that suggest that the adults are being killed by children's toys, but this is an effect that never works – the attempts to build the toys into something threatening fails because the toys are static and no amount of editing successfully builds any threat. (The one exception is the scene where a toy soldier beheads the priest in silhouette).
Charles Bateman is stolid as the hero and Ahna Capri seems virtual wallpaper (it is never clear whether she is Bateman's girlfriend or a second wife). However, some of the supporting characters, such as L.Q. Jones's grizzled sheriff, are good. Strother Martin gives a performance full of sweaty, wheedling, cowardly imprecations and ferocious dominance that is fascinating to watch.
---
---