(La Figlia di Frankenstein)
---
Crew
Director/Producer – Mel Welles, Screenplay – Edward Di Lorenzo, Story – Dick Randall, Photography – Richard Pallotin [Riccardo Pallotini], Music – Alessandro Alessandroni, Special Effects – CIPA, Animation – Charles Ramboldt, Art Direction – Francis Mellon.
Cast
Sara Bay [Rosalba Neri] (Tania Frankenstein), Joseph Cotten (Baron Frankenstein), Paul Muller (Dr Charles Marshall), Mickey Hargitay (Captain Paul Harris), Paul Whiteman (The Monster), Herbert Fux (Tom Lynch), Renata Cash (Julia Stack)
---
Plot
Baron Frankenstein's daughter Tania returns from university, now a qualified doctor. She is eager to join her father's experiments in attempting to revive dead animals but wants to try reviving humans. The Baron keeps her away from his current experiment – that of reviving the body of a hanged man. He is successful but the creature, which is hideously disfigured and possesses superhuman strength, kills the Baron and then flees into the countryside, killing all it comes across. Tania covers up her father's involvement in this, while making plans to build a second creature to hunt down the first. She tells her father's middle-aged assistant Charles Marshall, who has a crush on her, her outrageous plan – to transplant his brain into the body of the intellectually handicapped stable boy so that she can have someone who loves her but is also handsome and youthful.
---
Lady Frankenstein was an Italian-made Frankenstein film that came out in the early 1970s. It was clearly birthed by the popularity of the Hammer Frankenstein sequels during this period. Lady Frankenstein joins a number of other Frankenstein films of this era that liberally interspersed the Baron's experiments with nudity and sexual content – see also Frankenstein '80 (1972), Andy Warhol's Frankenstein/Flesh for Frankenstein (1973), The Erotic Adventures of Frankenstein (1975), Frankenstein's Castle of Freaks (1974) and Frankenstein – Italian Style (1977). The problem with these is that the Frankenstein story – one about dead bodies being stitched together and a hideous monster on the rampage – is not something that readily lends itself to erotic treatment. Lady Frankenstein compensates somewhat by turning the Baron into a woman.
Lady Frankenstein holds some surprises. These include names like the normally respectable Joseph Cotten who was slumming in a number of continental films during this period, as well as Jayne Mansfield's husband, bodybuilder Mickey Hargitay, who makes for a wooden investigating police captain.
The surprise is also Mel Welles in the director's seat. Mel Welles is better known as an actor usually in the Roger Corman stables, having appeared in films such as Attack of the Crab Monsters (1957), The Undead (1957) and most notably as the original Gravis Mushnik in The Little Shop of Horrors (1960). Welles ventured into director's chair upon three other occasions with the crime thriller Code of Silence (1957), the Spanish/German killer tree film Island of the Doomed/Man-Eater of Hydra (1966) and the exploitation film Joyride to Nowhere (1977).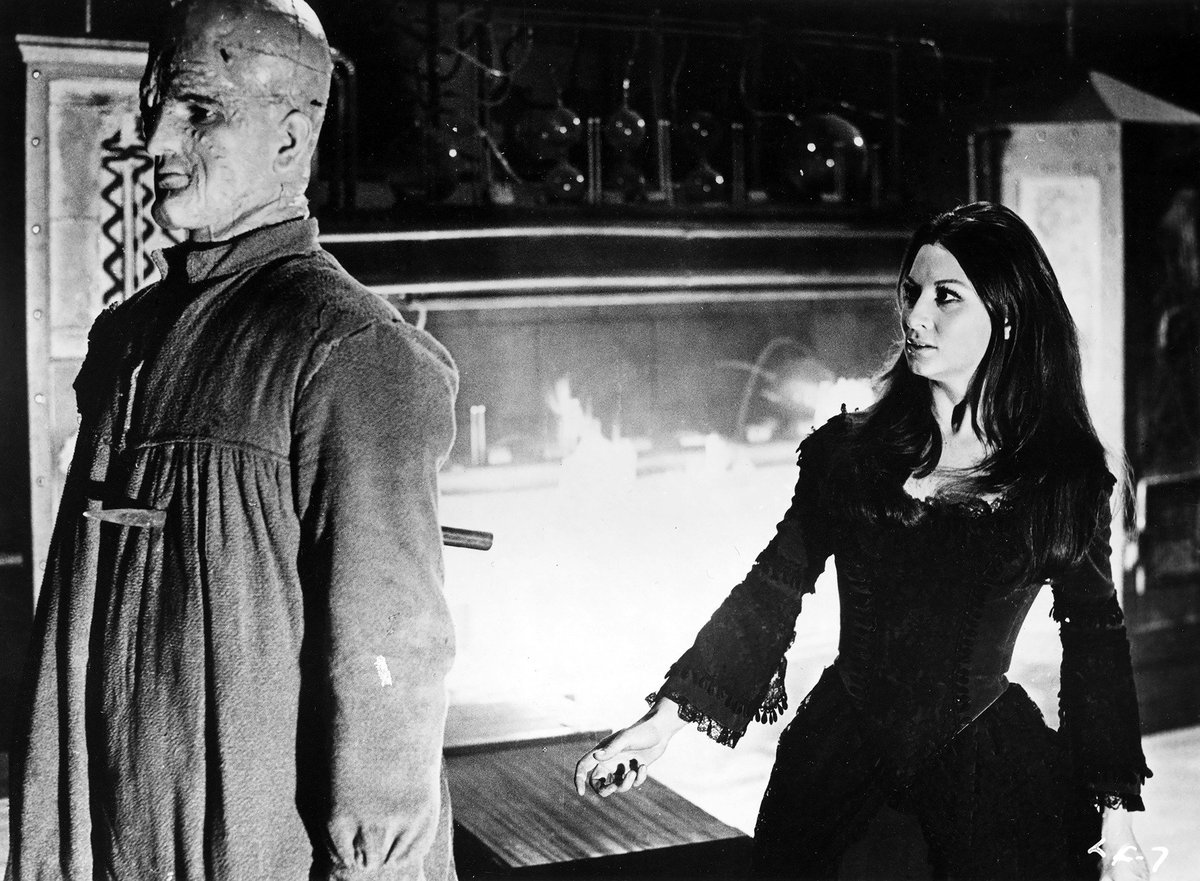 To Mel Welles's credit, he tries hard to compete with the Hammer films on a clearly diminished budget. The sets are okay, with some threadbare corners occasionally showing. However, the standard Frankenstein lightning storm sequences are completely lame. The worst part about the film is the monster itself, which is given a ludicrous makeup job that makes it look as though it has a giant watermelon planted on top of its head.
Mostly, Lady Frankenstein passes routinely. The plot – Lady Frankenstein wants to transplant her middle-aging paramour's brain into the body of the handsome but imbecilic stable boy – is passable if somewhat far-fetched. It does at least give the story a certain dynamic. It is possible to imagine it having been conducted as a Hammer film, which did some fairly similar plots – Frankenstein gives a dwarf a normal-sized body in The Revenge of Frankenstein (1958); Frankenstein transplants a man's soul to share a woman's body in Frankenstein Created Woman (1967); and Frankenstein transplants a psychiatrist's brain into another body to get at the secrets in his head in Frankenstein Must Be Destroyed (1969).
One fine aspect of the film is Sara Bey (in actuality Italian actress Rosalba Neri, who appeared in a number of Jesus Franco exploitation pictures, usually unclothed) in the title role. Bey/Neri gives the role far more than it deserves in a fierily passionate and seductive performance.
---
Trailer here
Full film available online here:-
---