---
Crew
Director – Al Adamson, Screenplay – Joe Van Rodgers, Story – Samuel M. Sherman, Producers – Al Adamson & Samuel M. Sherman, Photography – Louis Horvath. Production Company – Independent International Pictures Corp./Hemisphere Entertainment Inc./Phil-Am Enterprises Ltd..
Cast
Grant Williams (Dr Robert Nixarian), Kent Taylor (Dr Lloyd Trenton), Vicki Volante (Katherine), Angelo Rossitto (Dorro), John Bloom (Gor), Regina Carrol (Tracy), Reed Hadley (Abdul Amir), Richard Smedley (Angel), Zandor Vorkov (Mohammed)
---
Plot
Abdul Amir, the ruler of Kalid, passes away. Amir's companion Tracy and physician Dr Robert Nixarian agree to maintain the pretence he is still alive while they transport the body to the USA into the care of top surgeon Dr Lloyd Trenton. There Trenton removes Amir's brain and transplants it into the body of his hulking, facially disfigured assistant Gor. Trenton then orders his henchmen to eliminate Amir's people. Trenton's plan all along has been to preserve Amir under his control so that he can take over Kalid and create a country populated by a race of supermen who are immortal due to his brain transplants. However, Robert survives the attempts to kill him and returns to rescue Amir. Meanwhile, Amir, horrified at the body he is now trapped inside, makes an escape and flees across the countryside.
---
The Filipino-made Blood Island films enjoyed a popularity during the early 1970s. These consisted of Brides of Blood (1968), Mad Doctor of Blood Island (1969) and Beast of Blood (1971). The series gained success after Mad Doctor of Blood Island was given a sensationalistic promotional campaign in the US.
Brain of Blood is sort of one of the Blood Island films – it has a similar mad scientist plot and was made by Hemisphere Entertainment, the same US distributor as the other Blood Island films. However, it was not made by any of the same people involved in the other Blood Island films – the only common name is Kent Taylor, cast as the mad scientist here, who played a good guy in Brides of Blood. Nor for that matter is it is even shot in the Philippines but simply L.A. and environs. Today it would be called a mockbuster. Apparently what happened was that the Filipino filmmakers of the Blood Island films broke away from Hemisphere and sought deals with other distributors that offered more lucrative returns. A miffed Hemisphere sought to capitalise on the name of the product and produced their own soundalike film using the __ of Blood title.
Hemisphere placed Brain of Blood in the hands of Al Adamson (1929-95), a director who is often mentioned in the same league as Edward D. Wood, Jr. Adamson worked the low-budget exploitation end of the market the whole of his career with films such as Satan's Sadists (1969), Blood of Dracula's Castle (1969), Horror of the Blood Monsters/Vampire Men of the Lost Planet (1970), Dracula vs. Frankenstein (1971), Blood of Ghastly Horror (1972), Cinderella 2000 (1977), Death Dimension (1978), Nurse Sherri/Beyond the Living (1978) and Carnival Magic (1981), as well as co-directed Dr Dracula (1980). Blood and Flesh: The Reel Life and Ghastly Death of Al Adamson (2019) is a documentary about Adamson's life and films.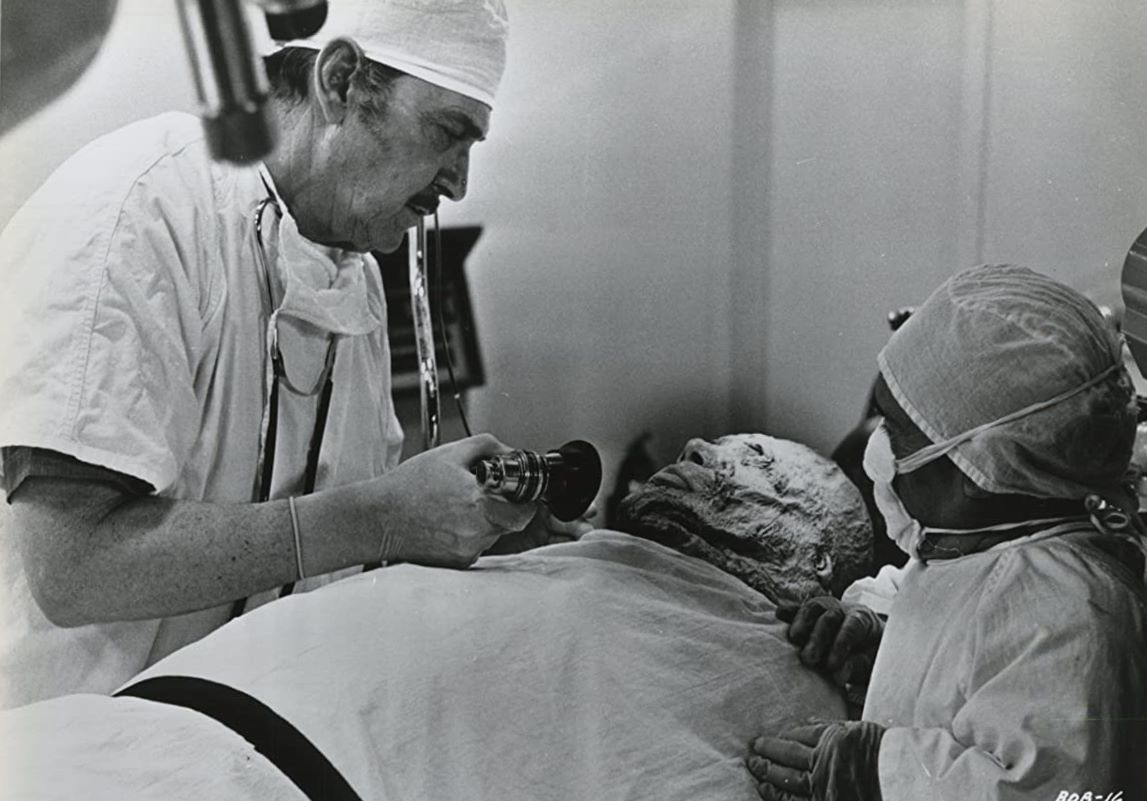 Al Adamson's films often look like they have been cobbled together from bits and pieces of other films he started shooting but didn't have the money to complete. While still a shabby film, Brain of Blood is one of the more competent that Adamson made. It at least has a linear rather than patchwork plot. Adamson creates an entertainingly trashy mix – Angelo Rossitto's dwarf lab assistant for no clear reason keeps two girls imprisoned in a dungeon where he tortures them for his own enjoyment. There is an extremely gory brain transplant scene within the first few minutes – although when we actually see the removed brain placed on a tray, it looks nothing like a brain and more like some animal liver. Adamson throws in random car chase and fight sequences that go on for minutes at a time.
This also has one of the better casts that Adamson worked with. This includes Grant Williams, no less than The Incredible Shrinking Man (1957) himself, as the doctor on the run. As the mad scientist is Kent Taylor, a B movie actor of the 1940s who became an Adamson regular when his career went into a decline.
There is also an undeniable freakshow appeal to some of the casting. This includes John Bloom, a 7'4" actor that Adamson cast as his Frankenstein monster and who throughout his career played roles in The Incredible 2-Headed Transplant (1971) and The Dark (1979), even appeared in Star Trek VI: The Undiscovered Country (1991). At the other end of the scale is 2'11" actor Angelo Rossitto who had a long career between the silent era and the 1980s in everything from Freaks (1932) to Mad Max Beyond Thunderdome (1985) and Orson Welles' The Other Side of the Wind (2018).
Brain of Blood invariably ends up being the same old Al Adamson film. Despite stirring an interesting pot, the last half feels like no more than a B-budget Frankenstein film with the hulking, facially disfigured creature with a massively enlarged cranium stumbling across the countryside creating havoc and the various attempts to apprehend it.
---
---