---
Crew
Director/Screenplay – Emily Harris, Additional Writing – Sean McConaghy, Based on the Short Story by J. Sheridan Le Fanu, Producers – Lizzie Brown & Emily Precious, Photography – Michael Wood, Music – Pillip Selway, Visual Effects – Peerless (Supervisor – Paul Round), Makeup Design – Julie Kendrick, Production Design – Alexandra Walker. Production Company – Bird Flight Films/Fred Films/Tilly Films.
Cast
Hannah Rae (Lara Bauer), Devrim Lingau (Carmilla), Jessica Raine (Miss Fontaine), Tobias Menzies (Dr Renquist), Greg Wise (Mr Bauer), Daniel Tuite (Paul the Stableman), Scott Silven (Magician)
---
Plot
19th Century England. Teenager Lara Bauer lives at home on the family estate following the death of her mother. She is tended by a strict governess Miss Fontaine who tries to curb Lara's waywardness, including tying her left hand behind her back to force her to use her right hand. Lara misses her friend Charlotte who lives in a neighbouring town but learns that Charlotte has fallen mysteriously ill. A coach crashes in the woods nearby and the surviving passenger, a girl Lara's age, is brought to the house. The girl has no memory and so Lara gives her the name Carmilla. Lara soon makes a new friend in Carmilla but Carmilla is also flirtatious and leads Lara into forbidden territory by kissing her. However, Miss Fontaine and the doctor Renquist believe something more sinister is at work.
---
J. Sheridan Le Fanu (1814-73) was a writer of Victorian-era ghost stories. Le Fanu tends to be overshadowed by the output of Bram Stoker and Henry James and is not given the recognition that is his due. Born in Dublin, the son of a clergyman, Joseph or Sheridan (as he preferred it) studied law and then entered journalism, eventually becoming a magazine editor. It was here he began publishing stories and novels. Although he has published many others, the work that Le Fanu's fame rests on is the short story Carmilla, published in the collection In a Glass Darkly (1872), first being serialised in the magazine The Dark Blue. This is one of the key works of vampire fiction, creating the trope of the lesbian vampire and predating Bram Stoker's publication of Dracula (1897) by over two decades.
There have been a number of screen adaptations of Carmilla. It loosely to the point of having almost nothing in common formed the basis of Carl Dryer's uncanny classic Vampyr (1932). The first proper adaptation was Roger Vadim's Blood and Roses (1960) and this was followed by the Italian-Spanish Terror in the Crypt (1963); Hammer Films' trilogy consisting of The Vampire Lovers (1970) starring Ingrid Pitt as Carmilla, Lust for a Vampire (1971) with Yutte Stensgaard and Twins of Evil (1971) with twin sisters Mary and Madeline Collinson; the Spanish The Blood-Spattered Bride (1972) starring Alexandra Bastedo; an episode of the tv series Nightmare Classics (1989) starring Meg Tilly; and the modernised Styria (2014) starring Julia Pietrucha. (For a more detailed overview see Vampire Films).
Carmilla is immediately a different film than any previous version. Works like Hammer's trilogy and The Blood Spattered Bride tend to subsume Le Fanu's delicate mood for something openly voluptuous and in your face, lacking in subtlety. Carmilla comes at almost complete remove from that – if anything, you are reminded of the gauzy, wistful schoolgirlish fantasy of something like The Picnic at Hanging Rock (1975).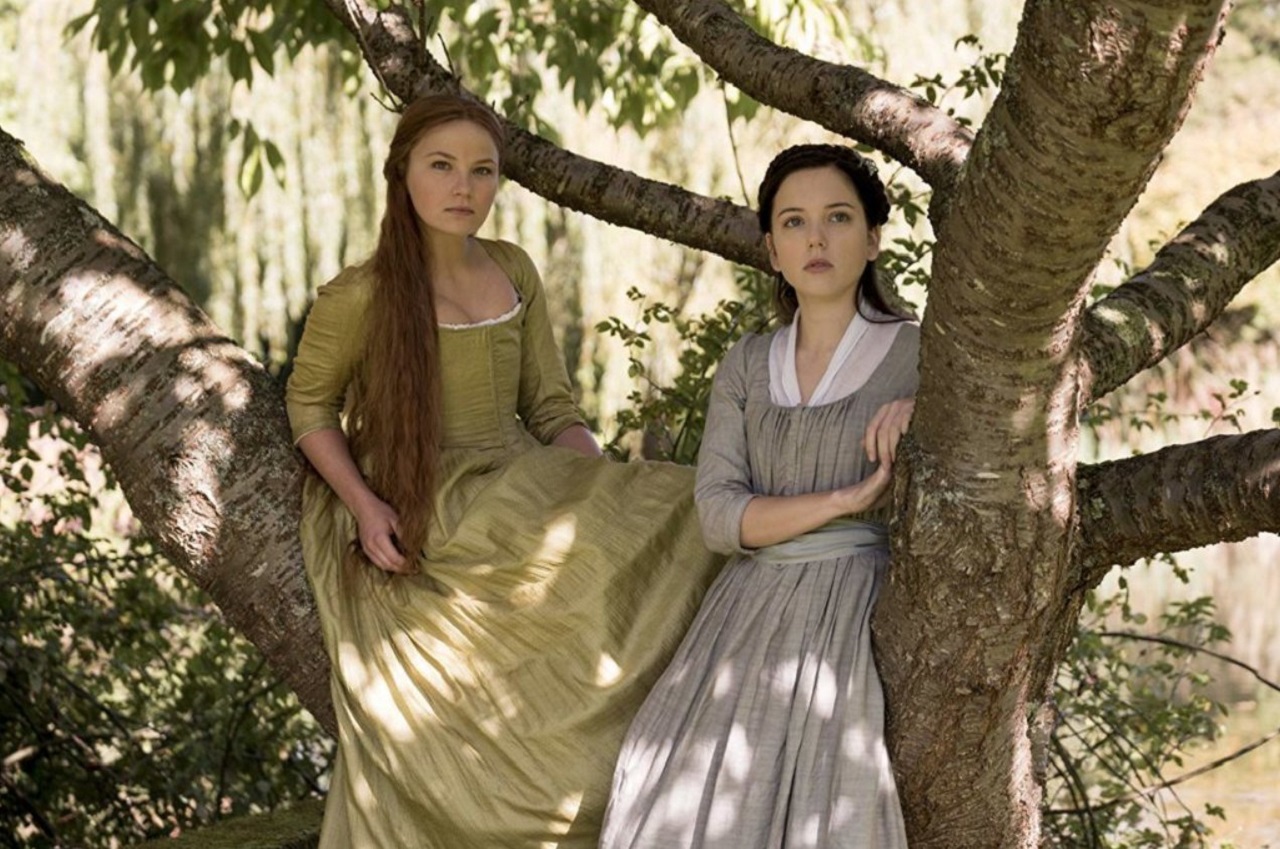 Director Emily Harris shoots in dreamy landscapes, shots of Hannah Rae sitting under trees on the estate, she and Devrim Lingau running in the grounds. This is interspersed with assorted macro-closeups of insects devouring prey – a symbol of something lurking beneath the pretty landscapes. Amid this, we see the stern face of British upper-class moralism as personified by Jessica Raine's governess who binds Hannah Rae left hand to discourage her from using it and she being smacked as a punishment.
The film changes many elements of the story, including moving the location from Austria to England. The film fairly closely follows the plot of the first half of the story about Carmilla coming to stay after being found in a crashed coach in the woods. Here though the name Carmilla is one given to her by Lara – dropped entirely by the film has been her family history where we learn about the Karnsteins and how Carmilla has maintained different identities using anagrams of her name – Mircalla, Marcilla. The film also drops the latter half of the story with Carmilla being hunted by General Spielsdorf. The governess feels like an import from The Turn of the Screw (1898), multiply filmed most famously as The Innocents (1961) and The Haunting of Bly Manor (2020). She is a minor character in the Le Fanu story who has now been pushed to centre stage.
The lesbian element now becomes an element of forbidden attraction. The film makes contrasts – in an aspect that was never in the book, the governess represents stern authoritarianism and the repression of Lara's natural self. In the end, the governess comes to stand in for patriarchal authority – Jessica Raine even has a sexual liaison with Tobias Menzies' doctor before being persuaded to join him as a vampire hunter thus coming to symbolise heterosexual desire pitted against girl-on-girl love, against which Carmilla represents freedom and innocent infatuation.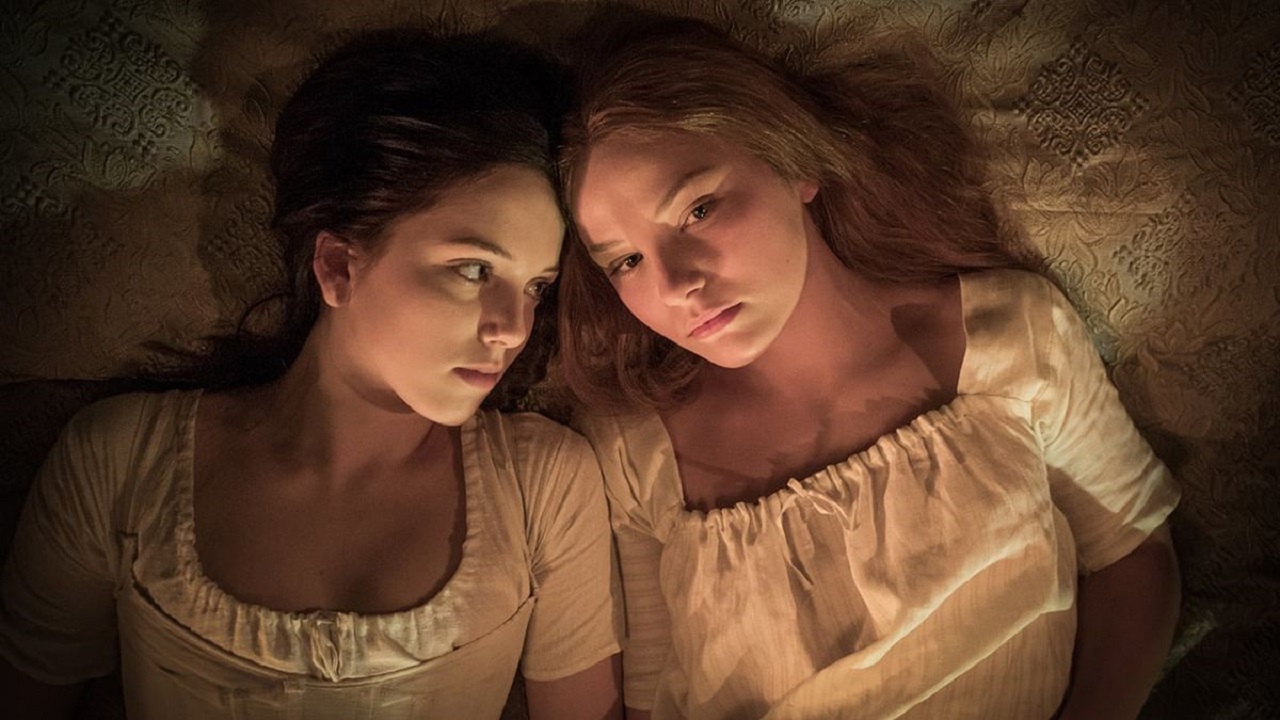 Both the girls, Hannah Rae and Devrim Lingau, give good performances in the respective roles and the muted Victorian wood interiors and landscaped gardens gives the romance a dreamy fantasy. It is all kept ambiguous – it is entirely possible to take an Ambiguously Fantastic reading of the film where they is no vampire, just two girls in love and, like Martin (1976) and the ghosts in The Turn of the Screw, the vampire hunter's belief might all be down to repression. We never actually see any of the traditional elements of vampirism like fangs and blood-drinking.
The film is wrapped up rather abruptly. Le Fanu's ending, which consists of a much more elaborate series of scenes where General Spielsdorf hunts and eventually faces down against Carmilla, is ditched in favour of the two girls running away together and then being found as they cuddle together on a small rise whereupon Jessica Raine comes and stakes Devrim Lingau off-screen. All of this is over and done with in less than thirty seconds, which makes for a rather abrupt anti-climax.
Carmilla comes from Emily Harris who had previously directed the documentary Borges and I (2009) and co-directed the dramatic films Paragraph (2015) and Love is Thicker Than Water (2016), along with assorted short films and work as an editor.
---
Trailer here
---