---
Crew
Director – Audrey Cummings, Screenplay – Jason Krawczyk, Producer – Jennifer Mesich, Photography – Ian McMillan, Music – Jim McGrath, Visual Effects Supervisor – Darren Wall, Special Effects Supervisor – James Sled, Production Design – Jim Peacock. Production Company – A71.
Cast
Olunike Adeliyi (Lacey), Pater MacNeill (Detective Charlie Godfrey), Kiana Madeira (Suzzie Rothblatt), Noah Danby (Terrance Remander), Michelle Nolden (Meredith Remander), Katie Messina (Sergeant Janice Martin), Bill MacDonald (Homeless Joe), Edsson Morales (Jerry), Ajuawak Kapashesit (Conner), Lawrence Gowan (Man in the Hat)
---
Plot
Police detective Charlie Godfrey is investigating Terrance Remander, who is believed to be responsible for trafficking girls and using them to make snuff internet porn. He follows a mystery girl Lacey into a building owned by Terrance and finds that she has killed Remander's men, severed their fingers and then walked out despite having been shot in the head. Charlie tracks Lacey down and talks to her. She tells him that she takes the fingers to feed on the bone marrow and has incredible abilities to recuperate from damage. After finding that she lives homeless, Charlie offers Lacey an apartment he has. They agree to team up to eliminate some of the bad people on his books. In killing one of Remander's lieutenants, Lacey finds Suzzie Rothblatt handcuffed up in his apartment and frees her. Suzzie attaches herself to Lacey despite Lacey telling her to go away. Meanwhile, Remander and his sister Meredith are determined to capture Lacey and place her in one of their snuff videos.
---
He Never Died (2015) was a modest film from director/writer Jason Krawczyk featuring Henry Rollins as man who is gradually revealed throughout to be an immortal. This is a sequel that also comes with a screenplay by Jason Krawczyk. This film comes with an ending that would seem to set things up to expand the series to a trilogy.
While the original was a US production, She Never Died was shot in Canada. The new director is Audrey Cummings who premiered with the babysitter stalker film Berkshire Country (2014) and followed that with the labyrinth film Darken (2017), while she also produced the horror film Anything for Jackson (2020).
She Never Died is a very different film from its predecessor. Henry Rollins' central character has been replaced by Olunike Adeliyi's Lacey. Cummings seems less interested in the depiction of someone who is very long lived, although there is still the central premise of an immortal being befriended by a mortal. Clearly, Audrey Cummings was more drawn by making a film with a strong female protagonist at the centre of it – the film even takes up the issue of sexual trafficking and exploitation (although promptly does it a disservice by demonstrating it has done little research on the matter).
Olunike Adeliyi's performance quite takes one aback. She plays with a harsh alienness as though she has never reacted with people before and wants nothing to do with them. Her dialogue for much of the show ends up being single word responses. If anything, her performance reminds of Danai Gurira's Michonne in tv's The Walking Dead (2010) – or at least the way the character was originally portrayed. Her escape from captivity at the end, bursting into the reception with an ululating cry and proceeding to kill everyone is a charged triumph.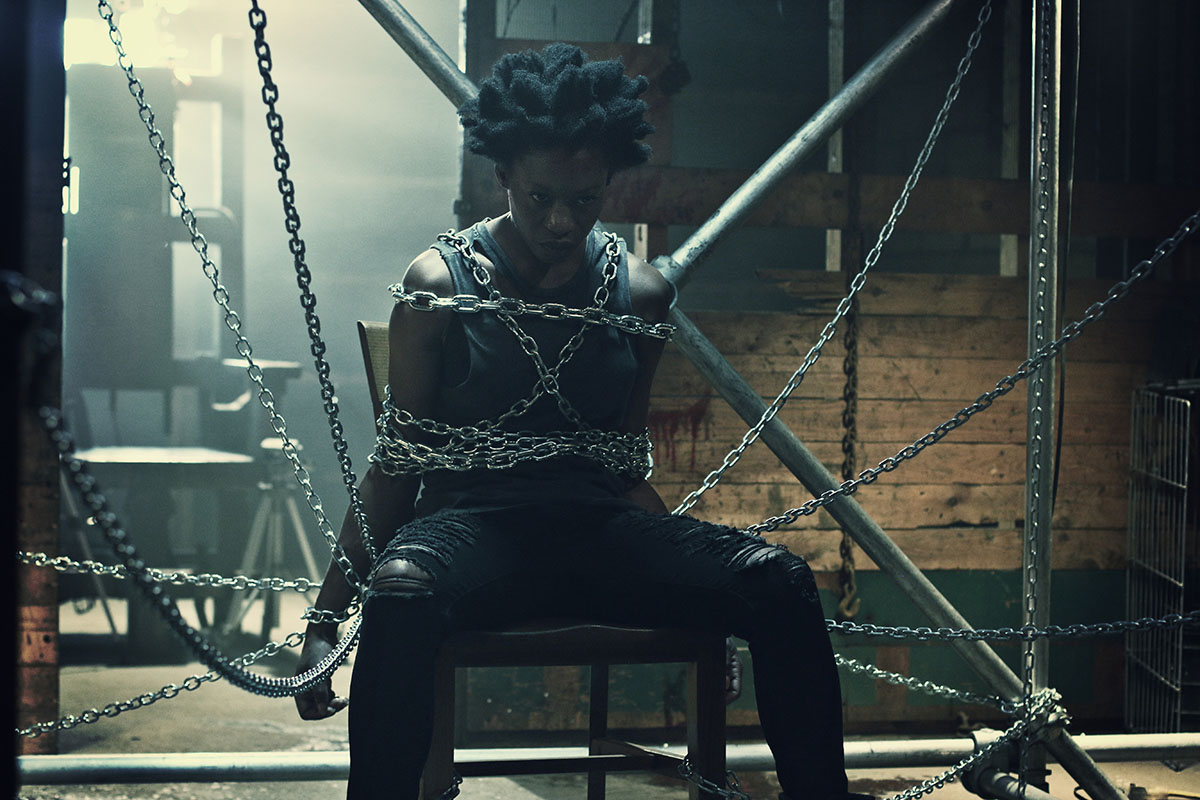 The dryness of some of the dialogue between characters is appealing. Detective Peter MacNeill approaches Olunike Adeliyi in a diner where the dialogue as she nonchalantly describes keeping the fingers because they are easy to carry is rather hilarious. Rescued girl Kiana Madeira has a line "I get taken advantage of most days …..", which gets a response from Olunike "I eat people, it's not the same." Or of Olunike dealing with Noah Danby and associates beating her up: "Is this a kidnapping? Why don't I just go with you?" which they shrug and agree with before Danby asks "Can I take another swing?"
On the other hand, I do question some of the quick shortcuts made in the character connections. Peter MacNeill has barely introduced himself to Olunike Adeliyi and he is offering her a spare unoccupied apartment he just has and they have made an agreement for her to operate as a rogue hitperson on his behalf and eliminate some of the troubled names on his books he has been unable to deal with officially. Equally, Kiana Madeira goes from a girl that is first found handcuffed in one of the criminal's apartments (why is never made clear, presumably for sexual purposes), is freed and then just follows Olunike Adeliyi around, making sarcastic chatter, seemingly bouncing back to normal without experiencing any trauma as a result of her imprisonment.
The main problem though is that the film is set among the world of internet snuff livestreams and concerns human trafficking. Human trafficking concerns people from poor (usually) East European countries who are lured westwards with job offers and then forced into prostitution (as well as labour). The women being held prisoner here are not being trafficked as there is no indication they are anything other than abductees from the same unnamed city. While prostitution is rife among trafficked women (and to a lesser extent internet porn), there is zero evidence that traffickees has ever been used in snuff for the simple reason that nobody has offered up a reliable case of the existence of any Snuff Movie.
---
Trailer here
---