---
Crew
Director – Derick Martini, Screenplay – Bret Easton Ellis & Derick Martini, Based on the Novel Downers Grove by Michael Hornburg, Producers – Jason Dubin, Oren Segal & Chiara Trento, Photography – Frank Godwin, Music – Pinar Toprak, Visual Effects Supervisor – Dylan Travis, Makeup Effects – Vincent Guastini, Production Design – Derrick Hinman. Production Company – Myriad Pictures/Bystander Films/Alibella Productions/ODD Entertainment
Cast
Bella Heathcote (Chrissie Swanson), Lucas Till (Bobby), Kevin Zegers (Chuck Whitmore), Martin Spanjers (David Swanson), Penelope Mitchell (Tracy), Mark L. Young (Ian), Helen Slater (Diane Swanson), Tom Arnold (Charlie Whitmore), Steve Martini (Detective Libretti), Zane Holtz (Guy), Marcus Giamatti (Rich)
---
Plot
Chrissie Swanson is a teenager nearing graduation in Downers Grove, Illinois. She and her classmate are fearful of the so-called Curse of Downers Grove where one of each year's graduating class is always killed before graduation occurs due to, it is believed, the town being built on Indian burial ground. She has developed a liking for the mechanic Bobby. Her mother goes away with a new guy, leaving Chrissie and her fifteen year-old brother David at home alone. Chrissie then meets Chuck Whitmore, a jock from a neighbouring school, who invites her to a party. Once there, Chuck tries to force himself onto Chrissie and she is forced to jab her finger in his eye to get away. With Chuck left blinded in his eye, bringing an end to a pro football career, he swears vengeance on Chrissie. He and his jock friends begin to stalk and harass Chrissie, beating up Bobby, breaking David's hand and leaving slaughtered dog carcasses on their lawn. Discovering that Bobby and her best friend Tracy have announced a party at their house, Chrissie realises that Chuck will take the opportunity to invade the house and tries to find a way to defend herself.
---
The Curse of Downers Grove is an adaptation of Downers Grove (1999), a novel by Michael Hornburg. A fictional work, it is set in the real-life high school where Hornburg grew up with characters based on his family, even if the curse has been made up. The film version has been taken on by Derick Martini who had previously made the non-genre Lymelife (2008) and Hick (2011), as well as written the Louis Armstrong biopic Louis (2010).
Martini adapts the book with Bret Easton Ellis, a novelist whose works have been adapted to the screen several times, most notably as Less Than Zero (1987), American Psycho (2000), The Rules of Attraction (2002) and The Informers (2008), as well as the original screenplays for The Canyons (2013) and Smiley Face Killers (2020) based on a group of theoretically speculated true-life serial killers.
I was not sure what to expect of The Curse of Downers Grove before watching. In reading around, I had the impression that the sometimes controversial Bret Easton Ellis name had switched off some other people. As I started watching, Derick Martini's chosen visual style of subliminal flashes that highlight characters in negative seemed affected and did little to enthuse me for some way in.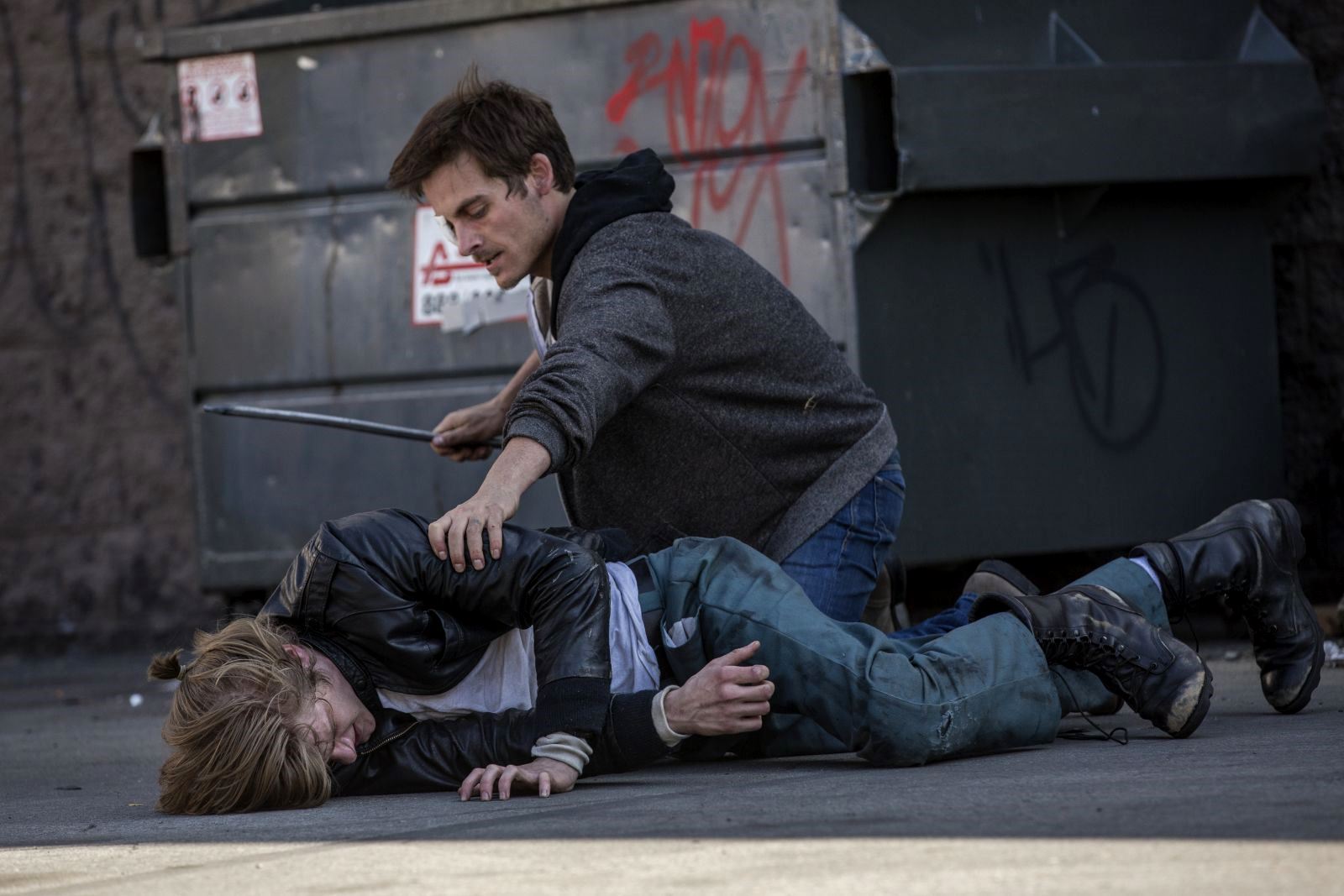 However, I was soon jolted out of my seat by the harsh and uncomfortable depiction of the near-rape of Bella Heatchote by Kevin Zegers at the party. The film soon propels one into the realm of the rather grippingly watchable with scenes of slaughtered dog bodies tossed onto the lawn or where the jocks come together and beat Bella Heathcote's brother Martin Spanjers up in an alleyway and crush his fingers.
The film has a harsh grimness to it. The characters are drawn with considerably more fleshing out and colour than you get in your usual teens-in-peril film. Amid these, Kevin Zegers does psycho rather well. It also becomes one of the few films of its ilk to hold a social message and tackle rape culture among jocks. The siege climax is particularly effective and it becomes an emotionally charged triumph as Bella Heatchote walks through the house blowing her attackers away with a shotgun.
The only part that did not work for me was the titular curse. It is there at the start and soon becomes forgotten about. This leaves a film that starts oft seeming to be about something supernatural and then quickly segues into another type of film about jock culture, bullying, revenge and eventually home invasion. Just when you think the film had forgotten all about the curse, it reappears again at the climax. This unfortunately also ends up becoming one of the biggest negative points about the film, leaving it going out on a major downer. It is something that the film that does not need and you suspect it would have worked far better without the bookended scenes concerning the curse.
---
---