---
Crew
Director – Levan Bakhia, Screenplay – Adrian Colussi, Story – Levan Bakhia, Adrian Colussi & Lloyd S. Wagner, Producers – Nika Apriashvili & Iraki Chikvaidze, Photography – Vigen Vartanov, Music – Audio Network Limited, Peke Begashvili & Beqa Jguburia, Special Effects Supervisor – Soso Gvasalia, Production Design – Tamar Guliashvili & Sofia Kharebashvili. Production Company – Sarke Studio/Georgian Film Investment Group/Scatena & Rosner Films/Rustavi 2 Broadcasting Company/Georgian Public Broadcaster.
Cast
Sterling Knight (Chris), Spencer Locke (Alicia), Kote Tolordava (Ilya), Dean Geyer (Daniel), Nana Kiknadze (Tanya), Elene Bezarashvili (Lika), Giorgi Tsaava (Devi)
---
Plot
Daniel, his fiancee Alicia and best friend Chris go camping overnight in the countryside of Georgia. What Chris and Alicia are not telling Daniel is that they slept together, although she urges Chris to say nothing. The next morning they are joined by a co-worker Devi who gets them to pose for a photo – only for Chris to hear a click as he steps on a patch of ground. They realise that he is standing on a landmine and urge him not to move. Daniel then reveals that he knew about them sleeping together and planted the landmine. He and Devi depart and leave the two of them. As Chris and Alicia stand there, trying to figure out what to do, they are approached by the passing local Ilya and beg his help. However, Ilya demands a price for his aid. He uses this to increasingly sexually debase and finally brutalise Alicia as Chris is forced to watch, unable to move.
---
Landmine Goes Click is the novelty of the first genre film I have had to view from Georgia (the former Soviet Republic not the US state). It was the second film for Georgian director Levan Bakhia who had previously co-directed 247oF (2011), a similar conceptual containment thriller about people trapped inside a sauna.
You have to complement Levan Bakhia in that he has clearly made Landmine Goes Click for an international audience – the film is shot in English and comes with American actors as its principals (as was also the case with 247oF). Moreover, the Americans are the sympathetic point-of-view characters and when it comes to the locals speaking Georgian, their dialogue is left unsubtitled. In other words, we have a film made by Georgians in which they treat their own country as a foreign land (and don't exactly show it as a welcoming place either). This is not dissimilar to a bunch of films including Eli Roth's Hostel (2005), 13 Tzameti (2005), Severance (2006), Them (2006) and I Spit on Your Grave 2 (2013), which treated Eastern Europe as a lawless borderland where there was the sense that the characters who venture there leave safety and civilised rules behind.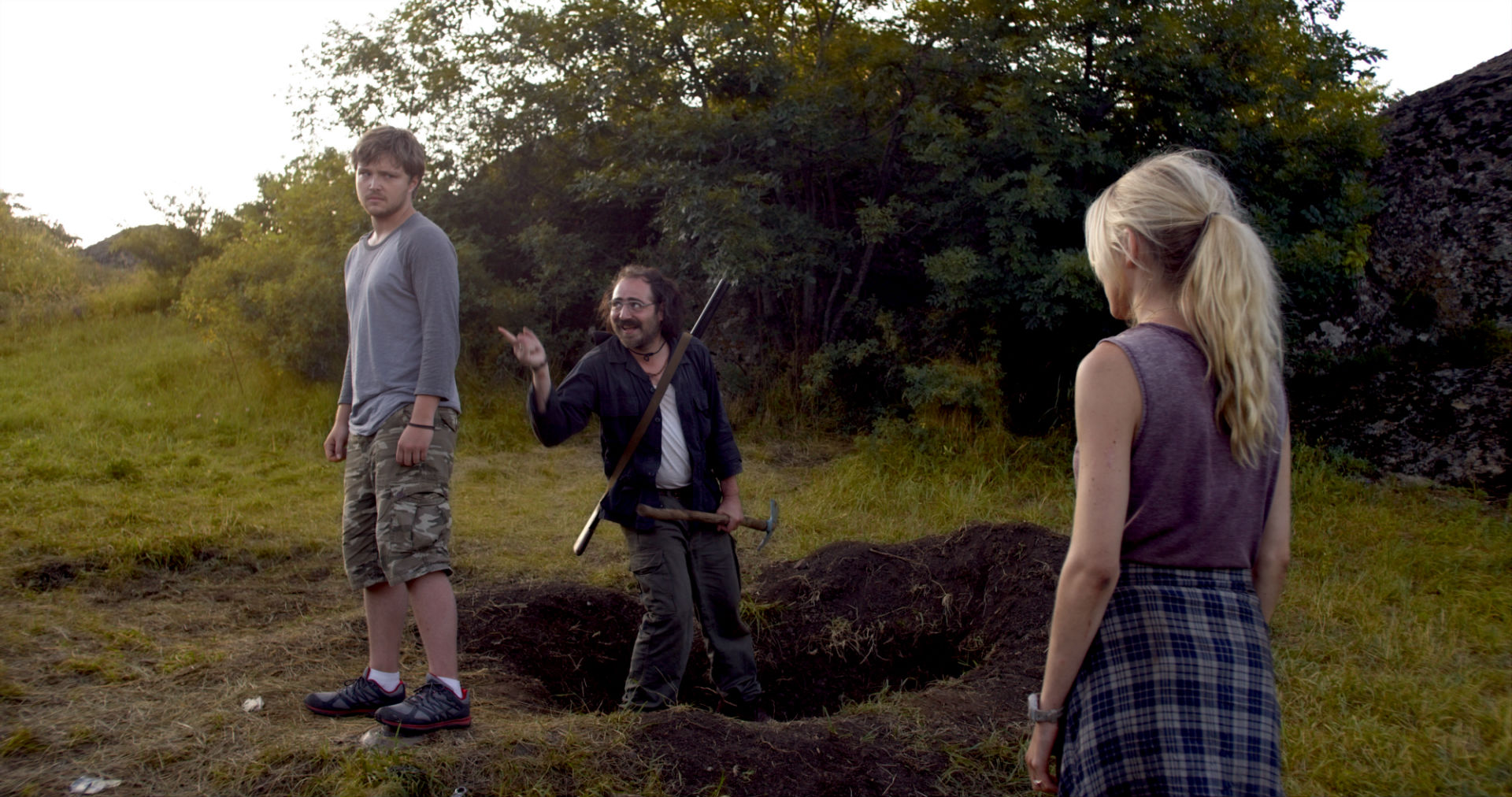 Landmine Goes Click comes with a great premise – it is one where the title sells the film and tells you about all of the inherent tensions in its three words, which is not something you can say about many films. It reminds of one of the recent Conceptual Containment Thrillers that began with Phone Booth (2002), which had Colin Farrell trapped in the titular locale for the duration.
Various other films followed suit, all attempting to place the central characters in as small a space as possible for the duration. These include the likes of Open Water (2003), which featured no sets, just two characters swimming in the sea surrounded by sharks; Black Water (2007), which took place in a tree with characters menaced by a crocodile; Wind Chill (2007), a ghost story that took place inside the front seat of a car; Shuttle (2008) with its protagonists held hostage in an airport shuttle; Buried (2010), which was set entirely around Ryan Reynolds trapped inside a coffin; Frozen (2010) with three characters trapped in mid-air aboard a ski chairlift; The Night Chronicles 1: Devil (2010) with characters trapped in an elevator with The Devil; ATM (2012) with three people trapped in an ATM booth by a killer; Detour (2013) and Curve (2015) with characters trapped in SUVs; The Shallows (2016) in which Blake Lively is stranded on a rock by the tide and menaced by a lurking shark; 200 Degrees (2017) in which Eric Balfour is trapped inside a heat kiln; Serpent (2017) with a couple trapped in a tent with a deadly snake; Oxygen (2021) with a woman trapped inside a cryogenic capsule; and Shut In (2022) with a woman locked in a pantry by her abusive ex. (For a greater overview of the genre see Imprisonment Thrillers).
On one level, you expect this to be a film akin to Phone Booth with a man trapped in one spot unable to leave and the entire tensions to play out around that locale. On the other hand, Levan Bakhia keeps confounding expectation. The film is filled with whiplash twists – none the more so than what at the outset appears to be a story about an engaged couple going on a camping trip just before the wedding that is abruptly shattered when Sterling Knight inadvertently stepping on the mine, followed by the dark and savage twist that comes when we find that this has all been set up. Bakhia drags the tension out as Knight is forced to stand there without moving and twists it further with the arrival of the comically menacing Kote Tolordava.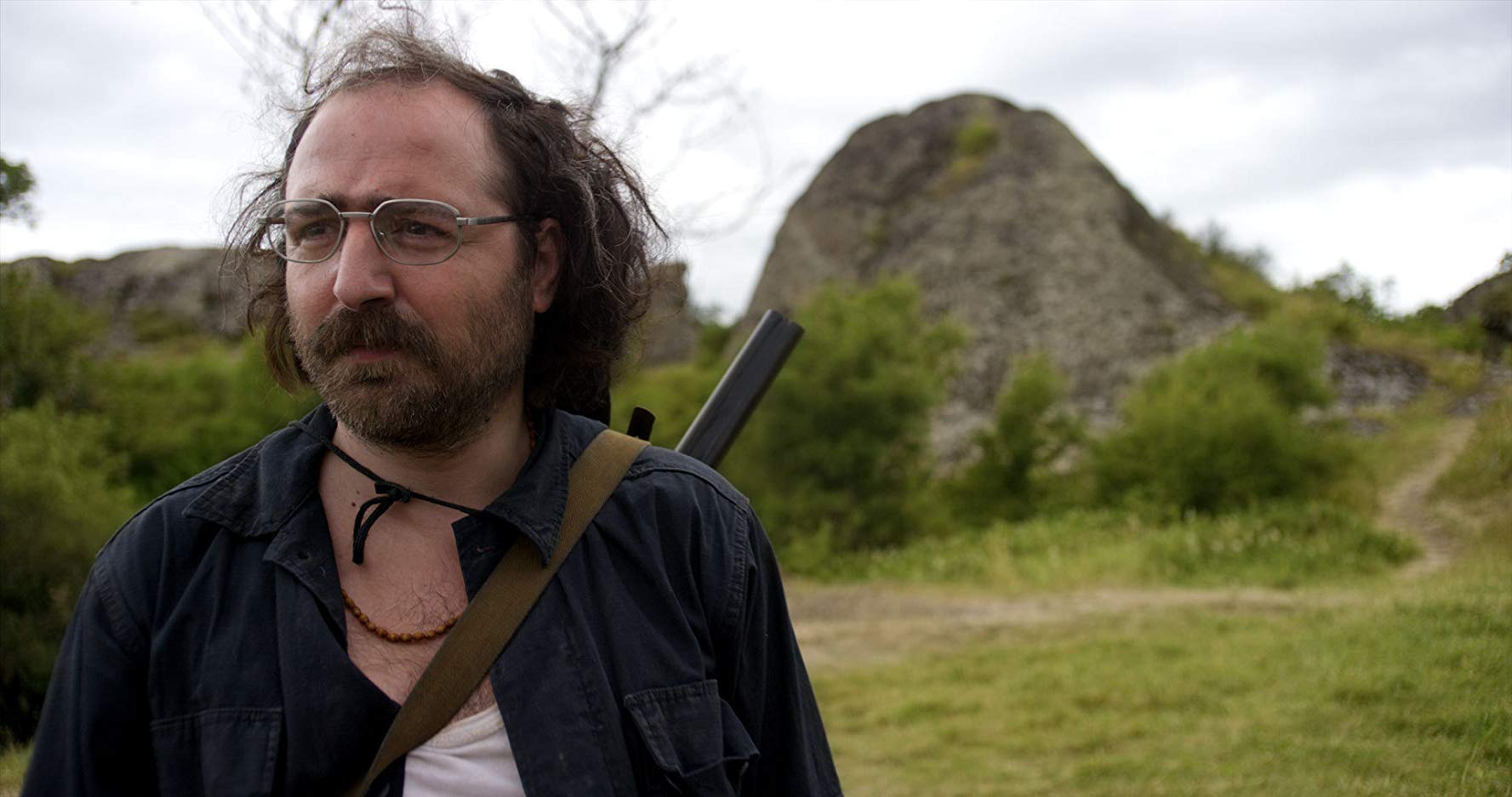 During these scenes, the film sits in an interesting place, leaving you not sure what way it will lunge next – although the middle of the show is dragged out far too long by the scenes with Kote Tolordava playing games, forcing Spencer Locke to strip and undergo indignities every single time he has to translate a phrase via his walkie-talkie and everyone obsessing over what he says about his lunch to Sergei on the other end.
The great surprise is the third act of the show where we [PLOT SPOILERS] abandon the landmine altogether and jump forward to the local township. It takes some time to work out what exactly is going on here before we realise that we are in the midst of another elaborate revenge scheme. (Revenge is a motif that runs throughout the film). It becomes of increasingly nasty irony as we then start to see Sterling Knight visit every degradation that Kote Tolordava forced Spencer Locke through onto his wife and daughter, before arriving at a savagely black ending.
---
---