---
Crew
Director – Adam Deyoe, Screenplay – Adam Deyoe, Josh Klausner & Loren Semmens, Producers – Adam Deyoe & Loren Semmens, Photography – Jeffrey Peters, Music – Louis Chaliff & Scott Friedman, Visual Effects – Carl-Johan Westregard, Special Effects – Erica Delgado & Ethan Feldbau, Makeup Effects – David Smith. Production Company – Flynn Forest Productions.
Cast
Scott Peat (Aaron Elvis Strawbridge), Marissa Merrill (Tweeter), James C. Burns (Kurt Conrad), Corsica Wilson (Rachel Wilson), Mark L. Fusco (Tommy), Grant Beijon (Alex Waterman), Todd Pritchett (Todd), Christian Moony (Cody)
---
Plot
It is 57 weeks since the zombie apocalypse has occurred. Elvis and Tweeter, a girl he has made contact with by radio and Cody, a young boy in her company, make it to a boat in the harbour and set sail for DeSoto Island off the coast of Florida. Cody has to be killed after he is bitten by a zombie that was hiding on the boat. On the island, they are captured by Kurt Conrad and his team of armed men. They agree to allow Elvis and Tweeter into their community because Elvis has medical skills. There Kurt runs a tough survival regimen. However, as they discover, there are nasty secrets to the group's means of survival.
---
Dead Season was the fifth film directed by Adam Deyoe. Frequently co-directing with Eric Gosselin, Deyoe had previously made The Mental Dead (2003), Yeti: A Love Story (2006), Street Team Massacre (2007), Psycho Sleepover (2008) and the subsequent likes of Oishi High School Battle: Kawaii Collection Vol 1 (2013), 1 Chance, 1 Dance (2014) and Another Yeti Love Story: Life on the Streets (2017).
Dead Season – not to be confused with Ron Ford's psycho-thriller Dead Season (2003) – is a zombie film. The zombie film underwent a massive revival in the mid-2000s after successes such as Resident Evil (2002), 28 Days Later (2002), Dawn of the Dead (2004) and Shaun of the Dead (2004), as well as the phenomenal popularity of tv's The Walking Dead (2010- ). Dead Season was one of the large number of low budget copies that inundated the genre during this time. The sheer deluge of these quickly dried up the creative vein and others that came after turned to self-parody or gonzo title mash-ups.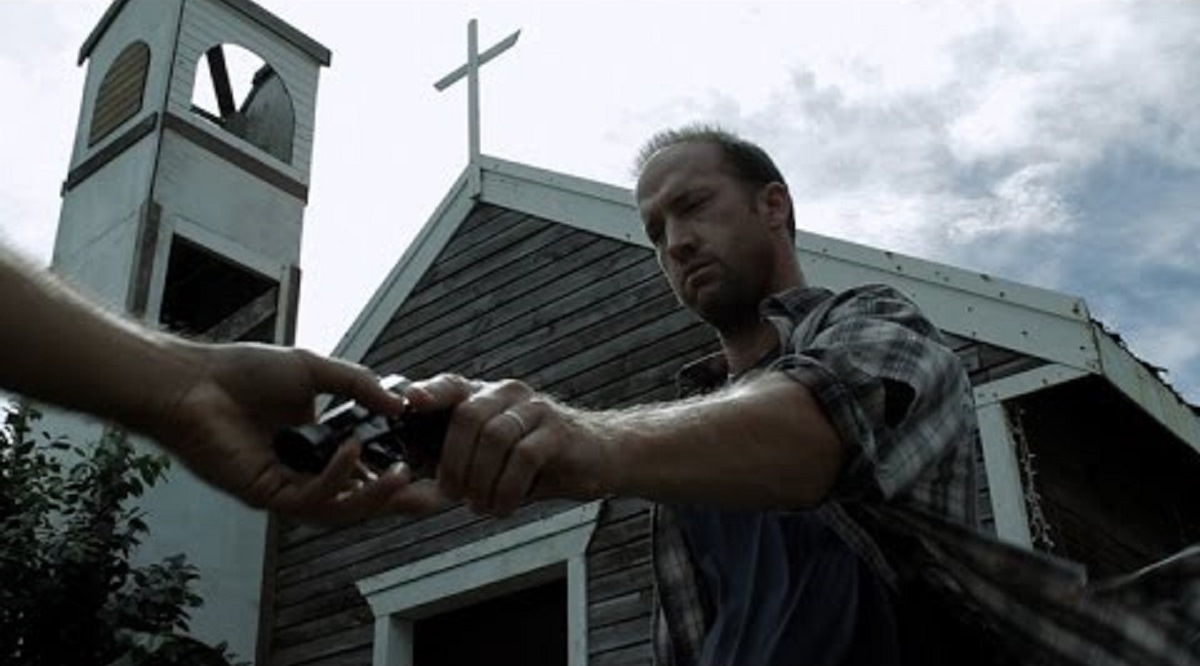 As zombie films of this period go, Dead Season is average, It is evident that it is not being made with studio resources but Adam Deyoe does competently with what he has to hand. Perhaps a more professional editor and cinematographer might have tightened up some of it visually but there is little that one can complain about on this front. It is competently made.
On the other hand, the film never does anything that rises out of being another low-budget zombie film and quickly disappears into an anonymity. There is the feeling that one has seen every move it has to offer somewhere else before – and in most cases other works have done said things better. The plot feels like one that could serve as an entire season of The Walking Dead – fleeing survivors find a refuge that seems welcoming before discovering there is a dark side to their new home, leading to conflicts that expose them to the dead beyond the gates. The film does arrive at a moderately furious climax drenched with gore amid lots of shakycam action.
---
---