---
Crew
Director/Screenplay – Paul W.S. Anderson, Producers – Paul W.S. Anderson, Jeremy Bolt, Don Carmody, Samuel Hadida & Robert Kulzer, Photography (3D) – Glen MacPherson, Music – tomandandy, Visual Effects Supervisor – Dennis Berardi, Visual Effects – Mr. X. Inc., Additional Visual Effects – Prime Focus UK (Supervisor – Marc Jouveneau), Prime Focus Vancouver (Supervisor – Jon Cowley), Redlab Digital, Rocket Science & Vision Globale (Supervisor – Jonathan Piche-Delorme), Special Effects Supervisor – Mark Lawton, Makeup Effects – Paul Jones, Production Design – Kevin Phipps. Production Company – David Entertainment/Impact Pictures/Constantin Film.
Cast
Milla Jovovich (Alice), Michelle Rodriguez (Rain Ocampo), Aryana Engineer (Becky), Johann Urb (Leon S. Kennedy), Sienna Guillory (Jill Valentine), Li Bingbing (Ada Wong), Kevin Durand (Barry Burton), Shawn Roberts (Albert Wesker), Oded Fehr (Carlos Olivera), Boris Kodjoe (Luther West), Colin James (James 'One' Shade), Megan Charpentier (Red Queen), Mika Nakashima (J-Pop Girl)
---
Plot
Alice wakes up, a prisoner in an Umbrella Corporation facility. The power abruptly goes off as the computer makes a reboot and she is able to affect an escape. She finds that her escape has been facilitated by Umbrella Corporation CEO Albert Wesker who has hacked into the system to free her. The Red Queen is still rogue and is determined to eliminate all of humanity. It is explained to Alice that she is inside an Umbrella Corporation testing facility in the frozen Russian wastes. An armed team has been sent in to rescue her but in order to get out she has to make it through various testing simulations of Tokyo, Moscow, New York City and suburban USA. After becoming aware of her escape, the Red Queen unleashes mutants, zombies and clones of Alice and several others. On her journey, Alice encounters Becky, the daughter she is mother to in one of the simulations, and decides on a risky detour to rescue her.
---
It is perhaps a testament to the power of the publicity machine or else the empty-headeness of the movie-going public that the Resident Evil series managed to stagger out six films. The overriding question you might ask is why. The first Resident Evil (2002) was a competent but routine adaptation of the videogame. The box-office results were decent but nobody seemed to have anything good to say about it.
The second entry Resident Evil: Apocalypse (2004) was somewhat better. The subsequent sequels, Resident Evil: Extinction (2007) and Resident Evil: Afterlife (2010), the series nadir, this and the subsequent Resident Evil: The Final Chapter (2016), which is probably the best of a mediocre bunch, seem churned out with indifferent regard to small matters like plotting coherence, character development or a lead actress that can act – anything it seems other than a constant profusion of creature effects and action sequences. That is not counting the three anime films with Resident Evil: Degeneration (2008), Resident Evil: Damnation (2012) and Resident Evil: Vendetta (2017), as well as the anime tv series Resident Evil: Infinite Darkness (2021- ) and the live-action tv series tv series Resident Evil (2022), as well as the live-action prequel Resident Evil: Welcome to Raccoon City (2021). You ask, in representing some nine hours worth of watching time, what has the Resident Evil series contributed to the history of cinema that is in any way memorable?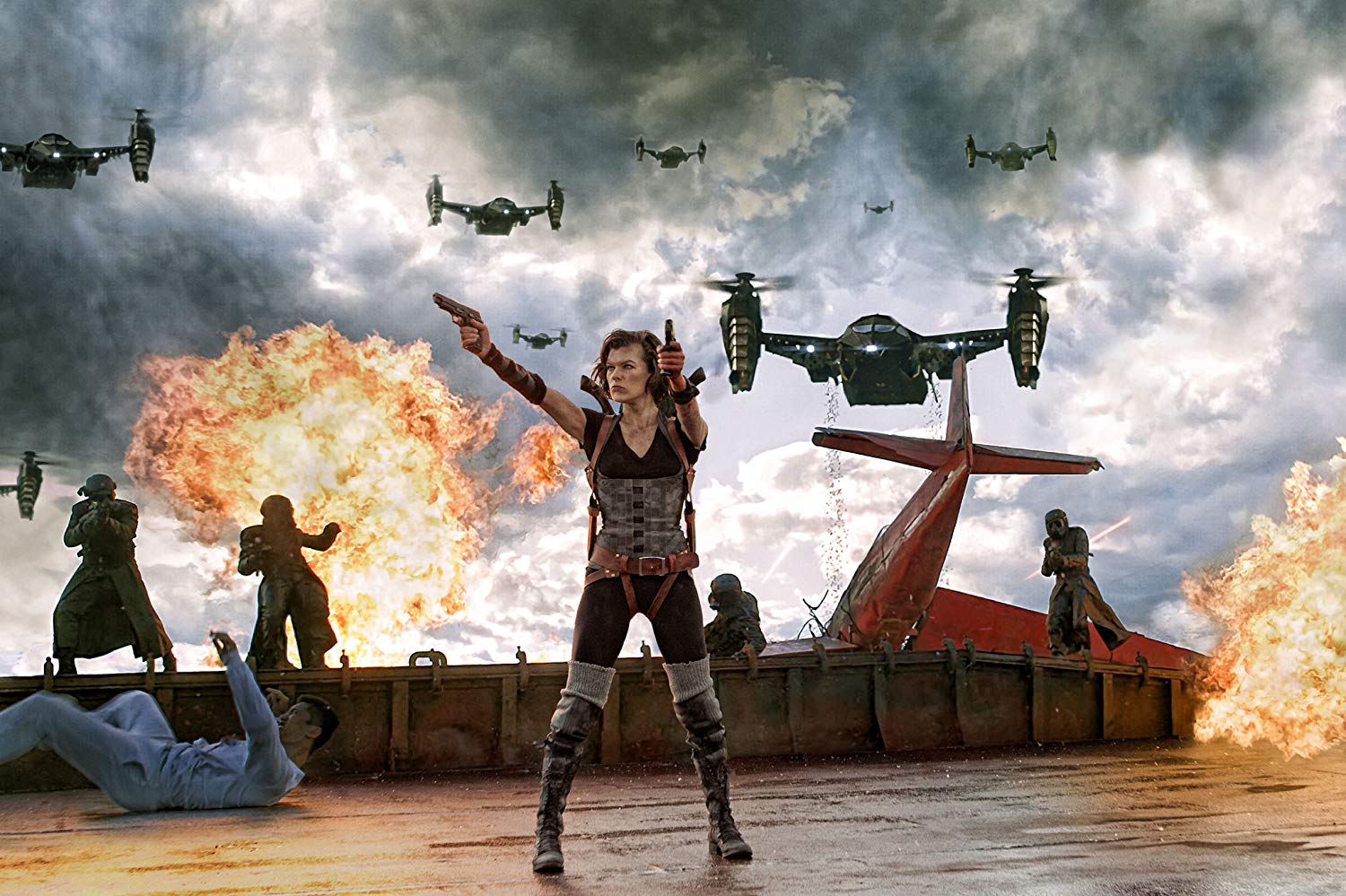 With Resident Evil: Retribution, director Paul W.S. Anderson is back in action. The film seems intended as a tribute to what has gone on before, bringing back many of the familiar supporting cast – Michelle Rodriguez, Sienna Guillory, Oded Fehr, Colin James, Boris Kodjoe and the characters of Albert Wesker, the J-Pop Girl and the Red Queen. Anderson tosses in elements familiar to the rest of the series – zombies, a mild level of gore, mutant monsters and kick-ass chicks in action (Li Bingbing plays all of her action scenes rather absurdly wearing a red evening dress).
Milla Jovovich is back in the central role of Alice and goes through the entire film with a lack of expression. She gets a daughter of sorts – well actually a clone child that is given to her clone in one of the simulations – which is about the nearest she is ever going to get to character development. There are all the action scenes, which Paul W.S. Anderson handles in a customarily desultory way, apart from one worthwhile fired-up sequence with Milla Jovovich fighting zombies off in a corridor after she escapes the Tokyo simulation.
As before, Anderson's script throws in all manner of perplexing twists. The film openings on a massive aerial attack on an aircraft carrier, which for reasons unclear is played in reverse. The next scene is an entirely baffling one where Milla Jovovich wakes up (just as she did in the first film) in what increasingly becomes clear is an alternate reality of some sort where she is now a regular housewife with a husband and daughter, before the neighbourhood is invaded by zombies. To Paul W.S. Anderson's credit, this is eventually rationalised in a way that makes sense.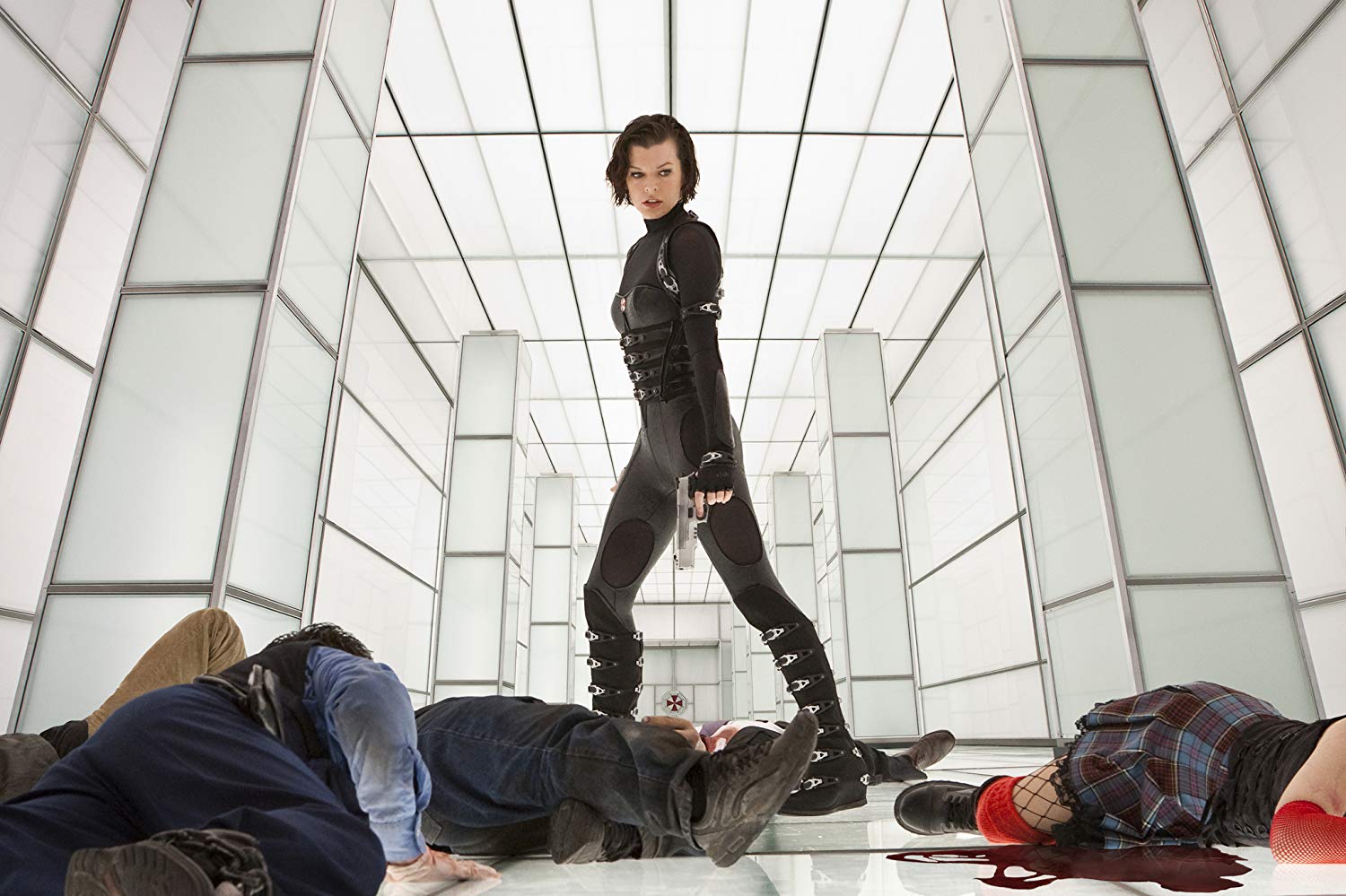 Elsewhere, Resident Evil: Retribution is made to resemble a videogame more than any of the other films with Milla Jovovich having to progress through a series of simulations that resemble game levels, which is emphasised by cuts away to three-dimensional maps and displays that show the party's progress through the complex.
The one appearing to be having the most fun in an otherwise instantly forgettable show is Michelle Rodriguez who has two rather fun roles – as a hard-ass military type who eventually becomes a super-villain of sorts and gets to go head-to-head to with Milla Jovovich at the climax and an alternate role as a regular mom where she gets the film's few funny lines asking Jovovich why she is outfitted in bondage gear and protesting that she voted against the NRA when asked to handle a gun.
Paul W.S. Anderson's other genre films include:- the videogame adaptation Mortal Kombat (1995); the haunted spaceship effort Event Horizon (1997); the programmed-soldier film Soldier (1998); the tv movie The Sight (2000) about a haunted hotel; Resident Evil (2002); AVP: Alien vs. Predator (2004), Death Race (2008), Resident Evil: Afterlife (2010), Resident Evil: The Final Chapter (2016), Monster Hunter (2020) and Resident Evil: Welcome to Raccoon City (2021). Anderson has also written and produced Resident Evil: Apocalypse (2004) and Resident Evil: Extinction (2007), produced the horror film The Dark (2005), another videogame adaptation DOA: Dead or Alive (2006), the sf film Pandorum (2009), Death Race 2 (2010), Death Race 3: Inferno (2012) and Death Race: Beyond Anarchy (2018).
---
---