---
Crew
Director/Screenplay/Photography – Rene Perez, Producer – Jeff Miller, Music – The Darkest Machines [Rene Perez], Visual Effects – Acme Art-FX (Supervisor – Gary Jones). Production Company – Millman Productions/Mosquito Entertainment.
Cast
Robert Kovacs (K/The Stranger), Eva Hamilton (Ana), Daniel Baldwin (Dan Forthright), Richard Tyson (Tyrel), Leia Perez (Isabel), Sam Story (Billy), Marjorie Glavan (Mrs Tyrel), Anton Clark (Bone)
---
Plot
A mysterious stranger walks the streets of Sacramento, eliminating thugs and drug dealers with a gun. He also anonymously places envelopes of money in the mailbox of solo mother Ana and her wheelchair-ridden daughter Isabel. One day, Ana sees the man doing this and attempts to reach out and connect with him.
---
Rene Perez is a low-budget director who has maintained a reasonable career in genre cinema since the beginning of the 2010s. Perez first appeared with zombie Western The Dead and the Damned (2010) and subsequently went onto make Demon Hunter (2012), Alien Showdown: The Day the Old West Stood Still (2013), The Dead and the Damned and the Darkness (2014), The Burning Dead (2015), Prey for Death (2015), The Obsidian Curse (2016), From Hell to the Wild West (2017), Cabal (2020) and Cry Havoc (2020), plus a trilogy of slasher films Playing with Dolls (2015), Playing with Dolls: Bloodlust (2016) and Playing with Dolls: Havoc (2017) and a trilogy of fairytale adaptations with The Snow Queen (2013), Sleeping Beauty (2014) and Little Red Riding Hood (2015).
Death Kiss has essentially been made as a copy of Death Wish (1974). The original was a success that spawned four sequels, all starring Charles Bronson as an ordinary man who picks up a gun to enact vigilante justice and clean the streets of crime after his family is murdered by petty hoodlums. It should be noted that at the time Death Kiss came out, Death Wish had just been remade by Eli Roth as Death Wish (2018) starring Bruce Willis – the Death Wish remake came out in March 2018, while Death Kiss was released in December the same year and could well have been construed as a mockbuster exploiting an anticipated renewed interest in the series.
The sole thing that drives Death Kiss is the stunt casting of Robert Kovacs aka Robert Bronzi. Apparently Rene Perez saw a photo of what he took to be Charles Bronson on the wall of a bar in Spain and puzzled over which film it came from before finding out that it was Kovacs, a Hungarian immigrant who was noted for his resemblance to Bronson. Perez brought Kovacs to the US to appear in From Hell to the Wild West and then wrote Death Kiss as a vehicle for him. Kovacs' resemblance to Charles Bronson is uncanny. He's slightly shorter in stature and lacks Bronson's gravelly voice. Nevertheless, the pockmarked face and mustache are perfect and he does a great job of imitating Bronson's tight-lipped, minimally spoken manner.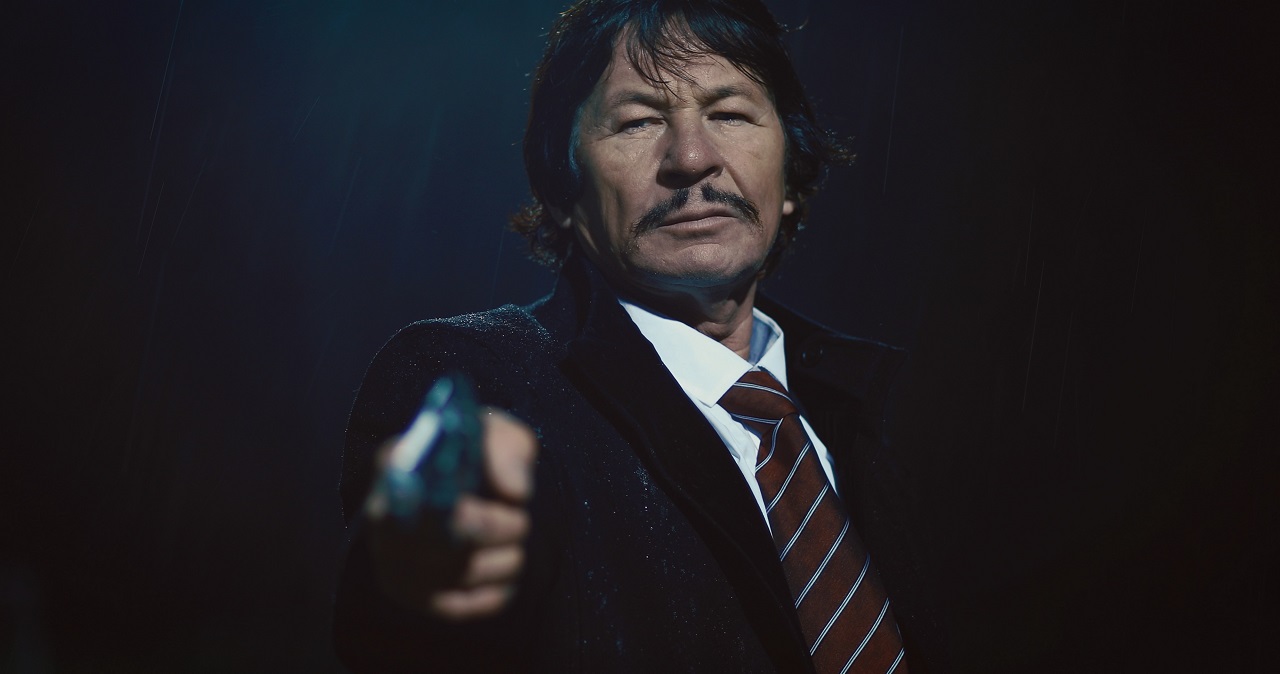 Rene Perez delivers a competent film although nothing that particularly stands out. Much of the show is a series of scenes with Robert Kovacs encountering a series of criminal lowlifes and blowing them away with his gun. These are okay but again there is nothing notable about the direction. The scenes that seem to have the most invested in them are the ones with Robert Kovacs befriending Eva Hamilton and the surprise twist at the end in the revelation of the reasons behind his philanthropy.
There is also the inclusion of Daniel Baldwin as a right wing rabble-rouser of a talkshow host – a role that Baldwin seems to launch into and ad lib with a great deal of conviction as though he really believes it. (Baldwin was actually working as a radio host at the WTLA sports station in Syracuse at the time the film was made). The idea of a political shock jock host chiming in on the soundtrack about rising crime figures, the lack of police action (and later being revealed to be in collaboration with The Stranger) gives overt airing to the red-blooded, Fifth Amendment rights advocacy that underlies the popularity of the Death Wish series and other of these vigilante films.
---
---