---
Crew
Director/Screenplay/Producer/Photography – Rene Perez, Music/Songs – The Darkest Machines [Rene Perez], Visual Effects – White Rhino Digital (Supervisor – Daniel Saldivar), Special Effects Supervisor – Ryan Jenkins. Production Company – iDiC Entertainment.
Cast
Richard Tyson (The Voyeur), Karin Brauns (Stina), Colin Bryant (Magnus), Elonda Seawood (Nico), Andy Espinoza Long (Rodrigo), Prisoner AYO-886 (Slasher), Trudy Berman (Marilyn Robrahn), Ian Dalzeil (Mr King), Leia Perez (Stina's Daughter), Logan Serr (Magnus's Son), Kaula Reed (Magnus's Ex-Wife), Omnia Elgammal (Call Girl)
---
Plot
Stina, a solo mother trying to raise her daughter, is about to take a job as a stripper when she receives a call recruiting her to appear on a reality tv show. At the same time, Magnus, a former soldier, trying to parent his son following his divorce, is hired to act as a bodyguard for a famous actor auditioning for the same show. When the actor walks off, Magnus is offered the role. The contestants are told that the winner will receive a million dollars and the option to appear in a Hollywood horror film series. Stina, Magnus and the two other contestants Nico and Rodrigo are flown to a remote cabin location where they are told they will be hunted by a masked maniac as everything is filmed with cameras placed around the area. As the group settle in, the masked killer appears only for them to discover they are being killed for real.
---
Playing with Dolls (2015) was a backwoods slasher film from Rene Perez, a regular director of low-budget horror films (primarily). (See below for Rene Perez's other films). The scenario in that film had Natasha Blasick accepting a job tending a cabin in the woods only to find she is being stalked by a killer in a barbed wire mask. All of this was being observed by Richard Tyson on hidden cameras, although it was never made clear why he was doing so.
In very quick succession, Rene Perez made two sequels beginning with Playing with Dolls: Bloodlust here and followed by Playing with Dolls: Havoc (2017). Playing with Dolls: Bloodlust is more of the same as the first film served up with minimal variation. Instead of one girl taking a housekeeping job at the cabin, there's a quartet of people who have been brought together on the pretext of appearing in a reality tv show. Richard Tyson watches on through tv cameras again – this time with a hooker (Omnia Elgammal) on his lap. The killer with the barbed wire faced mask is back (played by a different actor who is billed on the credits only as Prisoner AYO-886) and stalks various people around the cabin and surrounding woods.
The first Playing with Dolls was a by-the-numbers slasher film with little to distinguish it. The question Rene Perez does not seem to have asked himself is – what was there about the premise that seemed worthy of being made into a trilogy? It is not as though making a sequel here expands on the storyline, brings unexpected depths and twists to the material; it is merely more of the same.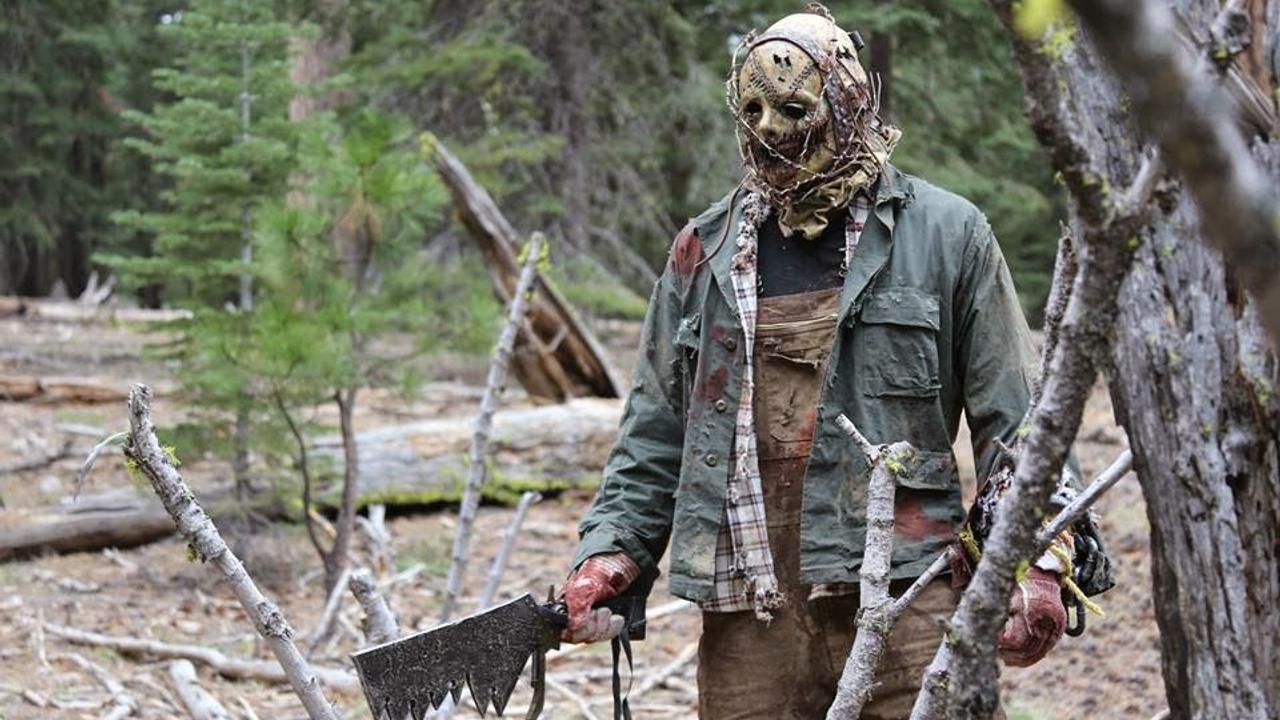 Rene Perez gets one or two okay jumps out of the killer unexpectedly appearing and grabbing people or seen lurking in the background of shots. One of the more amusing scenes is the character of Nico (played by Elonda Seawood) who spends the whole film telling people how she is going to upstage the show with her sex appeal. We finally get a scene where she preens to the camera and takes her top off for a standard gratuitous titillation scene only to be upstaged as the killer walks through the scene behind her, and for her to then go take a shower and promptly be attacked by the killer hiding there. This time, Perez gives us a nemesis that can stand up to the killer in the form of Colin Bryant's ex-soldier, although the fight scenes are nothing special. The film ends abruptly with them in mid-fight.
Rene Perez appeared with the zombie Western The Dead and the Damned (2010). He made two sequels The Dead and the Damned and the Darkness (2014) and The Dead and the Damned 3: Ravaged (2018) and two further Western/genre hybrids with Alien Showdown: The Day the Old West Stood Still (2013) and Prey for Death (2015). He has made various other horror films with Demon Hunter (2012), The Burning Dead (2015), The Obsidian Curse (2016), From Hell to the Wild West (2017), Death Kiss (2018), Cabal (2020) and Cry Havoc (2020), as well as a trilogy of fairytale adaptations with The Snow Queen (2013), Sleeping Beauty (2014) and Little Red Riding Hood (2015).
---