---
Crew
Director – Conor McPherson, Screenplay – Conor McPherson & Billy Roche, Based on the Short Story Collection Tales from Rainwater Pond by Billy Roche, Producer – Robert Walpole, Photography – Ivan McCollough, Music – Fionnuala Ni Chiosain, Visual Effects – John Kennedy, Special Effects – Team FX (Supervisor – Kevin Byrne), Production Design – Mark Geraghty. Production Company – Treasure Entertainment/Irish Film Board/Radio Telefis Eireann/RTE/BCI.
Cast
Ciaran Hinds (Michael Farr), Iben Hjejle (Lena Morelle), Aidan Quinn (Nicholas Holden), Jim Norton (Malachy), Hannah Lynch (Sarah Farr), Eanna Hardwicke (Thomas Farr)
---
Plot
Michael Farr is a widower who is a woodwork teacher and raises his two children in the town of Cobh in County Cork, Ireland. During the Cobh Literary Festival, he acts as a volunteer to drive about the various guest writers. At the same time, Michael thinks he sees a mysterious figure in his home. While driving about British ghost story writer Lena Morelle, Michael befriends her and asks her about the nature of ghosts. At the same time, Lena is being pestered by the married best-selling American author Nicholas Holden to resume an affair they had at a previous festival. As she tries to politely evade his amorous advances, Nicholas's drunkenness causes embarrassment. Meanwhile, the ghosts that Michael sees become more persistent.
---
The Irish ghost story/horror story is almost a genre unto itself. It has produced a number of major literary proponents, including the likes of Bram Stoker and J. Sheridan Le Fanu, who essentially created the modern vampire between them, and others such as Lord Dunsany and Charles Maturin, who composed the Gothic classic Melmoth the Wanderer (1820). There is no distinctive aspect to the Irish ghost story (as opposed to any other country's) other perhaps than its setting and a drawing on the country's mythology and past. Certainly, this has been enough for it to be promoted as a separate genre by various short story collections. Whether such exists beyond a commercial label is a moot question.
The Irish ghost has never had much of a history on film apart from occasional oddities such as Da (1988), the Neil Jordan comedy High Spirits (1988), Secret of the Cave (2006) and the subsequent Wake Wood (2011) or American-made efforts that use Ireland as a location like Orson Welles' Ghost Story (1951) and the Banshee episode of The Ray Bradbury Theater (1986-92).
The Eclipse is assembled out of several short stories in the collection Tales from Rainwater Pond (2006) by acclaimed Irish playwright Billy Roche who had previously written the screenplay for the film Trojan Eddie (1996). The Eclipse is directed by another Irish playwright Conor McPherson who has made a handful of other films as director – an adaptation of Samuel Beckett's Endgame (2000), Saltwater (2000) from his own play and The Actors (2003), based on a short story by yet another Irish writer turned filmmaker Neil Jordan, as well as the screenplay for Artemis Fowl (2020).
Given the literary/stage background of its creators, The Eclipse needs to be seen in the framework of serious literature more so than it does the horror genre. (Notedly, the backdrop for the film is a literary festival in a sleepy Irish seaside town rather than a haunted house). One need do no more than compare The Eclipse to any modern mainstream-released ghost story – choose at random a title like The Haunting (1999), Thir13en Ghosts (2001), The Amityville Horror (2005), Boo (2005), The Eye (2008), One Missed Call (2008) or Shutter (2008) to see the immediate difference.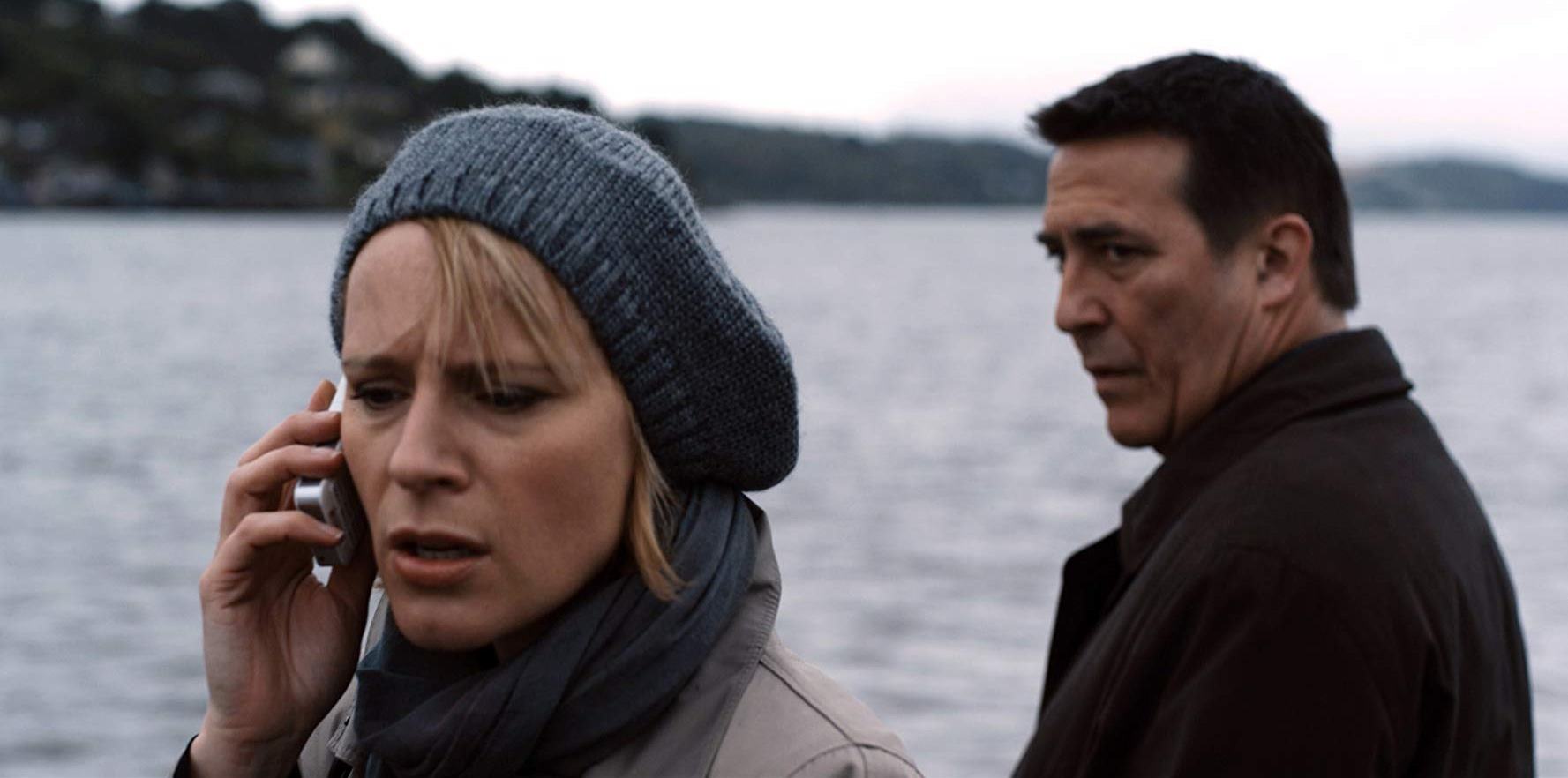 Where most of these features young teen actors chosen for their good looks, a barrage of CGI effects-driven scares and with maximum effort constantly being made to pump up atmosphere with the use of the soundtrack and lighting effects, The Eclipse is slow and quiet, almost sedate. Instead of teen actors constantly on the make, playing practical jokes and so on, the central characters are people in mid-life who are nursing the wounds of departed wives or are staggering egoists with alcohol problems. Crucially, The Eclipse is far more centred around its characters than it ever is its hauntings.
Far more than easily being classified as a ghost story, The Eclipse might be pegged as a relationship drama. It can be considered a relationship triangle of sorts – even if by the end of the story each person's desires end up thwarted or unfulfilled. The woman (Danish actress Iben Hjejle affecting a flawless British accent) is one of those saintly deliverers of men who acts as shoulder for the wounded Ciaran Hinds as he seeks expiation from grief over the death of his wife, at the same time as she tries to hold off the advances of drunken, lecherous Aidan Quinn. Ciaran Hinds and Iben Hjejle are quietly excellent in their respective parts, but it is Aidan Quinn's performance as the boozy best-selling author and his drunken faux pas's that steal much of the film. It is ultimately a very quiet story that goes on here – and probably one that could have worked just as easily without the ghost story elements – nevertheless, something that holds a slow effect that accumulates after the film has finished.
The downside of such a quiet and modest film is that it is far more laidback in terms of the scares that one expects of a ghost story. These only sporadically take place and are relatively low key unlike a genre ghost story where pop-up scares come at regular intervals. That said, Conor McPherson does manage to make the audience jump several times – like the moment the dead body turns up in the passenger seat of Ciaran Hinds' car, or where he investigates a wardrobe and something erupts from beneath and tries to drag him down. In surroundings that are more generic, these would have been cliche horror movie shots but Conor McPherson makes them work because they come so unexpectedly amid the otherwise everyday surroundings.
On the minus side, despite the presence of ghosts, the script never comes out and says what the hauntings are – we are left the implication that the appearances of the old man are Ciaran Hinds' premonitions of the death of his father, while the mystery woman who appears at the end is likewise never speculated about and we are left to assume that she is Ciaran Hinds' late wife come to bid him farewell.
The Eclipse should not be confused with the Twilight sequel Eclipse (2010).
---
---