aka The Devil's Sorceress
---
Ireland/Netherlands. 2015.
Crew
Director – David Keating, Screenplay – Brendan McCarthy, Producers – Brendan McCarthy & John McDonnell, Photography – Eleanor Bowman, Music – John Walsh, Visual Effects Supervisor – Danielle van Balen Blanken-Kempen, Digital & Physical Effects – Bowsie Workshop, Special Effects Supervisor – Gerry Johnston, Makeup & Prosthetic Effects Designer – Stephanie Smith, Production Design – John Hand. Production Company – MPI Media Group/The Irish Film Board (Bord Scannan na hEireann)/Netheland Film Fund/Fantastic Films/House of Netherhorror
Cast
Naomi Battrick (Faith Maguire), Anna Walton (Sissy Young), Sam Hazeldine (Sean Maguire), Elva Trill (Amy), Patrick Gibson (Brian Kelly/Demon), Leah McNamara (Caroline St. John), Minnie Phipps (Jennifer Engels), Valerie O'Connor (Claire), Caoilfhionn McDonnell (Dr Slater), Caroline Murphy (Mrs Fincher), Eadaoin O'Donoghue (Jill Hunt)
---
Plot
Faith Maguire is a fifteen-year-old schoolgirl in the town of Orchard. The town has a legend of the Orchard Coven who worshipped The Devil in the 16th Century and tried to find a woman who would give birth to the Son of Satan but failed. Their remains are supposed to be buried under a cherry tree but the location of the tree is not known. Faith's father is dying of leukaemia. Faith's new P.E. coach Sissy Young befriends her. She takes Faith back to her home where she shows her the cherry tree growing in the cellar and tells how she worships The Devil. Sissy conducts a ritual where she demonstrates to Faith that she can kill and then restore an animal to life. She then tells Faith that she could heal her father – the price that she asks of this is that Faith bear a child for her.
---
Cherry Tree was the third film for Irish director David Keating. Keating had first appeared with the non-genre The Last of the High Kings (1996) then made Wake Wood (2009), one of the better entries from the revived Hammer Films.
Cherry Tree is an example of what is called Folk Horror. This was a term popularised in the documentary A Heritage of Horror (2010) where it was used to refer to Matthew Hopkins – Witchfinder General (1968), Blood on Satan's Claw (1970) and The Wicker Man (1973). The definition seems loosely applied, largely being seen as referring to films that draw upon the pagan/folk beliefs of England. It has since been expanded to refer to works like The Virgin Spring (1959), Wake Wood and the films of Ben Wheatley, even adopted as a musical genre. (For more detail see Folk Horror Films).
Cherry Tree has a number of similarities to Wake Wood – they both feature people accepting a terrible devil's deal in order to bring their loved ones back from the dead. The bulk of the plot here follows a standard diabolical pregnancy theme that was laid down by Rosemary's Baby (1968) – the pregnant woman finding the people surrounding her to be a cabal of occultists, she becoming ill during the course of the pregnancy, their refusal to allow her to escape – that come with some nasty twists – Anna Walton's casual willingness of dispose of Naomi Battrick and her father once the baby is born.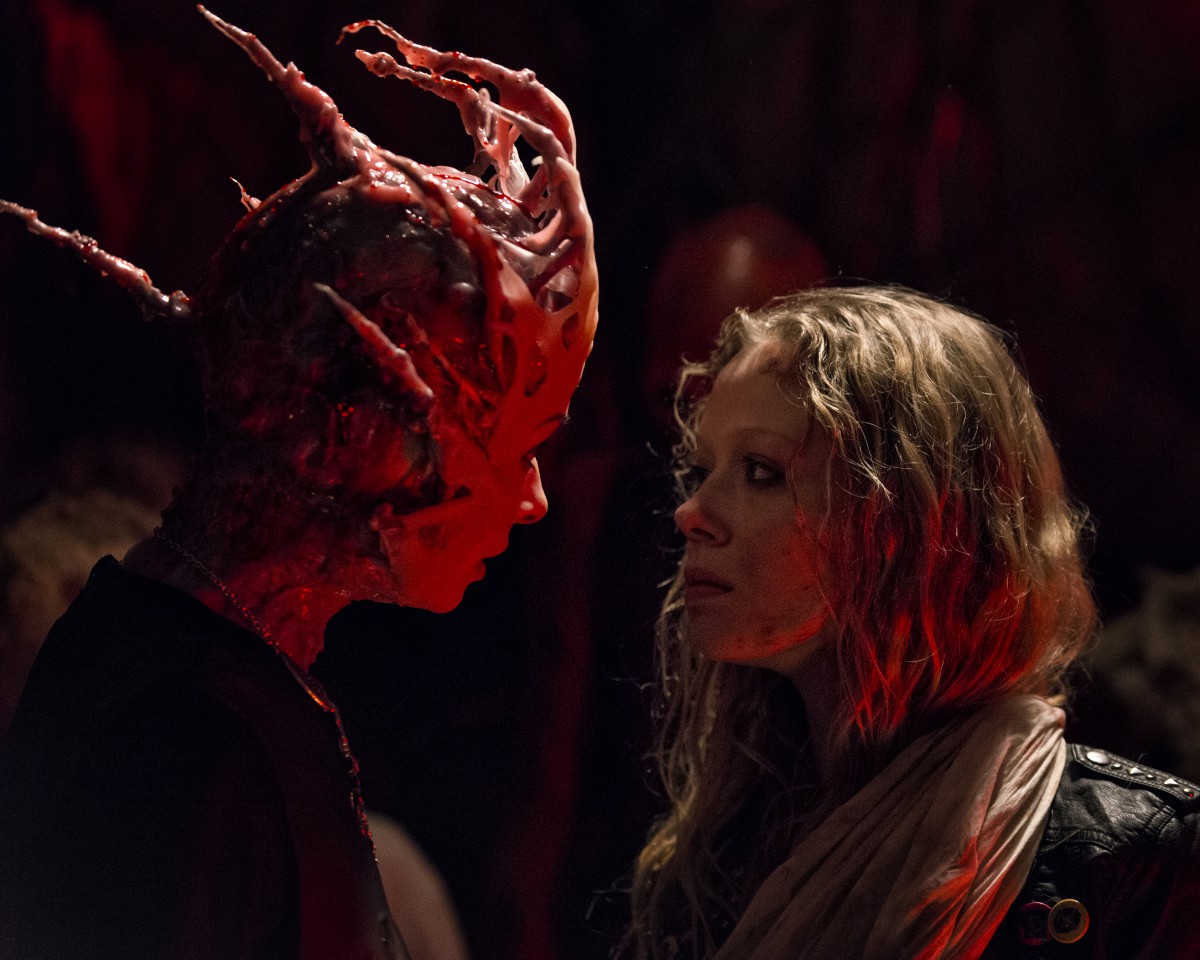 David Keating makes a rather effective film. He has a photographer's eye and is attuned to the prettiness of the town (Cork, Ireland) and ordinary life. (Oddly, though the film is produced and shot in Ireland, everybody maintains standard British accents throughout). It is filled with sinister effect, particularly good being the scene where Anna Walton takes Naomi Battrick down into the cellar of her home where the cherry tree exists lit up in lights and shows her the resurrection ritual using a hen. Keating borrows a few tricks from Clive Barker during Anna Walton's climactic transformation, while the film reaches a nicely dark ending.
Keating works with a cast of unknowns. The only actor I was familiar with before was Anna Walton who played the vampire in the lesbian vampire film Vampire Diary (2006). Here she gives a performance that almost entirely exists in terms of seductive/ambiguous stares. I was very impressed with Naomi Battrick who has a great classical beauty such that she leaves me intrigued to see what else it is that she appears in in the future.
---
---