---
Crew
Director/Screenplay – Ciaran Foy, Producers – Brian Coffey & Katie Holly, Photography – Tim Fleming, Music – Tomanaandy, Visual Effects Supervisor – Feidhlimidh Woods, Visual Effects – Our Friends Electric, Makeup Effects Designer – Paul Hyett, Production Design – Tom Sayer. Production Company – Blinder Films/Sigma Films/Bord Scannan na Heireann (Irish Film Board)/Creative Scotland.
Cast
Aneurin Barnard (Tommy Cowley), James Cosmo (Priest), Wunmi Mosaku (Marie), Jake Wilson (Danny), Amy Shiels (Joanne Cowley), Arlowe Saunders & Harry Saunders (Elsa Cowley)
---
Plot
Tommy Cowley and his pregnant wife Joanne are about to move away from the rundown Edenstown council estate. Tommy returns from packing the car but is too late to prevent Joanne from being attacked by hooded children. She goes into a coma in the hospital, not before delivering their infant daughter Elsa. One year later, Tommy is still living in Edenstown but is suffering from extreme agoraphobia as a result of the incident. The decision is made to turn off Joanne's life support. Missing the bus that will finally take he and Elsa away from Edenstown, Tommy seeks refuge with a friendly nurse, only for her to be killed by the children. His only hope is a priest who appears half-crazed. The priest regards the children as sub-human, saying that the only solution is to blow up the abandoned Edenstown apartment block where they live. Tommy wants no part of this – but Elsa is then snatched by the feral children. The only solution appears to be for he and the priest to venture into their lair to rescue Elsa and then raze it to the ground.
---
Citadel is an Irish-Scottish co-production. The film is a directorial debut for Irish director Ciaran Foy who had previously only made a handful of short films and a segment of the little-seen Irish horror anthology Hotel Darklight (2009). The film played at a number of regular and fantastic film festivals internationally, picking up awards at several of these. Citadel has a number of similarities to Outcast (2010), which came out a year before. Both are Irish-Scottish co-productions that are shot in some of the most desolate areas of Glasgow, featuring the high-rise towers built for social housing as backdrops to the action. Both films also feature performances from James Cosmo.
The film is an effectively stark portrait of the desolate world of social housing (it is never specified as being Glasgow). Ciaran Foy creates a hyper-realised portrait that seems to turn the desolate urban setting into something that verges on a fantastical netherworld. The child-like creatures that inhabit it, which are only briefly glimpsed behind their hoods right up until the end, are more like the mutant children in The Brood (1979) than human beings. Even though the film opts for a mundane explanation for their origin, their behaviour – unable to see but being able to smell fear; seen mindlessly standing communing with the rot coming from the walls – makes them seem non-human creatures. Their appearances are eerie and Ciaran Foy creates a number of strong jolts – the initial attack on Amy Shiels while Aneurin Barnard is trapped in the elevator; the abrupt attack on Wunmi Mosaku in the tunnel; their appearance on the bus as Aneurin Barnard cowers in his seat.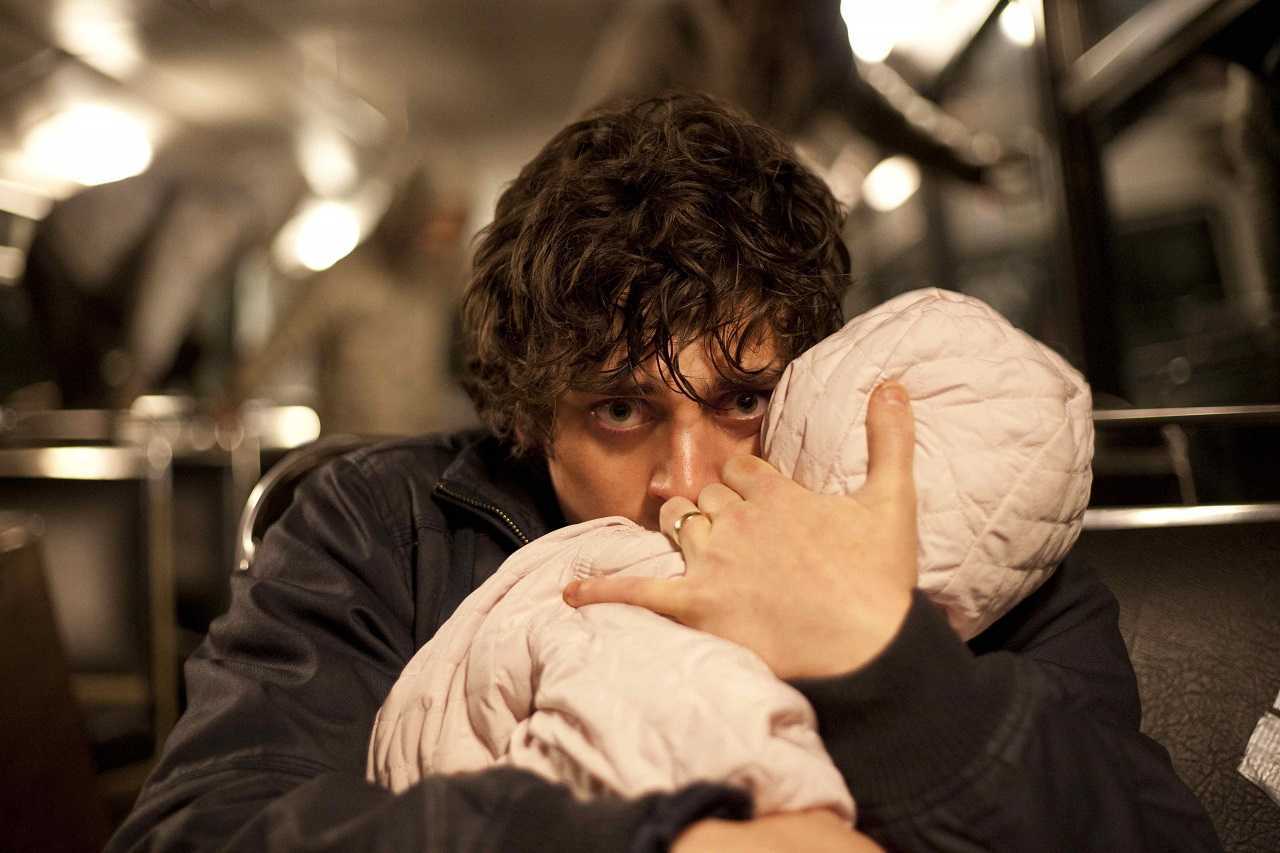 In an interview, director/writer Ciaran Foy says how conceived of the film after being the victim of an assault himself. This leads to some interesting interpretations of the film. Essentially, Foy sees his attackers – the children of the council estates – as feral, unintelligent and no longer human. As priest James Cosmo (in a harsh performance that takes one aback) states – and Aneurin Barnard soon comes to agree with – they are only worthy of extermination, while the entire diseased housing project (the title's citadel) where they live should be blown up.
This is view of the poor and socially dissolute that is far more extreme than the same view of the housing projects that we saw in the British Harry Brown (2009), which merely advocated taking up arms against the onslaught of crime. Imagine, for instance, if the children were replaced by people in inner city tenement ghettos in the US, how the film would suddenly be transposed into a work that has an extreme racist agenda. This is a film that requires you to have to almost entirely tune out any liberal instincts in order to appreciate it in terms of its otherwise reasonable effectiveness as a horror film.
Ciaran Foy was next brought to the US to direct Sinister 2 (2015), followed by the devil child film Eli (2019) and episodes of The Haunting of Bly Manor (2020).
---
---