Ireland/USA. 2017.
Crew
Director – Brian O'Malley, Screenplay – David Turpin, Producers – Julianne Ford & Ruth Treacy, Photography – Richard Kendrick, Music – Kevin Murphy, Stephen Shannon & David Turpin, Visual Effects Supervisor – Ben O'Connor, Makeup Effects – Aoifre Noonan, Production Design – Joe Fallover. Production Company – Irish Film Board (Bord Scannan na hEireann)/Epic Pictures/Tailored Films
Cast
Charlotte Vega (Rachel), Bill Milner (Edward), Eugene Simon (Sean Cally), David Bradley (Bermingham), Moe Dunford (Dessie), Deidre O'Kane (Maura Cally), Roisin Murphy (Kay)
---
Plot
Rural Ireland during World War I. Brother and sister Rachel and Edward live alone in a big mansion on the edge of town after their parents drowned themselves in the lake on the property. They are governed by a strict set of rules but Rachel desires to rebel against them. There are strange things inside the house, including water that drips upwards and shadowy creatures that emerge from the pools beneath the floorboards. Rachel develops an attraction to Sean Cally, a boy who has returned from the War with half his leg blown off, but she is shunned by Sean's mother because of the family's reputation. Meanwhile, Bermingham, the lawyer who manages their affairs, arrives to inform them that the funds they live on have all dried up and the only choice that remains is to sell the house.
---
The Lodgers was the second film for Irish director Brian O'Malley who had made an impressive debut with Let Us Prey (2014), which featured Liam Cunningham as a mysterious stranger locked in a jail cell come to visit retribution on those present.
Here Brian O'Malley does a superb job in creating mood. The house is filled with decaying atmosphere almost to the point that it feels like all of the interiors are shot in monochrome. The surrounding woods and lake are beautifully shot masterworks of natural composition. Everything in the village and the costuming feels like perfect little pieces of period setting.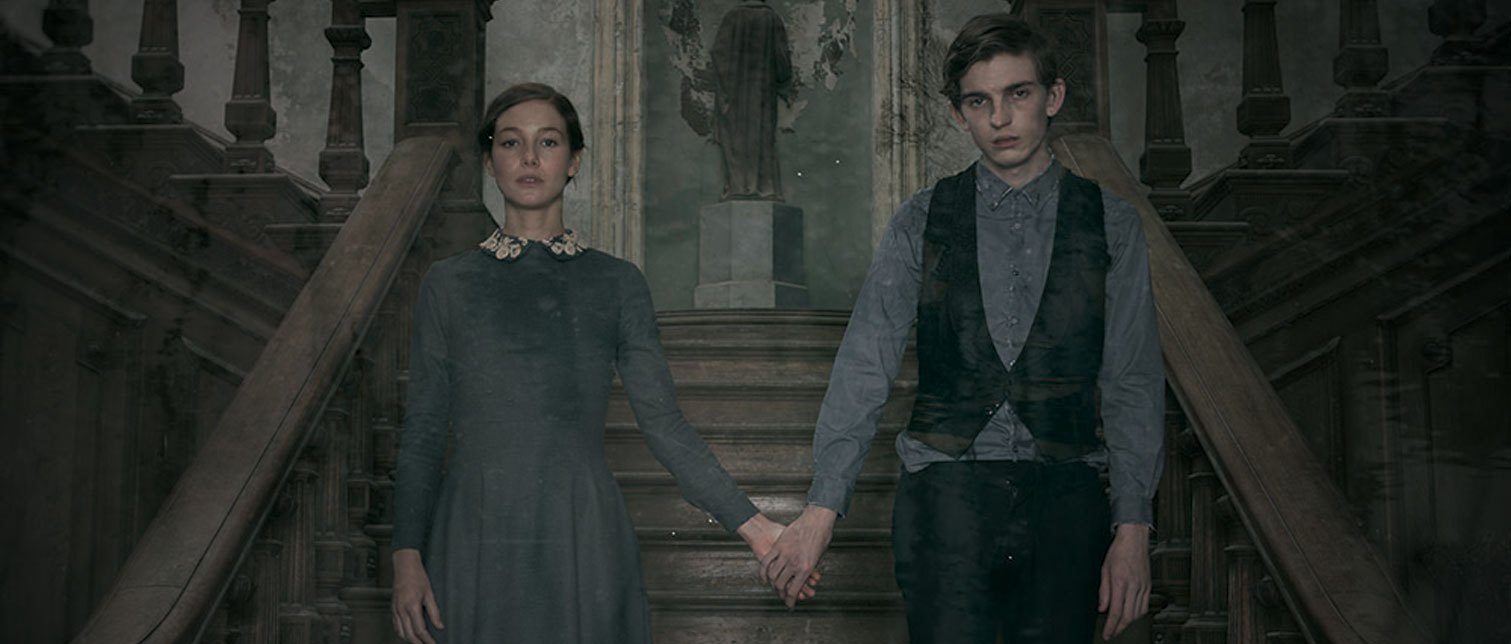 The film broods with all manner of things about to happen – the strange, never explained rules that brother and sister Charlotte Vega and Bill Milner must abide by; the barely glimpsed figures lurking in the shadows; the backstory that talks of a tragic past of their parents and the implication that the same fate will befall the two of them; the suggestions of incest and the fearful mutterings about the family in the village; water that drips upwards towards the ceiling and the cellar door that is constantly burbling with water; the earnestness of Charlotte Vega just sitting on the cusp of adulthood, her desire to escape and her attraction to Eugene Simon returned from the Great War with half of his leg missing. It all seems a perfect example of the Victorian/Edwardian ghost story, a genre that has fairly much disappeared in the last few years.
It is a great set-up that runs up against a huge but. And that is that right throughout you are carefully watching wanting all of it to make sense BUT David Turpin's script never gives you any answers. We reach a tragic ending with many characters dead but there is no clue what is going on in the house – what the shadowy figures are; why the parents killed themselves; what the rules that Charlotte Vega and Bill Milner are meant to keep are for; what will happen to them on their eighteenth birthdays; why they cannot go outside; what is down beneath the door in the floor; why water drips upwards; why they need to breed with each other; who it is that is said to be watching them and apparently invading their rooms. Nothing. All of which leads to one of the most frustrating 90 minutes that one has ever spent sitting in front of a screen.
(Nominee for Best Cinematography at this site's Best of 2017 Awards).
---
---