---
USA. 1964.
Crew
Director – Jack Curtis, Screenplay – Arnold Drake, Producers – Jack Curtis, Terry Curtis & Arnold Drake, Photography (b&w) – Carson Davidson, Music – Julian Stein, Orchestration – Noel Ragney, Supramation – Wylde Films, Inc., Special Effects – Roy Benson. Production Company – Vulcan Productions.
Cast
Martin Kosleck (Dr Peter Bartell), Byron Sanders (Grant Murdoch), Barbara Wilkin (Jan Letterman), Rita Morley (Laura Winters), Ray Tudor (Omar)
---
Plot
Pilot Grand Murdoch is hired to fly movie actress Laura Winters to Provincetown. Engine trouble forces them to put down on a small island. On the beach, they meet German scientist Paul Bartell who offers them shelter from a storm in his tent. In the morning, they find that the plane has been blown away to sea. This is blamed on Laura's alcoholism but in actuality the plane was set free from its moorings by Bartell. They then encounter glowing slugs in the sea that are able to burrow into and burn any flesh they touch. What they do not realise is that Bartell has created the flesh eaters, determined to complete a series of Nazi experiments that he witnessed. Trying to stop the flesh eaters, Bartell electrocutes them but instead this serves to turn them into a monstrous conglomerate mass.
---
The Flesh Eaters is a fascinatingly obscure B movie from the 1960s. It has sometimes been called "the first gore movie", although this is debatable – though The Flesh Eaters has a 1962 copyright date, it was not released until 1964. In which case that would make Herschell Gordon Lewis's Blood Feast (1963) the world's first splatter film. Nobody involved in the film seemed to ever go on to anything of note in their careers – most of the cast played bit parts on tv throughout the rest of the 1960s, most successfully being Martin Kosleck. It was the only film that director Jack Curtis would ever make.
The Flesh Eaters buys into the era's fad for Nazi mad scientist films, which also included the likes of She Demons (1958), They Saved Hitler's Brain (1964), The Frozen Dead (1966), Flesh Feast (1970) and Shock Waves (1977), not to mention the fad for sado-Nazi films in the 1970s beginning with Ilsa, She Wolf of the SS (1974). (For a more detailed overview see Nazis in Fantastic Cinema).
In this regard, The Flesh Eaters features a wonderful icy and cold performance from Martin Kosleck, a German born actor who himself fled the Nazi regime in the 1930s. (Although, while Kosleck plays with a clipped Germanic accent, things are confused by the character being said to be an American who was merely sent to observe the Nazi experiments).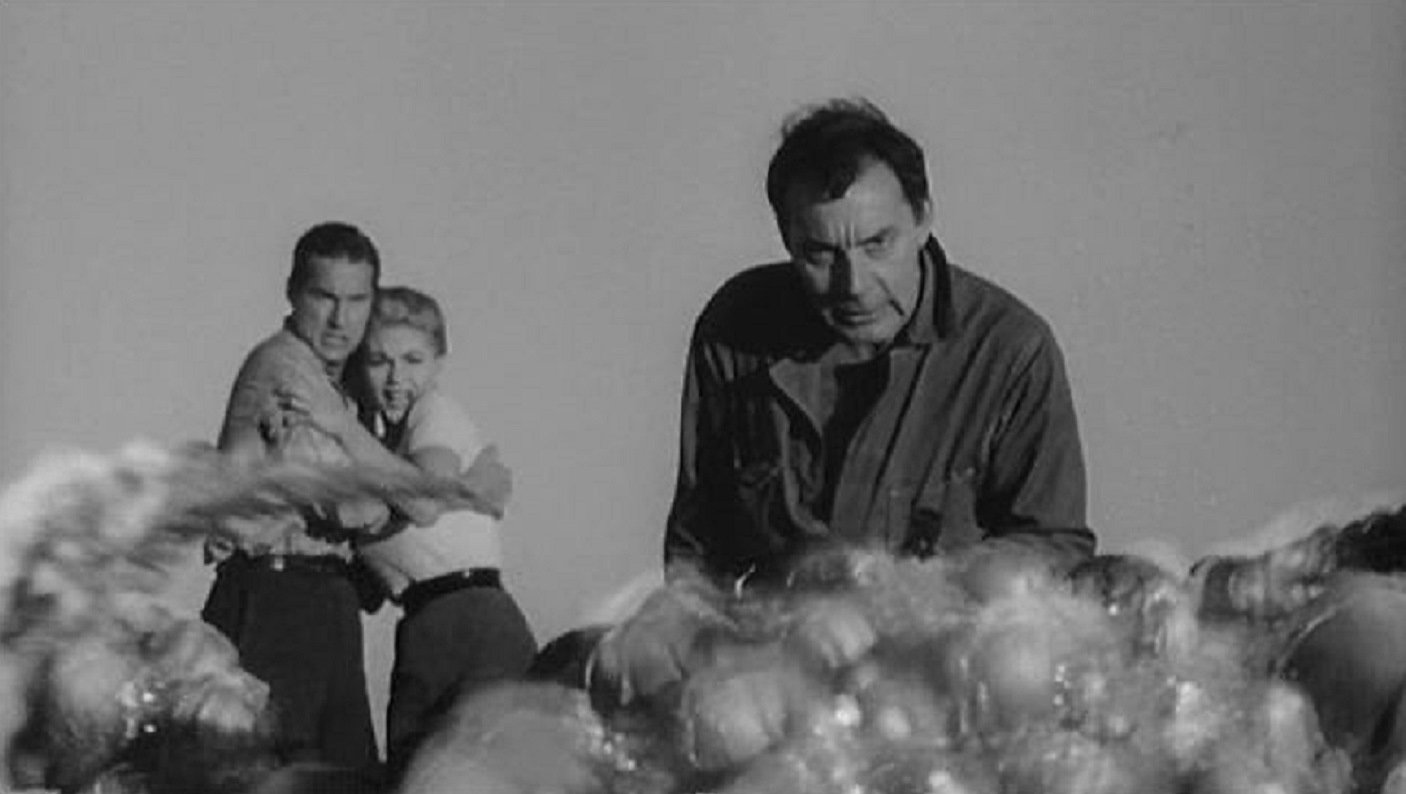 The Flesh Eaters is shot on an undeniably low budget. For instance, Jack Curtis manages to economically contain the entire film to a single stretch of beach and a tent. Curtis does a reasonable job of generating suspense, especially considering the often low-budget means of doing so – like the scene where Byron Sanders must rescue a panicking Rita Morley from across a rock rift where the suspense is focused almost entirely on the actors above knee-height and little seen of the rocks they are jumping across.
The Flesh Eaters is often remembered for Curtis's gore scenes and these still hold undeniable effect despite splatter cinema's forty years advance – the scene where we see the glowing flesh eaters burrowing into Byron Sanders leg; when the boat captain comes to make the delivery to the island, the flesh eaters start burrowing into his face and seconds later we see him gored to the skeleton; where Martin Kosleck feeds Ray Tudor the flesh eaters inside a glass of water and then moments later his stomach starts belching gore; or where Martin Kosleck shoots himself through the eye. There is one shot where we see Ray Tudor's corpse tied to his raft mast with his gored skeleton showing through his open shirt but this fails through obvious and grainy opticals of the bared skeleton. There is a reasonable climax with the flesh eaters forming into a gestalt monster, although this is let down by variable opticals and only a semi-effective monster.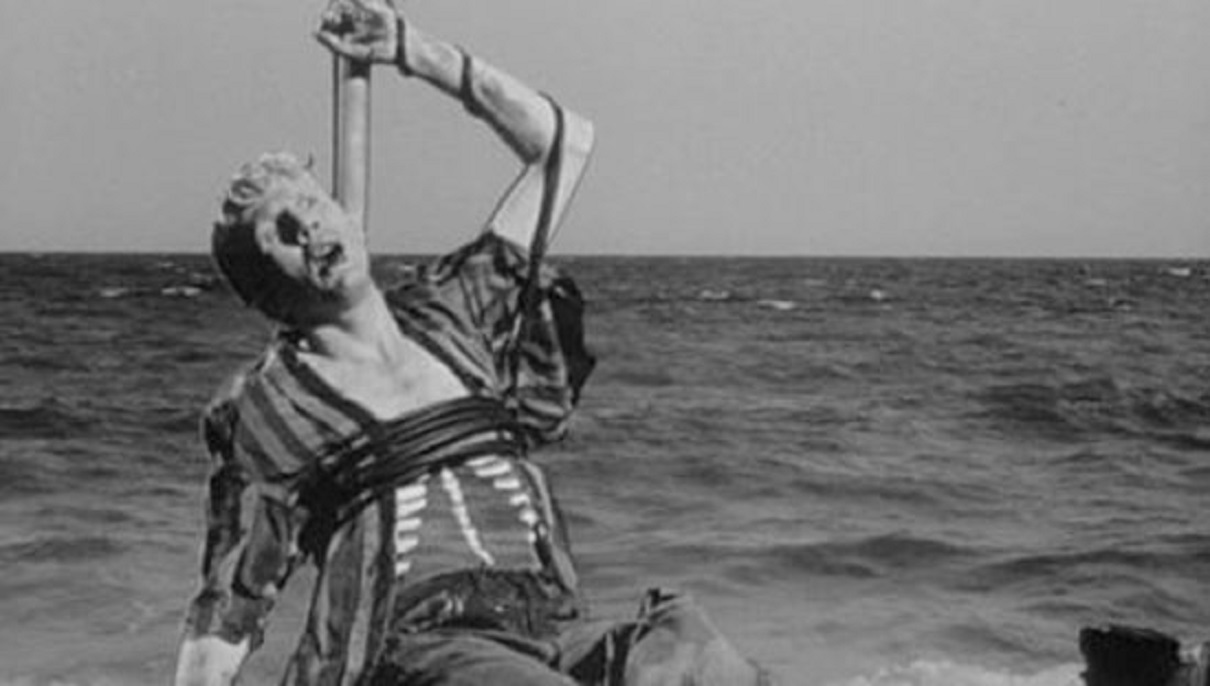 You cannot deny that Jack Curtis is a true-bred exploitation director. The opening scene is of a couple on a boat getting devoured by the flesh eaters, where Curtis contrives to play the scene with much focus on the woman (Barbara Wilkin) lying sunbathing with bikinied cleavage protruding into shot. Elsewhere, Curtis contrives many reasons for women to sit with their cleavages semi-exposed or for Barbara Wilkin to whip her blouse off and use it as a makeshift bandage. The Flesh Eaters is a highly entertaining exploitation film – one where Jack Curtis has managed to tap all the things that make such films enjoyable – gore, luridness, cheesy monsters, shock effect and women's cleavages. It is a shame that Curtis never went on to make any other films.
The Flesh Eaters is also well served by some snappily sarcastic dialogue from Arnold Drake. This is something that gives the film great punchy pace. The film is dominated by Martin Kosleck's performance. Amid the rest of the cast, Byron Sanders is wooden and stolid as Murdoch but the character comes to life largely through the dialogue. Ray Tudor gives a bizarre performance as a beatnik castaway who turns up on the island.
Buy this film from Dark Sky Films
---
Trailer here
Full film available here:-
---