---
Crew
Director/Screenplay/Producer – Eddie Romero, Story – Beverly Miller, Photography – Justo Paulino, Music – Tito Arevalo, Special Effects Supervisor – Teofilo Hilario, Makeup Supervisor – Tony Artieda, Art Direction – Ben Otico. Production Company – Beast of Blood Company.
Cast
John Ashley (Dr Bill Foster), Celeste Yarnall (Myra Russell), Eddie Garcia (Dr Lorca), Liza Belmonte (Laida), Bruno Punzalan (Razak), Alfonso Carvajal (Ramu), Beverly Miller (The Captain)
---
Plot
Bill Foster returns to Blood Island. He is joined on the ship's voyage by journalist Myra Russell who is determined to photograph what they encounter. On the island, Foster learns that Dr Lorca is alive and his monsters still roam. Lorca then has his loyal natives abduct Myra and bring her to his laboratory in the jungle. Foster mounts an expedition made up of natives and ship's crew to rescue her. Meanwhile, Dr Lorca nears completion of his experiments to use the chlorophyll serum to reattach a severed human head to its body.
---
Beast of Blood was the third of the Filipino-shot Blood Island films. The series had begun with Brides of Blood (1968) and was followed by Mad Doctor of Blood Island (1969). The latter was given a US release by Independent International accompanied by a sensationalistic promotional campaign that proved a success. Independent International then brought up and released the earlier Brides of Blood and hired director Eddie Romero, who had co-directed the other two Blood Island films, to make a sequel with Beast of Blood here. Al Adamson, a notorious low-budget director who made a number of films with Independent International, also made a fourth entry in the series with Brain of Blood (1971), although that was not shot in the Philippines. Independent International attempted to push all four of the Blood Island films as a series, although only Mad Doctor of Blood Island and Beast of Blood are directly connected, with this acting as a direct sequel wherein John Ashley, the hero of Mad Doctor, returns to Blood Island to confront mad scientist Dr Lorca (who is now played by a different actor). The sole connecting factor in all four films is the location of Blood Island.
Beast of Blood is a relative disappointment coming after Mad Doctor of Blood Island. The schlock appeals of Mad Doctor seem scantily in evidence during the first half of the film at least. This half of the film is dull – there is no action, no gore. The bulk of the film consists of John Ashley mounting an expedition through the jungle in search of Dr Lorca and his laboratory after Celeste Yarnall is abducted.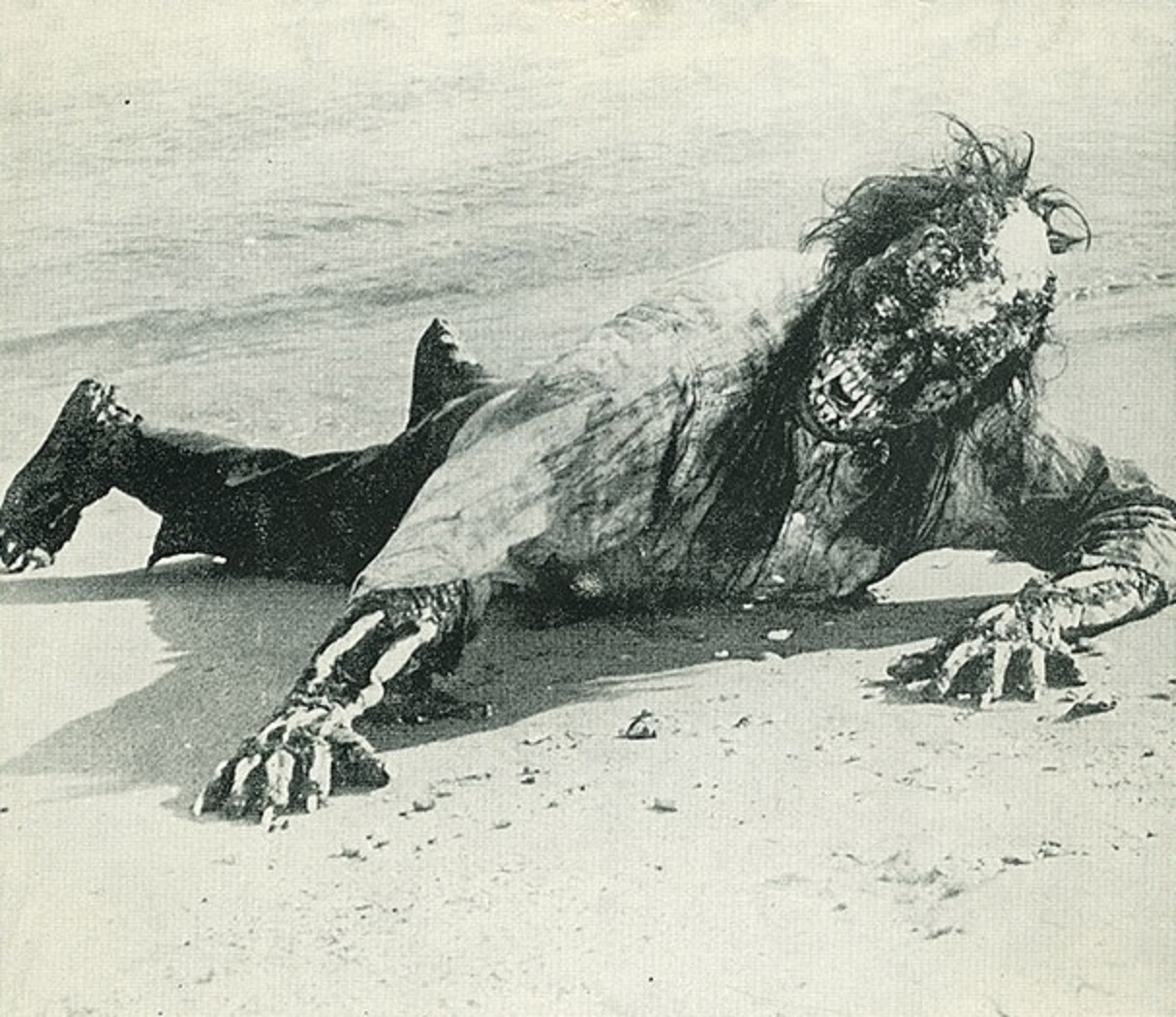 The monster appearances are brief – we get one scene in the prologue with a monster going amok aboard a ship and another brief scene where a native with strange patches of goo over his body tries to attack Celeste Yarnall in her bedroom. Even in terms of the gratuitous toplessness of the series, there is a only brief scene where Celesta Yarnall is nearly raped by natives and we have to wait some way into the film before Eddie Romero gets both of his starlets – Celeste Yarnall and Liza Belmonte – undressed.
Beast of Blood does perk up undeniably with the introduction of Dr Lorca, memorably played by Eddie Garcia outfitted in eyepatch and with half of his face scarred. Garcia and Eddie Romero seem to be channelling Joseph Wiseman as Dr No (1962) during the scenes with him holding Celeste Yarnall prisoner at his jungle laboratory and inviting her to dinner parties.
The film gains its schlocky amusement with the introduction of the thing in his laboratory – a head kept alive in a jar as Eddie Garcia engages in chlorophyll experiments to give it a new body. The disembodied brain/head in a jar theme is always guaranteed to land a film in prime B movie territory – one is especially reminded of the B movie classic The Brain That Wouldn't Die (1962) with its malevolent head in a jar on a desk controlling a monstrous body to do its bidding. There is the prize schlock moment here where the head starts remotely controlling the headless body strapped to the laboratory table resulting in the inevitable climactic scene where it directs the body to attack Dr Lorca, bringing the entire laboratory crashing down in flames and rubble.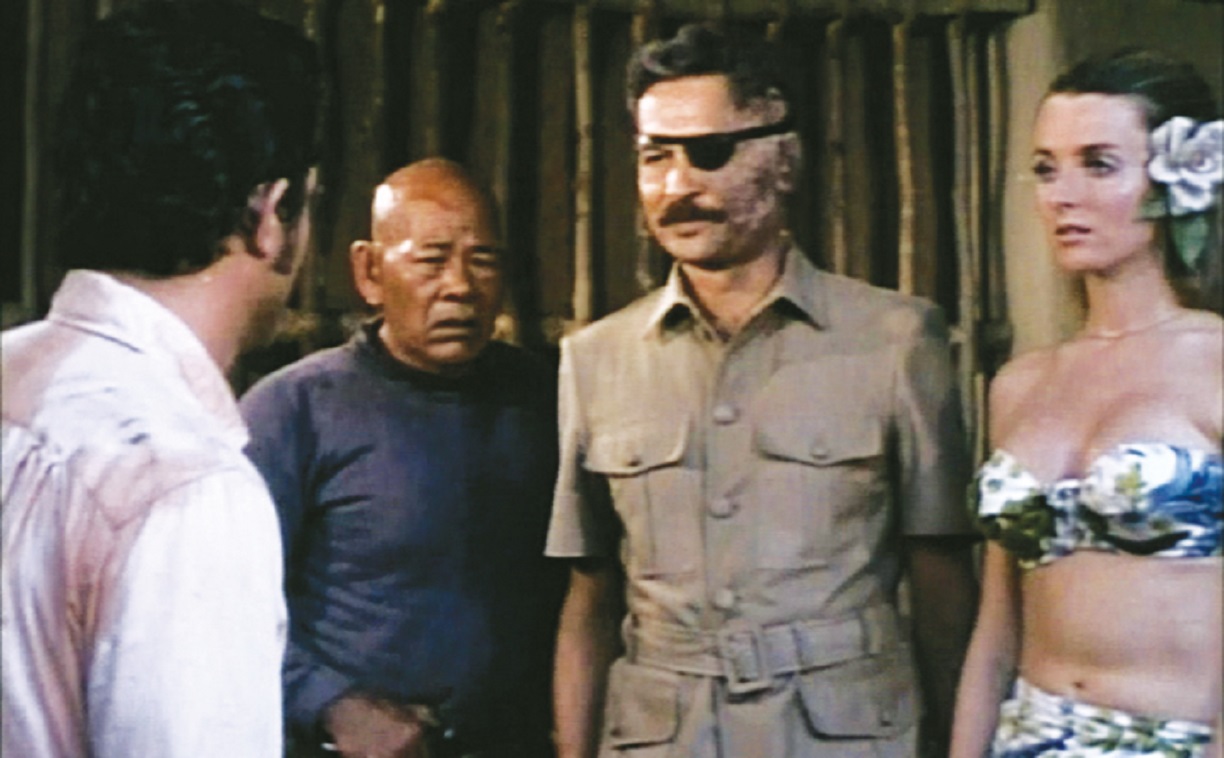 The film does eventually develop an entertaining level of gore-letting – seeing various members of the party gorily impaled in spiked ambush pits or bullet wounds gushing great jets of blood. The makeup on the disembodied head also looks particularly gruesome. The film climaxes on the good old Filipino exploitation movie action standard of the armed insurgency against the jungle encampment, which involves numerous extras being shot and blown up with great gusto.
Eddie Romero made a number of other genre films during the great era of the Filipino exploitation film, including the likes of The Beast of the Yellow Night (1971), Beyond Atlantis (1973), The Twilight People (1972) and The Woman Hunt (1973). Romero had also produced the first of the Filipino mad scientist films Terror is a Man (1959).
The making of Beast of Blood is also discussed in the Filipino exploitation cinema documentary Machete Maidens Unleashed! (2010).
---
---