---
Crew
Director – Brian Yuzna, Screenplay – Jose Manuel Gomez, Story – Miguel Tejada Flores, Producers – Julio Fernandez & Brian Yuzna, Photography – Andreu Rebes, Music – Xavi Capellas, Re-Animator Theme – Richard Band, Visual Effects – Filmtel, S.A. (Supervisor – Jaume Vilaseca), Makeup Effects – Pedro de Diego, EFE-X, RHK Efectos Especiales (Supervisor – Amador Rehak) & Screaming Mad George, Production Design – Llorenç Miguel. Production Company – Filmax International/Fantastic Factory/Castelao Productions/Via Digital/ICAA/ICAF.
Cast
Jeffrey Combs (Herbert West), Jason Barry (Dr Howard Phillips), Elsa Pataky (Laura Olney), Simon Andreu (Warden Brando), Enrique Arce (Cabrera), Nico Baixas (Moses), Santiago Segura (Speedball), Lolo Herrero (Sergeant Moncho), Raquel Gribler (Nurse Vanessa), Barbara Elorrietta (Emily Phillips), Tommy Dean Musset (Young Howard)
---
Plot
Young Howard Phillips is witness as a zombie breaks into the house and kills his sister. As Herbert West is arrested for the crime, young Howard picks up the reagent that Herbert dropped. Thirteen years later, Howard has become a medical doctor. Upon his own request, he is posted to the Arkham State Penitentiary where Herbert is in custody. However, Howard has an ulterior motive, having done so in order to request Herbert as his assistant and use this as an opportunity to perfect the formula for the reagent. Together they begin experiments but things start to go wrong when Herbert tests the reagent out on an inmate who has just been killed. At the same time, Howard becomes involved with reporter Laura Olney who is writing an article about the prison. After Laura witnesses Warden Brando beating a prisoner to death, he kills her. Herbert and Howard reanimate her, with Herbert stealing neo-plasm from the warden to bring her fully back to life. With the number of zombies growing and Laura returned not quite right, the prison spirals out of control as it is overrun by the dead.
---
Re-Animator (1985) was one of the indisputable horror classics of the 1980s, a fiercely tongue-in-cheek splatter classic that, along with The Evil Dead (1981), defined the popcorn splatter genre for the decade ahead. The film's producer Brian Yuzna went onto direct a sequel with Bride of Re-Animator (1990), which had some amazing makeup effects but stood too much in the shadow of its predecessor. Bride of Re-Animator was Brian Yuzna's second film as director and he went onto become a modest genre presence throughout the 1990s. (See bottom of page for Brian Yuzna's other films).
In 2000, Yuzna set up Fantastic Factory in Spain with the intent of producing a series of medium-budget horror films. Beyond Re-Animator was one of the titles advertised on the initial slate in order to attract investors. A further House of Re-Animator was announced for the better part of the 2000s under original director Stuart Gordon, which is supposed to take Herbert West to The White House, although has yet to emerge.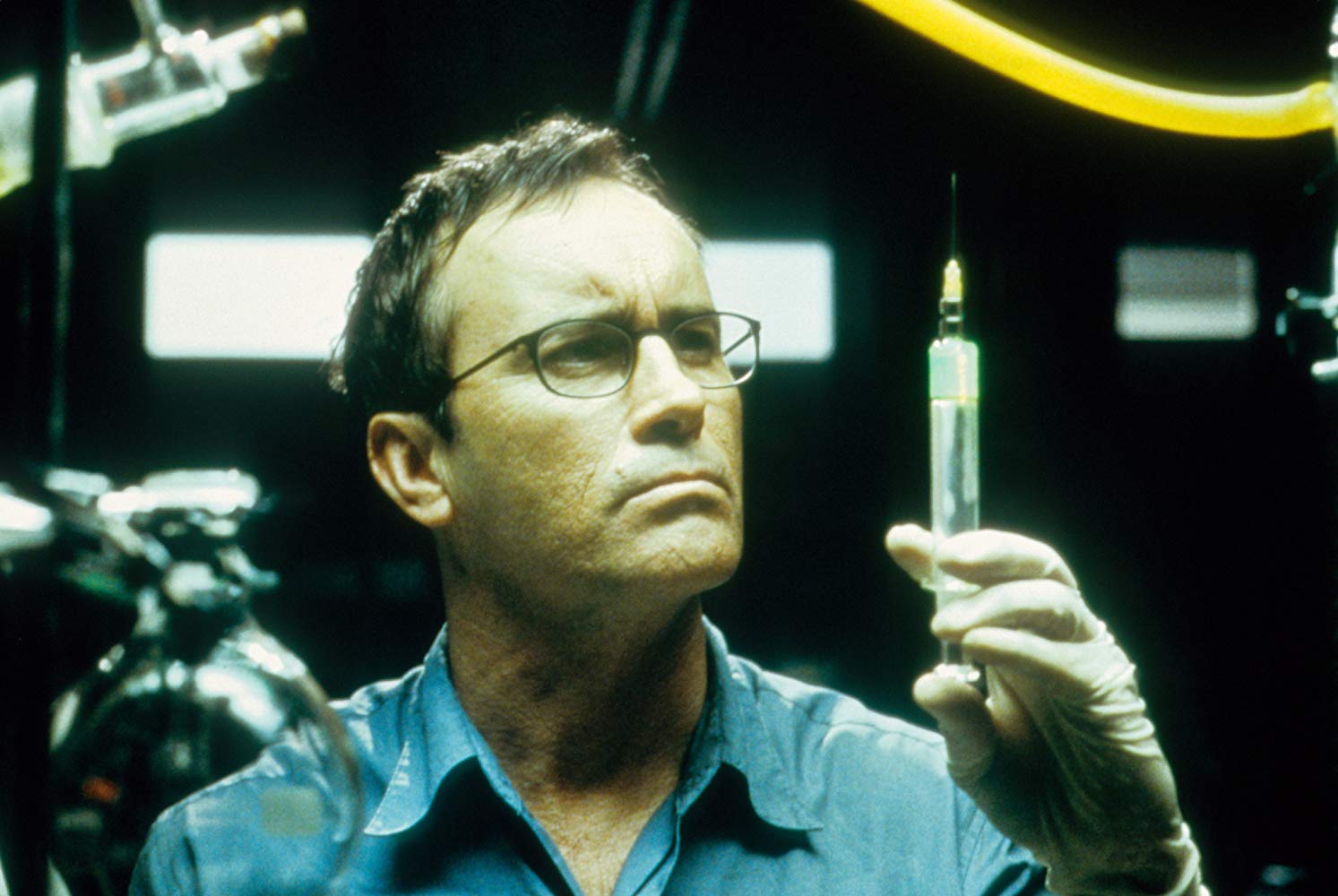 Beyond Re-Animator is more conceptually adventurous than Bride of Re-Animator was. Bruce Abbott's Dan Cain has been written out and the only holdover (aside from Brian Yuzna behind the camera) is the central character of Jeffrey Combs's Herbert West. The film's interesting twist is to place Herbert West in prison – Yuzna explains this as being because they had difficulty thinking how to expand the premise so the best solution was to lock West away from furthering his research.
That said, the plot still cycles around the basics of the original – West ruthlessly and amorally engaged in experiments to reanimate the dead; his naive assistant who becomes involved with a woman during the course of the show, before she is killed and reanimated; a cruel and self-serving authority figure who is inevitably turned into a zombie; a climax where everything runs out of control. Jeffrey Combs gives another of the cold, supercilious and emotionally detached performances that he perfected with this role.
Brian Yuzna starts in with an opening that gets the original's sense of black humour down perfectly – with two boys sitting around a campfire retelling the basic story of Re-Animator, which we see has now passed onto become an urban legend, while a zombie with a waggling tongue instead of a lower jaw bursts into the house behind them and attacks their sister (Barbara Elorrietta), before being shot by police. Thereafter Beyond Re-Animator becomes surprisingly quieter – both in terms of the customary splatter effects and black humour that we expect of a Re-Animator film.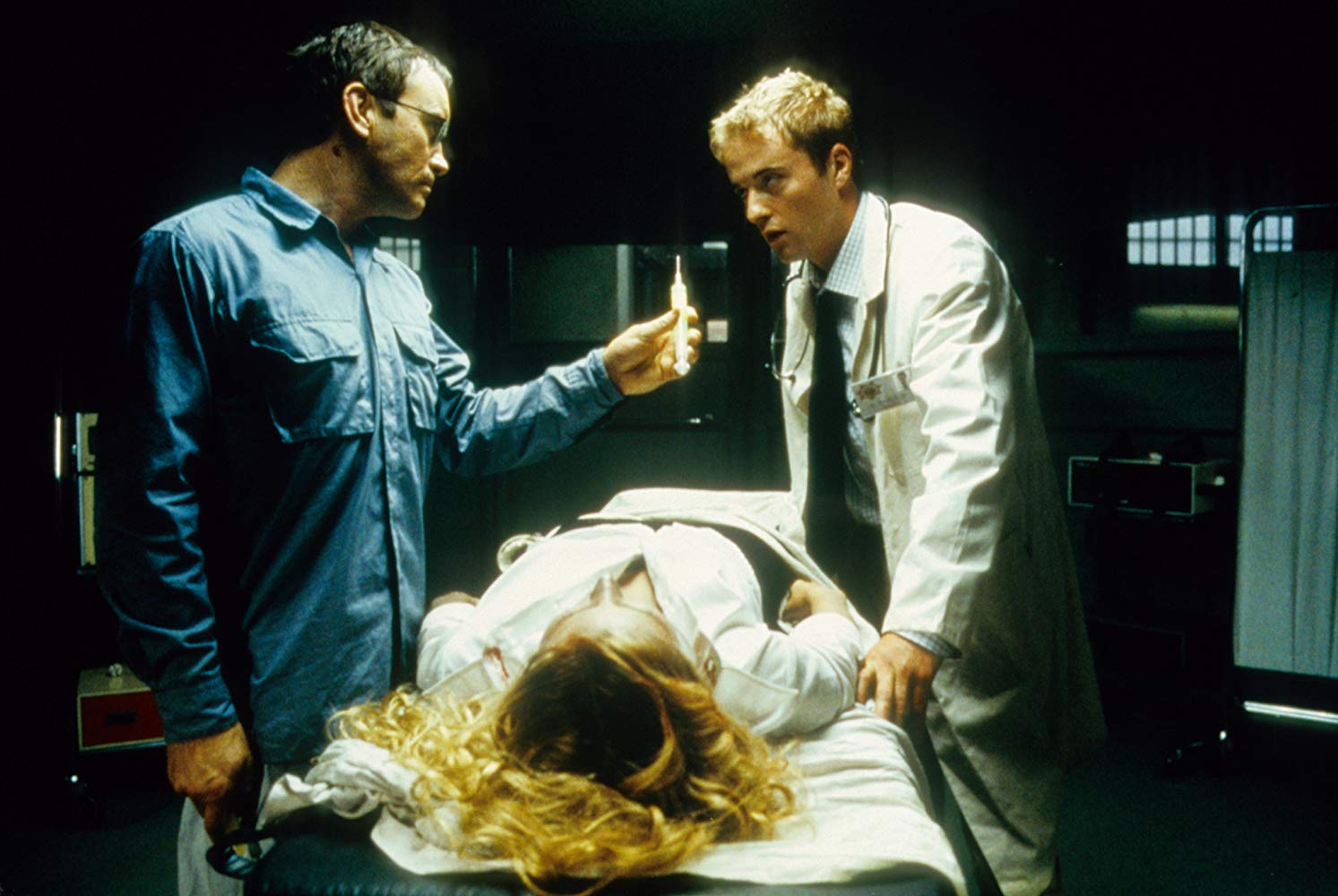 It does however pick up for a memorably grotesque and funny extended climax during the last third. This lacks anything as outrageous as the cunnilingus scene with the severed head in Re-Animator, although Brian Yuzna does try hard with a couple of scenes – one where the religiously crazed zombie inmate (Nico Baixas) falls to the ground before the nurse (Raquel Gribler) and she grants him succour, before he tears her top open and bites her breast off. The other being when the zombified Elsa Pataky is forced to give the sadistic warden (Simon Andreu) a blowjob but instead bites his dick off and throws it away to a rat, which promptly runs off with it. (If one keeps watching all the way through the credits, there is an animated vignette that plays throughout with the rat and reanimated penis fighting).
Where Beyond Re-Animator comes into its own is during the extended apocalyptic climax, which is filled with a variety of outrageous scenes:– a collection of bodies that have been injected with the serum by the warden and left hanging, twitching on the end of ropes while still alive; Jeffrey Combs reanimating the warden with rat neo-plasm whereupon the warden takes on increasingly rat-like features, finally being reduced to squatting with a set of giant elongated knees that stretch up above his ears; Jason Barry being attacked by the severed torso of Enrique Arce that agilely swings between the bars and along the roof; a junkie (Santiago Segura) repeatedly injecting himself with the reagent until his eyeballs pop out and his guts explode; the reanimated Elsa Pataky attacking Jason Barry and the final scene where Barry is left maddened, cradling her severed head.
Brian Yuzna has directed a number of other horror films:– Society (1989), Silent Night, Deadly Night 4: The Initiation (1990), Necronomicon (1993), Return of the Living Dead III (1993), The Dentist (1996), The Dentist 2 (1998), Progeny (1998), Faust: Love of the Damned (2000), Rottweiler (2004), Beneath Still Waters (2005) and Amphibious 3-D (2010). Yuzna has also produced a number of genre films including various Stuart Gordon such as From Beyond (1986), Dolls (1987) and Dagon (2001), as well as Honey, I Shrunk the Kids (1989), The Guyver (1991), Infested (1993), the manga adaptation Crying Freeman (1995), Arachnid (2001), Darkness (2002), Romasanta: The Werewolf Hunt (2004), The Nun (2005) ands Takut: Faces of Fear (2008).
---
---