aka Time is Terror
USA. 1970.
Crew
Director – Brad F. Grinter, Screenplay – Brad F. Grinter & Thomas Casey, Producers – Brad F. Grinter & Veronica Lake, Photography – Thomas Casey, Special Effects – Douglas Hobart, Makeup – Gayl Doucette & Bill Rogers, Art Direction – Harry Kerwin. Production Company – Viking International.
Cast
Veronica Lake (Dr Elaine Frederick), Phil Philbin (Ed Casey), Heather Hughes (Kristine Powell), Dete Parsons (Sharon), Otto Schlessinger (Benito Paris), Chris Martell (Max Bauer), Bill Rogers (Jose), Doug Foster (Carl Schulman), Dianne Wilhite (Gail), Harry Kerwin (Dan Carter)
---
Plot
A journalist is murdered while following an arms dealer. His editor Ed Casey investigates. The trail leads Casey to Dr Elaine Frederick who is secretly conducting age rejuvenation experiments using flesh-eating maggots. Casey discovers that Dr Frederick's backers are Nazis and that her intended test subject is a very much alive Adolf Hitler himself.
---
Veronica Lake, who has enjoyed a revival of memory in recent years thanks to L.A. Confidential (1997), was one of the great cinematic beauties of the 1940s, known for films like Sullivan's Travels (1941), I Married a Witch (1942), This Gun for Hire (1942) and The Blue Dahlia (1946). After the 1940s though, Veronica Lake fairly much faded from sight. Flesh Feast was her comeback after nearly twenty years and the last film she made before her death in 1973.
It is anybody's guess what possessed Veronica Lake to choose such a dire and impoverished production as Flesh Feast for a comeback, let alone to act as producer to the film. On screen, she looks sad and aged – the film shoots her unglamorously and shows none of her former beauty. The climax of the film does offer the mildly fascinating spectacle of her going bonkers and laughing her head off like a maniac – it is the type of acting that were the in-thing for a time in the 1960s after the popularity of What Ever Happened to Baby Jane? (1962) featuring aged stars going batty but it comes without the layer of self-conscious freakshow appeal.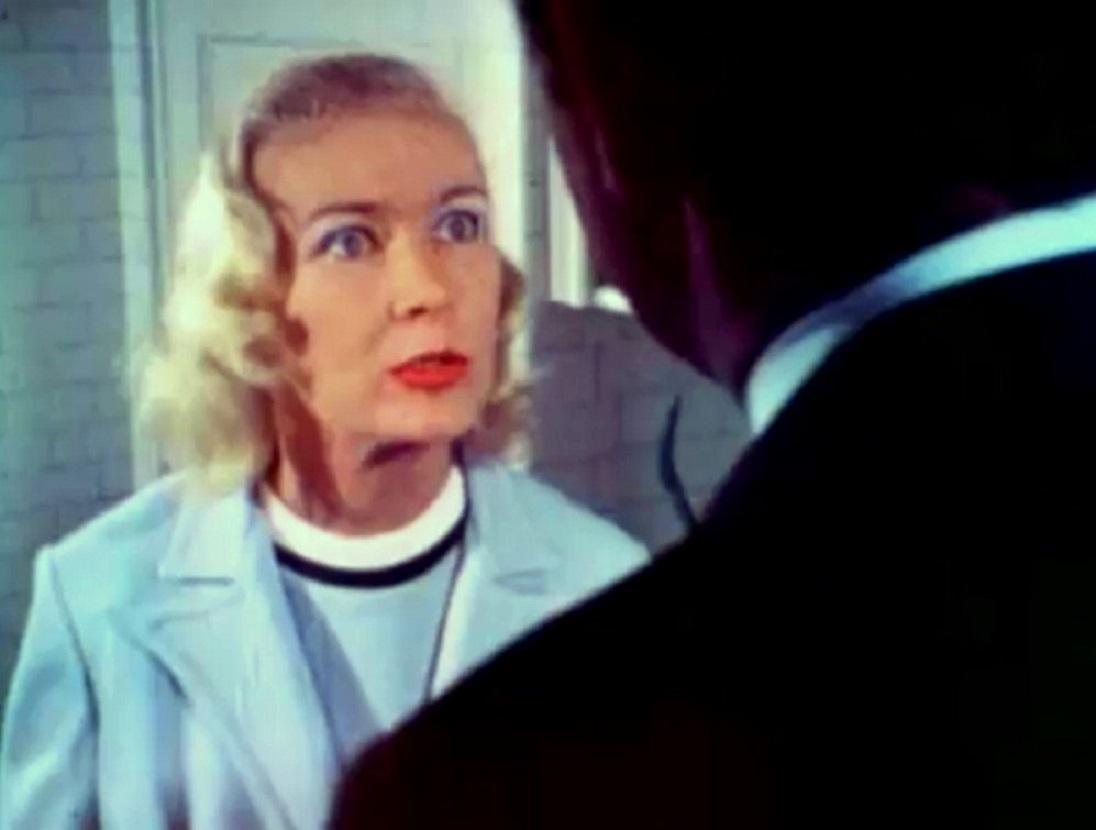 Flesh Feast is a dire film. It has clearly been shot in someone's house where guest bedrooms double as hospital wards. The laboratory consists of a bench with two straps, an oxygen cylinder and two pieces of radio equipment. The entire film hangs on its twist ending – the revelation that the secret benefactor of Veronica Lake's flesh-eating maggot rejuvenation treatment is Adolf Hitler – but it feels old hat. Sad.
The plot about Nazi scientists attempting to revive Adolf Hitler has been used in a number of other films, including They Saved Hitler's Brain (1964), The Boys From Brazil (1978), The New Avengers episode The Eagle's Nest (1976) and Nazis at the Center of the Earth (2012). (For a more detailed overview see Nazis in Fantastic Cinema).
---
---