---
Crew
Director – William Beaudine, Screenplay – Carl Hittleman, Producer – Carroll Case, Photography – Lothorp Worth, Music – Raoul Kraushaar, Photographic Effects – Cinema Research Corp, Makeup – Ted Coodley, Art Direction – Paul Sylos. Production Company – Embassy Pictures.
Cast
John Lupton (Jesse James), Narda Onyx (Maria Frankenstein), Cal Bolder (Hank Tracy/Igor), Estrelita (Juanita Lopez), Jim Davis (Marshal McPhee), Rayford Barnes (Lonny Curry), Steven Geray (Rudolph Frankenstein), Roger Creed (Butch Curry), William Fawcett (Jensen), Felipe Turich (Manuel Lopez), Rosa Turich (Nina Lopez)
---
Plot
Jesse James is drawn into a scheme to help Butch Curry rob a stagecoach. However, Butch's brother Lonny takes a disliking to Jesse and betrays him to the local marshal. Jesse escapes the ambush with his badly wounded partner Hank Tracy. Aided by Mexican girl Juanita Lopez, whom he falls for, Jesse goes to seek medical help for Hank from Maria Frankenstein, the grand-daughter of the infamous Count. Maria eagerly offers helps, wanting to use the strapping Hank as a subject in her experiments in implanting her grandfather's artificial brain. She sets up a trap to get rid of Jesse, while turning Hank into a mindless dolt controlled by her will.
---
Jesse James Meets Frankenstein's Daughter is an infamous Z movie. It is companion piece to Billy the Kid Versus Dracula (1966), which was also made by director William Beaudine the same year. Much ridicule has been heaped upon these two films by genre reviewers and the Z-movie cult where they have attained a legendary status up there alongside classic bad films such as Robot Monster (1953), Attack of the 50 Foot Woman (1958) and Plan 9 from Outer Space (1959).
For all that, neither Jesse James Meets Frankenstein's Daughter nor Billy the Kid Versus Dracula are truly bad films. Certainly, Jesse James Meets Frankenstein's Daughter has its share of Z-budget howlers – the monster revived by having a coloured motorcycle helmet placed on his head, or the moment when Maria invites Jesse to come into her library and the resulting room contains no books. It should also be noted that despite the title Narda Onyx plays Frankenstein's granddaughter, not his daughter. Yet for all its Z-movie reputation, Jesse James Meets Frankenstein's Daughter is never any worse than a B western. It certainly never looks cheap and is in colour. There are a good many genre films that are far worse than this.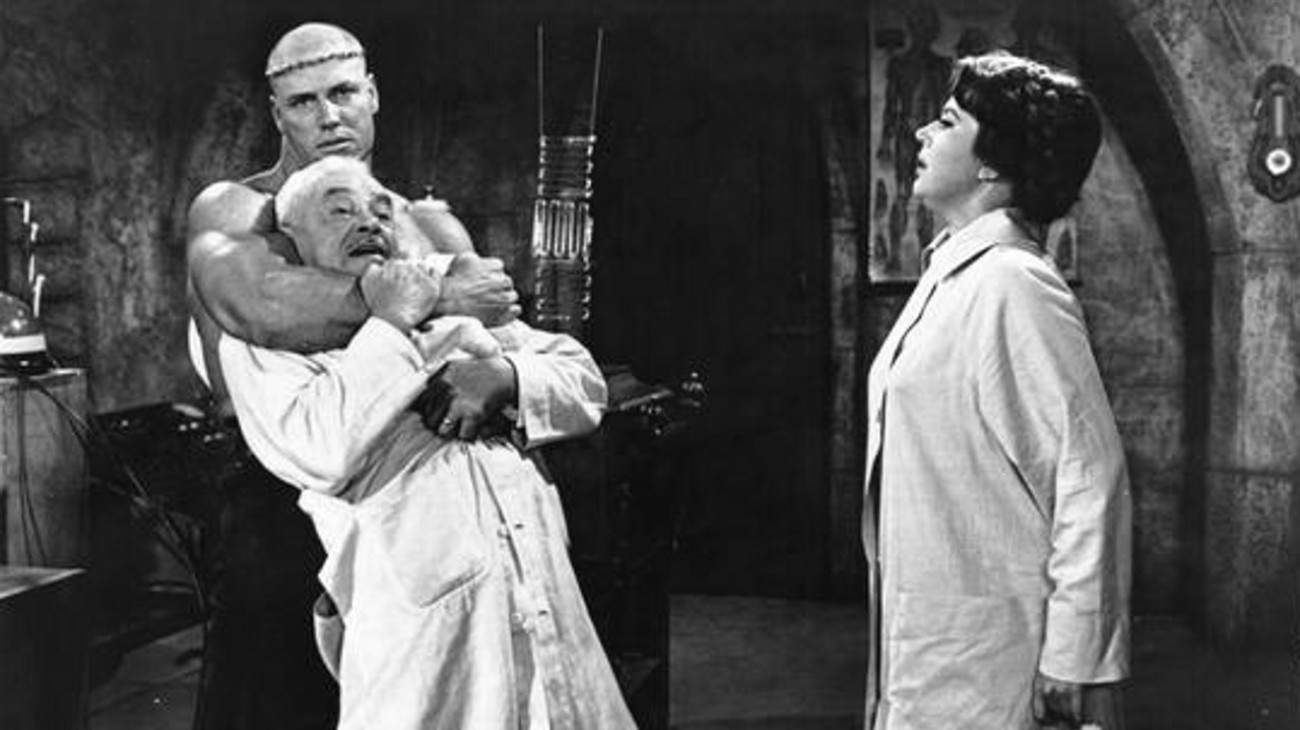 Narda Onyx gives a wonderfully breathy and overwrought performance as Maria Frankenstein and John Lupton is good as Jesse, as is Estrelita as the good-hearted Juanita. The script is routine – it is never clear what Maria Frankenstein is trying to do, her experiment is a vague one that involves raising the dead, transplanting artificial brains and mind control.
As with Billy the Kid Versus Dracula, the titular Western villain in question undergoes a character change that varies considerably with what history would have us know. In Billy the Kid Versus Dracula, William Bonney became a good-hearted, simple-minded lug rather than a ruthless killer and here Jesse James is reformed to become akin to a Western version of Robin Hood.
Director William Beaudine had a prolific career that lasted from the 1910s until his death in 1970s. He was mostly known as a director who could shoot fast and cheaply. He made some 350+ films, although this figure is misleading as many of these were silent films and not feature length. Beaudine did make a number of other genre films, including the Old Dark House film The Living Ghost (1942), the comedy Lucky Ghost (1942), the mad scientist film The Ape Man (1943), the East Side Kids Old Dark House comedy Ghosts on the Loose (1943), the mad scientist film Voodoo Man (1944), the mad scientist film The Face of Marble (1946), the East Side Kids/Bowery Boys Old Dark House comedy Spook Busters (1946), the Bowery Boys film Ghost Chasers (1951), the mad scientist comedy Bela Lugosi Meets a Brooklyn Gorilla (1952), the Bowery Boys film Jalopy (1953), the Bowery Boys film Paris Playboys (1954), the Bowery Boys film Up in Smoke (1957) and The Green Hornet (1974), a compilation of episodes of the superhero tv series.
---
Trailer here
Full film available online here:-
---