---
Crew
Director – William Friedkin, Screenplay – William Friedkin, Dan Greenburg & Stephen Volk, Based on the Novel The Nanny by Dan Greenburg, Producer – Joe Wizan, Photography – John A. Alonzo, Music – Jack Hues, Special Effects – Phil Cory, Mechanical Effects – Image Engineering (Supervisor – Peter Chesney), Makeup Effects – Matthew Mungle, Production Design – Gregg Fonseca. Production Company – A Joe Wizan Production.
Cast
Dwier Brown (Phil), Jenny Seagrove (Carmilla), Carey Lowell (Kate), Brad Hall (Ned Runcie)
---
Plot
A yuppie couple, Phil and Kate, advertise for a nanny for their new baby. Their first choice has a mysterious cycling accident but their second, an English girl Carmilla, proves perfect. After Carmilla moves in, they soon discover increasingly odd things about her. A friend of theirs who desires Carmilla follows her into the woods and sees her lying naked being caressed by the branches of a tree – but is torn apart by wolves when he tries to tell Phil and Kate. Gradually, Phil and Kate discover Carmilla's true identity as a tree spirit who has come to steal their child as sacrifice to a druidic tree god.
---
There should be a good deal of potential to any film that can mount in straight face a concept like 'Baby-Devouring Druidic Tree Nymphs Loose in California' – and moreover on an A-budget rather than the cheesiness of B– and lower budgets where such ideas usually find home.
Unfortunately, the way it is played in The Guardian, the idea comes out with a deadening predictability. All there is to know about what is going on is explained in the written pre-credits scene setting, while the nature of Jenny Seagrove's identity is given away in the opening scenes. This leaves no surprise revelations for us later – these are things that should have been revealed through the eyes of hero Dwier Brown. With such an outrageous premise being played so literal and po-faced, The Guardian cannot help but produce unintentional titters.
What makes The Guardian an even bigger disappointment is that it was William Friedkin's return to horror seventeen years after the genre-defining landmark of the The Exorcist (1973). Friedkin's own career since The Exorcist has been somewhat cursed by The Devil, he having made fine films that have turned out to be flops – Sorcerer (1977), To Live and Die in L.A. (1986), Rampage (1987) – and others that have flopped badly – Cruising (1980), Deal of the Century (1983) and Jade (1996). The Guardian does nothing to reverse the long downward trail of William Friedkin's career.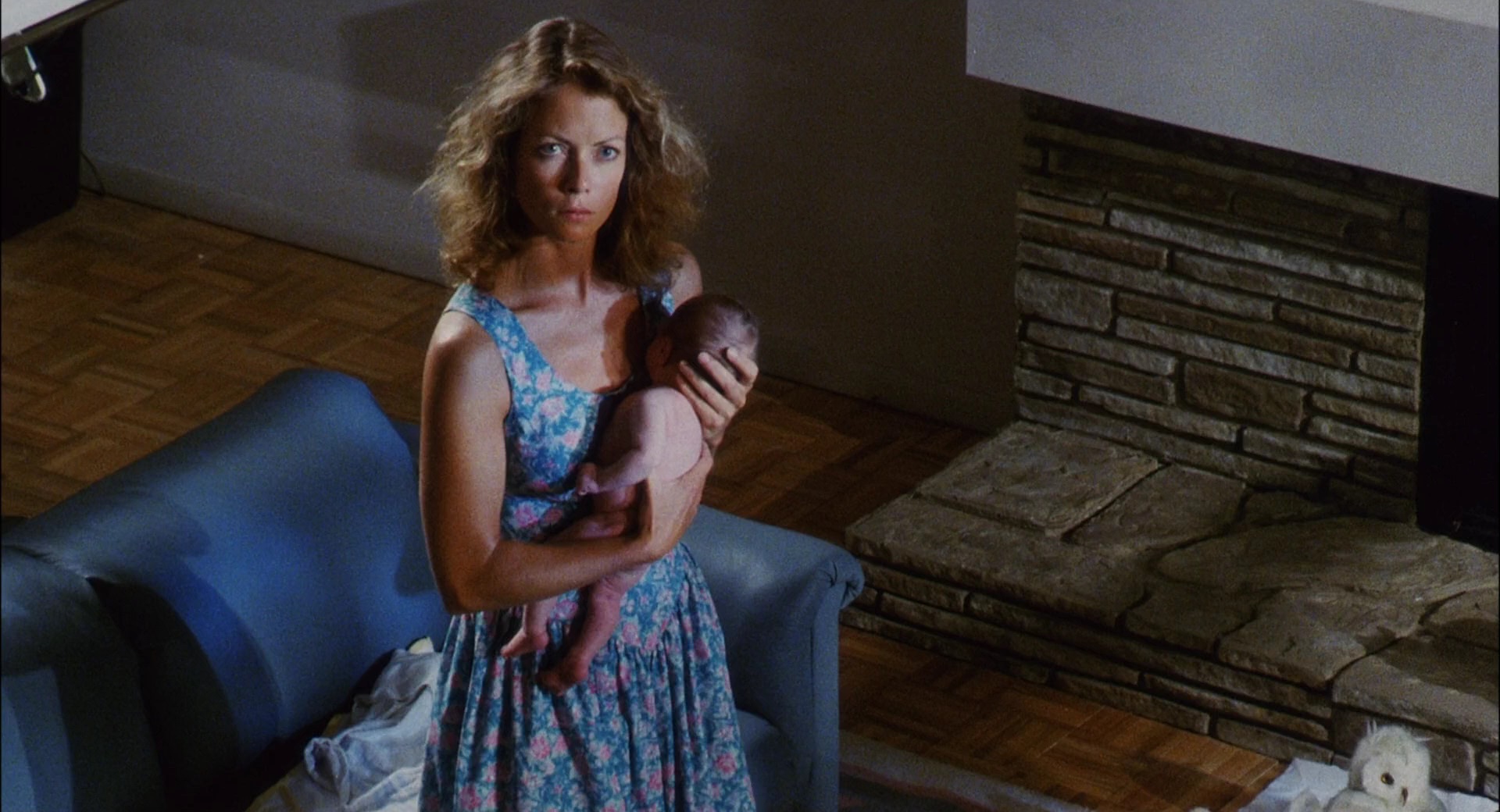 One cannot deny though that Friedkin leaves The Guardian a well-made film. Even when he is working with cheesy plot material, the film is filled with slick, evocative camerawork. There is at least one genuinely uncanny sequence that comes as Brad Hall finds Jenny Seagrove in a grove lounging naked and being caressed and healed by the branches of the tree, while wolves docilely sit at its base.
The Guardian does at least give brief American presence to the lovely and almost entirely neglected English actress Jenny Seagrove. The Yuppie couple – Dwier Brown and former James Bond girl Carey Lowell – give forgettable performances. Lowell is pushed into the background and almost entirely forgotten about once Jenny Seagrove enters.
William Friedkin's other genre films are – The Exorcist (1973), the classic tale of demonic possession; Cruising (1980), a psycho-thriller set in the world of gay leather bondage; Deal of the Century (1983), a black comedy about arms smuggling; Rampage (1987), a courtroom serial killer thriller that debated the Insanity Plea; The Hunted (2003) about a man hunting humans for sport; and the claustrophobic Bug (2006).
---
---