---
Crew
Director/Screenplay – William Friedkin, Based on the Novel by Gerald Walker, Producer – Jerry Weintraub, Photography – James Contner, Music – Jack Nitzsche, Makeup Effects – Robert Norin, Production Design – Bruce Weintraub. Production Company – Lorimar/CIP-Europaische Treuhand AG.
Cast
Al Pacino (Steve Burns), Paul Sorvino (Captain Edelson), Karen Allen (Nancy), Richard Cox (Stuart Richards), Don Scardino (Ted Bailey), Jay Acovone (Skip Lee)
---
Plot
New York police detective Steve Burns is chosen for an undercover assignment – to find a serial killer that has been claiming victims amongst the gay scene. Burns has been chosen because he resembles the killer's victim profile. As the heterosexual Burns is required to submerge himself in a lifestyle and take on the role of a homosexual man cruising bars, he finds it beginning to affect him.
---
Cruising was the ninth film from director William Friedkin. At the time, Friedkin was riding high on the huge successes of French Connection (1971) and The Exorcist (1973). Cruising came in a period where Friedkin's films were coming out as critical and/or box-office disappointments with the likes of Sorcerer (1977), Deal of the Century (1983), To Live and Die in L.A. (1986), Rampage (1987) and Jade (1996), even though a number of these are fine films in their own right.
Cruising was considered a highly controversial film in its time. It was hotly (and in one's opinion, wrongly) debated on both sides of the fence. The conservative lobby railed against it and in many places succeeded substantially in censoring a film that portrays an alternate lifestyle. The film ended up being cut of some 40 minutes of footage, which purportedly show gay sex in graphic detail. An attempt was made to relocate this for the 2007 dvd restoration but the film is believed to have been destroyed.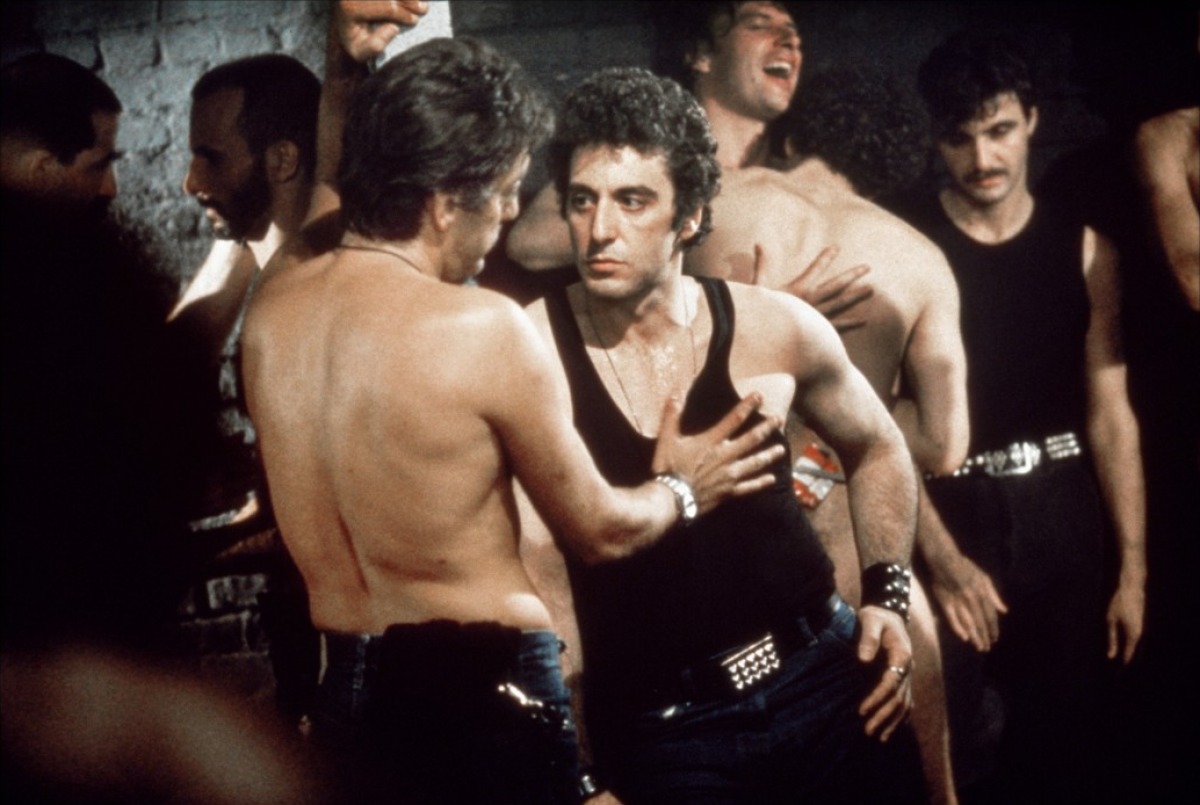 The gay community also heavily protested the film and even attempted to disrupt shooting for claimedly negatively stereotyping of gays as violent fetishists. One can hardly take the conservative lobby's viewpoint seriously but the gay lobby's outlook seems a non-argument – what is it one wonders that is offensive about the film? Is it the depiction of the gay leather scene? Hardly, for it does exist – and not too differently from what is shown in the film. Is it the concept of a gay serial killer? Gay serial killers have existed before – John Wayne Gacy, Gilles de Rais, Jeffrey Dahmer – and the film at no point ever tries to stereotype all people in the gay leather scene as violent killers. Perhaps without its canny opening disclaimer – "The film is not intended as an indictment of the homosexual world. It is set in one small segment of that world and is not meant to be a representative of the whole" – the film may have offered more substantial grounds for indignation on the part of the gay lobby.
Certainly, there is undeniably a full-on kick to some of the film's depictions of the leather bar scene – notably a scene where one patron is all but seen to be anally fisting another man. (These scenes were shot in actual gay bars and the people in the background are real patrons not extras).
Outside of its in-your-face portrait of the gay scene, the film is mixed. The plot is a dogged police procedural – there is no tension to it, no racking suspense, just a dull unfolding. The revelation at the end that the killer's father has been dead for over ten years and the subtle realisation that the scene of him talking to his father in the park earlier was all entirely in his head is one striking and effective moment but the film could have done with more of these.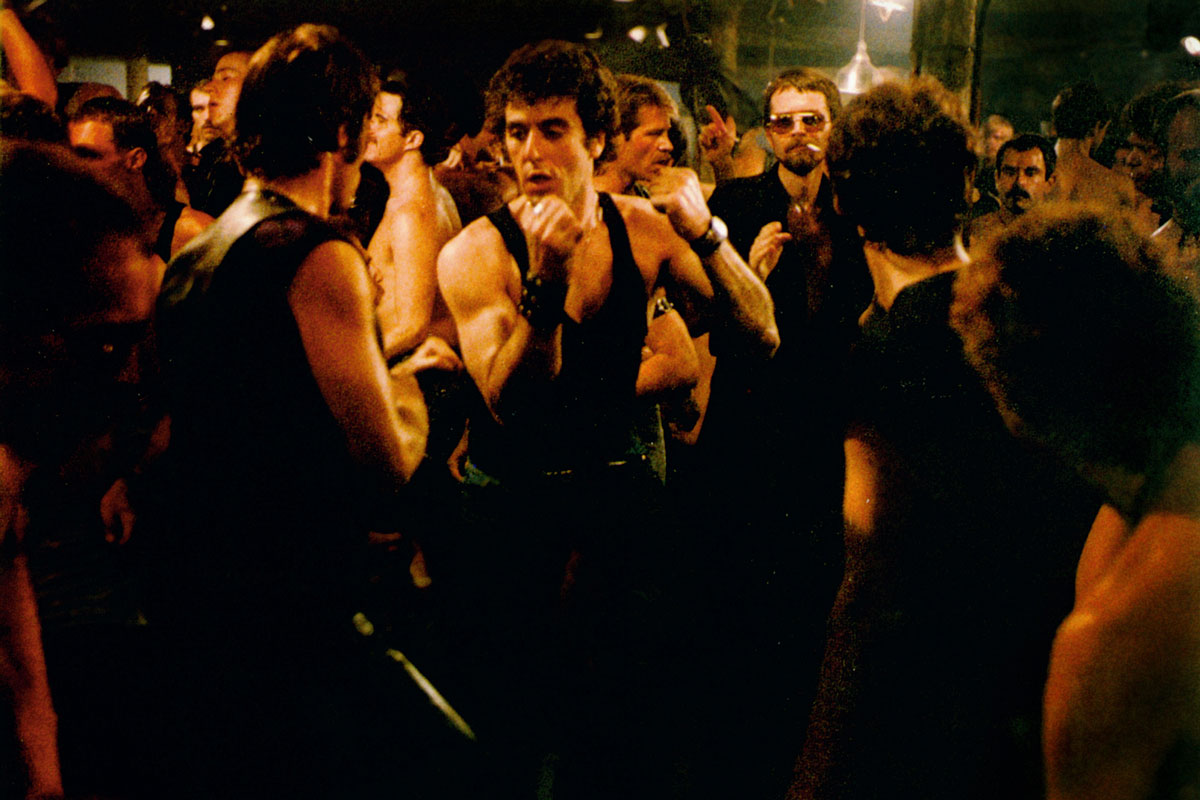 The film lacks an emotional connection as well – Al Pacino's character is supposed to be deeply affected by his immersion in the gay scene to the extent that he is cracking up – but how it is affecting him we never know. Is it becoming involved in cruising – in one startling shot, we see Pacino having allowed himself to be tied up butt-naked on a bed and being threatened with a knife – if so, we never know, for this encounter and what a straight guy had to go through to allow that to happen is something that is never explored, nor is it never mentioned again. Al Pacino was cast in the role after a string of cop parts following Serpico (1973) but his moody introverted handsomeness is exactly what the film does not need – the film's emotional centre is left trapped inside Pacino and the events of the film seem remote from what ever is happening to him.
Interior. Leather Bar. (2013) was a quasi-documentary co-directed by James Franco that sets out to reconstruct the missing 40 minutes of hardcore footage that were cut from the film.
William Friedkin's other genre films are:– The Exorcist (1973), the classic tale of demonic possession; Deal of the Century (1983), a black comedy about arms smuggling; Rampage (1987), an interesting courtroom serial killer thriller that debated the Insanity Plea; The Guardian (1990) about a baby-snatching Druidic babysitter; The Hunted (2003) about a man hunting humans for sport; and the claustrophobic Bug (2006).
---
---