---
Crew
Director/Screenplay – Newton Arnold, [Uncredited] Based on the Novel Les Mains d'Orlac by Maurice Renard, Producers – Newton Arnold & Michael du Pont, Photography (b&w) – Henry Cronjager, Music – Richard LeSalle, Special Photographic Effects – Howard A. Anderson Co., Makeup – Charles Gemora, Art Direction – Ted Holsopple. Production Company – Glenwood-Neve.
Cast
James Stapleton (Vernon Paris), Joan Harvey (Dina Paris), Paul Lukather (Dr Gil Harding), Larry Haddon (Lieutenant Syms), Michael Rys (George Britton), Ted Otis (Dr Ross Compton), Michael du Pont (Dr Ken Fry), Elaine Martone (Eileen Hunter), George Sawaya (Tony Wilder), Irish McCalla (Holly), Sally Kellerman (Sue)
---
Plot
Top concert pianist Vernon Paris is riding in a taxi when it is caught in an accident. He is rushed to hospital where surgeon Gil Harding and his team work to save him. Gil tells Vernon's sister Dina and manager that the only choice is to remove Vernon's hands. They beg for another choice and so Gil makes the decision to conduct a highly experimental operation in which they transplant the hands of a murdered patient who died on the operating table. As he recovers, Vernon is not told the truth about what happened, merely that his hands were broken. He goes into shock when he is informed. Becoming brooding and obsessive, he finds the hands seem to take on a life of their own and are driving him to kill those who have crossed or angered him.
---
Hands of a Stranger was the fourth and to date final film version of the novel Les Mains d'Orlac (1920), which is usually translated as The Hands of Orlac, by Maurice Renard, a French science-fiction and horror writer during the early decades of the 20th Century. The story concerns a concert pianist who loses his hands in an accident and receives the transplant of a murderer's hands and then comes to believe that the hands are possessing him and driving him to kill.
The first and best film adaptation was the silent German The Hands of Orlac (1924) from Robert Wiene with Conrad Veidt as the tortured pianist. Wiene, the director of The Cabinet of Dr Caligari (1919) and the initiator of the German Expressionist movement, created a wonderfully contorted depiction of Orlac's crumbling state of mind. The Hands of Orlac underwent a sound Hollywood remake a few years later as the splendidly demented Mad Love (1935) with Colin Clive and Peter Lorre chewing the scenery between them. There was a further remake with the dreary French-made The Hands of Orlac (1960) featuring Mel Ferrer as Orlac, Donald Wolfitt as the surgeon and with Christopher Lee as a sinister hypnotist.
This was a fourth version made in the US. Certainly, the Maurice Renard novel is not credited as source material and the film changes all the names of the characters, nevertheless Hands of a Stranger still uses the essential plot of The Hands of Orlac. Some elements are altered – the donor of the hands remains anonymous and is not said to be a murderer, nor does he reappear later in the story, while the film also downplays the idea of the pianist thinking that his hands are possessed. For reasons unclear, the film was shot in 1960 but was not released until 1962 where it attracted mediocre reviews. One suspects that the reason for this may have been something to do with the proximity of release to the French version.
There is not much love for Hands of a Stranger among genre purveyors. It is not a particularly great film but it is not entirely uninteresting. The opening shootout scenes are shot wonderfully stylised like a work of film noir with Newton Arnold's camera closing in on the dying man's hands as they clasp a lamppost, which then cuts to James Stapleton in concert where he sits with a giant lit-up representation of a tree dominating the stage, something that makes you think that the film is going to be heading into German Expressionism territory.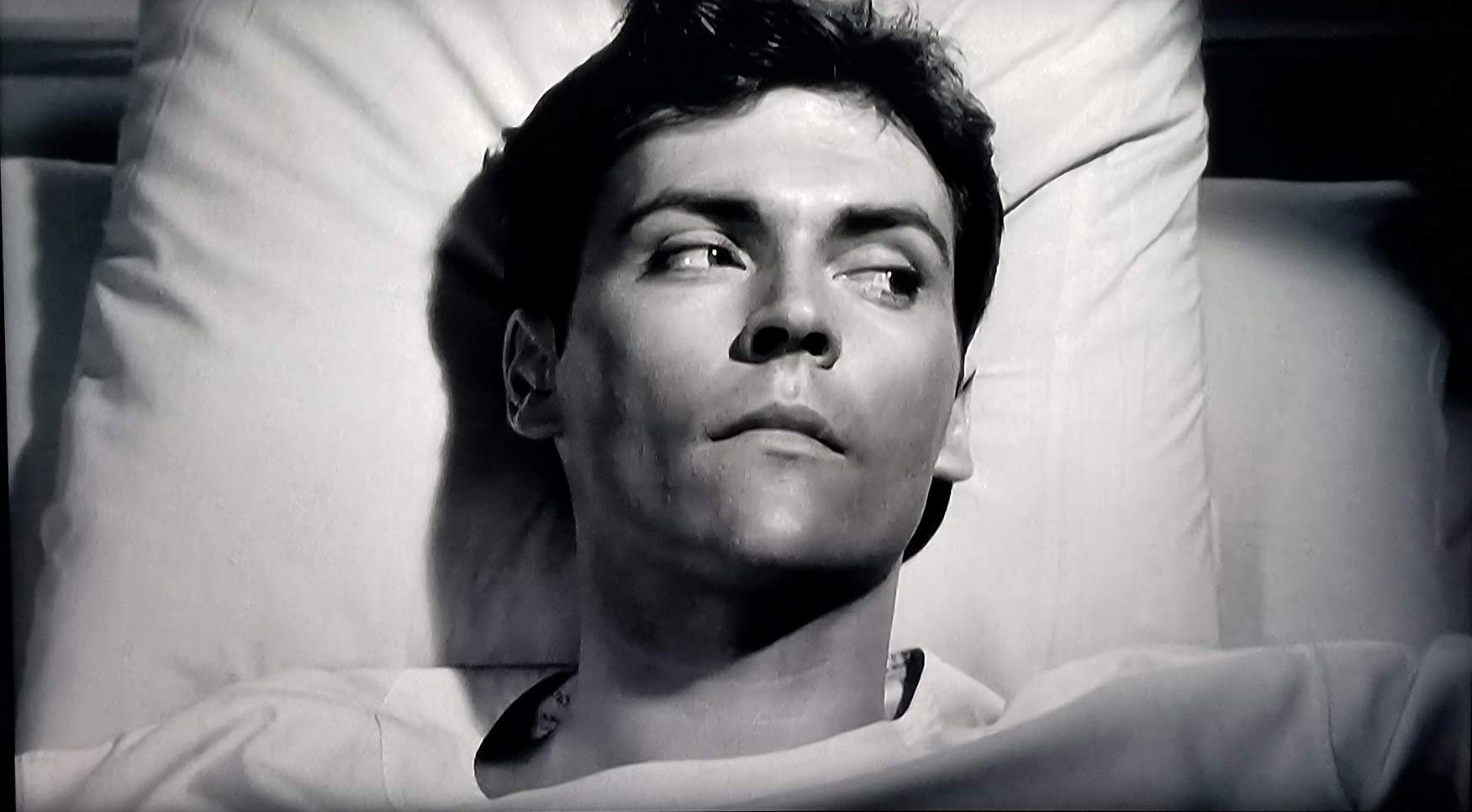 As screenwriter, Arnold writes wonderfully overwrought dialogue as the characters stand about debating their motivations – at one point, James Stapleton imprecates girlfriend Elaine Martone "What if I need your help more now than your beauty?" It is certainly more than we get in terms of writing than in the average B movie potboiler of the era. The script gets the tormented psychology of the central character that was the essence of the earlier incarnations of the story. Although Arnold does overdo it in terms of metaphors and analogies – one lost time of the number of times he draws similes between hands and practice, accomplishment and expertise.
On the other hand, Hands of a Stranger works less when it comes to the actual telling of Les Mains d'Orlac. Newton Arnold raises the psychology of the central character to a fever pitch in terms of the writing but this is something that is rarely matched by anything he provides in the director's chair. There are scenes with James Stapleton attacking people but none of this comes with the madly exaggerated luridness that Robert Wiene gave it or Karl Freund did in Mad Love and Arnold's handling of these scenes is entirely routine. For some reason, he has also chosen to eliminate any aspect where the pianist believes his hands are possessed, thus we have James Stapleton getting obsessed and then murderous simply it would appear because he is upset that he had an accident and nobody told him that he received a hand graft.
Hands of a Stranger was the first film of Newton (later Newt) Arnold. In contrast to the career path taken by most directors, Arnold started out as a director then spent the next three decades as an assistant director, racking up some impressive credits that also include The Godfather Part II (1974), Blade Runner (1982), The Goonies (1985), The Abyss (1989) and A Simple Plan (1998), among a great many others. His only other films as director were the horror film Blood Thirst (1971) and the Jean-Claude Van Damme kickboxing film Bloodsport (1988).
---
---