(Orlacs Hände)
---
Crew
Director – Robert Wiene, Screenplay – Louis Nerz, Based on the Novel by Maurice Renard, Photography (b&w) – Hans Androschin & Günther Krampf, Set Design – Stefan Wessely. Production Company – Pan Films/Berolina Film GmbH.
Cast
Conrad Veidt (Paul Orlac), Alexandra Sorina (Yvonne Orlac), Fritz Kortner (Nera), Carmen Cartellieri (Regine), Fritz Strassny (Old Orlac), Hans Homma (Dr Serral), Paul Askonas (The Servant)
---
Plot
The acclaimed concert pianist Paul Orlac is caught in a train crash but survives. His wife Yvonne begs the surgeon Dr Serral to save Orlac's hands above all else. Unknown to them, Serral transplants the hands taken from the executed murderer Vasseur. As Orlac starts to recover, he finds his hands taking on a life of their own and being driven by strange impulses. He and Yvonne argue with Orlac's cruel father who refuses them the money they need to stave off debtors. The old man is then found stabbed – and with the very knife used by Vasseur. Orlac encounters Vasseur who claims to have escaped the gallows. He blackmails Orlac with the knowledge that Orlac now has his hands and that they are driving him to kill.
---
Director Robert Wiene will always be known for the one classic he made The Cabinet of Dr Caligari (1919), the film that inspired a revolution in German filmmaking with its uniquely stylised lighting schemes and distorted sets that were eventually revealed to be taking place inside a madman's mind. Wiene made some 59 other films between 1913 and his death in 1938 after he fled to France to avoid the Nazis. Only a few of these fall within genre territory and almost none of the others are either remembered today or even exist as prints. Wiene made a couple of other ventures back into genre material with Genuine (1920), a far less successful film that exists in the same territory as Dr Caligari using the same distorted sets and exaggerated lighting effects, and The Hands of Orlac, one of the few of Wiene's other films that survives in its entirety.
For anyone who comes to see The Hands of Orlac on the back of The Cabinet of Dr Caligari expecting more of the same, they are likely to be disappointed. The Hands of Orlac comes in a much more of a realist style than Dr Caligari, which made no pretence to doing so. That said, there are still undeniable similarities between the two – both films take place in and around the contorted imaginings of a man's mind and eventually opt for contrived mundane explanations as to the cause of his delusions; and in both films Wiene uses sets as an outward expression of inner states of mind, something that became characteristic of the Expressionist movement that The Cabinet of Dr Caligari created.
Despite jettisoning much of Caligari's Expressionist theatrics, it is not long before The Hands of Orlac exerts a unique hold over you. There is a wonderfully exaggerated sense to Robert Wiene's direction – the film is filled with stark, bare sets where the wider detail lies hidden in shadow, or images like the creditors all standing in a line behind the seated wife. There is a great scene where wife Alexandra Sorina goes to visit Orlac's father who lives in what looks like a church made of stone where all the windows are elongated bevelled arches and the father sits on a raised dais where she must slink along the side of the bare wall to approach him as he cackles madly and refuses to help. There are some wonderfully creepy intertitle cards – the maid being ordered "seduce his hands," or Conrad Veidt's lament "Once upon a time that was my handwriting."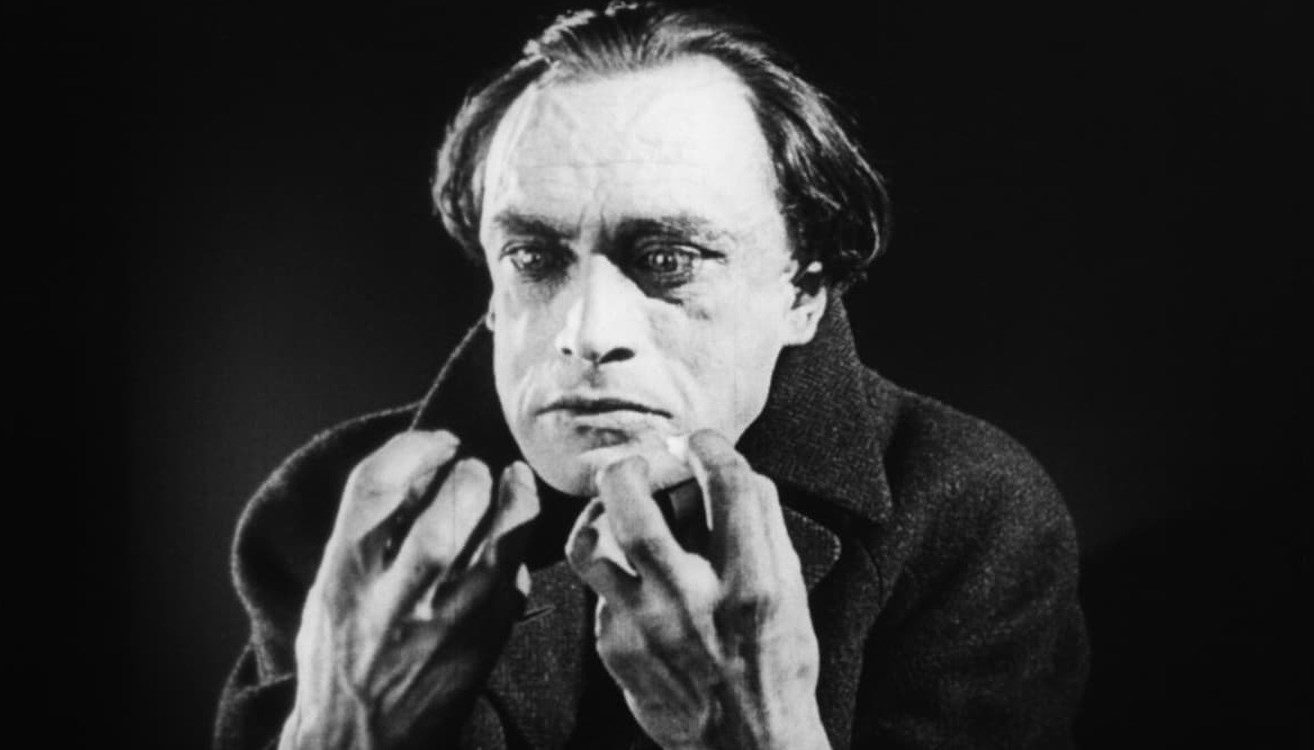 The last third of the film introduces the marvellously sinister figure of the supposedly executed murderer Vasseur where Fritz Kortner gives a magnificently leering performance before standing up to reveal his artificial arms and then inform Orlac that he has his transplanted hands and that they are driving him to kill. The film does eventually opt for a contrived mundane explanation that eschews any hint of the supernatural, as was typical of many of the film of the period.
Conrad Veidt, alias Cesare in The Cabinet of Dr Caligari, is cast in the central role of Orlac. Even without the makeup he wore as Cesare, the bony, high foreheaded Conrad Veidt looks obsessed and disturbed before the hands take over. His performance seems to be all melancholic brooding poses. Veidt gives the part his utmost – there is a wonderfully contorted scene with him in a bare room with a knife in his hands, hiding it, bringing it back out and then reacting in fear, as all the while his wife stands looking on from the shadows. There is another great scene where we see the maid (Carmen Cartellieri) crawl up to Veidt with orders to seduce him and caressing her face up against his hand, followed by the sudden expression of glee that takes over from his melancholy.
There is also the great final image where Orlac, the nightmare behind him, seeks relief in his wife's arms and, as the camera closes in, his hands come up to caress her face and we are momentarily left thinking that maybe he is going to strangle her before it is eventually only revealed to be a hug. This is the sort of thing that acting in cinema lost when movies converted over to sound.
The Hands of Orlac was remade three times:– during the classic era of Universal horror as Mad Love (1935) with Colin Clive as Orlac and the focus of the story placed more on a mad Peter Lorre as the surgeon; as the dreary French-produced The Hands of Orlac (1960) with Mel Ferrer as Orlac, Donald Wolfitt as the surgeon and Christopher Lee as a sinister hypnotist; and as an American version Hands of a Stranger (1962) with James Stapleton as the equivalent of Orlac and Paul Lukather as the surgeon. The plot of The Hands of Orlac was also loosely reworked in Guy Maddin's surreal melodrama Cowards Bend the Knee, or The Blue Hands (2003).
---
Trailer here
Full film available here
---