---
USA. 2009.
Crew
Director – Adam Gierasch, Screenplay – Jace Anderson & Adam Gierasch, Based on the 1987 Film Written by Joe Augustyn, Producers – Michael Arata, Raymond J. Markovich, Greg McKay & Kevin S. Tenney, Photography – Yaron Levy, Music – Joseph Bishara, Visual Effects Supervisor – Josh Kirschenbaum, Special Effects Supervisor – David Nami, Makeup Effects – Drac Studios, Production Design – Raymond Pumilla. Production Company – Seven Arts Pictures/Parallel Media/Blue Rider Pictures/Voodoo Pictures.
Cast
Monica Keena (Maddie), Edward Furlong (Colin), Shannon Elizabeth (Angela Feld), John F. Beach (Jason), Diora Baird (Lily), Michael Copon (Dex), Bobbi Sue Luther (Suzanne), Tiffany Shepis (Diana), Jamie Harris (Nigel)
---
Plot
Angela Feld holds a Halloween party at the big old abandoned Broussard mansion in New Orleans where Evangeline Broussard hanged herself 85 years earlier. Three friends, Maddie, Lily and Suzanne, attend the party. Maddie's ex, the drug dealer Colin, who is being threatened unless he makes more sales, also manages to sneak in. As the party is busted by the police, Colin quickly throws his drug stash through a grille. Going down to retrieve it afterwards, they discover a cellar filled with skeletons. Angela is bitten by one of the skeletons and begins to transform as she is taken over by a demon. As she seduces and bites the others, they too are taken over by demons. As the others try to survive the onslaught, they discover that the house is inhabited by seven demons banished from Hell who are only able to emerge on Halloween night. The demons now have until dawn to possess their bodies in order to regain form.
---
Night of the Demons is one among a mountain of remakes of 1970s/80s horror films that have emerged in the 2000s/2010s. Others amid this fad include the likes of The Texas Chainsaw Massacre (2003), Toolbox Murders (2003), Willard (2003), Dawn of the Dead (2004), The Amityville Horror (2005), Assault on Precinct 13 (2005), The Fog (2005), Black Christmas (2006), The Hills Have Eyes (2006), The Omen (2006), Sisters (2006), When a Stranger Calls (2006), The Wicker Man (2006), Halloween (2007), The Hitcher (2007), April Fool's Day (2008), Day of the Dead (2008), It's Alive (2008), Long Weekend (2008), Prom Night (2008), Friday the 13th (2009), The Last House on the Left (2009), My Bloody Valentine (2009), Sorority Row (2009), The Stepfather (2009), And Soon the Darkness (2010), The Crazies (2010), I Spit on Your Grave (2010), Mother's Day (2010), A Nightmare on Elm Street (2010), Piranha (2010), Don't Be Afraid of the Dark (2011), Fright Night (2011), Straw Dogs (2011), The Thing (2011), Maniac (2012), Carrie (2013), Evil Dead (2013), Patrick (2013), Poltergeist (2015), Suspiria (2018), Child's Play (2019), Jacob's Ladder (2019), Pet Sematary (2019), Slumber Party Massacre (2021), Firestarter (2022) and Hellraiser (2022). (For a more detailed listing see Films That Were Remade and Remakes)..
The original Night of the Demons (1987) was a strictly average effort. It was centred around an arsenal of cheap and ridiculous popcorn splatter effects and not a whole lot else. It did manage to become a hit during video release where it was a sufficient success that it was twice sequelised with Night of the Demons 2 (1994) and Night of the Demons III (1997). This is a remake of the original, which also comes produced by the first film's director Kevin S. Tenney.
The remake of Night of the Demons comes from Adam Gierasch, a horror genre regular. Gierasch had previously written screenplays for efforts such as Spiders (2000), Rats (2003), several Tobe Hooper films, Crocodile (2000), Toolbox Murders (2003) and Mortuary (2005), and Dario Argento's Mother of Tears: The Third Mother (2007), all of which he co-wrote with Jace Anderson. Gierasch made his directorial debut with Autopsy (2008) and subsequently went onto make Fertile Ground (2011), Fractured (2013) and House By the Lake (2017), as well as the Trick episode of Tales of Halloween (2015).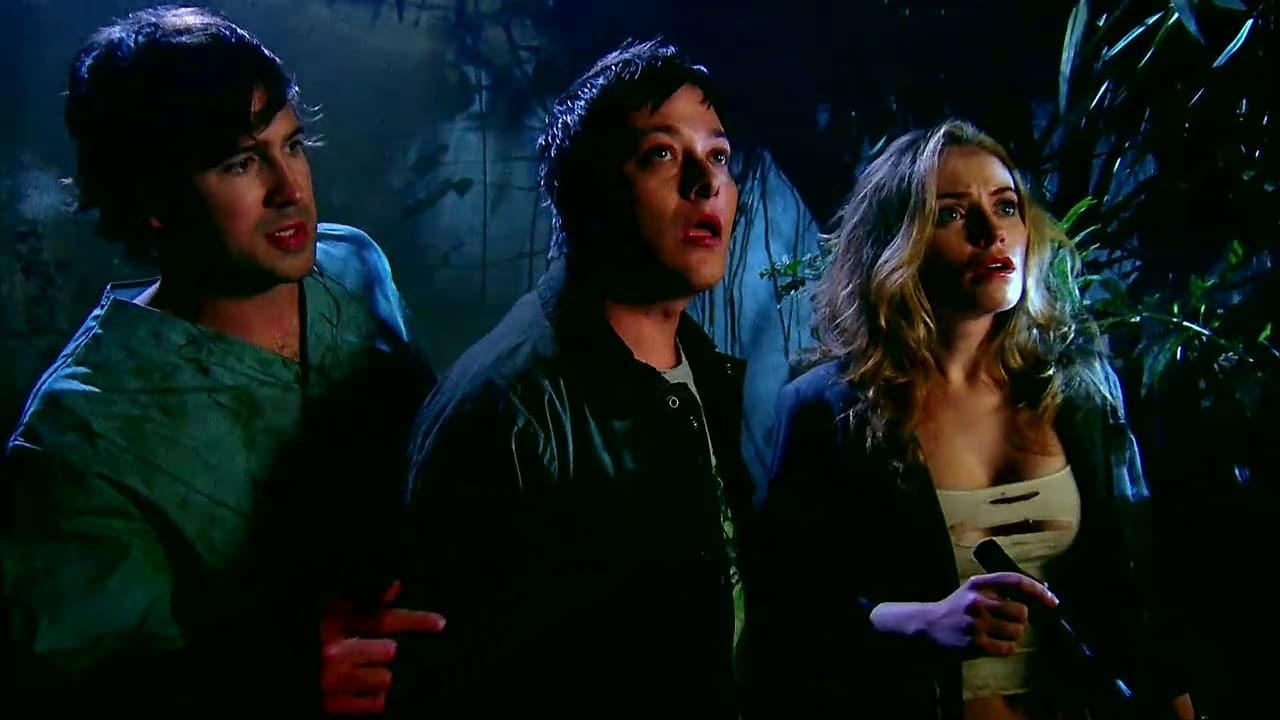 There is little in the way of basics to the original Night of the Demons for the remake to work with – and even then most of this was blatantly copied from The Evil Dead (1981). All that we have is the setting, which here is upgraded from a disused funeral home to a mansion, and a group of standard teenagers being killed/taken over by the possessed. The plot thereafter remains more or less about the same. About all that is left then is for the remake to provide a more professional level of effects. There is a cast filled out with mildly well-known twentysomethings – Shannon Elizabeth, Monica Keena, Diora Baird and Edward Furlong, who is looking a lot pudgier in the face than since he came to fame in Terminator 2: Judgement Day (1991). The unknown John F. Beach is a dead ringer for Luke Wilson such that one had to check the credits to make sure it wasn't Wilson.
Night of the Demons 2009 is a film that is put together with an undeniable slickness but also where the elements it has to work with are so generic that one feels that they have seen every single move it has to offer dozens of times before. The roles in the film are so one-dimensional that when it has two blondes (Diora Baird and Bobbi Sue Luther) walking around dressed in identical cat suits it becomes difficult to tell which one is in a particular scene. The plot is dictated by a set of arbitrary rules – only one night of the year that the demons can come out, one room in the house that is protected, the demons having until dawn before they are driven off (shades of The Evil Dead – not to mention the rather silly Evil Dead-inherited notion that possession can be communicated by bite akin to an infection). We get a repeat of the famous makeup effect from the original – where possessed girl Shannon Elizabeth pushes a lipstick container into her nipple, although the scene is now expanded by having her pulling it out of her pussy at the other end amid buckets of gore.
---
---