---
Crew
Director – Adam Randall, Screenplay – Adam Randall & Gary Young, Based on an Idea by Andrew Orr, Producers – Heather Greenwood, Andrew Orr & Danny Potts, Photography – Eben Bolter, Music – Plaid, Visual Effects Supervisor – Daniel Rickard, Special Effects Supervisor – Alex Gunn, Production Design – Paul Burns. Production Company – Independent Film Company/Fulwell 73 Productions/Quickfire Entertainment Ltd/DP Films/Creativity Capital.
Cast
Josh Bowman (Matt), Neil Maskell (Dmitri), Leila Himmack (Anna), Will Houston (The Business Man), Ben Bailey Smith (Joel), Kulvinder Ghir (Curry Burger Owner), Christina Wolfe (Kya), Paul Reynolds (Taxi Driver), Pamela Binns (Old Lady), Rina Takasaki (Karaoke Receptionist)
---
Plot
Matt lives with his girlfriend Anna in a flat in London. He works from home developing apps but spend much of his time slacking off. Masked men abruptly burst into the flat and tell him they have abducted Anna. A device is placed across Matt's chest and he is told that he has to deliver a package if he wants to save her life. Receiving a series of instructions by text message, he is sent on a course across London where he is variously attacked by people, ordered to have sex, sing karaoke and then kill a man.
---
Level Up was the first film for British newcomer Adam Randall. Randall subsequently went onto make the halfway reasonable iBoy (2017) in which a teenager gains the ability to mentally access telecoms and internet data after having a cellphone impacted in his head, followed by the horror film I See You (2019) and the vampire film Night Teeth (2021).
Level Up is a film that puzzles you. Protagonist Matt Bowman is plunged into the midst of a situation and given orders to do all manner of things. You are not really sure if you are watching some type of scenario a la The Magus (1968) or The Game (1997), albeit written for the mobile user generation, where what is happening around him is being staged as part of an elaborate reality charade. Or if, as the film seems to be at times, it is some type of videogame scenario where he is required to run around, collect objects, eliminate people etc – even something perhaps like Beta Test (2016) where the protagonist was being controlled in a live-action videogame.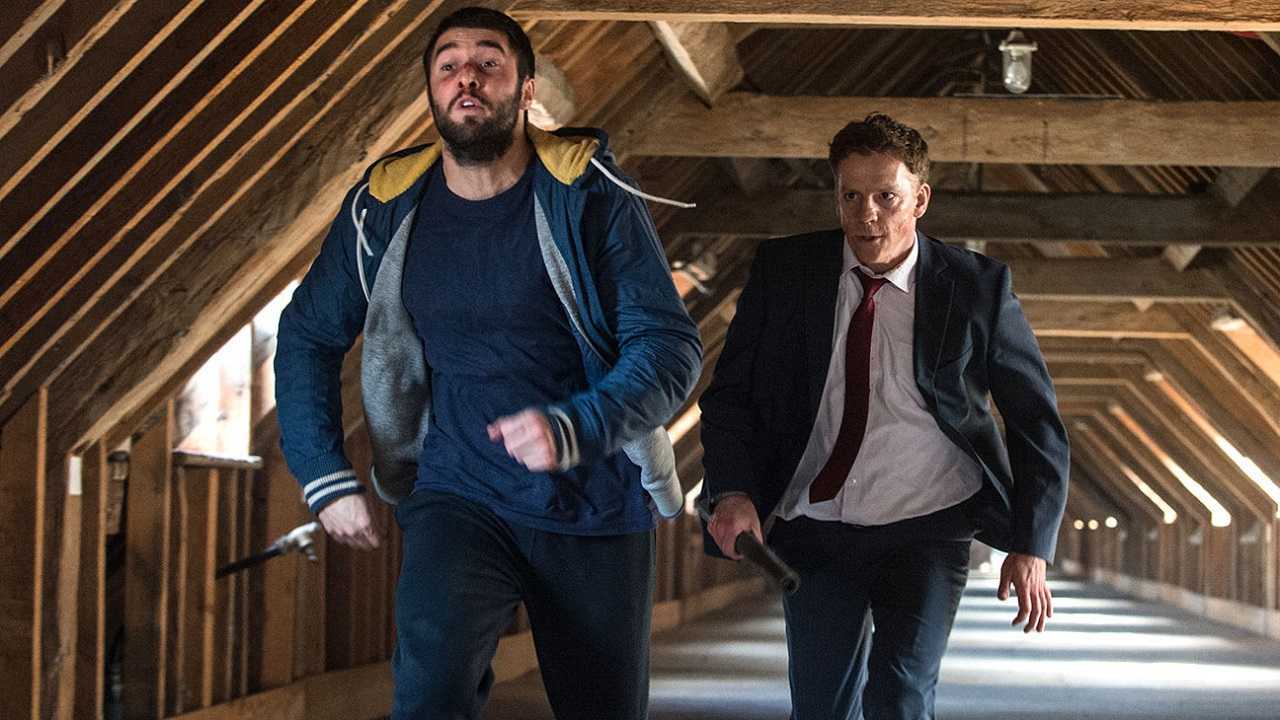 Level Up never quite ends up being as interesting as it suggests it is going to be. The basic premise – a slacker is forced to leave his comfort zone and engage in increasingly riskier and more extreme acts in order to rescue his girlfriend – ends up with some fairly banal scenarios like one in which he is ordered to sing karaoke. The other thing that becomes glaringly apparent is that Josh Bowman regularly ignores instructions and fails to complete tasks far more often than he actually does do so, so why are there no consequences from his controllers for his failings? Instead, he is repeatedly given a new task to perform whereas if this were a game scenario he would have gained zero points, been unable to ascend to the next level or lose a life.
Eventually, Level Up opts for a far less interesting explanation of what is going on than any of the possibilities suggest – [PLOT SPOILERS] merely that it another scenario like 13 Sins (2014) or Nerve (2016), albeit on a low budget, where Josh Bowman has been selected as an unwilling participant in an online reality game with a camera mounted on his chest that is broadcasting to a livestream audience. The end reveals there is also something of The Game where much of what is happening is being staged to mess with his sense of reality.
---
---