---
Crew
Director/Screenplay – Mickey Keating, Producers – Eric B. Fleischman & Sean Tabibian, Photography – Mac Fisken, Music – Giona Ostinelli, Production Design – Angel Herrera. Production Company – Diablo Entertainment.
Cast
Ashley Bell (Vivian Fontaine), Pat Healy (Wyatt Moss), James Landry Hebert ("Scorpion" Joe Clay), Alan Ruck (Sheriff Moss), Michael Villar (Lenny), Bob Bancroft (Delbert Oates), Larry Fessenden (Travis "Whiskey" Ginger), Darby Stanchfield (Ellen San Diego)
---
Plot
California, 1978. "Scorpion" Joe Clay and his partner Lenny conduct a robbery of the Mackin County bank and escape with Vivian Fontaine as a hostage in the trunk of the car. Lenny has been shot and dies during the getaway and Joe is forced to ask Vivian's help in dumping the body. They continue on, only for the car's tire to be blown out by a gunshot and then Joe killed by a sniper. Vivian comes around on the range on the sniper Wyatt Moss's desert property. There she realises that she is being forced to survive with nothing but her bare hands as he comes hunting her with his rifle.
---
Mickey Keating's name has risen considerably in the last couple of years to the point where he is now seen as a promising new talent in the horror genre. So far he has delivered titles such as Ritual (2013), Darling (2015), Pod (2015), Psychopaths (2017) and Off Season (2021).
My first exposure to Mickey Keating was Darling, a production for Larry Fessenden's Glass Eye Pix. (Even though Carnage Park is not a Glass Eye film, Keating has co-opted Fessenden into playing the role of a man imprisoned in a bear trap in the midst of the junkyard). Darling was a low-budget film conducted with more than reasonable style and imagination. I had high expectations of Carnage Park as a result of Darling.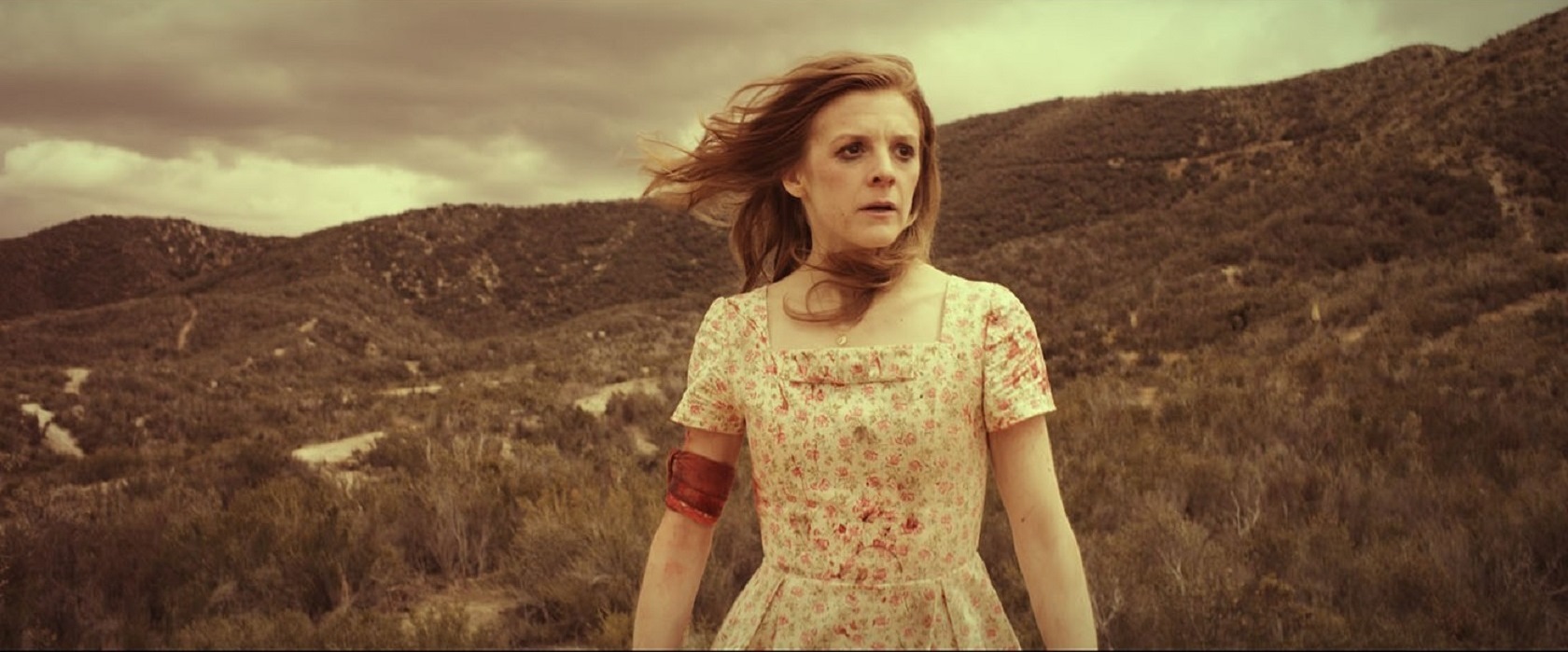 Despite the promise, I soon began to switch off Carnage Park. Part of it may be that Mickey Keating was trying to make the film on a miniscule budget. The film is slapped with a bogus 'Based on a True Story' claim (which it does nothing to substantiate), something that paints it into a corner where it has to backdate itself to 1978. When you see that all the period setting consists of it is a line of VWs and muscle cars parked on an empty lot in front of the bank, the bareness of the threads start to become evident. Keating also opts the faux grindhouse style, which has become used by far too many genre filmmakers in recent years to the point it now starts to seem a cliche that switched me off.
The basic set-up of people being hunted through the desert reminded me of Desierto (2015), which I had seen a few weeks before – the difference being that Carnage Park comes without the highly charged theme of the victims being Mexicans hunted by a white vigilante. Both films co-opt the human bloodsports premise of The Most Dangerous Game (1932), although this is weakly played out here.
Mickey Keating does not do nearly enough to put us in the shoes of Ashley Bell as she is hunted and forced to improvise with her bare hands. For the most part, Keating is reliant on the cliches of the Backwoods Brutality genre but crucially he never lets us feel Ashley's desperation. If nothing else, Carnage Park is propelled by a non-linear plot that jumps back and forward between the characters in the present and the events leading up to there (a stylistic trick Keating has borrowed from Quentin Tarantino), which at least keeps the story interesting.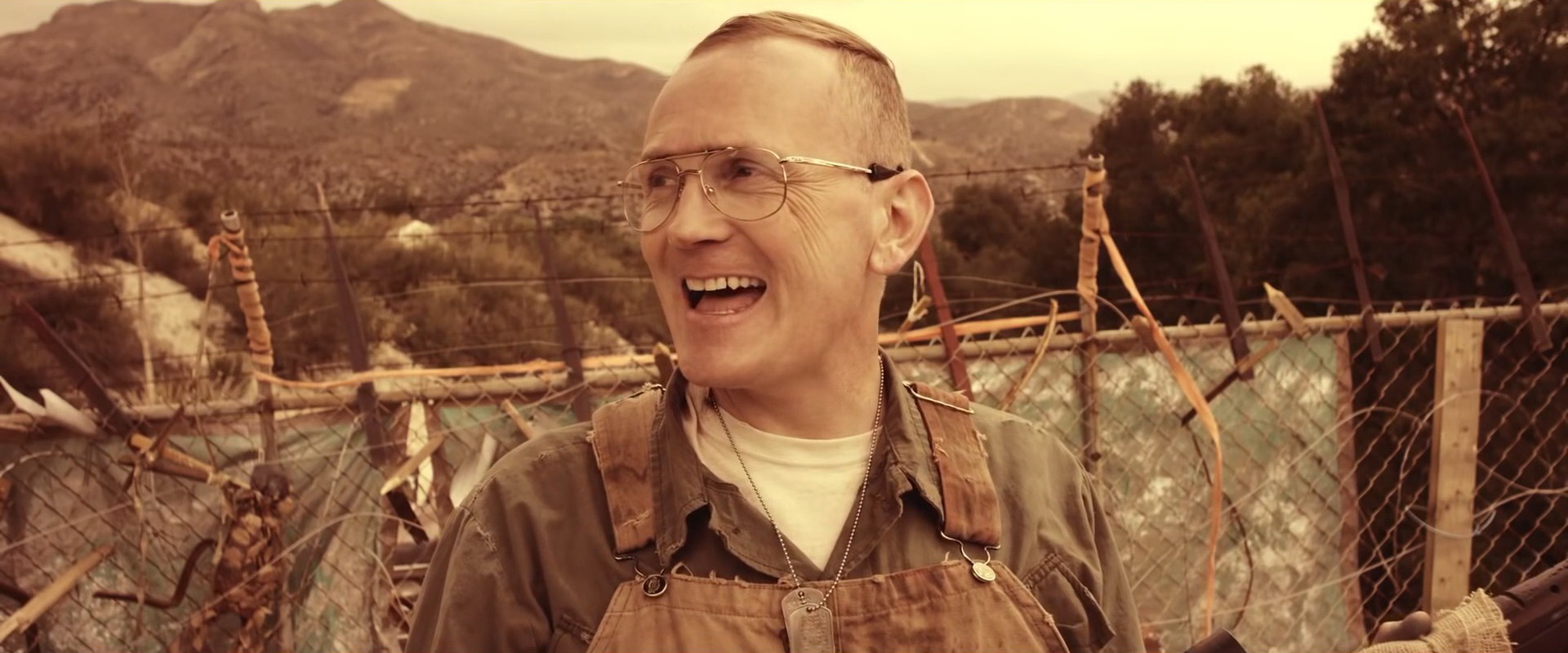 The other drawback of the film for me was Ashley Bell who emerged out of nowhere and became a name of promise with The Last Exorcism (2010). On the other hand, I had difficulty having empathy for her as a Marilyn Burns type character here. She enters the film in a high state of nervousness – I am unable to recall a single scene throughout where we see her smile, for instance – and remains there, leaving no baseline of normal for us to relate to in her performance. She seems taut and driven by nervous energy, as though she is someone who is damaged and with a history of traumatic abuse.
Equally, I enjoyed Pat Healy in Cheap Thrills (2013), and thought he may have rocked the part here (given that he also produces the film). Instead, Healy gives a performance that seems so retreated into itself as to almost be one given by an alien. Crucially, he never lets us see inside the character's madness. For that matter, he never even has any scenes together with Ashley Bell where we see him menacing her.
---
---