---
Crew
Directors – Henry Joost & Ariel Schulman, Screenplay – Jessica Sharzer, Based on the Novel by Jeanne Ryan, Producers – Anthony Katagas & Allison Shearmur, Photography – Michael Simmonds, Music – Rob Simonsen, Visual Effects – Brainstorm Digital (Supervisor – Eran Dinur), Labyrinth Cinematic Solutions (Supervisor – Siddharta Jayakur), Offsite Productions & Shade VFX (Supervisor – Mitchell S. Drain), Special Effects Supervisor – Drew Jiritano, Production Design – Chris Trujillo. Production Company – Allison Shearmur/Keep Your Head/Lionsgate.
Cast
Emma Roberts (Venus 'Vee' Delmonico), Dave Franco (Ian), Emily Meade (Sydney Sloane), Miles Heizer (Tommy Mancuso), Juliette Lewis (Nancy Delmonico), Colson Baker (Ty), Kimiko Glenn (Liv), Brian Marc (J.P.), Samira Wiley (Hacker Kween), Marc John Jeffries (Wes)
---
Plot
Venus 'Vee' Delmonico lives in Staten Island with her mother where they are still mourning the loss of her brother. She is contemplating declining an invitation to enrol at Caltech because of worries about leaving her mother on her own. Vee's best friend Sydney Sloane teases her that she is not adventurous enough. Sydney takes a dare to tell a guy that Vee likes him, only for the guy to reject Vee. Feeling hurt, Vee logs on to Nerve, the online game that Sydney plays. In the game, one is either a Watcher or a Player. The Watchers bet the Players money to take a dare and do something outrageous. Vee is given the challenge to go and kiss a random stranger. The guy she chooses turns out to be Ian who is also a Player on a dare. Their connection makes them popular on Nerve and they receive further bets to travel into New York and then go to a store and dress up in high-end fashion items, only for another Player to steal their original clothes. Attracted to one another throughout the course of this, Vee and Ian are soon among the most popular Players on the site. However, when Vee decides that some of the dares are becoming too dangerous and tries to call the police, this has them listed as Snitches and placed into a death challenge.
---
Nerve was the fourth directorial outing for the duo of Henry Joost and Ariel Schulman who first appeared with Catfish (2010) and then went on to work with Blumhouse making Paranormal Activity 3 (2011) and Paranormal Activity 4 (2012). Nerve went into theatrical release at almost exactly the same time as Joost and Schulman's plague/parasite outbreak film Viral (2016), also for Blumhouse. They followed this with the superpowers film Project Power (2020) and the superhero film Secret Hedquarters (2022), as well as produced the tv mini-series The Watcher (2022).
Nerve joins a handful of genre films coming out in the 2010s that are readily embracing the online world and social media. See works like The Den (2013), Open Windows (2014), Unfriended (2014), Jeruzalem (2015), Friend Request (2016), Selfie from Hell (2018) and Host (2020) that all take place across the internet/social media and/or have adopted a visual style that uses the film screen as a computer screen that is constantly broken up by messenger, browser and chat windows popping up. Even a killer shark film like The Shallows (2016) employs a visual style where the screen is constantly being interrupted by message threads and Facetime chats.
Unlike some of these others, which take the more adventurous option of having the entire film take place where the film screen is a computer screen or even in real time and unbroken long takes, Nerve drops back to regular third person dramatic framing for much of the show. That said, it is equally dependent on the visual popup windows approach. This does include some novel visual tactics – I particularly liked the wide-angle shots cruising across the city where we see the coloured threads of logged-on users stretching up into the sky.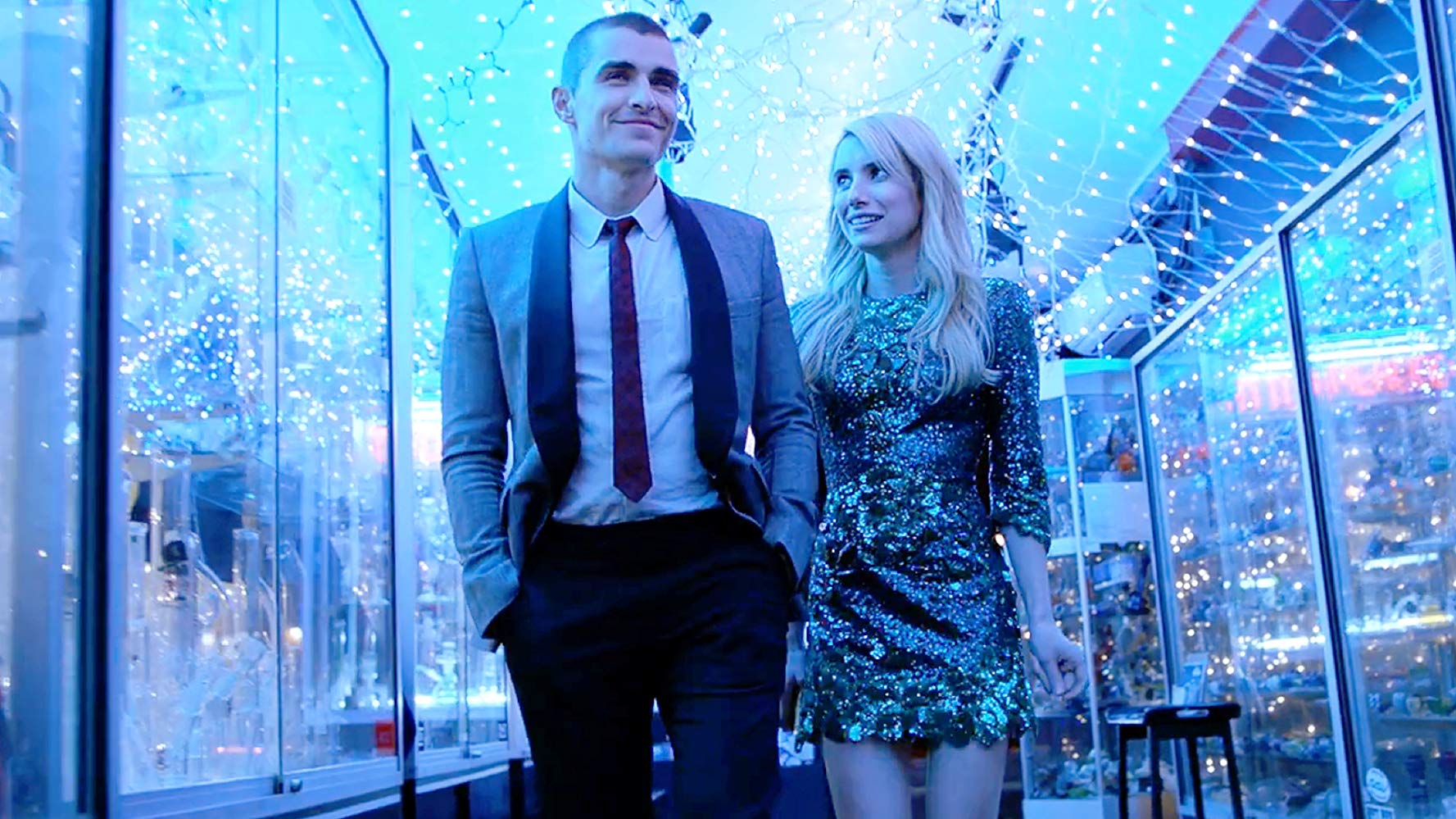 Much of Nerve readily slots into the teen thriller – it is not quite a horror film until the later sections where Emma Roberts and Dave Franco (James's younger brother) find themselves pursued and placed into a deathgame challenge. (The film can be considered nominally science-fictional in the sense that the date we read on screen is 2017, a year in the future from when the film was released).
If anything, Nerve plays out like an online version of 13 Sins (2014). The teen thriller/horror film has a bad reputation as usually something bland and vapid that makes an easy pitch to romance and/or good-looking leads. In this regard, Nerve is better made than most. Joost and Schulman launch into it with an incredibly vibrant visual scheme where the entire city bursts with lit-up colour like a Day Glo world. The reasonably engaging plot does start to fall down by the end, which is dependent on a vast deus ex machina magical hackathon and one of the bad guys of the piece doing an abrupt about face to reveal he has been a good guy all along.
---
---