---
Crew
Director/Producer – Julian Roffman, Screenplay – Franklin Delessert, Sandy Haver & Frank Taubes, Script for Dream Sequences – Slavko Vorkapich, Photography (b&w, 3D) – Herbert S. Alpert, Music – Louis Applebaum, Special Photographic Effects – James B. Gordon, Art Direction – David R. Ballou. Production Company – Taylor-Roffman/Beaver-Champion Attractions.
Cast
Paul Stevens (Dr Allan Barnes), Claudette Nevins (Pamela Albright), Bill Walker (Lieutenant Martin), Anne Collings (Jill Goodrich), Norman Ettinger (Professor Quincey), Martin Lavut (Michael Radin), Leo Leyden (Dr Soames)
---
Plot
Archaeologist Michael Radin goes to psychologist Allan Barnes, complaining that he has become possessed by a mask that is making him do terrible things. Radin then returns to his apartment and shoots himself. The police investigate, suspecting a potential murder. They learn that the mask was brought back from an Indian dig in South America and is reputed to be able to bring out the dark inner thoughts of the mind. The police try to find the mask but Radin has posted it to Allan. Curious, Allan puts the mask on and is immediately subject to a series of hallucinations. He then becomes obsessed by the mask and is unable to stop himself wanting to put it on, even as it drives him to acts of murder.
---
The Mask – not to be confused with the gonzo Jim Carrey superhero film The Mask (1994) – is a Canadian-made film with a small cult reputation. Most of this is down to the ten minutes or so of surreal hallucinogenic 3D scenes that we get when Paul Stevens puts the mask on. The film did receive a theatrical release in the US but even then the big 3D fad of the early 1950s had faded away seven years before and interest in 3D as a gimmick was on the wane.
The Mask was the second of only two films that director Julian Roffman made along with the earlier crime drama The Bloody Brood (1959). Roffman did however go onto produce several other films, including the obscure Canadian occult film The Pyx (1973). The 3D scenes were designed by Slavko Vorkapich, a Serbian immigrant to the US who was celebrated as the creator of the montage sequence and provided such for a number of classic Hollywood films of the 1930s and 40s, including The Good Earth (1937) and Mr Smith Goes to Washington (1939).
The 3D sequences are the film. Or at least remain the sole reason anybody would want to watch it. These comes with an undeniably trippy weirdness in their own cheap and impoverished way. They takes place in a temple filled with roiling artificial mist where sinister masked and hooded figures try to sacrifice a woman who also wears a mask. Faces melt and transform into skulls, masks, skulls and fireballs fly through the air and into the camera belching flames, a tall death figure presides over everything, where spiders are superimposed crawling across the screen, Paul Stevens and the masked woman are rowed through a river of skeletons in a coffin boat by a Charon-like figure and so on.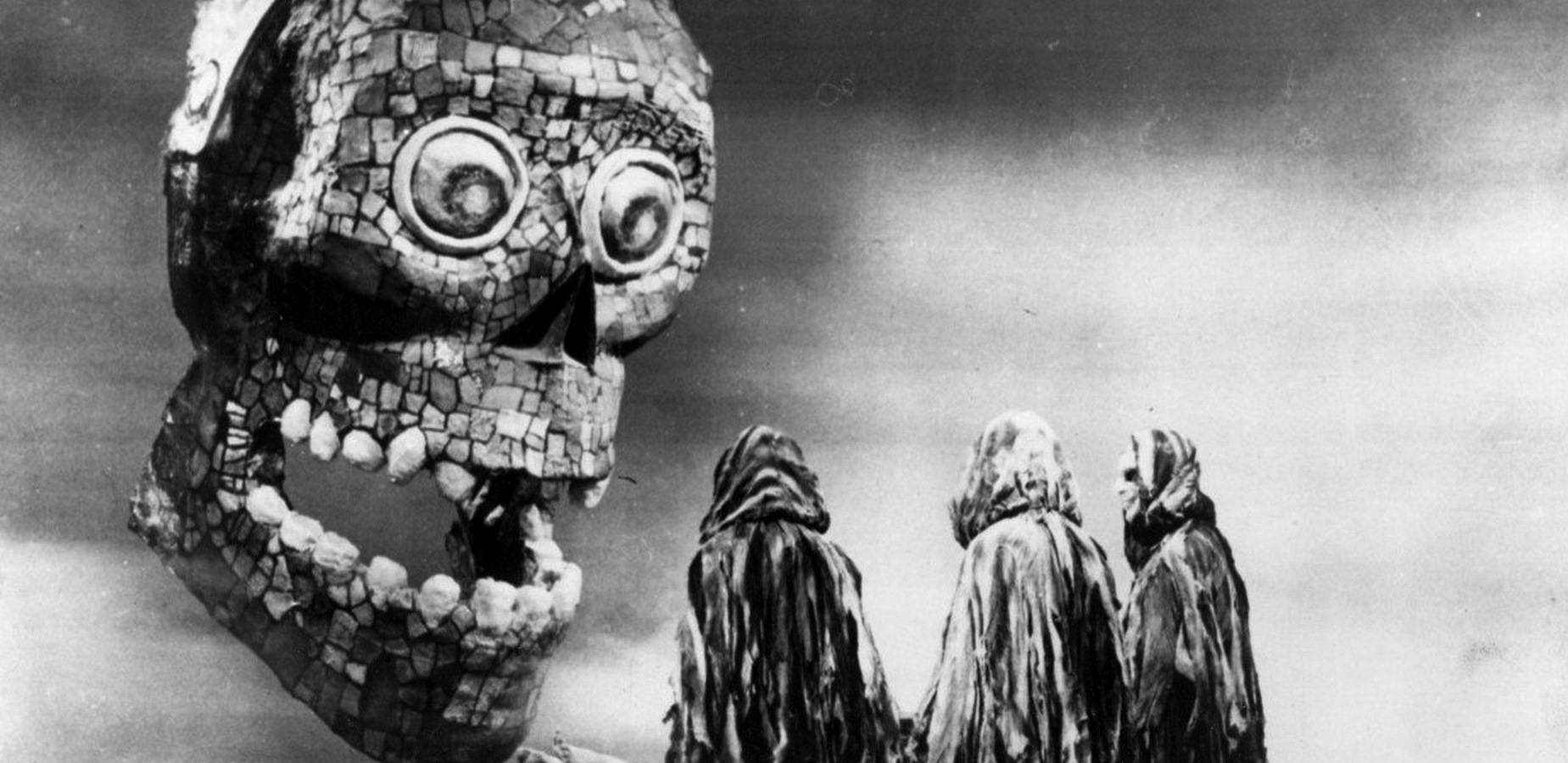 he Mask was made several years before the spate of LSD films in the late 1960s (for that matter even before Timothy Leary and Aldous Huxley had begun their experiments and publishings). One suspects if it had been made after 1967, The Mask would have been a far more self-consciously trippy film – and no doubt in colour with a good many in the way of psychedelic scenes as was the fad in the LSD films of the period.
Outside of the crude trippiness of the 3D sequences, The Mask is dull. The film radiates an aura of cheapness and impoverishment. Julian Roffman's direction remains nondescript. Roffman shows no skill or aptitude for generating suspense or tension. He uses crude tactics like underlit closeups of faces to denote threat. When seen purely as a horror film, The Mask is essentially a Jekyll and Hyde film – one where instead of taking a potion, a good academic puts on a native ritual mask and develops an alter ego that brings out the dark side of human nature. Maybe it is a Dr Jekyll film by way of Alfred Hitchcock's Spellbound (1945) – one that depicts a figurative journey inside the dreamscape of the doctor's mind to grapple with the dark things that have been unleashed, which are seen in terms of crude Freudian dream symbolism.
---
---