---
Crew
Director/Photography – Scott Patrick [Brett Kelly], Screenplay – David A. Lloyd & John Migliore, Producer – Teresa Pike, Special Effects/Makeup Effects – Survival Zombie FX. Production Company – Say What Productions.
Cast
Steph Goodwin (Jill), Robin Hodge (Kim), Zoe Towne (Jen), Amy Osborne (Tiffany), Christina Roman (Donna), John Migliore (Anthony, Jill's Dad), Peter Whittaker (Officer), Leslie Cserpey (Car Wash Guy), Taryn Waldorf (Cassie, Teen Girl), Chad Walls (Deputy), Kyle Martellacci (Teen Guy), Fiona Nelson (Concerned Mom), Stacy Marie Lafferty (Bartender), Kylie Hough (Gypsy), Simon Wheeldon (President)
---
Plot
Jill goes for a swim at the beach and afterwards finds a piece of wood with ouija markings on it. She goes to a house party being held by her college friend Kim, along with three of Kim's friends. As the girls look for something to do, Jill brings out the ouija board. They ask various questions and then see a ghostly shark abruptly appear out of the board. Afterwards the ghost shark floats above the swimming pool at the house where it devours several of the girls, along with other people in the nearby woods. Jill's father, an amateur expert on the occult, warns her that a shark spirit has become trapped in the ouija board. Jill tries to find a means of defeating the ghost shark before more people are killed.
---
Brett Kelly is a Canadian director who has produced a great many low-budget films often made as copycats of more high-profile titles. These include The Bonesetter (2003), Final Curtain (2005), My Dead Girlfriend (2006), Kingdom of the Vampire (2007), Prey for the Beast (2007), the remake of Attack of the Giant Leeches (2008), Pirates: Quest for Snake Island (2009), Avenging Force: The Scarab (2010), Iron Soldier (2010), Thunderstorm: The Return of Thor (2011), Agent Beetle (2012), Jurassic Shark (2012), My Fair Zombie (2013), Homicycle (2014), Raiders of the Lost Shark (2015), Spyfall (2015), Ghastlies (2016), Countrycide (2017). Scott Patrick is a pseudonym used by Kelly under which he has also directed Blood Red Moon (2010) and Rise of the Black Bat (2012) and Raiders of the Lost Shark.
The gonzo shark film has become its own genre almost during the 2010s. With the likes of Shark in Venice (2008) and especially Mega Shark vs Giant Octopus (2009), the shark film began a move towards the increasingly tongue-in-cheek, something that reached its zenith with the deliberate absurdity of the instant bad movie hit Sharknado (2013). There have been a great many films in a similar vein – see the likes of Dinoshark (2010), Sharktopus (2010), Snow Shark: Ancient Snow Beast (2011), 2-Headed Shark Attack (2012), Jersey Shore Shark Attack (2012), Avalanche Sharks (2013), 90210 Shark Attack (2014), Roboshark (2015), Shark Exorcist (2015), Zombie Shark (2015), Atomic Shark (2016), Ice Sharks (2016), Ozark Sharks (2016), Piranha Sharks (2016), Planet of the Sharks (2016), Sharkansas Women's Prison Massacre (2016), Sharkenstein (2016), House Shark (2017), Trailer Park Shark (2017), Post Apocalyptic Commando Shark (2018), Santa Jaws (2018), Sky Sharks (2020), Noah's Shark (2021), Sharks of the Corn (2021) and Virus Shark (2021), among others. (For a more detailed overview see Killer Sharks Movies),
A few years ago, Blumhouse made Ouija (2014) based around the supposed occult divination board, which is actually marketed as a game by Parker Brothers/Hasbro. The film received mediocre reviews but was a moderate hit and produced a sequel Ouija: Origin of Evil (2016). Its' greatest influence however was producing a bunch of cheap copycats using 'ouija' in the title – see the likes of The Ouija Exorcism (2015), Ouija Summoning (2015), The Ouija Possession (2016), Ouija: The Awakening (2017), Ouija House (2018), Ouija Seance: The Final Game (2013), Ouija: Blood Ritual (2020) and Ouija Warehouse (2021), among others. Ouija Shark is the most wilfully ridiculous of these – except maybe perhaps Ouija Mummy (2019), which I haven't seen yet. It essentially consists of a gonzo killer shark film served up with an 'ouija' title.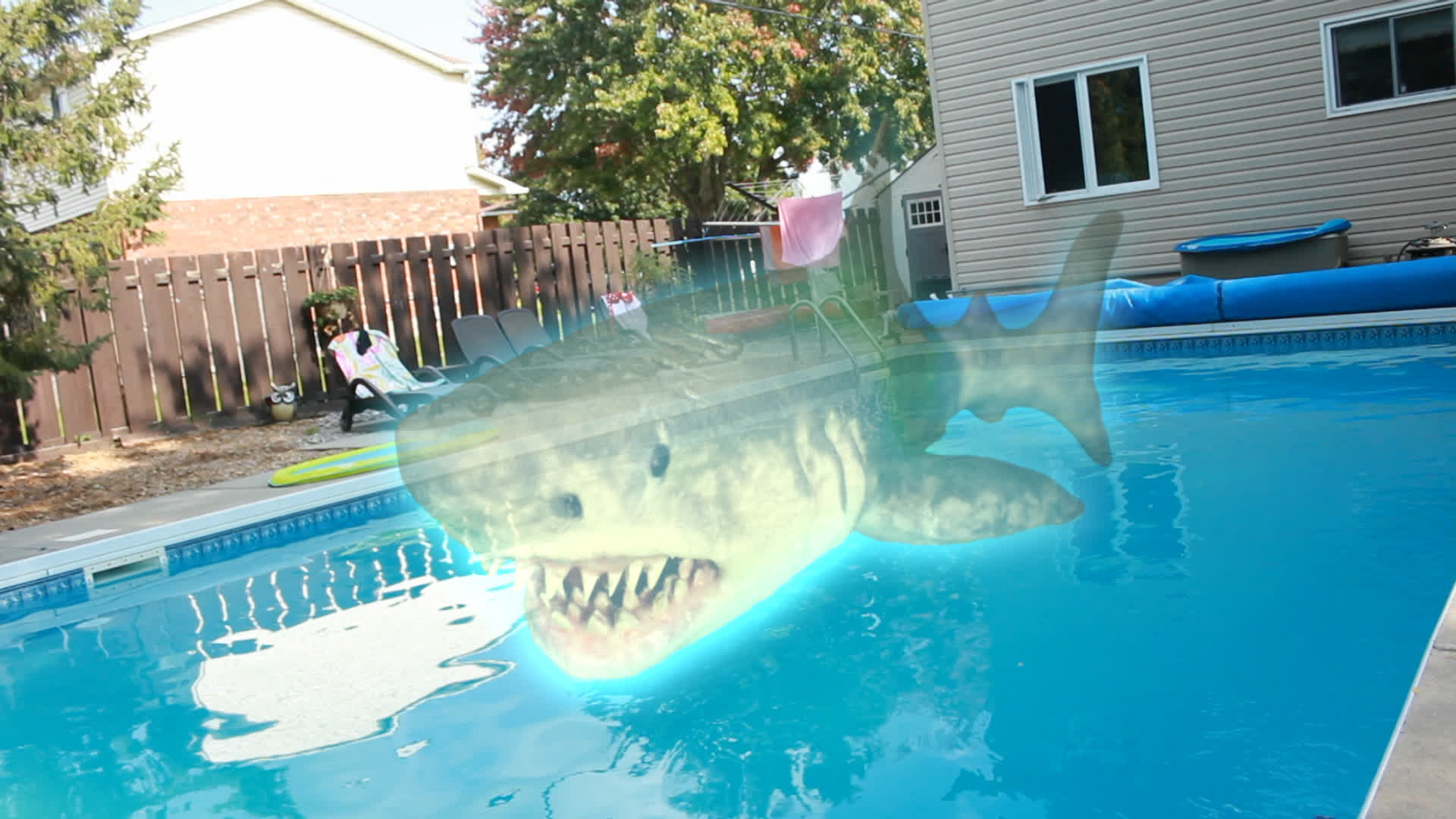 Several years earlier, Brett Kelly had made Jurassic Shark and Raiders of the Lost Shark, both of which rank among some of the cheapest and most shabbily made of all killer shark films. In this regard, Ouija Shark is true to form for Kelly. There is something mildly absurd to the image of a ghostly shark hovering above a swimming pool and then biting the heads off people and pursuing others through the woods.
On the other hand, Ouija Shark looks cheap. It is so cheap that the girls conduct their séance not sitting around a table but instead in a circle on the lawn by the pool. The ghost shark's appearances are passably cheap but the film never travels beyond a single suburban house (where the shark does nothing except hover a few feet above a swimming pool) and chasing a couple of other people through the woods.
The film seems to have been slung together with a plot that was half completed. Amy Osborne disappears off screen for half the film after going to flirt with the neighbour (Leslie Cserpey) who is washing his car, undressing to her underwear as they splash about, but this has nothing to do with anything else and seems padding. Towards the end, Steph Goodwin is chased around by the shark and then abruptly discovers an ability to ward it off by holding the ouija board up like a crucifix to a vampire. Her father (co-writer John Migliore) is killed and then he and the ghost shark exchange fireballs in the afterlife. Even more random is an ending where it would appear that the killer shark was released on the orders of a silhouette that is clearly intended as a satiric caricature of President Trump.
---