---
Crew
Director – Chris Sivertson, Screenplay – Carol Chrest, Producers – B.I. Rosen, Johnny Remo, Sasha Yelaun & Robert Yocum, Photography – Senda Bonnet, Music – Tim Rutili, Creature Visual Effects – Dorian Cleavenger, Special Effects Supervisor – Erik Albidress, Production Design – Mars Feehery. Production Company – Burning Sky Films/Red Coral Films/Umbrelic Entertainment/Wildfire Pictures/Scarlet Pictures/Tip Top Productions/Snakebyte Productions.
Cast
Christina Ricci (Laura Butler), Santino Barnard (Cody Butler), Colleen Camp (Mrs Langtree), Don Baldaramous (Mr Langtree), Carol Anne Watts (Jane), Jennifer Novak Chun (Barb)
---
Plot
Laura Butler rents a house, fleeing from an abusive husband, along with her son Cody. She places Cody in school while she takes a job as a secretary. However, at night, a monster that lives in the lake rises, drawing Cody to it. As Laura's fear for Cody begins to affect her work, Cody seems to prefer the lady in the lake.
---
Chris Sivertson is a director working the medium-budget end of the genre where he has delivered some solid films. Sivertson first appeared as co-director of All Cheerleaders Die (2001) before making an impressive solo debut with the psycho film The Lost (2005). He then made the Lindsay Lohan-starring twin psycho-thriller I Know Who Killed Me (2007), followed by the non-genre Brawler (2011), co-directed a remake of All Cheerleaders Die (2013), the psycho film Don't Wake Mommy (2015), the stalker film Heartthrob (2017) and the thriller Last Night (2018). Elsewhere, Sivertson has written the scripts for the fantasy film Barbarian (2003) and the horror films Wicked Lake (2008), Deadly Switch (2019), Kindred Spirits (2019) and Murder-in-Law (2019), plus acts as a producer on The Absent (2011).
With Monstrous, Chris Sivertson directs from somebody else's screenplay. By its very title, Monstrous announces that it is a Monster Movie but some interesting differences become apparent. One of these is the 1950s Eisenhower Era setting, which is many cases could make the film into a homage to the classic era of the monster movie (although such does not turn out to be the case). The 1950s setting is conducted with variable effectiveness by the production design and costuming people. Although, Christina Ricci, an actress who several years earlier was noted for her alt and edgy roles, seems an uneasy fit trying to play a typical wholesome mom of the era.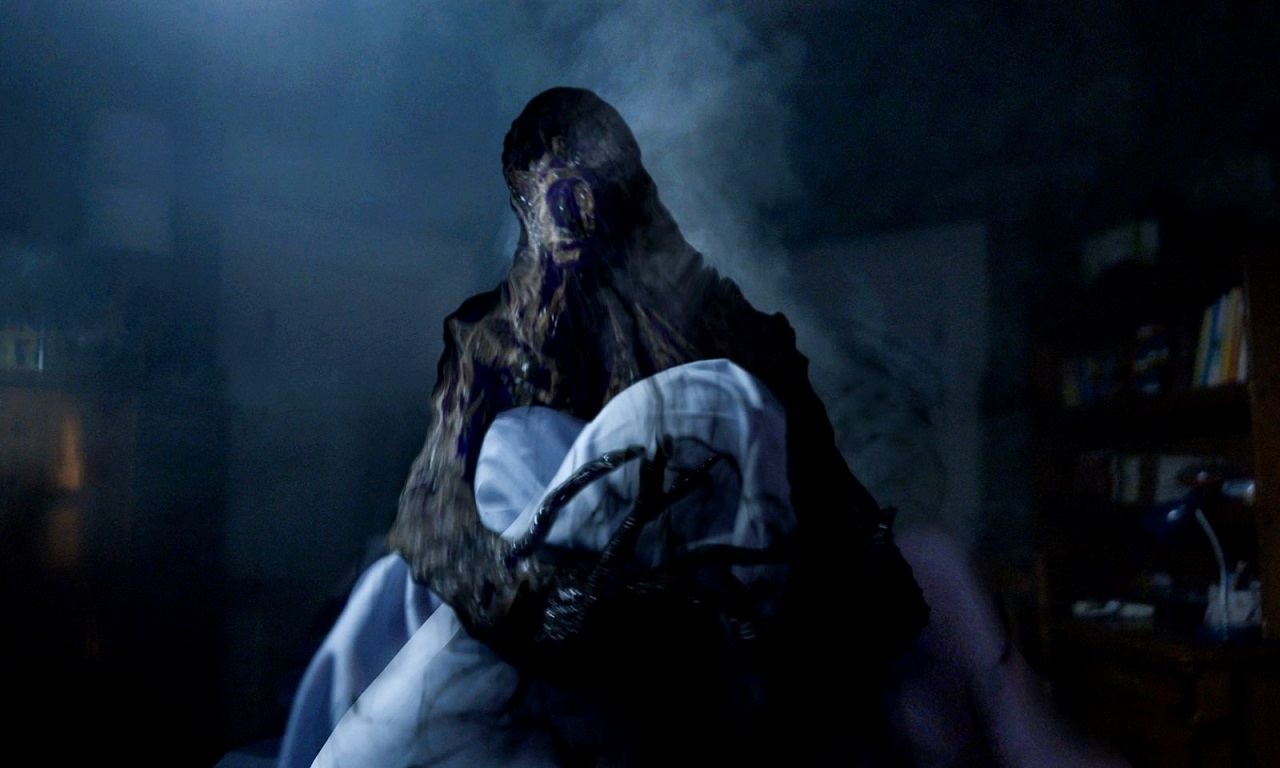 You anticipate Monstrous as being a monster movie. It appears to be shaping up as though it is a lake monster movie along the lines of something like The Creature from the Black Lagoon (1954) or perhaps more so the B-budget House By the Lake (2017). That said, the film is awfully vague about letting us know what its monster is. Chris Sivertson does okay in producing scenes of dark liquid creeping into the house, although one wishes there had been more time given over to the monster.
All of that said, whatever is in the lake is something the film lacks much interest in clarifying. The reason for this is that Monstrous isn't actually a monster movie at all. [PLOT SPOILERS] About three-quarters of the way through, the film does a Conceptual Reversal Twist on us along the lines of films like The Cabinet of Dr Caligari (1919), Black Swan (2010), Shutter Island (2010) and Encounter (2021), and reveals that the 1950s setting is a fugue state taking place inside Christina Ricci's imagination. This has been created to deal with the fact that her son Santino Barnard died in a drowning incident, meaning the lake monster coming to get him is an allegorical one. It is an M. Night Shyamalan twist of the worst order that wrecks what wasn't anything more than a very average film in the first place.
---
Trailer here
---