---
Crew
Director/Screenplay – Chris Sivertson, Producers – Michael Moran & Mark Myers, Photography – Greg Ephraim, Music – Jim Dooley, Production Design – Frida Rivera. Production Company – Citizen Skull Productions.
Cast
Aubrey Peeples (Sam Maddox), Keir Gilchrist (Henry Sinclair), Peter Facinelli (Steve Rickett), Felicity Price (Colette Sinclair), Jimmy Bennett (Dustin), Ione Skye (Jody Maddox), Taylor Dearden (Cleo), Tristan Decker (Bailey), Rebecca Huey (Tina), Caroline Huey (Tasha), Connor Muhl (Flynn)
---
Plot
In Tacoma, Sam Maddox has just finished high school and is working as a waitress while waiting to go on to community college. Attending a memorial for a classmate who died, she talks to class valedictorian Henry Sinclair who is going on to MIT and challenges him about the speech he gave. When her car breaks down on the way home from work, Henry happens by and offers her a lift. He asks her out and they become involved. Sam is very attracted to how understanding and loving that Henry is. What she does not know is that he is also controlling, having removed the distributor cap on her car the night he tuned up to offer her a ride and has bugged her phone to listen in on her every conversation. When he becomes jealous of her talking to her ex's and the comments they make, Henry flies into rage and begins killing those he perceives as his rivals.
---
Chris Sivertson is a director working the medium-budget end of the genre who has delivered several efforts in the field that are sufficiently above average to be worth keeping an eye on him. Sivertson first appeared as co-director of All Cheerleaders Die (2001) and wrote the fantasy film Barbarian (2003), before making an impressive solo debut with the psycho film The Lost (2005). He then travelled in more mainstream directions with the Lindsay Lohan-starring twin psycho-thriller I Know Who Killed Me (2007). This proved to be a bomb and it took Sivertson several years to mount another film with the non-genre Brawler (2011), followed by co-directing a remake of All Cheerleaders Die (2013), the psycho film Don't Wake Mommy (2015), the thriller Last Night (2018) and the horror film Monstrous (2022). Elsewhere, Sivertson has written the script for the horror films Wicked Lake (2008), Deadly Switch (2019), Kindred Spirits (2019) and Murder-in-Law (2019), plus acts as a producer on The Absent (2011).
Heartthrob is a stalker film. There have been a great many films about stalkers before from about Play Misty for Me (1971) onwards, reaching a particular peak with Fatal Attraction (1987), which spawned numerous copies and made the psychotically vengeful jilted woman into a cliche for a number of years. There were not many of these that featured male stalkers – Asunder (1998), Secret Smile (2005), The Boy Next Door (2015) and Broken Vows (2016) would be the only examples you could point to. The closest that Heartthrob comes to would be Swinfan (2002), which had Jesse Bradford being stalked by Erika Christensen in a high school setting, although in this it is again the woman who is depicted as obsessive and unstable. (I have a more detailed listing of such films here under Stalkers).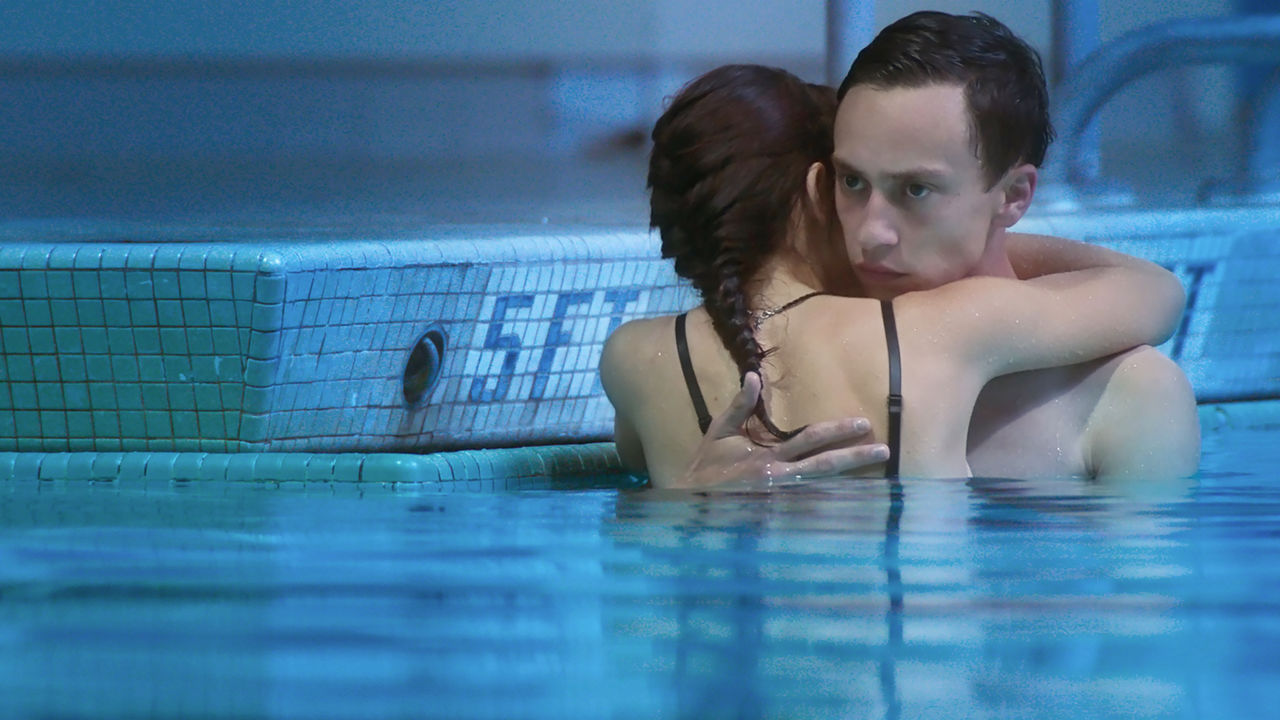 The stalker film has become so dominated by cliches that I did not have much enthusiasm before I sat down to watch Heartthrob. That said, it soon becomes a film in which Chris Sivertson doesn't necessarily overturn or reinvent the cliches but gives them fresh life. You feel this is a film being played out by realistic teenagers rather than endlessly rehashed cliche characters. You have to applaud Chris Sivertson even if for no other reason that you can absolutely guarantee that none of these other stalker films are going to feature discussions on dark matter and gravitational lensing.
Sivertson has a dazzling way of directing/storytelling that reveals whole truths in simple images or backtracks from a strictly chronological telling of events to show that something very different is the case. It is something that makes a familiar and oft told story seem fresh and authentic.
Keir Gilchrist has the stalker role but he and Sivertson are determined to give it dimensions, including showing how caring and devoted he is to Aubrey Peeples and how much she responds to this, including even a peculiarly touching coda after everything is over where we see that she still cares and how all other things pale against him. Aubrey Peeples maybe ignores one or two red flags too many for plausibility's sake – I think any other girl would have walked out after he confessed about the distributor cap and particularly about the time he turned up inside her bedroom or attacked her friend.
---
---