USA. 1988.
Crew
Director – Michael Schroeder, Screenplay – Paul Bartel & William Kelman, Producer – Jim Jarmusch, Photography – Roy H. Wagner, Music – David Spear, Special Effects – Bob Williams, Production Design – John Rothschild. Production Company – Landmark Films.
Cast
Paul Bartel (Paul Truscott), Mary Woronov (Mary Purcell), Perry Lang (Sam Grimm), Christopher Atkins (Max Grimm), Tracey Walter (Don Dickson), Lynn Danielson (Valerie Leven), Anthony James (Abbott Smith), Cheryl Starbuck (Linda Hollyhead), Wolfman Jack (Bernard Berkowitz)
---
Plot
After the death of their uncle, brothers Sam and Max Grimm are made the sole beneficiaries of the Grimm Academy – a mortuary and its attendant training school. However, the inheritance is contingent upon their graduating from the school. As they enrol in classes, they come up against Paul Truscott, the academy's slimy director, who is determined to fail them at all costs and retain control of the academy. Truscott also has a taste for necrophilia. When the corpse of a beautiful virginal cheerleader is brought in, having choked on some popcorn, Truscott falls head over heels for her.
---
Mortuary Academy, by its very title, has clearly been designed to exploit the enormous success of the hit comedy Police Academy (1984) and its endless series of sequels. Mortuary Academy taps into the same vulgar bad taste humour of the Police Academy films. It has been designed to be unsubtle and in as bad a taste as possible.
As such, it serves up an outrageous stew of necrophilia scenes, bloodthirsty psychopaths, hip racist humour and bad jokes about menstruation. In various scenes, groups from rival mortuaries fight for body parts at the scene of an accident; a body ends up being dumped from a coffin during a funeral, revealing the coffin to be filled with chicken bones. The dialogue comes brazen and sarcastically – characters sling insults like 'toxic vagina' at one another; Perry Lang counsels brother Christopher Atkins after he has been rejected by his girlfriend: "there's still time for the kneepads and mouthwash." It is not unlike a Troma film – albeit a Troma film that has been made on a modest B-budget and with a halfway competent cast.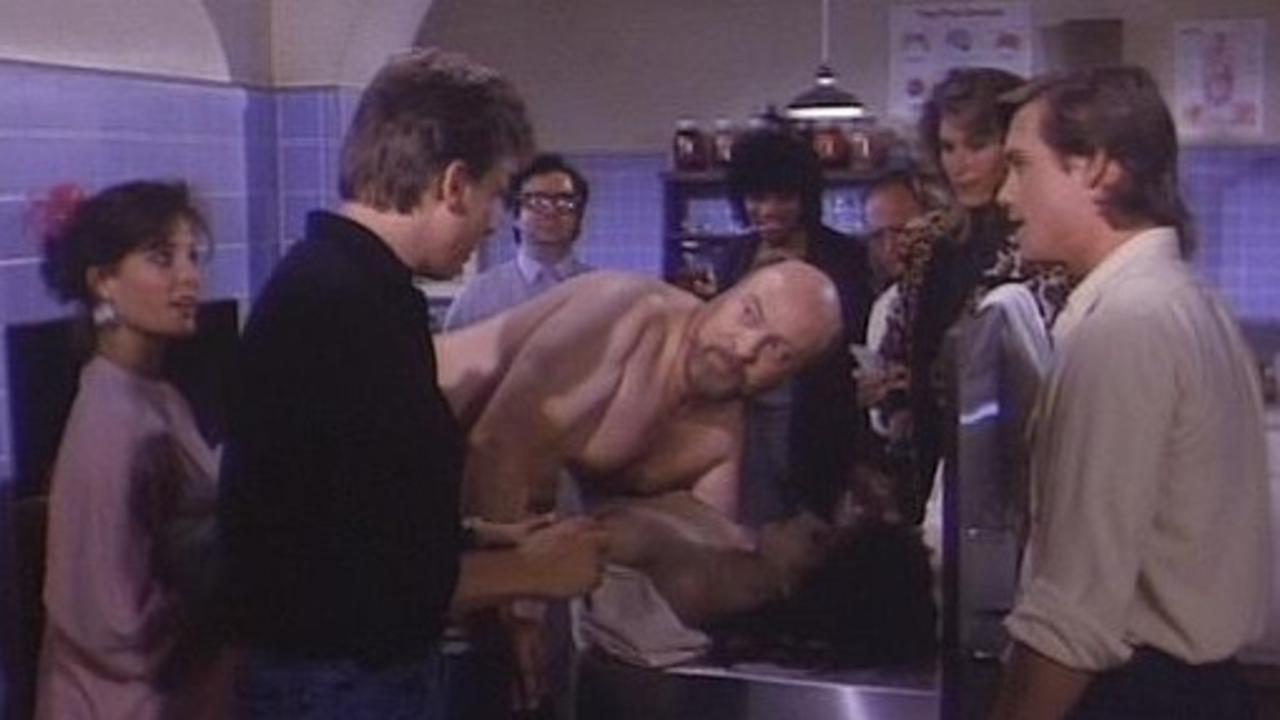 Most of the time Mortuary Academy feels like a film trying to be funny. Half the cast seem unable to keep smiles off their faces – they fail to play it straight meaning that there is no deadpan to any of it. Paul Bartel and Mary Woronov repeat their pairing from most of Bartel's films as a director and effectively dominate the show – in fact, Bartel, who also writes the script, seems to have designed the roles for the two of them, they even sharing the same first names as their characters. Mary Woronov is good, still saucy even if her fifty years are beginning to show, but Bartel hams badly, showing at the very least that he would have had no trouble fitting the shoes of Vincent Price.
The script was co-written by star Paul Bartel, himself a director of films that frequently wander into bad taste, including the kinkiness comedy Private Parts (1972); the futuristic black comedy Death Race 2000 (1975); Eating Raoul (1982), a cult comedy about murder and manners; and the quasi-supernatural satire on the Beverly Hills nouveau riche Scenes from the Class Struggle in Beverly Hills (1989).
Director Michael Schroeder later went onto make several modest B-budget genre films including the psycho clown film Out of the Dark (1989), Dead On: Relentless II (1992), Cyborg2: Glass Shadow (1993), Cyborg3 (1994) and the psycho-sexual thriller Cover Me (1995). The most fascinating name on the credits is that of the producer, none other than Jim Jarmusch, later the cult indie director of films like Mystery Train (1989), Night on Earth (1992), Dead Man (1995), Ghost Dog: The Way of the Samurai (1999) and The Limits of Control (2009) and Only Lovers Left Alive (2013).
---
---