---
Crew
Director – Niall Johnson, Screenplay – Niall Johnson & Richard Russo, Story – Richard Russo, Producers – Julia Palau & Matthew Payne, Photography – Gavin Finney, Music – Dickon Hinchcliffe, Special Effects – Steve Paton, Production Design – Crispian Sallis. Production Company – Summit Entertainment/Tusk Productions/Isle of Man Film Commission/Azure Productions/Keeping Mum Productions Ltd.
Cast
Kristin Scott Thomas (Gloria Goodfellow), Rowan Atkinson (Reverend Walter Goodfellow), Maggie Smith (Grace Hawkins), Patrick Swayze (Lance), Tamsin Egerton (Holly Goodfellow), Liz Smith (Mrs Parker), Emilia Fox (Rosie Jones), Toby Parkes (Petey Goodfellow), James Booth (Mr Brown)
---
Plot
In the tiny village of Little Wallop, Reverend Walter Goodfellow is a dull man who fails to notice the things going on around him – his teenage daughter Holly having sex with numerous boyfriends while parked outside the house; his young son Petey being bullied at school; and his wife Gloria being drawn into an affair with her American golf instructor Lance. The aging Grace Hawkins arrives to take up position as the new housekeeper. What they do not know is that Grace is in reality Rosie Jones who was sentenced 43 years ago for murdering and then chopping up her husband and his mistress. As Grace observes the happenings in the household around her, she intervenes to sort everybody's lives out, including bumping off those who are causing problems.
---
Keeping Mum is a British comedy, a sub-genre that had almost completely vanished from theatres in recent years. Many reviewers saw Keeping Mum as a throwback to the Ealing comedies of the 1940s and 50s, in particular films like Kind Hearts and Coronets (1949) and The Ladykillers (1955).
Keeping Mum plays out as if you could maybe imagine Arsenic and Old Lace (1944) relocated into the setting of something like The Vicar of Dibley (1994-2007) or Ballykissangel (1996-2001). Although, if anything, Keeping Mum plays like a dark version of the same year's Nanny McPhee (2005). In both Keeping Mum and Nanny McPhee, a sinister woman arrives and turns a household on its head – although here, instead of having supernatural powers, she turns out to be an axe murderer. Some scenes like where Maggie Smith causes the bullies' bikes to go over the wall and she evokes Toby Parkes to say the word "broccoli" almost seem to be hearkening towards a magical interpretation a la Nanny McPhee. In both films, the enigmatic old dame has a wise eye that spots the problems of the household, while her string-pulling behind the scenes serves to have a transformative effect on the family.
Certainly, the idea of a blackly murderous comedy taking place in a quaintly rural British setting has potential. In the hands of say the Coen Brothers the material might have proven hysterical. Unfortunately, in the hands of director Niall Johnson, everything plays out down around the level of a quaintly mumsy British rural comedy. There is a frustrating banality to Keeping Mum where the humour rarely ever emerges into being funny. It is as though Niall Johnson seems to think people running around is funny enough in itself. Never in any of his set-ups does he deign to search for a gag.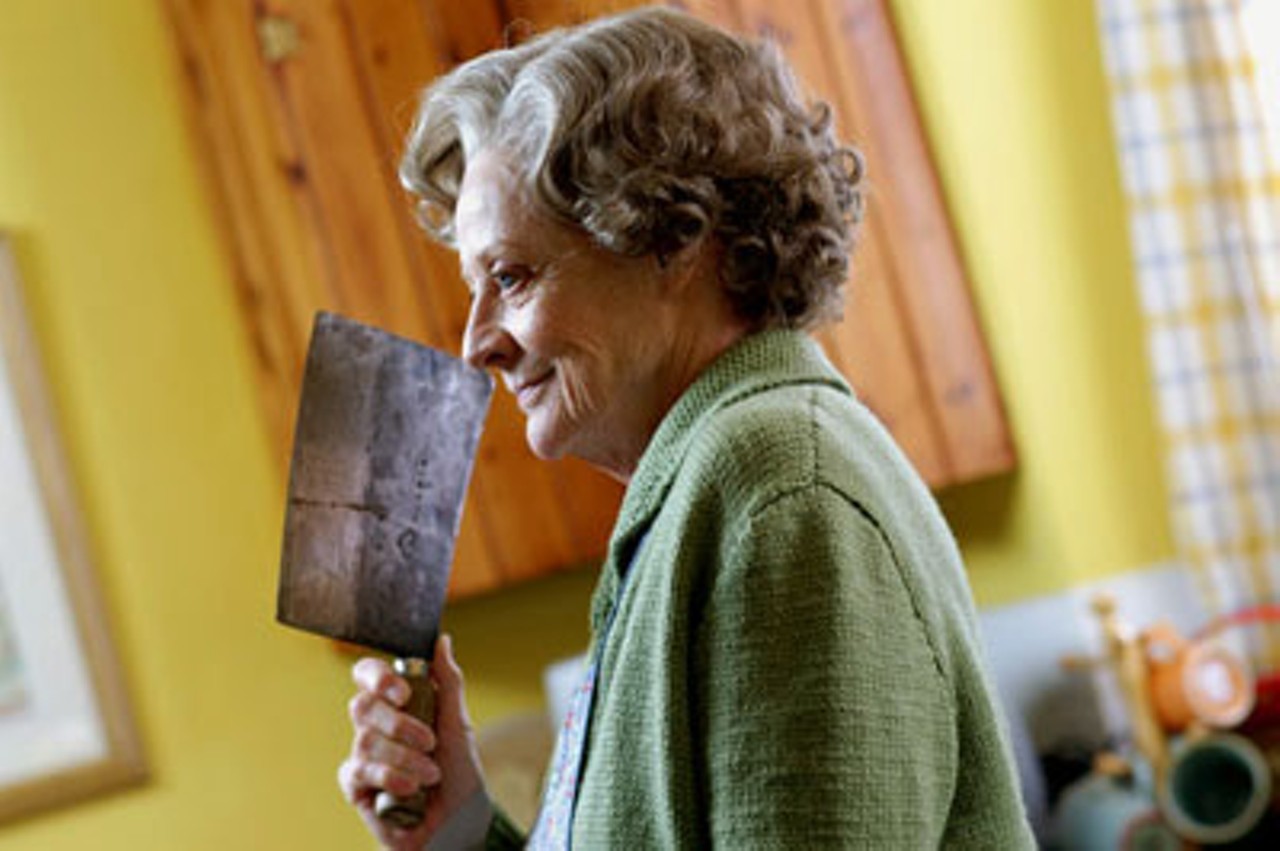 His greatest crime is to fail to push the material to where it could have had a genuine blackness. There are several scenes where the dialogue has been designed to play on two levels and hold double meanings – the meeting between Patrick Swayze and Rowan Atkinson at the soccer game; Patrick Swayze and Kristin Scott Thomas discussing going away together in front of Maggie Smith in a cafe; and most effectively where Liz Smith's rantings about the Flower Arranging Circle is taken as her trying to blackmail people with knowledge about the murders. This could have been hysterical in another director's hands but Niall Johnson fumbles it.
As it is, Keeping Mum feels like it has been designed as an easy sell for cosy rural audiences of Britain's Home Counties. The most evocative scene Johnson manages is the one where Rowan Atkinson discovers the erotic potential of the Song of Solomon as he narrates it in voiceover while watching Kristin Scott Thomas undress for bed.
The predictable script and Niall Johnson's failure to make the film funny is saved somewhat by a good cast. This includes some decent work from the wonderfully classy Kristin Scott Thomas. In particular, Maggie Smith steals the show with her dry delivery whenever she is around. Rowan Atkinson has always been a favourite with shows like Blackadder (1983-9) and Mr Bean (1990-5) but has shown an inability to transfer that success to cinema screens with unfunny performances in the likes of Scooby-Doo (2002), Johnny English (2003) and sequels and Love Actually (2003). His Reverend Goodfellow is a wet-eared nebbish who fails to engender much likeability onscreen, although to Rowan Atkinson's credit the character does come to life towards the end, especially in the scene when he gives his speech at the church conference.
Niall Johnson had made other films such as The Big Swap (1998), Mum's List (2016), which is unrelated to this, and The Stolen (2017), and one other genre film with The Ghost of Greville Lodge (2000). He also wrote the screenplay for the EVP ghost story White Noise (2005).
(Winner for Best Supporting Actress (Maggie Smith) at this site's Best of 2005 Awards).
---
---