---
Crew
Director – Ben Stiller, Screenplay – Lou Holtz Jr, Producers – Judd Apatow, Andrew Licht & Jeffrey A. Mueller, Photography – Robert Brinkman, Music – John Ottman, Visual Effects – Sony Pictures Imageworks (Supervisor – John Nelson), Special Effects Supervisor – Matt Sweeney, Production Design – Sharon Seymour. Production Company – Licht-Mueller Film Corp.
Cast
Matthew Broderick (Steven Kovacs), Jim Carrey (Ernie 'Chip' Douglas/Larry Tate), Leslie Mann (Robin Harris), Jack Black (Rick), George Segal (Steven's Father), Owen Wilson (Robin's Date)
---
Plot
Just having separated from his girlfriend, Steven Kovacs moves into an apartment by himself and has cable tv installed. He befriends the cable technician Chip Douglas. However, Chip becomes over-friendly, insisting that Steven be his best buddy and inserting himself unasked into Steven's life and causing complete chaos in his efforts to be helpful. However, when Steven tries to be rid of Chip, Chip retorts by turning Steven's life into a nightmare.
---
Jim Carrey exploded out as a star in the mid-1990s. The Cable Guy was made as a vehicle for the spectacularly unfunny Jim Carrey to dangle from the rafters and deliver a performance at the top of his voice. Carrey went on to star in the Ace Ventura sequel, Dumb and Dumber (1994), The Mask (1994) and Liar Liar (1997), before by the late 90s trying to make it as a serious actor.
However, The Cable Guy was slightly different to most Jim Carrey vehicles up to that point in that Carrey is in OTT histrionic mode but is not playing the good guy but a psychotic stalker. And seemingly as a result of turning Carrey from the funny man into the boogie man, The Cable Guy was not a success.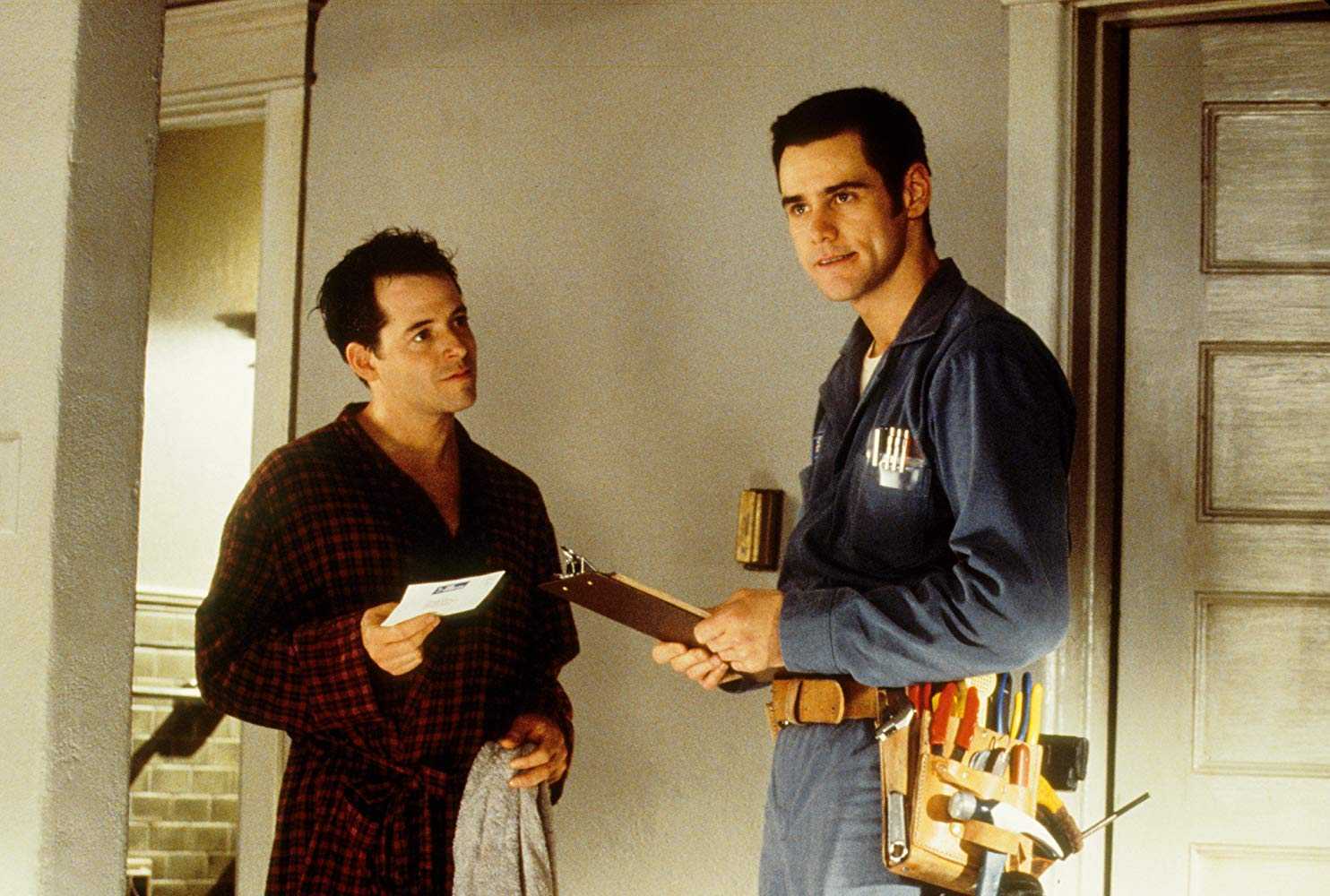 This probably says something about the audience for Jim Carrey films – that they are perfectly happy to laugh at somebody acting completely off their head but don't like it when the character is turned around and shown as a disturbed individual. Whereas in real life anybody who did act as Jim Carrey typically does would in all likelihood be regarded as exactly the disturbed individual the film here portrays him as. In all other respects, The Cable Guy is a routine comic variation on the stalker film. The Jim Carrey going whacko set-pieces are all it has up its sleeve and there is little to the film without them.
The Cable Guy was also the second cinematic directorial outing from Ben Stiller. At the time, Ben Stiller had not quite ascended to an A-list name as he would after There's Something About Mary (1998), which was also a black comedy about stalkers. Stiller's other films as director include Reality Bites (1994), Zoolander (2001) and the hilarious Hollywood self-parody Tropic Thunder (2008). His other genre outings as a director are Heat and Vision Jack (1999), a very strange tv pilot that never aired, a spoofy take on superheroics, and the self-starring and directed remake of The Secret Life of Walter Mitty (2013) about an ineffectual daydreamer.
---
---