---
Crew
Director/Screenplay – Rhys Frake-Waterfield, Producers – Rhys Frake-Waterfield & Scott Jeffrey, Photography – Vince Knight, Music – Andrew Scott Bell, Visual Effects – Steve Clark, Rhys Frake-Waterfield, Daniel Girling & Paul Knott, Special Effects Supervisor – Keith Harding, Special Effects – The Prosthetics House, Prosthetics Designer – Rebecca Wheeler, Creature Effects – Immortal Masks. Production Company – Jagged Edge Productions.
Cast
Nikola Leon (Christopher Robin), Maria Taylor (Maria), Craig David Dowsett (Winnie-the-Pooh), Chris Cordell (Piglet), Natasha Rose Mills (Jessica), Amber Doig-Thorne (Alice), Danielle Ronald (Zoe), Natasha Tosini (Lara), Paula Coiz (Mary), May Kelly (Tina), Gillian Broderick (Therapist), Danielle Scott (Charlene)
---
Plot
The now grown-up Christopher Robin returns to 100 Acre Wood after many years with his fiancé Mary, wanting to introduce her to Winnie-the-Pooh and the other animals. What Christopher does not know is that after he went away, a cruel winter left the animals starving and they were forced to eat Eeyore. Afterwards, they turned back to their animal natures and swore hatred of Christopher and all humans. Mary is now killed and Christopher imprisoned and tortured. At the same time, Maria and a group of four girlfriends get away to a house near the woods but soon fall prey to attack by Winnie-the-Pooh and Piglet.
---
Winnie the Pooh is a famous and much loved children's character created by A.A. Milne (1882-1956). Milne made up a series of stories to entertain his son Christopher Robin, basing the characters on Christopher Robin's stuffed toys. The stories are collected in two books Winnie the Pooh (1926) and The House at Pooh Corner (1928).
Disney purchased the rights to Winnie the Pooh from Milne's widow and adapted the stories into three theatrically released animated shorts, Winnie the Pooh and the Honey Tree (1966), Winnie the Pooh and the Blustery Day (1968) and Winnie the Pooh and Tigger Too (1974), which were later packaged together as a feature film The Many Adventures of Winnie the Pooh (1977). They also spun off several animated films based around the supporting characters, including The Tigger Movie (2000), Piglet's Big Movie (2003), Pooh's Heffalump Movie (2005) and then Winnie the Pooh (2011). In more recent years, we have seen the live-action Goodbye Christopher Robin (2017), a biopic of A.A. Milne, and the live-action film Christopher Robin (2018), which has a not dissimilar plot to Blood and Honey concerning a grown-up Christopher Robin reconnecting with the animals of Hundred Acre Woods.
Winnie-the-Pooh: Blood and Honey comes from British producer Scott Jeffrey. Jeffrey has become an incredibly prolific producer of genre material in the 2020s, having produced some 40 films since 2016 and directed twenty of them. Rhys Frake-Waterfield has produced and worked on the visual effects of a number of Jeffrey's films. Frake-Waterfield made his directorial debut with The Area 51 Incident (2022), followed by Demonic Christmas Tree (2022).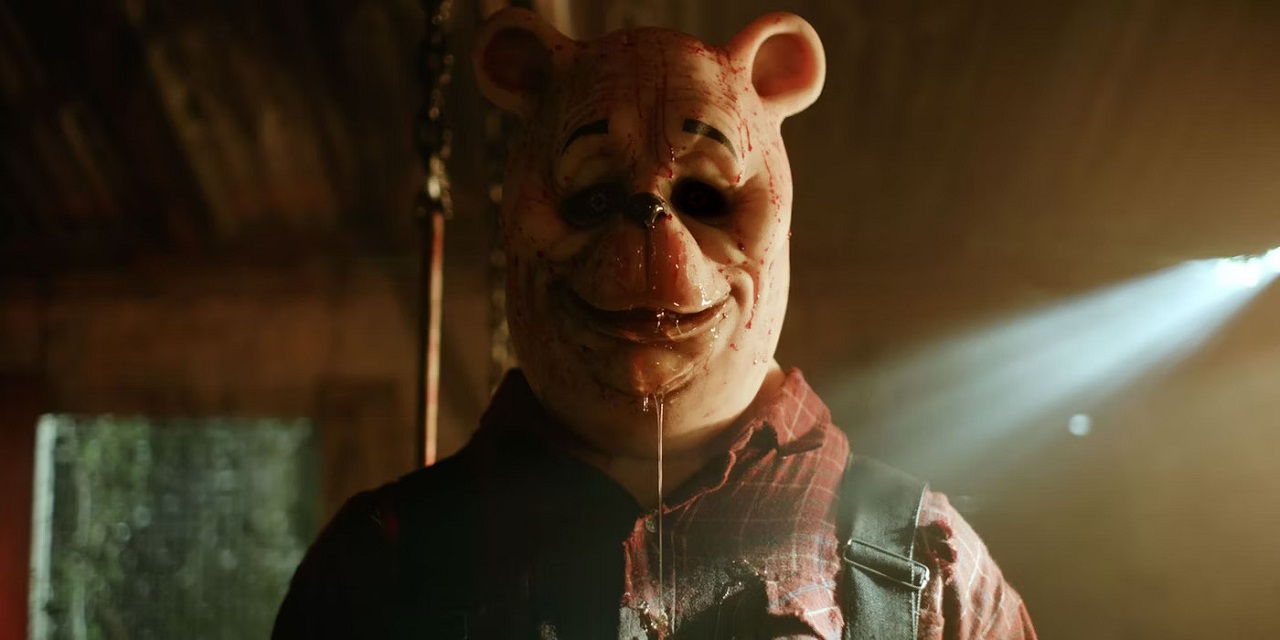 Some years before this, there has been a certain fad for conducting dark and twisted takes on children's stories –see the likes of Rumpelstiltskin (1995), Pinocchio's Revenge (1996), Alice in Murderland (2010), as well as The Banana Splits (2019), a horror take on a loved children's tv show. Winnie-the-Pooh: Blood and Honey needs to be placed in context of Scott Jeffrey and associates who in recent years have taken to offering up horror versions of children's characters. Jeffrey directed The Curse of Humpty Dumpty (2018), which caught your attention with its title even if it didn't actually feature the nursery rhyme character, and went on to produce Toof (2019) about the Tooth Fairy, The Legend of Jack and Jill (2021) and Curse of Jack Frost (2022), most of which have produced sequels, while in the pipeline they have a slate of other announced titles such as Bambi: The Reckoning, Mary Had a Little Lamb, Peter Pan's Neverland Nightmare and Three Blind Mice.
The term 'raped my childhood' was coined by Star Wars fans to describe the way George Lucas let them down with the Star Wars prequels and/or relentlessly merchandising of product. I don't feel easy using sexual assault as an analogy to describe fannish disappointment but some kind of violent assault surely serves as the most apt comparison when it comes to Winnie-the-Pooh: Blood and Honey. To anyone who ever grew up reading the Winnie the Pooh stories – which I did – watching Blood and Honey feels like the kind of assault on your childhood memories that leaves you hospitalised with blackened eyes and broken bones.
This is a film that is largely dependent on seeing the beloved childhood characters in a brutal and nasty light. In the opening scenes, we see Christopher Robin's fiancé Paula Coiz being fed into an industrial mulcher by Winnie-the-Pooh. In other scenes, we get to wit:- Winnie-the-Pooh flogging a chained-up Christopher Robin; Winnie-the-Pooh stripping May Kelly's top off and then bashing her head in against a bench; Piglet knocking off Amber Doig-Thorne's head with a sledgehammer in a swimming pool; and in the most hilarious scene, Winnie driving a muscle car to squish bikini-clad Natasha Tosini's head while Piglet holds her down.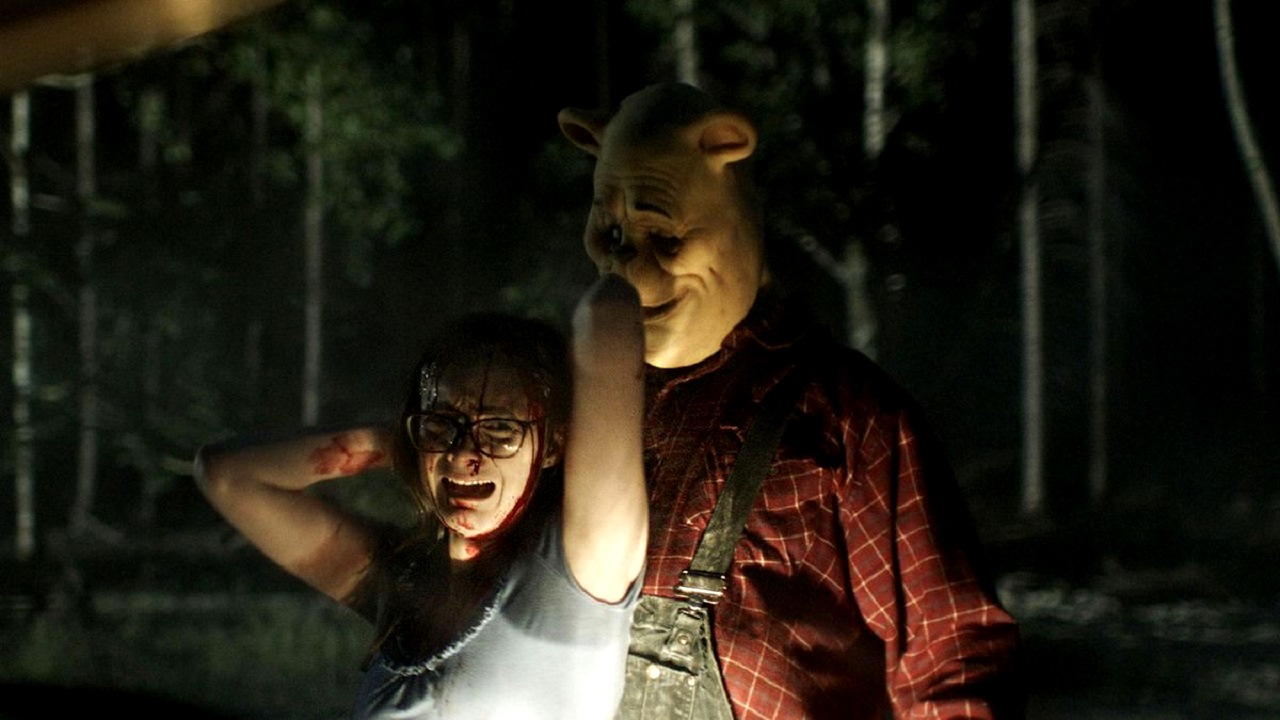 Not too surprisingly, Winnie-the-Pooh: Blood and Honey received negative reviews across the board. Part of the problem here is that I don't think most of these reviewers are familiar with the low-budget fare that Scott Jeffrey and Rhys Frake-Waterfield have turned out elsewhere. In all regards, the two are just making the same sort of film they usually do on a low budget – there is no production designer credit, for instance, meaning that all of the scenes have been filmed around industrial areas (and apparently in Ashdown Woods, the real-life location for Hundred Acre Woods). They were making one of their regular low-budget films and it was only a reasonable degree of internet buzz around the title concept that saw what they would have considered no more than a quickie item for dvd and streaming markets suddenly propelled into the arena of theatrical release.
Winnie-the-Pooh: Blood and Honey is not a particularly good film. The masks that Winnie-the-Pooh and Piglet wear are inexpressive. The film is essentially a Backwoods Brutality film – it is not too hard to make a jump from Winnie-the-Pooh or Piglet in their animals masks swinging sledgehammers to the masked Leatherface wielding his chainsaw in The Texas Chain Saw Massacre (1974). The characters are the assorted victims running around the woods that you usually get in these films. This is a film that seems no more than a regular piece of filler horror in any other regards that is getting by on the outrage factor of trashing a well-loved children's character. Beyond that, there is little else to the film.
---
Trailer here
---