USA. 1980.
Crew
Director – Kevin Connor, Screenplay/Producers – Robert Jaffe & Steven-Charles Jaffe, Photography – Thomas Del Ruth, Music – Lance Rubin, Special Effects – Adams R. Calvert, Art Direction – Joseph M. Altadonna. Production Company – Camp Hill Productions/United Artists.
Cast
Rory Calhoun (Vincent Smith), Nancy Parsons (Ida Smith), Paul Linke (Sheriff Bruce Smith), Nina Axelrod (Terry), Wolfman Jack (Reverend Billy)
---
Plot
Vincent Smith and his sister Ida run a rural motel in the American Midwest. Vincent is famous in the area for his smoked meat, which he markets as Farmer Vincent. What people do not know is that Vincent and Ida trap passers-by on the country road and imprison them buried up to their necks where they are fattened up and their flesh then processed as Vincent's smoked meat. When a young woman, Terry, survives one of Vincent's traps, he brings her home and takes her under his wing. Vincent's brother Bruce, the local sheriff, develops a romantic interest in her. After Vincent saves her life, Terry then decides that she wants to marry him instead.
---
The 1970s brought to the fore a subgenre of films that one has termed the Backwoods Brutality cycle. Beginning with Straw Dogs (1971), the cycle featured a body of films in which various city slickers ran afoul of hick locals who seemed determined to brutalise and torture them until they were forced to abandon their civilised mores and resort to barbarism to defend themselves. Others in this cycle included Deliverance (1972), The Last House on the Left (1972), Death Weekend/The House by the Lake (1976), The Hills Have Eyes (1977), Day of the Woman/I Spit on Your Grave (1978) and most notoriously The Texas Chain Saw Massacre (1974). By around 1980, the Backwoods Brutality cycle petered out – at about the same time that the slasher film came to the rise. By 1980, the Backwoods Brutality cycle started to reach the point where it was now engaged in self-parody, with both the overtly comedic Motel Hell and Mother's Day (1980) coming out around the same time.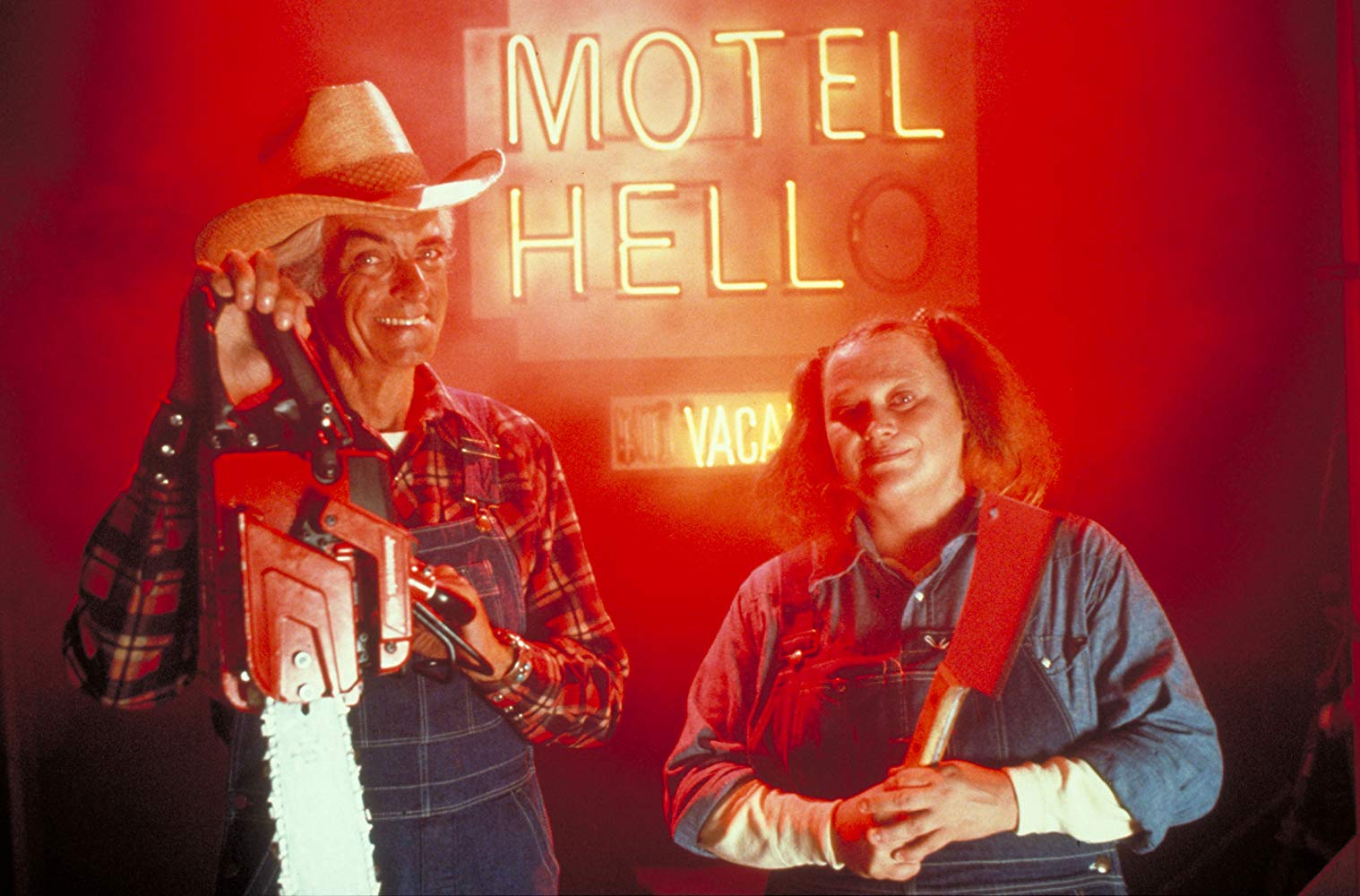 While almost all of the aforementioned Backwoods Brutality films were made independently, Motel Hell was financed by a studio, United Artists. Imported for the occasion was British director Kevin Connor. Connor had come to the fore at the British horror-producing company Amicus, making one of their finest horror anthologies From Beyond the Grave (1974), and then going onto a trilogy of Edgar Rice Burroughs lost world adaptations, The Land That Time Forgot (1974), At the Earth's Core (1976) and The People That Time Forgot (1977), in conjunction with producer John Dark and star Doug McClure, as well as two post-Amicus efforts Warlords of Atlantis (1978) and Arabian Adventure (1979). Subsequent to Motel Hell, Connor made the ghost story The House Where Evil Dwells (1982) and then vanished into tv mini-series land with genre works that have included Goliath Awaits (1981), The Return of Sherlock Holmes (1987), The Mysteries of the Dark Jungle (1991), Shadow of Obsession (1994), The Seventh Scroll (1999), Santa, Jr. (2002), A Boyfriend for Christmas (2004), Frankenstein (2004), Farewell Mr Kringle (2010), Annie Claus is Coming to Town (2011) and Chasing Leprechauns (2012).
Motel Hell is really The Texas Chain Saw Massacre conducted as an uncertain black comedy. Perhaps it is that the British Kevin Connor is a foreigner making an American film or maybe it is that in being a Backwoods Brutality film produced by a major studio punches have been pulled but Motel Hell seems infected with an awkwardness when it comes to the material.
There is a good deal of comic grotesquerie to the film but Kevin Connor never seems interested in pushing the envelope in any way. There are a few schlock horror images such as the victims buried up to their necks and squawking with their throats slit and one moderately blackly comic moment where a tractor is used to hang victims by accelerating away and pulling the nooses around their necks. However, Kevin Connor's tone of comedy and grotesquerie is far too broad to be effective.
The sense by which Motel Hell falls short of the mark can surely be seen no further than comparing it to The Texas Chain Saw Massacre – whereas Texas Chain Saw all came focused in a brutalisingly intensive assault on the heroine, Motel Hell meanders around a loose plot about the romantic rivalries between Rory Calhoun and his straight-laced sheriff brother Paul Linke over Nina Aexlrod, and sister Ida Parsons's jealousy.
Rory Calhoun certainly gives an effectively flinty performance and Ida Parsons one of comic boisterousness that contains a nastily narrowed expression that reminds of something of Shirley Stohler in The Honeymoon Killers (1970). However, Kevin Connor takes a long time to get into the body of the film and even to convey to the audience what is going on. The only point that Motel Hell ever emerges into its true grotesque/gory potential is at the climax, which features a chainsaw duel between Paul Linke and Rory Calhoun who is wearing a severed pig's head, with Calhoun finally being despatched and going out with the deathbed line: "I'm the biggest hypocrite of all. My meat – I used preservatives." Tobe Hooper's unjustly reviled The Texas Chainsaw Massacre 2 (1986) had a very similar plot to and is a much better version of what Motel Hell feels like it should have been.
---
---