---
Crew
Director/Screenplay – Jim Jarmusch, Producers – Reinhard Brundig & Jeremy Thomas, Photography – Yorick Le Saux, Music – Jozef Van Wissem, Additional Music – Sqürl, Visual Effects – Pixomondo Studios GmbH & Co. KG (Supervisors – Malte Sarnes & Juri Stanossek), Makeup Design – Gerhard Zeiss, Makeup Effects – Johanna Koch, Production Design – Marco Bittner Rosser. Production Company – Pandora Film/Recorded Picture Company (RPC)/Snow Wolf Produktion/Faliro House Productions/ARD Degeto/Lago Film GmbH/Neue Road Movies GmbH.
Cast
Tilda Swinton (Eve), Tom Hiddleston (Adam), Mia Wasikowska (Ava), John Hurt (Christopher Marlowe), Anton Yelchin (Ian), Jeffrey Wright (Dr Watson), Slimane Dazi (Bilal)
---
Plot
Adam and Eve are vampire lovers who have lived across the centuries. After a video chat, Eve realises that Adam is feeling depressed and potentially suicidal. She leaves her home in Tangiers and flies to visit him in Detroit where he maintains a life as a successful but reclusive rock star. There they reunite as he introduces her to his city. Shortly after her arrival, they are joined by Eve's so-called sister, the much more wayward Ava. Her presence and disregard of caution upsets their idyll.
---
Jim Jarmusch is one of the eccentrics of American independent cinema. Jarmusch first appeared with the likes of Stranger Than Paradise (1982), Down By Law (1986) and Mystery Train (1989) then achieved some success with the anthology Night on Earth (1992). He went onto the widely acclaimed Dead Man (1995) and other works such as Ghost Dog: The Way of the Samurai (1999), Coffee and Cigarettes (2003), Broken Flowers (2005), The Limits of Control (2009) and Paterson (2016).
Jarmusch's films never seem to be about anything. They never concern themselves much with things like plot, they hover around trivial happenings in the sidelines. Indeed, Jarmusch's films often seem like pastiches in cool or sophisticated insider in-jokes. They resemble the person at the party who moves with an aloof sophistication and a mocking curl of a smile, too cool to deign themselves with mere mortals, where their utterances are obscure jokes that the unhip never get.
With Only Lovers Left Alive, Jarmusch ventures into the vampire film – the most genre-pigeonholed work that he has made to date. One welcomes this. In recent years, the vampire film has painted itself into a corner and been reduced to an anaemic shadow of its horror self following Twilight (2008) and sequels such that it is almost impossible to watch a vampire film anymore and not feel that the genre is played out. It is in need of serious reclamation and reinvigoration. An individualistic voice like Jim Jarmusch could well provide that. Alas, Only Lovers Left Alive never quite rises to fill the promise it arrives with.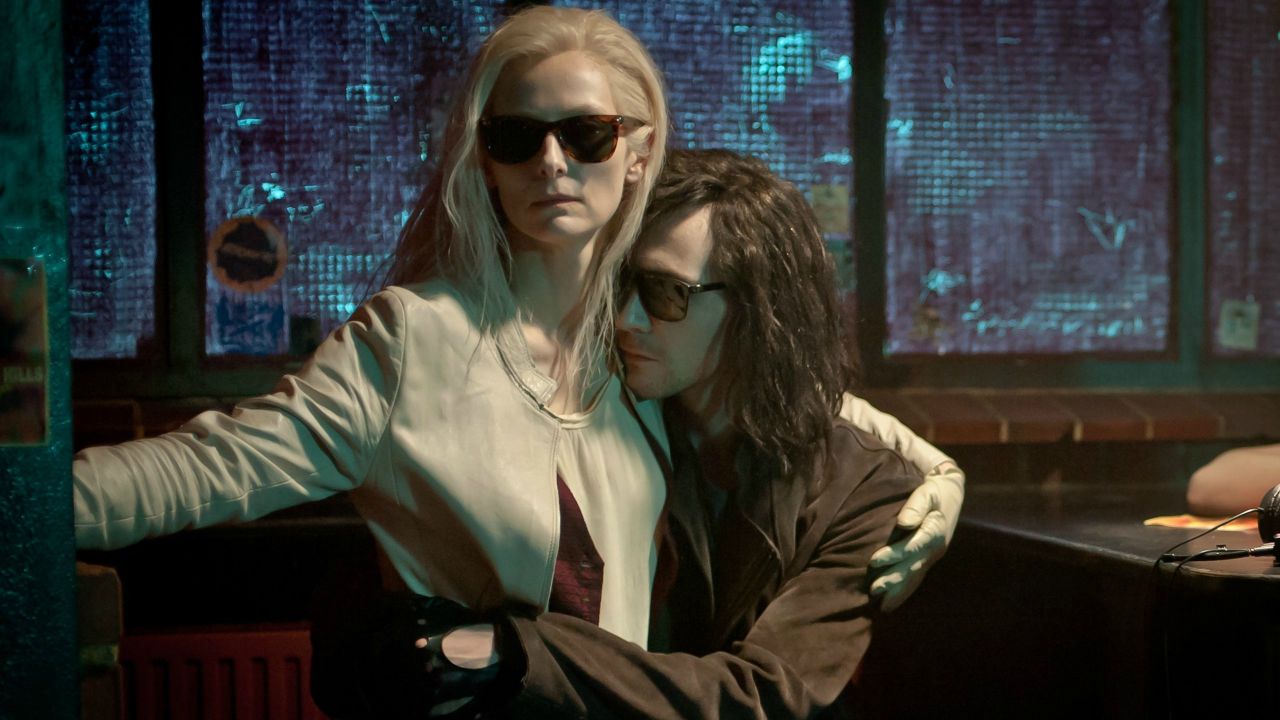 Only Lovers Left Alive does some things very well. There is the always great Tilda Swinton (a Jarmusch regular). She is fantastically well paired with Tom Hiddleston who at last moves beyond the one-dimensional villainy of the Marvel Comics films where he found fame and slides into inhabit the sex symbol status he has been accorded by geekdom like a glove. Their bored languor lights the film around them.
Jarmusch has a good deal of amusement name-dropping historical personages – "He was never the same after hanging out with Shelley, Byron and those French assholes," says Tilda Swinton of Tom Hiddleston's Adam. There are throwaway lines in reference to meeting Nikolai Tesla and various rock stars, including a visit to what is supposedly Jack White's childhood home, while Hiddleston has a habit of using fake doctor id badges calling himself Dr Faust and Dr Fibonacci as he goes to greet a Dr Watson. Most notably, John Hurt plays an aging vampire who was Christopher Marlowe, which naturally lends itself to some sly jokes about he being the real author of Shakespeare's works. Again, part of the sly, dry in-crowd humour that Jarmusch's films play on.
Jarmusch works to some particularly poetic strengths visually. He has chosen Detroit as the film's location and delivers some particularly haunted shots of Tom Hiddleston cruising the night streets in his classic car, passing vast abandoned and empty buildings that have been eerily lit from below. The most haunted of these is the night visit to the ceiling of a beautiful abandoned movie theatre, which has been converted to the roof of a bridge. Detroit declared bankruptcy at the same time as the film was being made and this adds an eerie resonance to the story. The way Jarmusch shoots the city almost approaches something of the post-apocalyptic and surely becomes he beautifully paying tribute to a collapsing Western society.
Yet for all the things it does well, Only Lovers Left Alive only works intermittently. Jim Jarmusch is never a director who has much concerned himself with plot. The crucial problem here is that everything has been well assembled – but then not much happens. The characters seem to aimlessly drift about their night-time idylls as we wait for something to happen. Mia Wasikowska's 'sister' enters and for a time introduces an element of chaos that upsets the apple cart – but even then nothing much happens before she is kicked out on the street. Contrast this to say the alarming performance given by Denis O'Hare as Russell Edgington, a similar element of chaos introduced in tv's True Blood (2008-14) or Tom Cruise's Lestat in Interview with the Vampire: The Vampire Chronicles (1994), and you can see just how little the film here sinks its teeth in dramatically.
Similarly, the latter sections have the two lovers running out of blood supply and facing near death but there seems little urgency or desperation to their situation. Indeed, there is not really that much vampire in this vampire film at all. The final shot where Tilda Swinton and Tom Hiddleston close in on a couple with fangs bared seems ironic more than it does a threatening shot due to the fact that this is precisely what we have seen so little of throughout.
Subsequent to this, Jim Jarmusch went on to tackle the zombie film with The Dead Don't Die (2019).
---
---