---
Crew
Director/Screenplay – Jim Jarmusch, Producers – Joshua Astrachan & Carter Logan, Photography – Frederick Elmes, Music – Squrl, Visual Effects Supervisors – Alex Hansson & Sam O'Hare, Visual Effects – Chimney, Makeup Effects Design – Mike Marino, Makeup Effects Supervisor – Mike Fontaine, Production Design – Alex DiGerlando. Production Company – Kill the Head Productions/Longride/Animal Kingdom/Film i Vast/Chimney.
Cast
Bill Murray (Chief Cliff Robertson), Adam Driver (Officer Ronnie Peterson), Tilda Swinton (Zelda Winston), Chloe Sevigny (Officer Mindy Morrison), Tom Waits (Hermit Bob), Caleb Landry Jones (Bobby Wiggins), Danny Glover (Hank Thompson), Steve Buscemi (Farmer Frank Miller), Larry Fessenden (Danny Perkins), Selena Gomez (Zoe), Taliyah Whitaker (Olivia), Jahi Winston (Geronimo), Eszter Balint (Fern), Rosal Colon (Lily), Maya Delmont (Stella), RZA (Dean), Austin Butler (Jack), Luka Sabbat (Zack), Iggy Pop (Male Coffee Zombie), Sara Driver (Female Coffee Zombie), Rosie Perez (Posie Juarez), Carol Kane (Mallory O'Brien)
---
Plot
In the town of Centreville, sheriff Cliff Robertson and his deputies Ronnie Peterson and Mindy Morrison become aware that the dead are returning to life. As the zombies overrun the town, they and various others try to fend them off.
---
Since the 1980s, Jim Jarmusch has firmly established himself as one of the foremost independent American directors. Jarmusch has made films like Permanent Vacation (1980), Stranger Than Paradise (1984), Down By Law (1986), Mystery Train (1989), Night on Earth (1992), Dead Man (1995), Ghost Dog: The Way of the Samurai (1999), Coffee and Cigarettes (2003), Broken Flowers (2006), The Limits of Control (2009), Only Lovers Left Alive (2013) and Paterson (2016). These are films that come with a laidback nonchalance where they seem to take place less in big dramatics than in small often inconsequential deadpan but very funny conversations.
Jarmusch's work has occasionally intersected genre material – the ghost of Elvis made an appearance in the second episode of Mystery Train and then there was the enigmatically surreal The Limits of Control. Jarmusch had previously tackled the vampire film in Only Lovers Left Alive, which is regarded as a masterpiece of the genre by some (I enjoyed it but don't quite rank it that highly). Here he tackles the zombie film – indeed, the idea was apparently suggested to him by Tilda Swinton on the set of Only Lovers.
I have mixed feelings about the idea of the Jim Jarmusch zombie film. Only Lovers Left Alive allowed Jarmusch to marry his smart intellectual cool with the genre to some effect. On the other hand, I had difficulty seeing the laconic deadpan of Jarmusch mixing with the zombie genre – you could maybe imagine the result coming out as a very dry and laidback version of Zombieland (2009).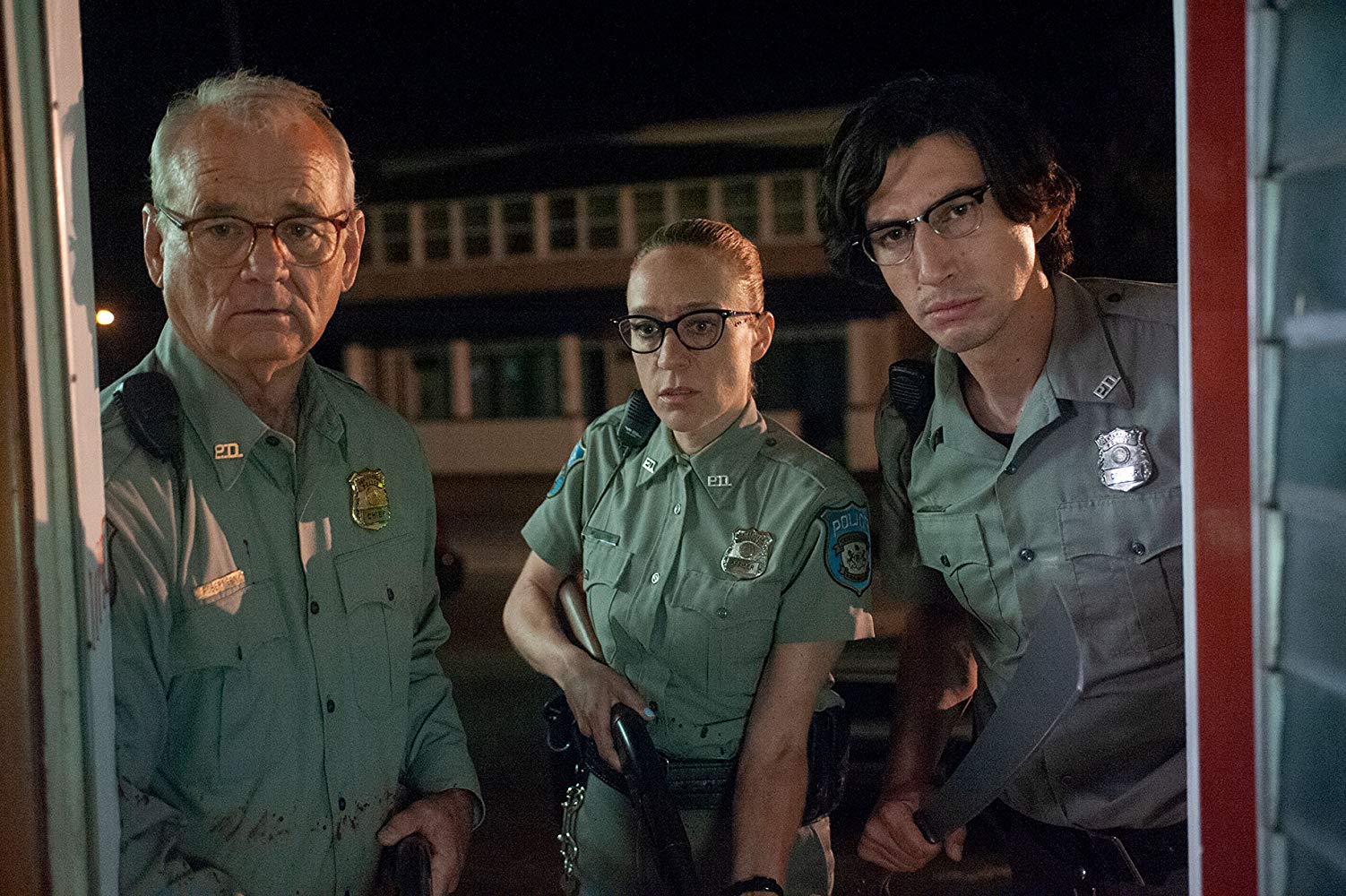 The other problem with Jarmusch approaching the zombie film as a comedy is that the zombie film has been in full self-parody mode since the mid-2000s and Shaun of the Dead (2004). The parodies and deliberately wacky title mash-ups – see the likes of Zombie Beach Party (2003), Zombie Cheerleader Camp (2007), Zombie Strippers! (2008), Attack of the Vegan Zombies! (2009), Big Tits Zombie (2010), Santa Claus vs. the Zombies (2010), Bong of the Dead (2011), Abraham Lincoln vs. Zombies (2012), Zombeavers (2014), MILFs vs Zombies (2015), Scouts Guide to the Zombie Apocalypse (2015), Attack of the Lederhosen Zombies (2016), Pride and Prejudice and Zombies (2016) and Fat Ass Zombies (2020), among others – have become so numerous they now outweigh the serious films. (For a detailed overview see Zombie Films). You wonder to what extent Jarmusch can bring his wit to bear in a way that gets ahead of all the other contenders out there.
As such, Jarmusch doesn't offer much that is particularly new or different to the run of zombie comedies. Bill Murray brings his customary dry laconicism – there's a rather funny scene where they attempt to kill Carol Kane as the so-called Chardonnay Lady and she keeps on going even after her head is severed. Mostly the film repeats various standard zombie scenes without particularly doing much with them. There is the odd amusing line – "they're just dead hipsters from Cleveland". At the end, Jarmusch takes a leaf from George Romero's Dawn of the Dead (1978) and offers up the idea of zombies repeating things they did in life as a tongue-in-cheek critique of consumerism and materialism.
Things do get increasingly bizarre mostly towards the end. For no particular reason, Tilda Swinton's very strange coroner who dresses as a Jedi and wields a samurai sword is revealed to be an alien and disappears as a UFO comes to collect her. There is some amusing interplay between Bill Murray and Adam Driver that breaks the figurative fourth wall with them discussing whether the title country song on the radio is familiar because it is the film's theme song. In a later scene, Murray asks Driver how he knows how things are going to end to which Driver replies "because I read the script" and Murray starts lambasting Jarmusch for not giving him a full script.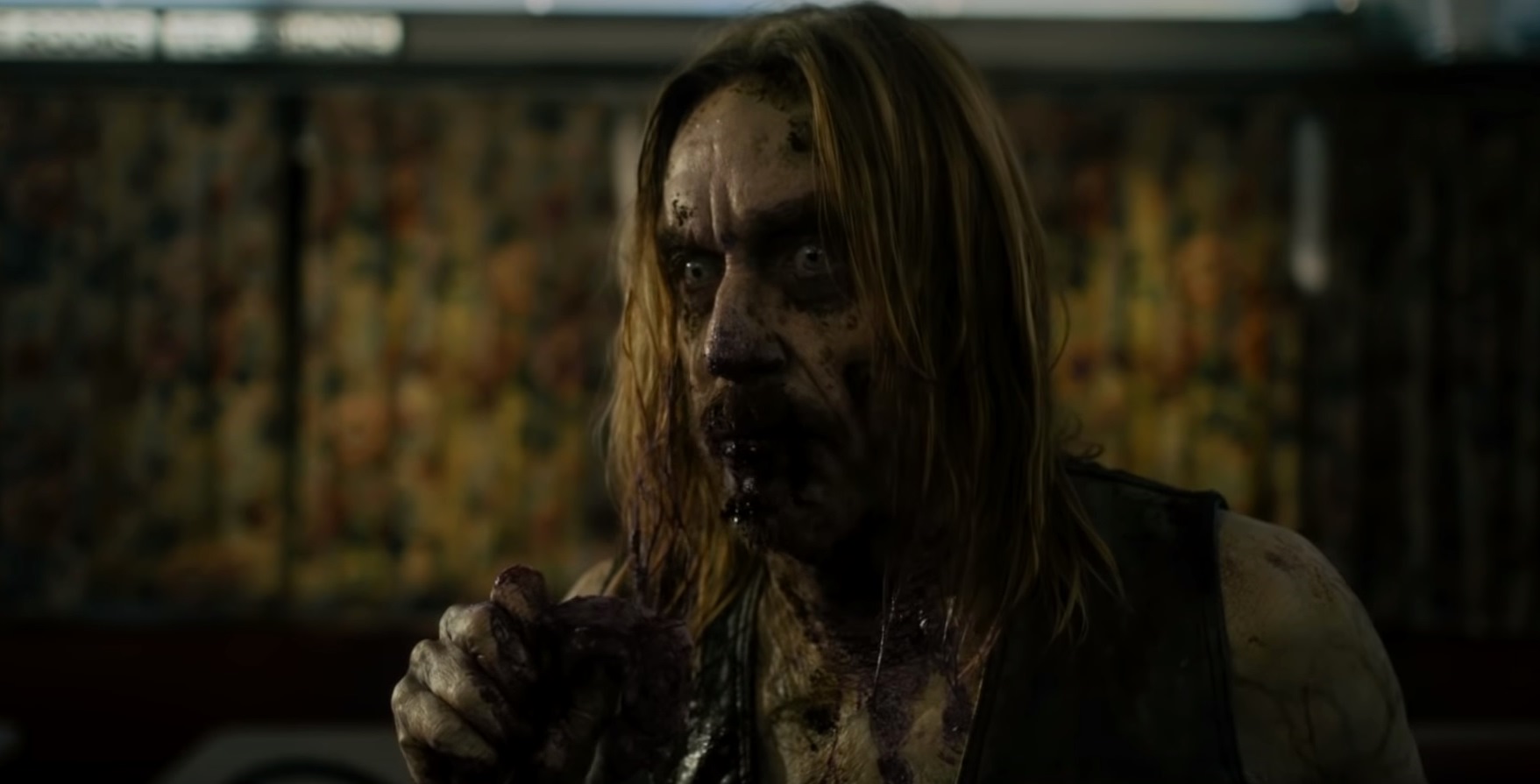 In the midst of this, there are a host of film in-references like discussions about the type of motel that the Bates Motel in Psycho (1960) was or admiration of the fact that the hipsters are driving the same sort of car that appears in Night of the Living Dead (1968). Caleb Landry Jones goes through the film wearing a Nosferatu (1922) t-shirt and rhapsodising about obtaining issues of Creepy for his comic-book collection. On the other hand, none of this is quite as smart and funny as the various historical namedroppings in Only Lovers Left Alive – indeed, it is the sort of in-referencing to favourite genre works that people like Joe Dante, Kevin Smith and others have been doing since the 1980s.
Jarmusch has managed to bring in an amazing cast line-up including Bill Murray, Adam Driver and Chloe Sevigny as the sheriff's department; Jarmusch regular Tilda Swinton; Steve Buscemi as a redneck farmer (who rather snidely is seen wearing a 'Make America White Again' hat parodying Donald Trump's MAGA campaign); Caleb Landry Jones as a store owner and comic-book fan; Danny Glover as an old timer; singer Tom Waits as a hermit living in the woods; rapper and director The RZA as a delivery driver; indie horror director Larry Fessenden as a motel owner; Selena Gomez as one of the Cleveland hipsters; singer Iggy Pop and Jarmusch's longtime girlfriend Sara Driver as the coffee-obsessed zombies; Rosie Perez as a newsreader; and Carol Kane as the Chardonnay Lady. Many of these give the impression they appeared for a day or so as a cameo and had a scene written around them. The film often has a piecemeal effect in this regard.
---
---