---
Crew
Director/Screenplay – Wes Anderson, Story – Wes Anderson & Roman Coppola, Producers – Wes Anderson, Jeremy Dawson & Steven Rales, Photography – Robert Yeoman, Music – Alexandre Desplat, Visual Effects Supervisor – Tim Ledbury, Visual Effects – Alchemy 24, Alkemy X, Goodbye Kansas (Supervisor – Jim Parsons), Gorilla VFX (Supervisor – Llyr Williams), Jellyfish Pictures (Supervisor – Jonathan Cheetham), Mathematic Film (Supervisor – Anthony Lyant), Misc Studios, Red Visual Effects (Supervisor – Lev Kolobov), Vast (Supervisor – Franz Brandstaetter) & VHQ (Supervisor – Kaz Andy Yu), Miniatures – Simon Weisse, Special Effects Supervisor – Pau Costa Moeller, Roadrunner and Alien Puppets – Andy Gent, Production Design – Adam Stockhausen. Production Company – American Empirical.
Cast
Jason Schwartzman (Augie Steenbeck), Scarlett Johansson (Midge Campbell), Bryan Cranston (Host), Edward Norton (Conrad Earp), Jake Ryan (Woodrow Steenbeck), Tom Hanks (Stanley Zak), Jeffrey Wright (General Grif Gibson), Adrien Brody (Schubert Green), Maya Hawke (June Douglas), Rupert Friend (Montana), Liev Schreiber (J.J. Kellogg), Tilda Swinton (Dr Hickenlooper), Grace Edwards (Dinah Campbell), Steve Carell (The Motel Manager), Hope Davis (Sandy Borden), Stephen Park (Roger Cho), Ella Faris (Andromeda), Gracie Faris (Pandora), Willan Faris (Cassiopeia), Willem Dafoe (Salzburg Keitel), Aristou Meehan (Clifford), Sophie Lillis (Shelly), Ethan Josh Lee (Ricky), Matt Dillon (Mechanic), Hong Chau (Polly Green), Margot Robbie (Actress/Wife), Jeff Goldblum (The Alien)
---
Plot
In 1955, the playwright Conrad Earp and stage director Schubert Green put on a play titled Asteroid City. In the play, various people gather at Asteroid City, a small desert town that is the site of an ancient meteor impact crater and where the US military are conducting atomic tests nearby. The occasion is the awarding of science prizes at the Junior Stargazer Convention. The attendees include Augie Steenbeck and his four children, to whom Augie is just bringing himself to tell them that their mother died three weeks ago; Hollywood actress Midge Campbell and her daughter; along with others. As the prize-giving ceremony is held beside the crater, a UFO appears overhead and an alien emerges and takes the meteorite. The military immediately impose a quarantine around the town.
---
Wes Anderson is a director who has gained a dedicated following since his first appearance with Bottle Rocket (1996). Subsequently he went on to make Rushmore (1998), The Royal Tenanbaums (2001), The Life Aquatic With Steve Zissou (2004), The Darjeeling Limited (2007), Moonrise Kingdom (2012), The Grand Budapest Hotel (2014) and The French Despatch (2021). He had previously ventured into genre material with two works of stop-motion animation Fantastic Mr. Fox (2009) and Isle of Dogs (2018).
Anderson has been called an American auteur. Certainly, in the era where indie directors are snapped up and their sensibilities quickly fed into the box-office machine, Anderson is one director who has continued to make films in a style that is distinctively his. This is largely based around his visual aesthetic – an impeccably designed, colour-coordinated and visually laid-out set, frequently in very symmetrical patterns, through which the camera often moves in a 2D left-right plane. He manages to bring in impressive name casts in whatever he does, as the above cast list attests, often putting them in eccentric offbeat roles.
Wes Anderson's films have a devoted critical and cult following, although I can't say I count myself as one of them. None of his films are unwatchable and are perfectly enjoyable in their own right, although I am never someone standing in line on opening day to see them. They come with a tone that leaves you uncertain how you should appreciate them. They perpetually feel like comedies where you are not sure whether you should be laughing or not. They could be dramas but come in such a stylised, hyper-real world where Anderson seems to be detached from the characters and their dramas that there is no emotional payoff or triumph to the denouement. You reach an end with his films where you call them 'cute' and 'quirky' for lack of any other labels to throw at them. I actually find Anderson's two genre entries, the stop-motion animated Fantastic Mr. Fox and Isle of Dogs, his best works as they unite the quirky humour to far more of a dramatic plot.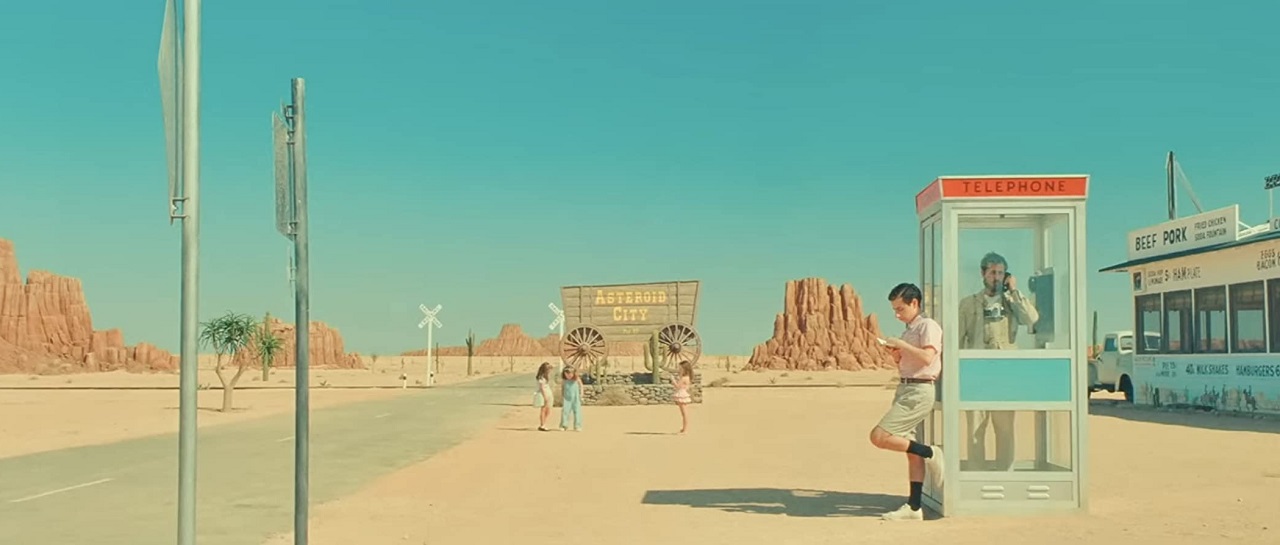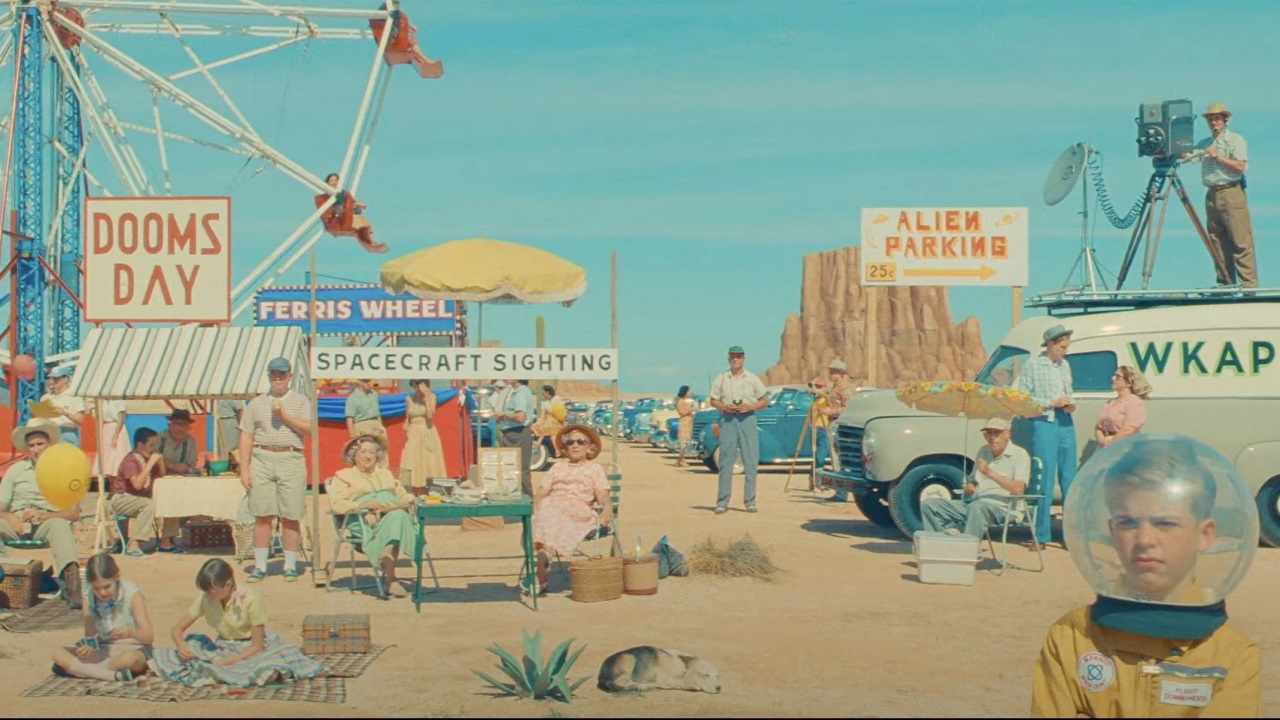 Asteroid City is another live-action Anderson film. The setting is the titular 1950s town. The script, which Anderson co-writes with Francis Ford Coppola's son Roman, winds in assorted characters as they turn up in the town (and then are quarantined by the military – the film was shot in the midst of the Covid-19 pandemic). The most prominent of these are recently widowed war photographer Jason Schwartzman and Hollywood actress Scarlett Johansson, who develop a relationship of sorts that involves he photographing her and she using him to rehearse lines, between the windows of their adjacent cabins.
Elsewhere, we have Tom Hanks as Jason Schwartzman's father-in-law reluctantly come to pick up the children; Maya Hawke as the teacher of a bus of school children; and Rupert Friend as a cowboy singer. There is also a Meta-Fiction framework where Bryan Cranston introduces the show and we see playwright Edward Norton and stage director Adrien Brody during various aspects of the play, along with various cast members as the actors, including a cameo from Jeff Goldblum who plays the alien. As with any of Wes Anderson's live-action films, the characters are oddball – you watch their exchanges with quaint amusement but reach the end of the film with a shrug of the shoulders.
Asteroid City is the only one of Wes Anderson's live-action films to enter into genre territory (so far). While most of the film is centred around the town and the oddball characters that turn up in it, there is a brief scenes where a UFO appears overhead as everyone is gathered for the prize-giving ceremony, whereupon an alien descends a ladder and makes off with the soccer ball-sized meteorite, before returning near the end to drop the meteorite back. There is also some meta-fictional interplay between the stage version that is wraparound for the film with Bryan Cranston's host accidentally wandering into frame at one point, and another where Jason Schwartzman exits the scene to go and discuss his character's motivation.
Perhaps the most dazzling aspect of Asteroid City is the production design. The town has been designed with deliberately artificial effect – a handful of buildings – a diner and a motel, the beginning of a highway ramp that ends in mid-air, the nearby military base with atomic clouds appearing in the background, and the rim of the meteor crater. Everything is merged into a seamless vision where the entire town, even the actors, looks like a sleek airbrushed 1950s ad and it is impossible to tell what is live-action, what is a set and what is a model or CGI effect added in post-production.
---
Trailer here
---