---
Crew
Director/Screenplay – Jim Jarmusch, Producers – Gretchen McGowan & Stacey E. Smith, Photography – Christopher Doyle, Visual Effects – Brainstorm Digital, Production Design – Eugenio Caballero. Production Company – Entertainment Farm/Point Blank.
Cast
Isaach De Bankole (Lone Man), Paz de la Huerta (Nude), Tilda Swinton (Blonde), John Hurt (Guitar), Bill Murray (American), Youki Kudoh (Molecules), Gael Garcia Bernal (Mexican), Oscar Jaenada (Waiter), Alex Descas (Creole), Jean-Francois Stevenin (French), Luis Tosar (Violin), Hiam Abbass (Driver)
---
Plot
A man is given an assignment to travel to Madrid and assassinate a well-protected American businessman. Along the way, the man meets his contacts who swap matchboxes that contain pieces of paper with code phrases and give him cryptic clues as to what is to happen. The trail takes the man into the countryside near Seville where he is to conduct his assignment.
---
Jim Jarmusch is one of the foremost independent American filmmakers. Jarmusch has made films like Permanent Vacation (1980), Stranger Than Paradise (1984), Down By Law (1986) and Mystery Train (1989) before finding increasing breakthrough acclaim with films like Night on Earth (1992), his best film in this reviewer's opinion, Dead Man (1995), the Neil Young documentary Year of the Horse (1997), Ghost Dog: The Way of the Samurai (1999) – a similar Zen-like film about a hitman – Coffee and Cigarettes (2003), Broken Flowers (2006), the vampire film Only Lovers Left Alive (2013), Paterson (2016) and the zombie film The Dead Don't Die (2019).
There is no other person you can easily point to to make comparisons to Jim Jarmusch's style. His films are about ordinary life but chart the absurdities of banal, everyday behaviour and come filled with strange, ironic twists. Jarmusch also had a bent towards cod-Zen philosophies and films like Dead Man, Ghost Dog and The Limits of Control here teeter between placid inner calm and tossing up cryptic aphorisms where you are not entirely sure if Jarmusch has his tongue planted in cheek or not.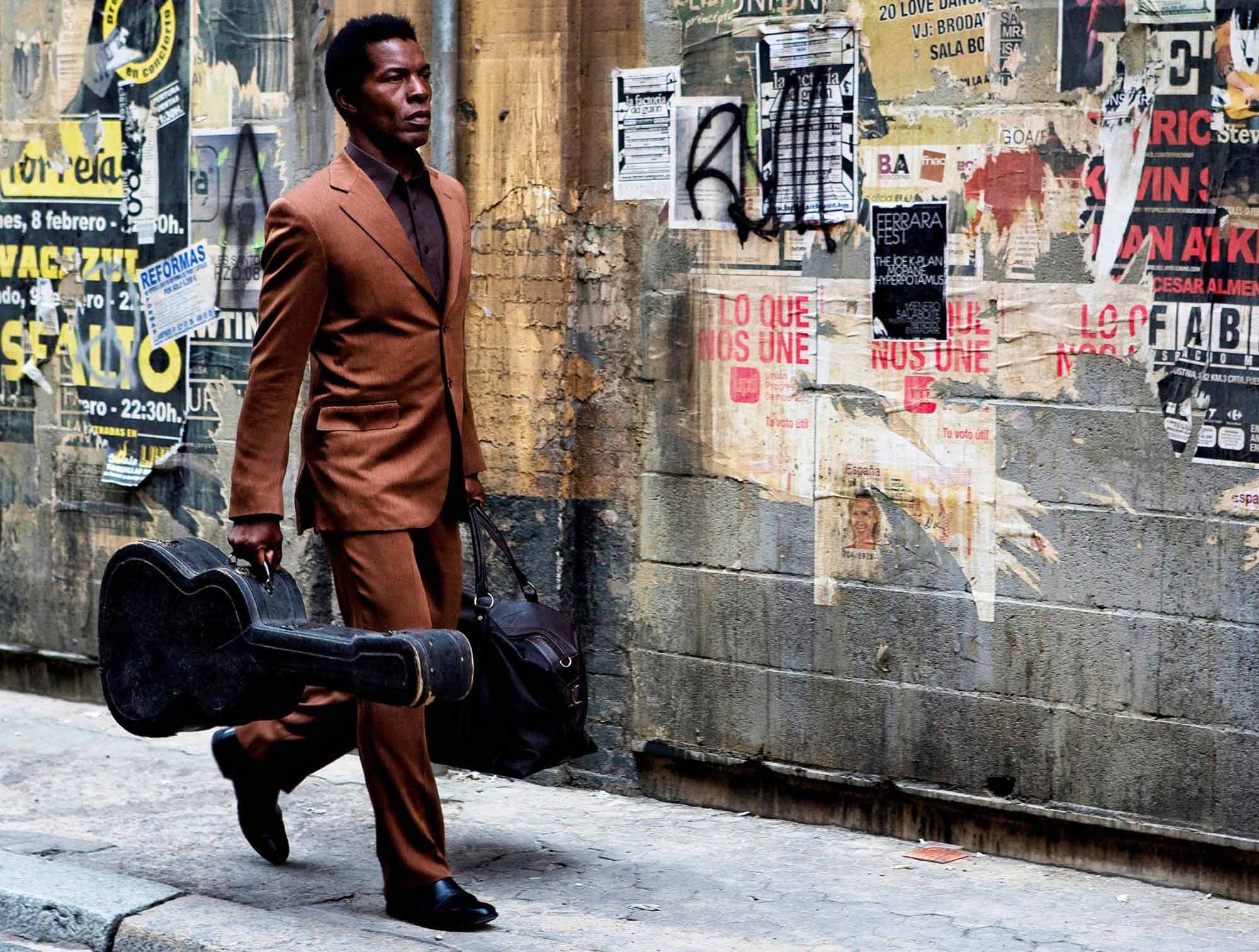 The Limits of Control was one of the least well received of Jim Jarmusch's films to date. It is perhaps he at his most removed and wilfully obscure. Imagine some kind of Zen variation on a sophisticated career criminal film like Michael Mann's Thief (1981) or Heat (1995) combined with the cryptic predestination that turns up in a M. Night Shyamalan film – think of Shyamalan about the point of Lady in the Water (2006) where everything seems to hold a series of meaning-laden symbolic clues that leads to a greater purpose. There is maybe something also of the surrealist rituals that play out in Peter Greenaway films like Drowning by Numbers (1988) and The Cook, The Thief, His Wife & Her Lover (1989).
As with Jim Jarmusch's earlier film Coffee and Cigarettes, much of The Limits of Control seems to consist of characters (often played by well-known actors) turning up for cameos and having conversations with Isaach De Bankole (usually over coffee in a cafe). Tilda Swinton appears in an all-white cowgirl outfit and an albinoid-blonde wig and talks about films, expressing the opinion that her favourite films are ones where the characters don't talk (something that could serve as a byline for The Limits of Control); John Hurt turns up to deliver Isaach De Bankole a guitar and talk about how he believes that each musical instrument contains its own echoes; Youki Kudoh (from Jarmusch's Mystery Train) turns up on a train and talks about the belief that it is possible to rearrange the molecules of the human body; while Gael Garcia Bernal turns up and doesn't say much.
The most amusing cameo comes from the physically stunning Paz de la Huerta who repeatedly turns up in Isaach De Bankole's hotel room naked or wearing a transparent plastic raincoat, wielding a gun and offering him sex, which he declines on the grounds that he is working (even though his work never seems to consist of anything more than sitting in cafes and drinking espressos two at a time).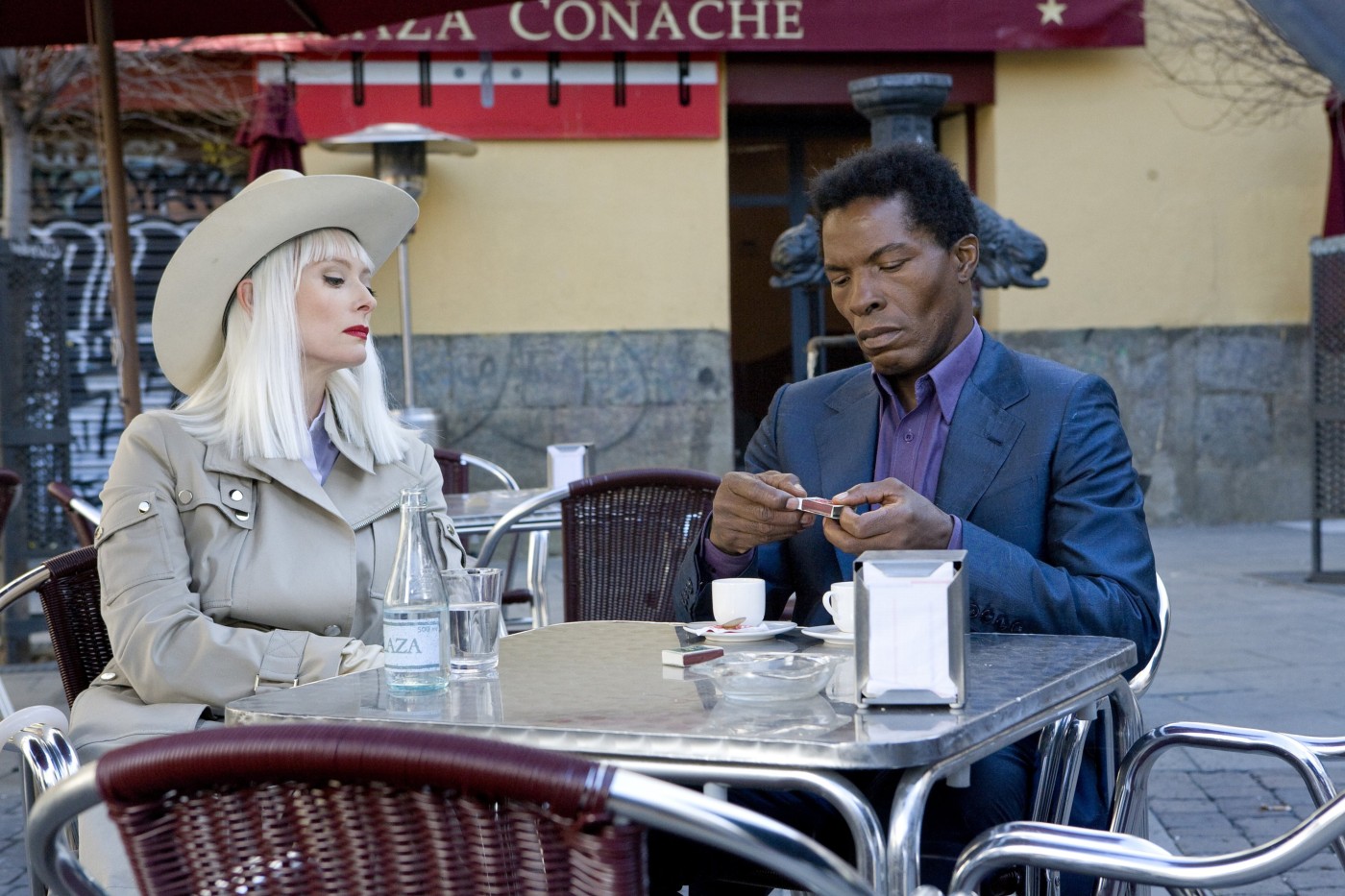 With each of the people he meets, Isaach De Bankole has to swap a matchbox that contains a piece of paper with a code phrase, which he then swallows after glancing at only once – typically we never find out what these clues mean. None of the characters are given names. Certain cryptic phrases – "the universe has no centres and edges," "those who think they are bigger than the rest of us should go to the cemetery – there they see what life really is" – keep being repeated between these conversations. At the beginning of each encounter, Isaach De Bankole is asked if he speaks Spanish and always answers in the negative. Throughout each of these monologues, Isaach De Bankole sits and says almost nothing, only impassively watching the other person. His is a remarkably inscrutable performance where he seems to go through the entire film without ever betraying a single expression – indeed, it was finally at the one-hour point that one gets to see him crack the suggestion of a smile.
As Tilda Swinton's character opines in the film, Jim Jarmusch seems to enjoy the silences more than he does the exchanges. The film has a much slower and more static pace than almost any other film you care to name – it seems to take place more in its Tai Chi rhythms, the calmness of Isaach De Bankole sitting in an open-air cafe just looking at the building opposite or the impassive silences he maintain through every conversation. Indeed, one scene where Tilda Swinton is for reasons unknown grabbed by men and shoved into a car is so fast-paced in comparison to the rest of the film that it feels like it belongs to another type of caper film altogether.
It is all very cryptically baffling. We are not even that sure what Isaach De Bankole's assignment is about – near the end, he somehow appears in Bill Murray's secure bunker. When asked how he managed to get in, his only reply is an entirely enigmatic "I used my imagination." Murray then has a hurried monologue about how people don't understand what he does before Isaach strangles him.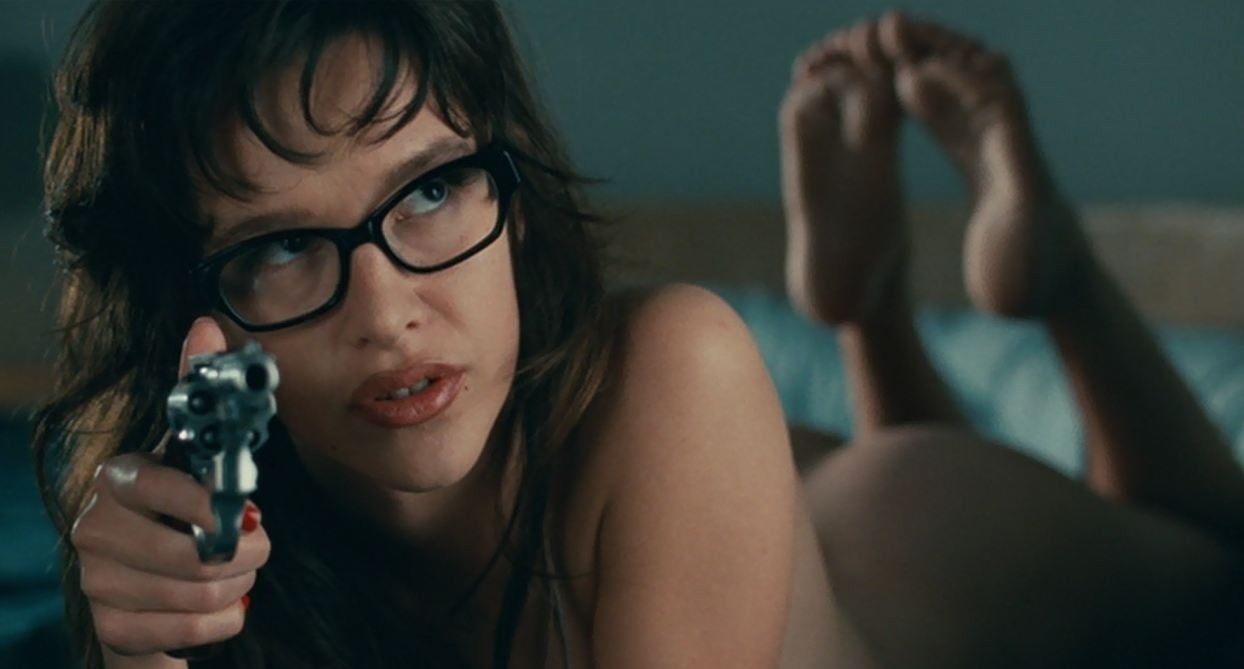 The next-to-last shot of the film is Isaach De Bankole sitting in an art gallery staring at a work on the wall that looks like a rumpled white bedsheet that has been hung on a canvas – you are not even sure whether it actually is an artwork or a cleaning cloth that the gallery has hung over the real painting. The baffling blankness of the scene surely seems the perfect epitaph for the entire film.
One of the great pluses of the film is Hong Kong-based cinematographer Christopher Doyle's photography. He shoots the Spanish cities and countryside with a cool modernism as though framing them for prints on the wall and this gives an enormously expansive life to the film. Were the cutting rate between Jim Jarmusch's shots hurried up by at least twice the pace, The Limits of Control has a visual sophistication that could easily pass for a contemporary fashion commercial.
(Nominee for Best Supporting Actress (Paz de la Huerta) and Best Cinematography at this site's Best of 2009 Awards).
---
---