---
Crew
Director – Joe Chappelle, Screenplay – Dean R. Koontz, Based on his Novel, Producers – Steven Lane, Michael Leahy, Robert Pringle & Joel Soisson, Photography – Richard Clabaugh, Music – David Williams, Visual Effects Consultants – Richard Greenberg & Bruce Schluter, Visual Effects – Neo Digital Imaging (Supervisor – Jamison Scott Goei), Visual Effects/Digital Animation – Station X Studios LLC (Supervisor – Richard Payne), Digital Tentacle Effects – Fine Grain Films, Mechanical Effects Supervisor – Frank Ceglia, Mechanical Effects – Ultimate Effects (Supervisor – David Waine), Wargle Effects – Steve Johnson's XFX Inc (Supervisor – Chris Nelson), Makeup Effects – K.N.B. EFX Group Inc (Supervisors – Howard Berger, Robert Kurtzman & Greg Nicotero), Prosthetic Effects Supervisor – Tom Rainone, Production Design – Deborah Raymond & Dorian Vernacchio. Production Company – Neo Motion Pictures/Raven House Inc.
Cast
Peter O'Toole (Dr Timothy Flyte), Ben Affleck (Sheriff Bryce Hammond), Joanna Going (Dr Jenny Pailey), Rose McGowan (Lisa Pailey), Liev Schreiber (Deputy Stu Wargle), Clifton Powell (Colonel Copperfield), Nicky Katt (Deputy Steve Shanning)
---
Plot
Jenny Pailey drives back home in the small town of Snowfield, Colorado, bringing her troubled younger sister Lisa with her. They arrive to find the town deserted, with the entire populace having mysteriously vanished and only body parts left behind. They meet the sheriff and two deputies, the only other survivors. A mysterious creature then starts to kill the party off. Soon a military force from outside joins them, although the creature easily kills most of the number by inhabiting the bodies of the dead. It spares scientist/journalist Timothy Flyte who the creature has been deliberately lured there so that Flyte can tell the world about its existence.
---
Dean R. Koontz is a horror novelist whose popularity runs second only to Stephen King. On film though, Koontz has suffered from even worse treatment than the generally maligned works of King. Koontz has had to suffer Demon Seed (1977), Watchers (1988), The Face of Fear (1990), Whispers (1990), Servants of Twilight (1991) and Hideaway (1995), most of which did not even end up getting theatrical releases. Around the end of the 1990s, Koontz wised up and started to demand hands-on creative control of his screen adaptations and as a result created two excellent adaptations, first with the tv mini-series Intensity (1997), which is a grueling four hours of psychological suspense that may well be the finest horror work made for television in the 1990s, and with this almost entirely overlooked adaptation of his novel Phantoms (1983), which he also scripted. All subsequent Dean R. Koontz adaptations – Mr. Murder (1998), Sole Survivor (2000), Black River (2001) and Frankenstein (2004) – have been made for tv with the exception of Odd Thomas (2013).
Phantoms is directed by Joe Chappelle. Chappelle made his genre debut with the unpromising Halloween: The Curse of Michael Meyers (1995) and has since gone onto the unexceptional likes of Takedown (2000), Vlad the Impaler/Dark Prince: The True Story of Dracula (2000) and The Skulls II (2002). Chappelle's work clearly hovers around genre territory but Phantoms has been the sole opportunity where it has amounted to anything of note. Phantoms certainly shows that Joe Chappelle is capable of making something worth paying attention to when given a decent budget and a good script. Subsequently though, Chapelle appears to have abandoned the (film) director's chair and these days is a consulting producer and occasionally director for tv's CSI: Miami (2002-12), The Wire (2002-8), Fringe (2008-13), Chicago Fire (2012- ) and Manifest (2018-21), although he did return to direct the non-genre film The Pages (2018).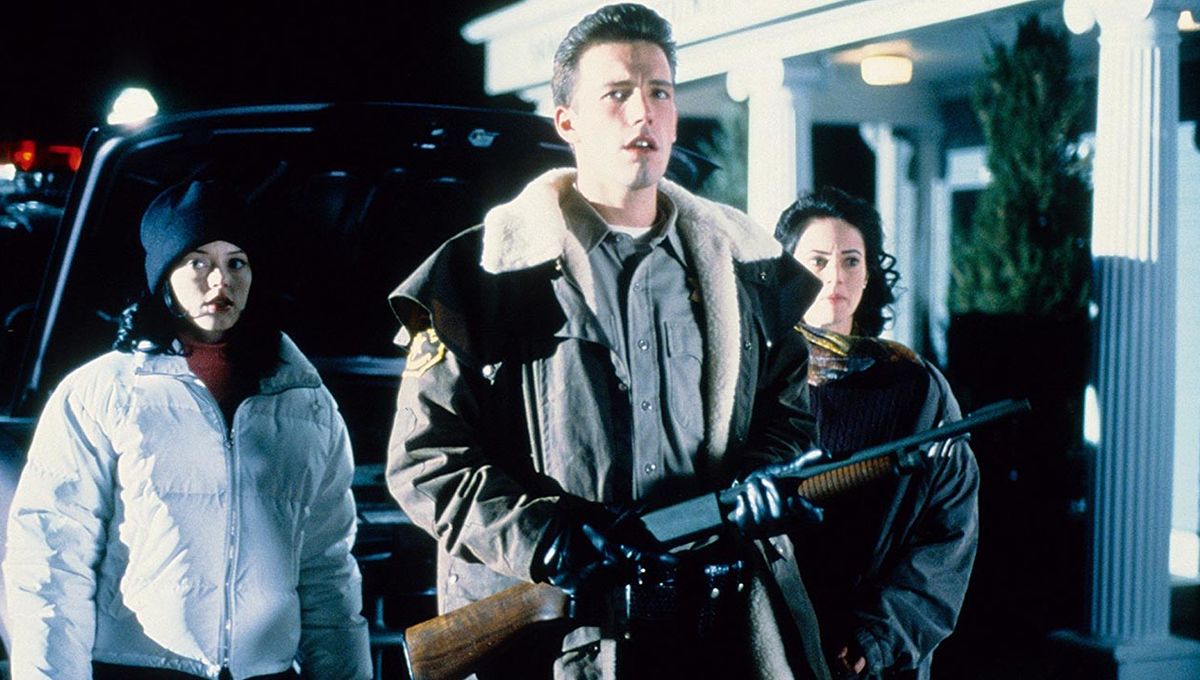 The first 30 minutes of the film maintain a gripping atmosphere with the two sisters arriving back in town, finding it deserted with pots left boiling and increasingly bizarre things such as finding people have vanished from inside locked rooms or little piles of all the metal parts from the human body. At the same time, things sneak up from the periphery of vision, there are mysterious phone calls and Nicky Katt is snatched by something that leaves nothing but his gun spinning on the ground when people come running a moment later. All this building atmosphere finally explodes with startling results in the initial attack of the subliminally glimpsed thing in the dark.
Right throughout, Joe Chappelle maintains a superbly haunted atmosphere out of what might hide behind a toilet cubicle door or even as something as little as a tap dripping. The scene where Ben Affleck must walk between the two vans guarded only by a dog sitting in the middle of the street to get the serum maintains a level of suspense that is almost unbearable. When Chappelle lets it pay off, the results are incredible. There is an utterly unearthly scene with the possessed dog where the creature animates the soldier's body to talk directly to Peter O'Toole through the soldier's hollow mouth, during the midst of which it pulls a sharp of broken glass out of its mouth and coughs up a live lizard. There is a wild climax with the creature finally appearing and Liev Schreiber manifesting tentacles where his legs should be as he pursues the others.
Dean R. Koontz plays with some fascinating ideas about a shape-changing gestalt creature and the interesting idea that it merely thinks it is The Devil because it has absorbed the knowledge of people who believed it was. (Koontz does bolster the idea up with reference to the experiment where earthworms that had traversed a maze, were ground up and fed to other earthworms, which then supposedly absorbed the knowledge of how to navigate the maze, an experiment whose claims have since been discredited). Phantoms however is a superior horror film and due far greater recognition than it received at the time it came out.
(Nominee for Best Makeup Effects at this site's Best of 1998 Awards).
---
---