---
Crew
Director/Screenplay/Photography/Music/Visual Effects Supervisor – Robert Rodriguez, Producers – Elizabeth Avellan, Robert Rodriguez & Quentin Tarantino, Additional Music – Graeme Revell, Visual Effects – Troublemaker Digital, Visual Effects/Animation – The Orphanage, Inc (Supervisor – Ryan Tudhope), Special Effects Supervisor – John McLeod, Makeup Effects – K.N.B. EFX Group, Inc. (Supervisors – Howard Berger & Gregory Nicotero), Production Design – Steve Joyner. Production Company – Troublemaker Studios/Dimension Films/The Weinstein Company.
Cast
Rose McGowan (Cherry), Freddy Rodriguez (Wray), Marley Shelton (Dr Dakota Block), Jeff Fahey (J.T.), Michael Biehn (Sheriff Hague), Josh Brolin (Dr William Block), Naveen Andrews (Abby), Bruce Willis (Muldoon), Michael Parks (Earl McGraw), Nicky Katt (Joe), Tom Savini (Deputy Tolo), Quentin Tarantino (Lewis), Skip Reissig (Skip), Rebel Rodriguez (Tony Block), Electra Avellan & Elise Avellan (Babysitter Twins), Julio Oscar Mechoso (Romy)
---
Plot
Cherry decides to quit her job as a go-go dancer. At the same time, the scientist Abby is caught in a dispute with military as they attempt to procure supplies of the DC6 nerve gas. During the fracas, the nerve gas ends up released into the atmosphere. Dr William Block has a deep hatred of his wife Dakota and believes that she is cheating with another woman. He is distracted by the arrival at the hospital of several patients with hideously mutating pustules. Stopping off at the Bone Shack restaurant run by J.T., Cherry meets her old boyfriend, the tow-truck driver Wray, and begs a ride. However, Wray crashes after skidding to avoid a deer on the road. He rushes the wounded Cherry to hospital where Block must sever her leg. Block also attempts to kill Dakota by injecting her with a paralysing anaesthetic. Wray is arrested by the sheriff but suddenly the infected dead return to life all around and come after the living, hungry for flesh. A group of survivors gather at The Bone Shack. Led by Wray, they attempt to shoot their way to safety past the growing number of zombies.
---
Planet Terror was one half of the Grindhouse (2007) experiment conducted by Quentin Tarantino and Robert Rodriguez. Rodriguez and Tarantino each made a feature-length film and both were released on one three-hour double-bill. Both films were shot in a mock style – faded and worn film footage, accompanied by fake trailers – designed to evoke nostalgia for 1970s exploitation theatre (grindhouse) double-bills. Alas, despite some excellent reviews, Grindhouse proved a box-office failure when audiences apparently left after the first film, not realising that there was another film to come.
Quentin Tarantino's half of the film Death Proof (2007) enjoyed high profile exposure – being invited to screen at the Cannes Festival, granted a theatrical release internationally as a standalone film – but Robert Rodriguez's half Planet Terror received much less attention. The surprise about this is that when seen Planet Terror is easily the superior to Tarantino's flabby car chase movie in-joke. The versions of the two films released separately contain more footage than were in the original theatrical double-bill.
Robert Rodriguez emerged in the mid-1990s with his no-budget mock Western El Mariachi (1993). The virtuoso style that Rodriguez demonstrated there was amplified in the dazzling big-budget reworking Desperado (1995). Rodriguez quickly fell into the company of Quentin Tarantino – the two collaborated on the Rodriguez-directed, Tarantino written/starring vampire film From Dusk Till Dawn (1996) and Rodriguez directed an episode of the Tarantino-produced anthology film Four Rooms (1995), while Tarantino makes cameos in a number of Rodriguez films. Elsewhere, Rodriguez has gone onto make works like The Faculty (1998), the action film Machete (2010) and a host of children's films with Spy Kids (2001), Spy Kids 2: Island of Lost Dreams (2002), Spy Kids 3-D: Game Over (2003), The Adventures of Sharkboy and Lavagirl in 3D (2005), Shorts (2009) and Spy Kids: All the Time in the World (2011), although his single best work is the graphic novel adaptation Sin City (2005). Increasingly, Rodriguez has become a maverick, wearing more and more creative hats with each film, while setting his own studio up in Austin, Texas.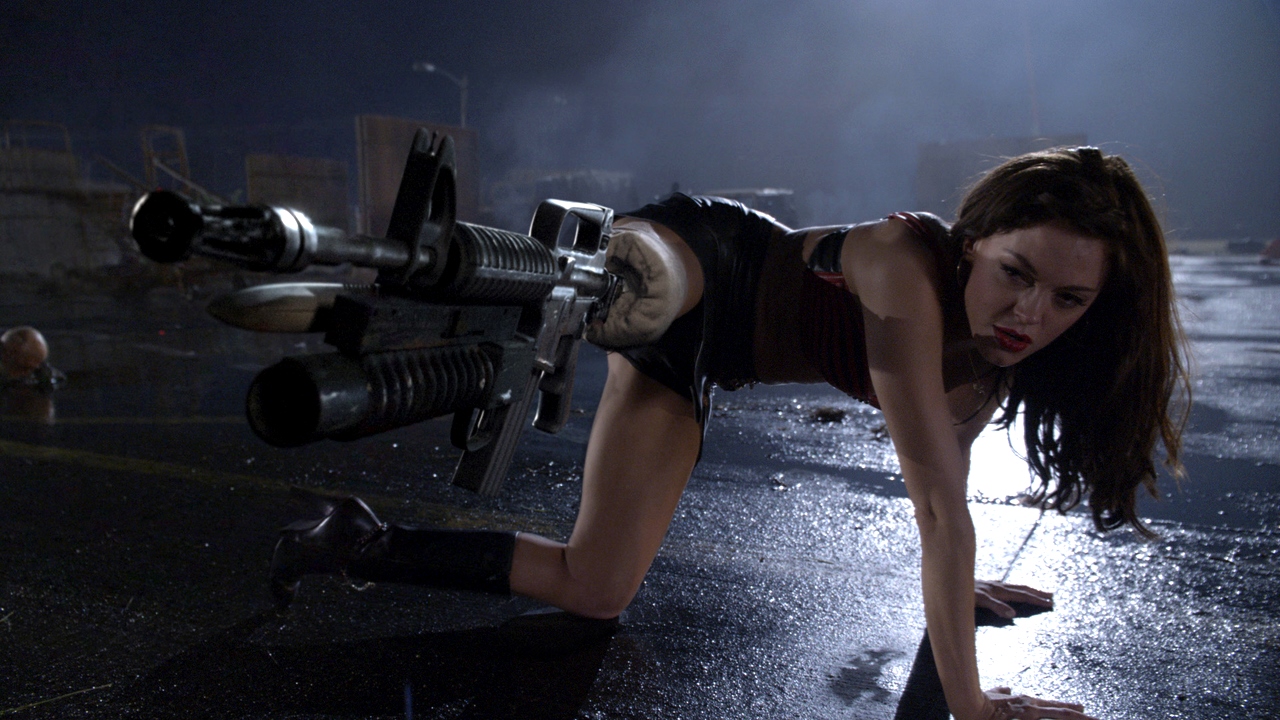 Planet Terror attains just the right blend of tongue-in-cheek and dazzling high-energy style. In previous films, notably the Tarantino collaboration From Dusk Till Dawn, Rodriguez had not quite gotten the mix right. Certainly, in the initial scenes, Planet Terror feels like a film that is trying to be so cheesy that it overbalances with the self-conscious effort of doing so – the opening scenes with the cutting off of Julio Oscar Mechosos's balls, the releasing of the gas and the shootouts have a deliberate corniness to them. The gore is silly and deliberately unrealistic, while Freddy Rodriguez conducts impossible flips through the air and so on. What Planet Terror feels like is a homage to a George Romero zombie film (of which there have been dozens made in recent years) that has been fed through a layer of self-conscious irony.
However, once the bulk of the story kicks in, Planet Terror emerges as a fast and furious, gore-drenched zombie film. The saving grace is Robert Rodriguez's not inconsiderable sense of humour and wilful absurdity – like the scenes of Marley Shelton trying to open a car door with her hands paralysed, or of Rose McGowan with her leg replaced by a wooden table leg clumping about and then swinging it to kick zombies. Sometimes Rodriguez overplays it, but when it comes together, which is most of the time, Planet Terror is hilarious.
There is the particularly hysterical image of the convoy of survivors heading off to safety being led by Freddy Rodriguez toting an arsenal of guns but riding on a mini-scooter. The film gets particularly entertaining when it comes to images of Rose McGowan with a machine-gun attached to her leg swivelling around on the back of a motorcycle to blast down zombies or being propelled over the top of the fence and shooting zombies down in a huge arc before she lands; or Marley Shelton facing down zombies with an array of syringes attached to the top of her garter belt.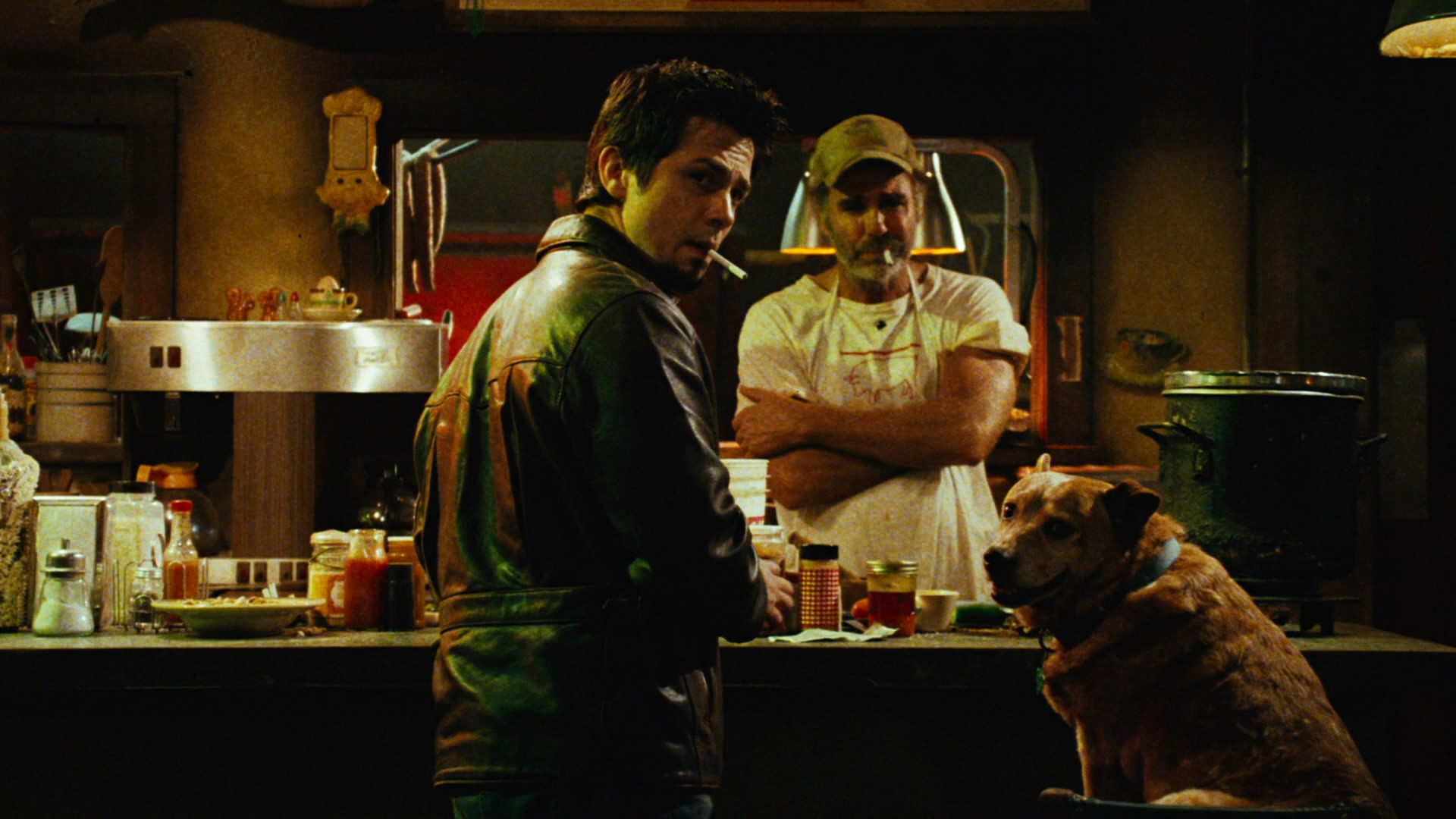 The gore effects are spectacularly good, one area that Robert Rodriguez has made up for after the poor showing he did in From Dusk Till Dawn, and there are some memorable set-pieces with Tom Savini being torn apart and Bruce Willis and Quentin Tarantino melting down. Rodriguez even recreates the scene from Dawn of the Dead (1978) of a zombie being despatched by a helicopter blade in the head and does it one better by having the helicopter tilting to a 90 degree angle and chewing up a horde of zombies en masse with its blade. [Oddly, 2007 was a year containing two homages to the Romero helicopter blade scene, with another similar homage also turning up in 28 Weeks Later (2007)].
Robert Rodriguez gets some fine performances, notably from Jeff Fahey as a flinty restaurateur and a stony-faced Michael Biehn as the sheriff. Everyone seems to pose at being mean and tough. The scene-stealer of the show is Freddy Rodriguez (no relation to Robert), best known as a supporting actor in tv's Six Feet Under (2001-5), who shines as the diminutive tough guy who rises to the occasion, a part that Rodriguez plays with a fiercely determined seriousness. Robert Rodriguez also gets a number of cameos in, including Bruce Willis as a military commander; cult makeup effects artist Tom Savini as a deputy who gets torn apart in a memorable gore scene reminiscent of the one that Savini staged for Day of the Dead (1985); Stacy Ferguson of The Black Eyed Peas as a customer at the Bone Shack who gets torn apart when her car breaks down; and Rodriguez's twin nieces as two weird babysitters.
There are a number of references that allow Planet Terror to map over onto the same territory as Death Proof – the radio mentions the recent death of Jungle Julia, while Michael Parks turns up as the same sheriff who also appeared in Death Proof. Quentin Tarantino makes a substantial cameo as an asshole military officer, although this is a different character to the cameo that Tarantino made as a bartender in Death Proof.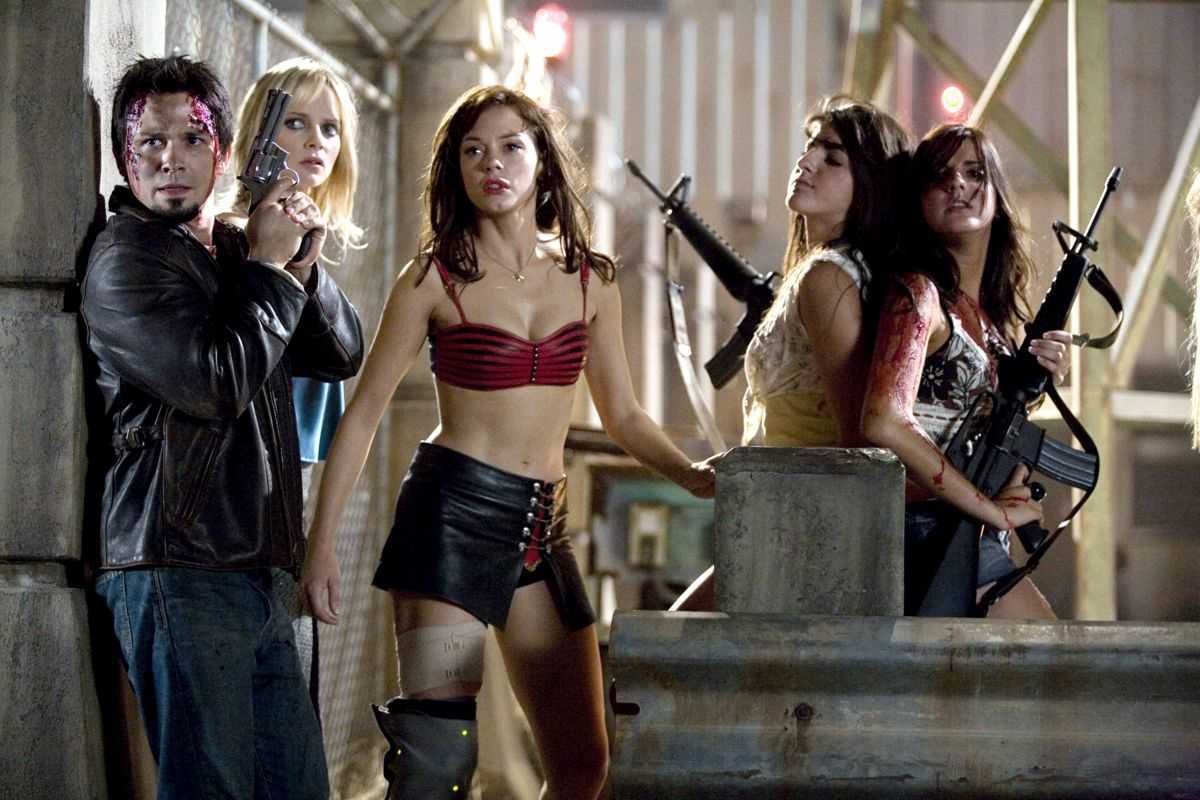 Like Death Proof, Rodriguez does the missing reel thing – cutting from Freddy Rodriguez and Rose McGowan in the midst of a steamy love scene to The Bone Shack surrounded by zombies after the principals from the various other plot strands have arrived seeking refuge. This also becomes an occasion to deliberately leave the explanation of Freddy Rodriguez's true identity a mystery, of which the film keeps making intriguing hints throughout.
Robert Rodriguez's other films of genre interest are the vampire/getaway thriller From Dusk Till Dawn (1996); the witty teen body snatchers film The Faculty (1998); the juvenile spy adventure Spy Kids (2001) and sequels Spy Kids 2: Island of Lost Dreams (2002), Spy Kids 3-D: Game Over (2003) and Spy Kids: All the Time in the World (2011); the graphic novel adaptation/film noir pastiche Sin City (2005) and Sin City: A Dame to Kill For (2014); the children's film The Adventures of Sharkboy and Lavagirl in 3-D (2005); the children's film Shorts (2009); Machete Kills (2013), a sequel to his earlier Mexican-themed action film that frequently enters into science-fiction territory; the manga adaptation Alita: Battle Angel (2019); Red 11 (2019), a mind-bending work set during an experimental drug trial; and the kid superheroes film We Can Be Heroes (2020). Rodriguez has also produced From Dusk Till Dawn 2: Texas Blood Money (1999), From Dusk Till Dawn 3: The Hangman's Daughter (2000) and Predators (2010), as well as developed the tv series From Dusk Till Dawn (2014-6).
(Winner in this site's Top 10 Films of 2007 list. Nominee for Best Director (Robert Rodriguez), Best Supporting Actress (Rose McGowan) and Best Makeup Effects at this site's Best of 2007 Awards).
---
---